Sitcom Star Julia Louis-Dreyfus Was Honored For Her Comedic Contributions In A Big Way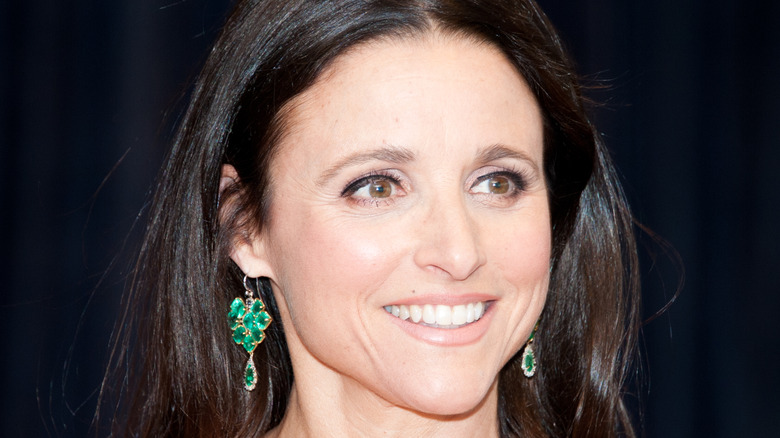 Rena Schild/Shutterstock
In 2021, Julia Louis-Dreyfus made Emmys history after officially netting the most awards out of any other performer (via The Blast). Having first been nominated for her role as Elaine Benes on "Seinfeld" in 1992, Louis-Dreyfus would go on to be nominated 26 more times and win 11 awards — mainly for her portrayal of the hapless senator and vice president Selina Meyer on HBO's "Veep" (via the Emmys).
She also won a few Emmys outside the political satire, including Outstanding Lead Actress in a Comedy Series for "The New Adventures of Old Christine" and Supporting Actress for "Seinfeld." Throughout most of the "Seinfeld" run, Louis-Dreyfus was nominated for the award but only managed to take the title home once in 1996. Despite getting the recognition she deserved as Elaine only once by the Emmys — which is undergoing important changes for inclusivity — the character completely changed how women were viewed in sitcoms. Tilt notes that it was one of the first times a female character was "one of the guys" rather than a wife or girlfriend.
For her comedic contributions in this regard, and in honor of her lengthy acting career, Louis-Dreyfus earned another award just one year after winning her Emmy in the '90s.
Julia Louis-Dreyfus' work on Seinfeld earned her an award in 1997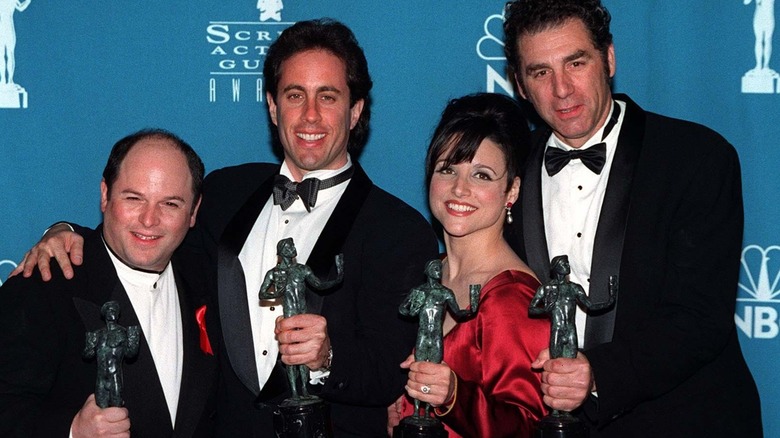 Featureflash Photo Agency/Shutterstock
By 1997, Julia Louis-Dreyfus' trailblazing work as Elaine Benes caught Glamour magazine's attention, making her one of their women of the year. Busy filming the ninth and final season of "Seinfeld" at the time, Louis-Dreyfus accepted the award in a prerecorded segment from the show's set, specifically where Elaine frequented most — Jerry Seinfeld's kitchen. "I didn't get into this business for money, for creative satisfaction, or the joy of performing," Louis-Dreyfus said about her comedic career. "I got into it for something a little more meaningful: The glamour," she joked.
She certainly experienced that acclaim over the years, so much so that she struggles to find space for her Emmys and other awards around her home. "I don't want to keep them all in one spot — that feels sort of show-off-y," the actress told Porter magazine. "So I have some out . . . but others are tucked away under a bed." Some of these accolades come with pretty hefty trophies, so hopefully they're pushed out of the way so no one trips on them while visiting the actress' home!
The actress continues to subvert gender stereotypes in comedy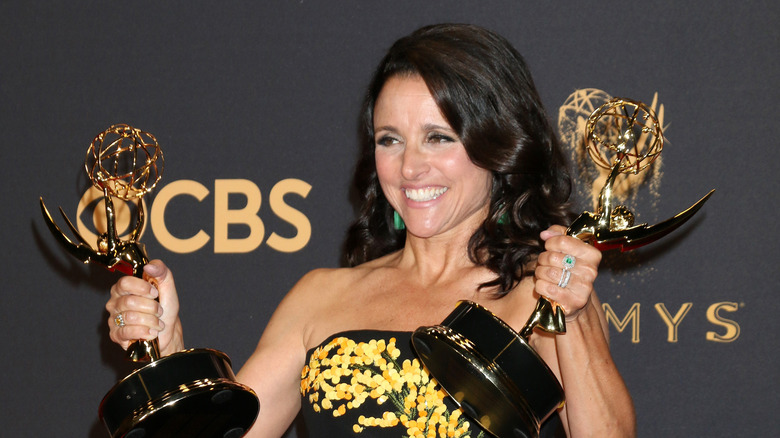 Kathy Hutchins/Shutterstock
While the likes of "Seinfeld" and "Veep" have since ended, the legacy of Julia Louis-Dreyfus has undoubtedly lived on. As one of comedy's leading ladies, the actress certainly made her mark on the genre — and continues to champion the subversion of norms in the comedy sphere. Speaking of "Veep," Louis-Dreyfus has said that while her "agenda was only ever to make an exceptionally funny show," it also gave her the opportunity to "further [open] up the conversation about powerful women," as she explained to Porter magazine.
"Any time I assert myself in a strong way, or I feel highly opinionated about something in a work environment, there is a voice in my head that is questioning it, wondering if I should rein myself in," the actress said. It's clear that Louis-Dreyfus goes against her inner consciousness on the regular, with characters like Selina Meyer and Elaine Benes in her arsenal serving as proof of her incredible skills.