Dan And Eugene Levy Turned Schitt's Creek Into A Family Affair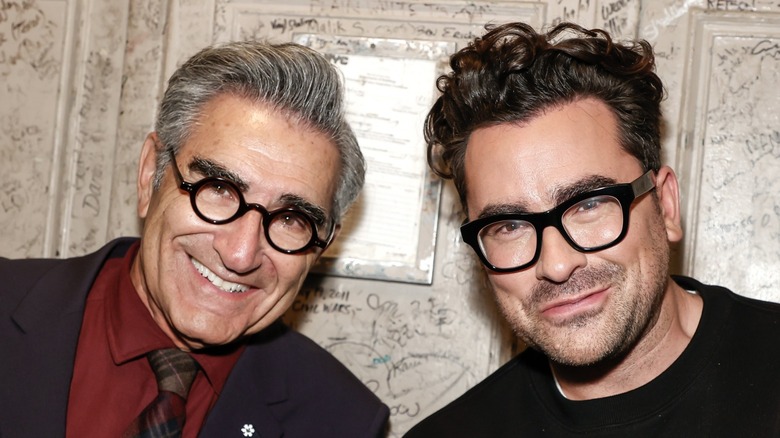 Arturo Holmes/Getty
Family businesses come in many different shapes — sometimes even in the form of beloved TV shows. The hit CBC sitcom "Schitt's Creek" premiered in 2015 and was co-created by father-son duo, Dan and Eugene Levy. The show chronicles the super-rich Rose family, who are forced to move to the small, titular rural town that they own after losing all their money. The sitcom rose to pop culture prominence once it was added to Netflix and became a popular binge-watch during the pandemic, in particular. 
In an interview with GQ, Dan opened up about what he envisioned for the show when he had the initial idea: "I knew I wanted it to be about a wealthy family that didn't know each other, that were very far away from each other in their lives and that had to be brought back together because they lost their money, and what would that look like?" This was his first foray into writing a TV show, so Dan reached out to his father, Eugene, for assistance. 
The father-son duo worked on the show together and gradually became co-creators. Their main disagreement in the early stages was on how the humor would be portrayed. Eugene wanted more written jokes included in the script, instead of relying on the actors to make the lines funny, leading to more jokes being added. However, Dan and Eugene are not the only members of the Levy family who worked on "Schitt's Creek" during its six-season run.
Dan, Eugene, and Sarah Levy all worked together on the show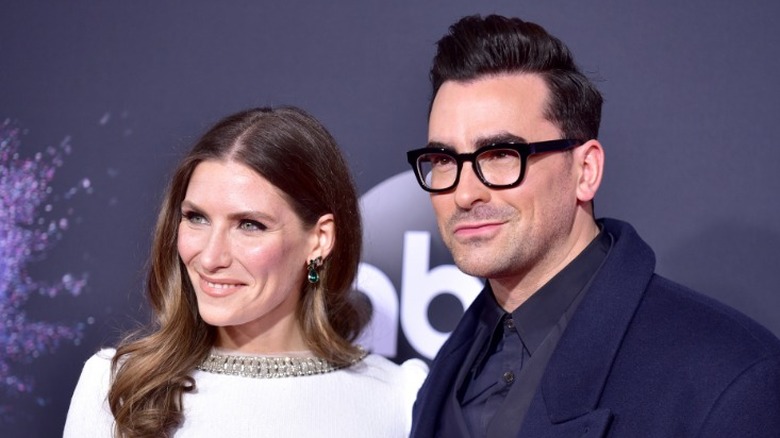 Rodin Eckenroth/Getty
Eugene Levy's daughter, Sarah Levy, works in the entertainment industry too and she also got the chance to act alongside her father and brother in "Schitt's Creek." Eugene and Dan Levy approached her about taking part in the show early on, and she happily accepted the part. As Sarah told TV, Eh? "The opportunity to work with my family seemed a really wonderful thing. And we obviously had no idea where it would go, but I went along for the ride gladly."
In "Schitt's Creek," real-life father and son Eugene and Dan play TV father and son, Johnny and David Rose. Sarah plays Twyla, a waitress at the town's local (and seemingly only) restaurant and a friend to Alexis Rose, sister of David and daughter of Johnny. Dan is also a writer and producer on the show and even directed some episodes. Eugene admitted that he was apprehensive at first, due to being unsure if Dan had the skills to make the show a success. 
But Dan quickly proved himself with both his writing and acting abilities. During a chat with Forbes, Eugene explained, "I always knew he was talented because I watched him on MTV for eight years up in Canada and he had a great presence on live TV ... But a weekly half-hour comedy is a different kind of animal and he proved early on that boy he's going to be a great partner on this." 
Schitt's Creek went from cult hit to award-winning television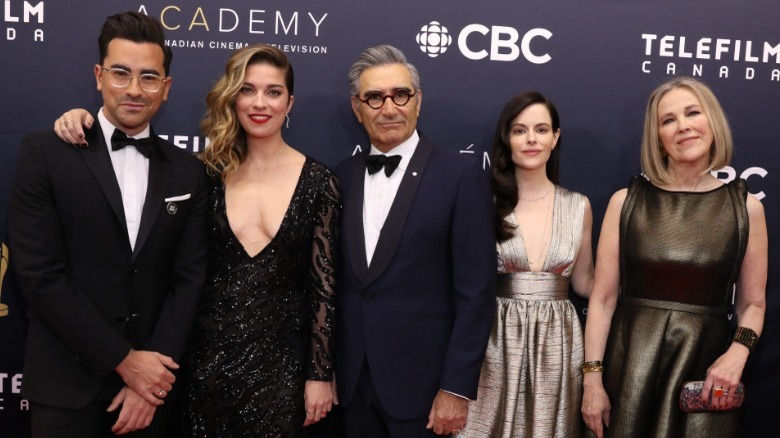 Shawn Goldberg/Shutterstock
Despite his initial nerves, Eugene Levy was happy when his son reached out and asked if he wanted to work on "Schitt's Creek" with him. Eugene expressed to The Canadian Press how working with Dan and Sarah Levy in a professional capacity was "strange ... But it's exciting," to which Catherine O'Hara (who plays Rose family matriarch Moira) joked, "Thank God they're talented. That could've, that could've been sad." In response, Eugene laughed and quipped: "Tell me about it!" 
All the hard work that the Levy family, and their entire cast and crew, put into the show really paid off, with "Schitt's Creek" earning nine Emmy awards. Dan took home the Emmy for best writing in a comedy series and, while accepting the award, he acknowledged he wouldn't be there without his dad (via Newsweek).
That same night, Eugene won best actor in a comedy series and he sweetly said: "As a dad, getting to work on camera for six years with both my kids, Daniel and Sarah, is such a joy that I couldn't be prouder." The comedy icon added a "thank you" to Dan for helming the show and making it such a success.