What Does Pat Sajak's Daughter Maggie Do For A Living?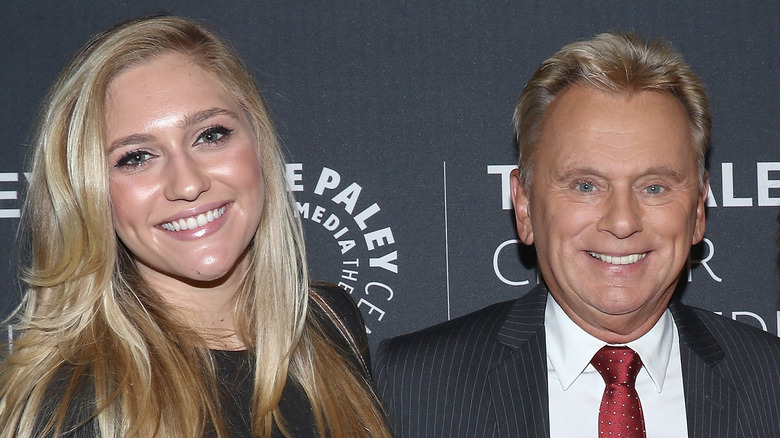 Jim Spellman/Getty Images
Pat Sajak has been the beloved host of "Wheel of Fortune" since 1981, but the gig is a little different for him now than when he first started. These days, Pat's gorgeous daughter, Maggie Sajak, regularly joins him on set and serves as the show's social correspondent. On May 10, the 28-year-old will make her hosting debut and fill in for her father's longtime co-host, Vanna White, as she competes on "Wheel of Fortune" for the first time ever. 
Maggie shared a peek at the episode on her Instagram Story, per CNN. "I hope to make Vanna proud," she said, to which Pat responded, "I think I'm gonna cry." The TV icon's daughter has been visiting the set since she was just a baby. Maggie previously also appeared on the show in 2020 to help out with the puzzle board when her father had emergency surgery, and White was hosting (via CBS News). 
But, despite her personal connection to and love of "Wheel of Fortune," the show isn't the only career path Maggie has followed or is following. 
Maggie is a law student and a musician
Maggie Sajak started as the "Wheel of Fortune" social correspondent in 2021. She gives fans access to behind-the-scenes content including previews of what's to come on the show and interviews with staff, contestants, and celebrities. At this point, she considers the show's staff and crew "extended family" and adores working alongside them, as she told WheelofFortune.com. 
When Maggie isn't working on "Wheel of Fortune," the popular social media personality somehow finds the time for her studies too. Pat Sajak's ambitious daughter is currently in her final year of law school, and she previously graduated from Princeton University and completed a postgraduate program at Columbia University. And that's not all: Maggie is also a talented musician. 
She began releasing country music when she was 16 years old, per People, telling Teen Vogue in 2013: "It's always been a dream of mine to be a singer." With her varied work experience, the future is truly wide open for Maggie, who could easily end up on the radio, on TV, in a courtroom...or even all three.