How Ellen DeGeneres Spends Her Time Following The End Of Her Talk Show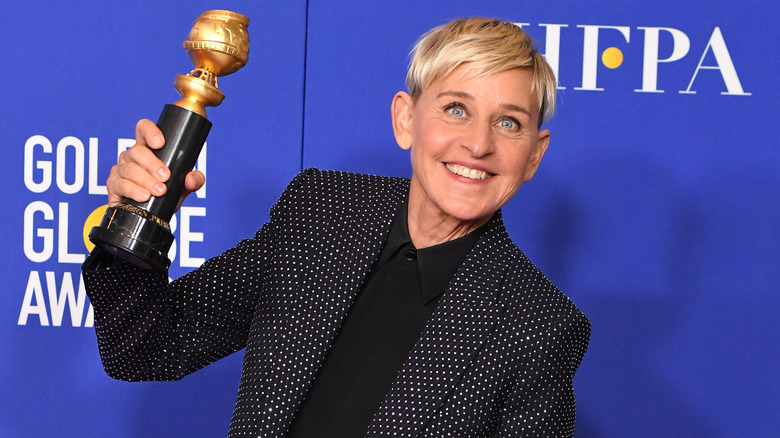 Steve Granitz/Getty Images
"The Ellen DeGeneres Show" was a massive success while it lasted; the daytime talk show ran for a whopping nineteen seasons, and nearly every A-list celebrity paid a visit — or several. An openly-gay host was groundbreaking when the show came on the air in 2003, and Ellen DeGeneres helped pave the way for more LGBTQIA+ representation and acceptance in the entertainment industry. However, her legacy is also tainted by scandal.
When BuzzFeed News published allegations of a toxic workplace environment in 2020, ratings took a significant hit. People at the show described racist incidents and an overall culture of fear in the reports. Following the controversy and an apology from DeGeneres, she announced in 2021 that she was ending her show after its nineteenth season. At the time, she claimed that the show was not concluding because of the allegations, but because "it's just not a challenge anymore," as she told The Hollywood Reporter.
The comedian and host thanked her supporters with a tear-filled monologue during the final episode on May 26, 2022. "I hope I've been able to inspire you to make other people happy and to do good in the world, to feel like you have a purpose," she said. "Thank you so much for being on this journey with me. I feel the love, and I send it back to you." With more freedom in her schedule these days, DeGeneres has been focusing on what makes her happy outside of work.
She's spending quality time with her wife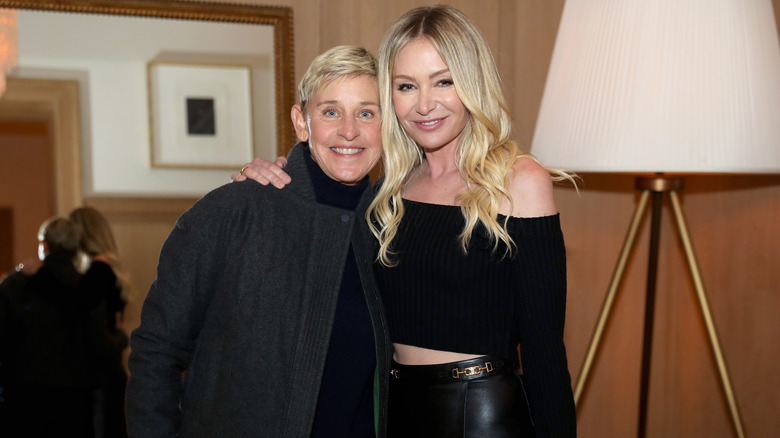 Kelly Sullivan/Getty Images
Following the show's ending, Ellen DeGeneres and Portia de Rossi, her wife of nearly 15 years, have been enjoying more meaningful moments together. In the summer of 2022, they celebrated the show by taking a special trip to Rwanda for the dedication of the Ellen DeGeneres Campus — a project brought to fruition by the Dian Fossey Gorilla Fund, the Ellen Fund, and the MASS Design Group (via the Daily Mail). The space is for protecting gorillas and conducting research, and it's open to the public. Afterward, the pair also enjoyed going on safari in Zimbabwe and shared romantic, nature-filled photos from the vacation on Instagram. 
On January 31, 2023, de Rossi surprised her wife with a romantic vow renewal officiated by none other than reality superstar Kris Jenner. They gathered under the pretense of a party for de Rossi's 50th birthday, and the actress wore her Zac Posen dress from their 2008 wedding. The couple's close friend, Grammy-winning musician Brandi Carlile, served as the wedding singer. "I'm so excited about the future where we get to do whatever the hell we want for the rest of our lives," de Rossi told Degeneres during the ceremony, per People. "I'm so honored to be your wife."
She's passionate about house flipping
After comedy and television, fixing up homes is Ellen DeGeneres' second greatest love. She discussed her passion projects with The RIV Magazine for their Spring 2023 issue and shared that she and de Rossi recently moved to a new place in Montecito, California, according to People. DeGeneres noted that she adored the spot from the start, but the house itself needed lots of love. "Truthfully, I didn't even want to see the place," she recalled to the outlet. "Because the site was incredible but the house, while good bones, basically didn't have a single surface I could live with and everything clashed with everything."
The comedian has flipped more than 50 properties in Southern California so far (via People). "I don't really travel a lot. So, house flipping is my version of travel," she explained to The RIV Magazine. "With house flipping, the scenery changes though I stay in the same general area. Only in a new place and from a new perspective." Her new $70 million dollar estate is complete with mountain, lake, ocean, and horse pasture views so it seems she and de Rossi will be settling down there.