Special Gifts Charles And Diana Received At Their Wedding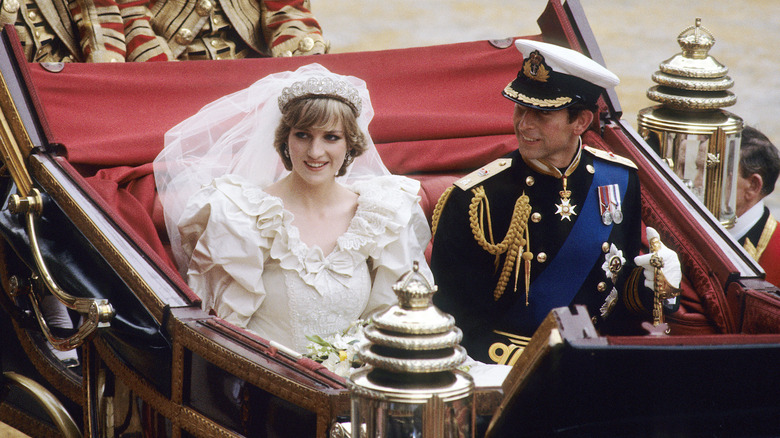 Anwar Hussein/Getty Images
The wedding of King Charles III and Princess Diana was one of the most lavish marriage ceremonies in history, so it's no surprise their gifts were extravagant too. Believe it or not, people were so fascinated by everything involving Charles and Diana's wedding, that memorabilia from the day — including Princess Diana's wedding gown and their wedding gifts — were put on display for public viewing in St. James' Palace just a few months later, from August to October 1981. The Washington Post at the time described it as "an extension of the wedding itself" and "a chance to prolong the fantasy atmosphere of the wedding day for just a little longer."
The exhibit featured 1,000 of the 6,000 gifts the royal couple received with the 1,000 gifts being valued at a whopping $8 million. On opening day, more than 4,000 people visited the exhibit — a huge public response that took organizers quite by surprise. "It lets us know a bit about their private lives," one visitor told The Washington Post. "It makes you feel closer to them."
Research shows that royal wedding gift-giving has been a long-running tradition for centuries. It's a symbolic way of transferring wealth, solidifying or even beginning a good relationship between different cultures, and also shows a sign of respect for the newlywed couple. From sentimental to ultimate extravagance, here are some of the most special gifts King Charles and Princess Diana received on their wedding day.
Fine jewelry and a malachite jewelry box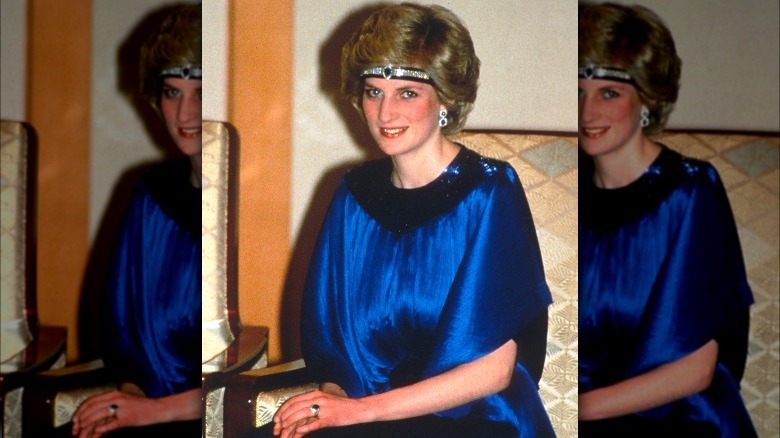 Anwar Hussein/Getty Images
Some of the most expensive gifts King Charles III and Princess Diana received on their wedding day came from the Saudi royal family. Crown Prince Fahd of Saudi Arabia gifted the couple with a suite of matching diamond and sapphire jewelry including a whopping 50-carat sapphire necklace, earrings, a ring, a bracelet, and a watch surrounded by seven sapphires. To top it all off, the gifts were presented in a green malachite jewelry box with the Saudi Coat of Arms engraved on the top. It's safe to say these gifts alone gave Diana a strong start to her royal jewelry collection.
The entire suite of jewelry was given an estimated value of $1.5 million at the time and was apparently even given as much protection as the royal couple on their wedding day. The suite was also showcased in Diana and Charles' wedding exhibition at St. James' Palace in 1981.
However, Diana eventually opted to have most of the jewelry altered to better suit her style — a practice she frequently did with her jewelry. "Over time, certain pieces were adapted, such as the ring and watch which were made into a choker and worn as a headband by Diana, who often re-invented her jewelry," gemologist Alexandra Michell told Hello! "This suite was first worn in December 1981 and the last time it was worn by Princess Diana was in 1987."
A large oval brooch from Queen Elizabeth The Queen Mother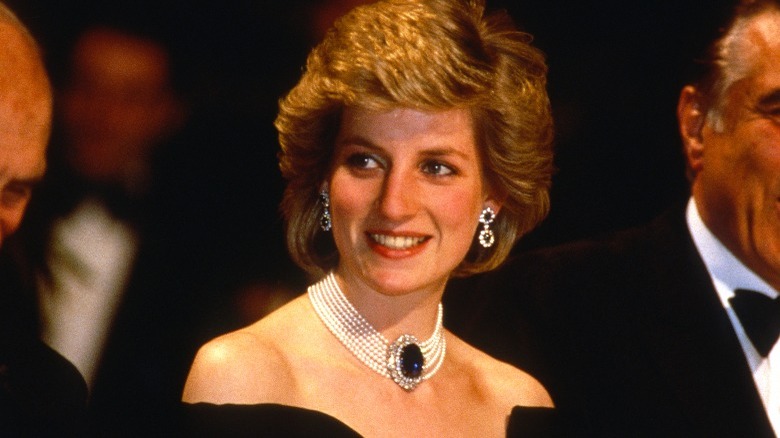 Anwar Hussein/Getty Images
Queen Elizabeth The Queen Mother gifted Princess Diana with a large oval sapphire brooch surrounded by a double halo diamond setting. The sapphire brooch was passed down as a family heirloom and even once belonged to Queen Mary. The brooch paired perfectly with Diana's famous 12-carat Ceylon sapphire and diamond engagement ring.
During the early years of her marriage, the brooch was worn as a standalone piece but, eventually, Diana had the brooch repurposed as the centerpiece in a seven-strand pearl choker necklace, which became a staple jewelry piece that Diana wore often to black tie events — her first photographed event being at President Ronald Raegan's ball in 1985 where she danced with John Travolta.
After her divorce from King Charles III, Diana kept the sapphire choker and continued to wear it as her signature accessory for formal wear. One instance was deemed Diana's most memorable fashion moment shortly after her divorce when she attended the Serpentine Gallery in Kensington Gardens in 1994 wearing the sapphire choker as a statement piece to go with her iconic "revenge dress." According to Maxwell Stone, a leading diamond expert, the sapphire brooch was given an estimated weight of approximately 50 to 70 carats, just based on photos. Stone estimates that the piece today could be worth up to £100,000,000. "This is probably one of the most expensive jewels from the entire royal collection," Stone notes (via Crisscut Magazine).
A Steuben glass bowl from Ronald and Nancy Reagan
President Ronald Reagan and First Lady Nancy Reagan's present to the royal couple was a nod to a gift that Queen Elizabeth II and Prince Philip received for their wedding in 1947 — an engraved Steuben glass bowl known as the "Crusader." 
The bowl paid tribute to the Steuben "Merry-Go-Round Bowl" which was given to the royal monarchs by President Harry Truman and First Lady Bess Truman. The "Merry-Go-Round Bowl" depicts an engraved carousel with passengers sitting on menageries. The design is etched on the center of a pedestal-shaped bowl accompanied by a beautifully detailed, pointed lid.
The "Crusader" bowl, on the other hand, depicts an engraved crusader ship with soldiers, cavaliers, and King Richard the Lionheart who was considered a brave leader for battling Saladin to free the Holy Land during the Crusades. Originally, the "Crusader" bowl was priced at a whopping $75,000 but Nancy Reagan managed to negotiate the price down to $8000. Considering the incredibly detailed engravings took over a thousand hours to make, the price factors out to be about $8 an hour which is a major steal. Sheila Tate, the first lady's press secretary, even described the price Nancy Reagan got for the bowl to The Washington Post as "basically a donation by Steuben." According to Steuben, Steuben glass has been the gift of choice for royals by every U.S. president since Truman. The "Crusader" bowl currently sits on display at the Steuben showroom in New York.
A tiara and fine jewelry from Queen Elizabeth II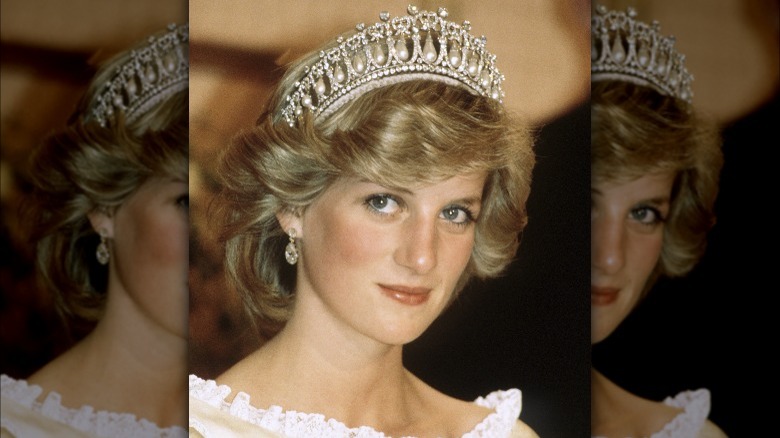 Anwar Hussein/Getty Images
Queen Elizabeth II gifted Princess Diana with another family heirloom that also previously belonged to Queen Mary, the Cambridge Lover's Knot Tiara, along with other fine jewelry pieces. The tiara was made in 1914 with precious royal jewels and 19 dangling teardrop pearls. The top of the crown features pretzel-shaped diamonds, also known as lover's knot bows — hence, the name. 
Queen Elizabeth actually gifted the tiara to Diana on the day of her wedding so she could wear it for the ceremony. However, Diana had already chosen to wear a Spencer family tiara from her father instead. The beautiful Lover's Knot Tiara was supposedly so heavy, it actually caused Diana to have headaches due to it's weight; however, that didn't stop the princess from wearing the crown anyway. "The fact that it's so heavy it hurt Princess Diana's head indicates that this is a valuable tiara, packed with the finest quality diamonds and pearls," said diamond expert Maxwell Stone (via Crisscut Magazine).
After King Charles and Princess Diana divorced, the princess respectfully returned the crown to the queen. The crown has since been worn by none other than Catherine, Princess of Wales on many occasions. The crown is said to be worth about around £1,000,000 today, according to Maxwell Stone.
A private cello concert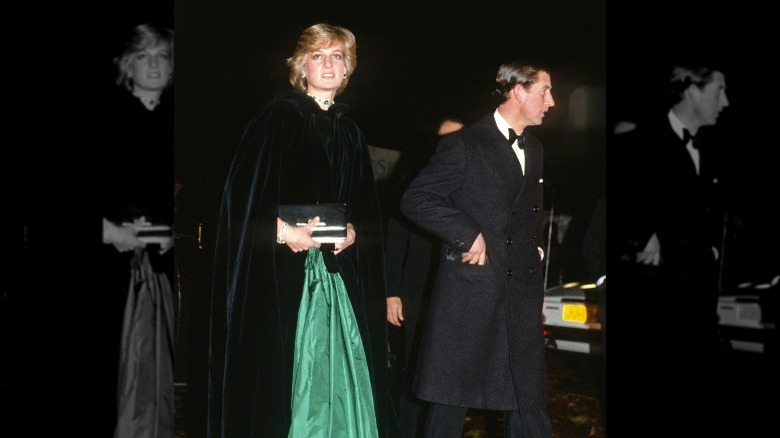 Anwar Hussein/Getty Images
Russian cellist Mstislav Rostropovich gifted King Charles III and Princess Diana a private concert as a late wedding present, but Charles said it was too much to have just for the two of them. So, the king hosted a cello concert that doubled as a charity event and included other guests at the Barbican Centre in London on October 26, 1982.
Charles gave a speech during the pre-concert reception explaining how the event came about. "It's too much to sit there on our own and listen to such marvelous music," he said, sending the audience into laughter (via YouTube). "So I thought we could include a few others, and, at the same time, make a little money."
This event happened to be Diana's first public appearance since the birth of Prince William on June 21, and she looked absolutely incredible. For her ensemble, she chose to wear an emerald green satin ballgown which also happened to be the exact dress she wore in photos with Charles for their official Royal wedding program (via Vanity Fair).
A custom handcrafted gun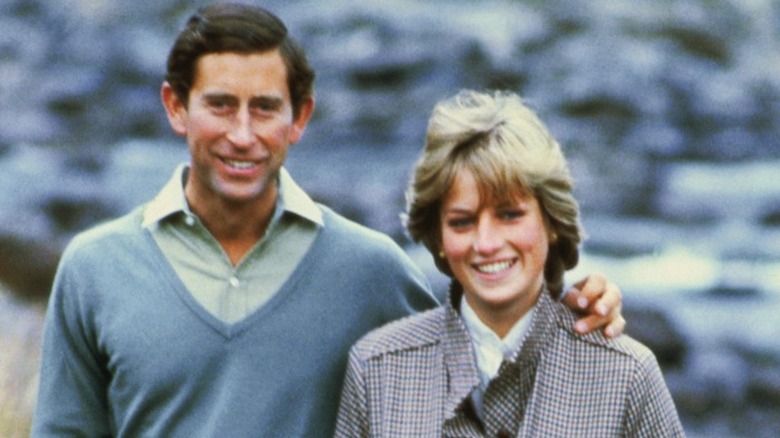 Bettmann/Getty Images
Gunmaker Frank Malin of Frank E. Malin & Son gifted the royal couple with a custom, handmade 16-gauge double barrel shotgun which he described as "fit for a king" (via The Courier Press).
The top of the barrel was engraved with the words "HRH Prince of Wales" in gold lettering. The couple's wedding date was also inscribed on the underside of the gun reading: "Royal Wedding July 29, 1981." Their wedding date was also used in numerical form as the gun's serial number: "29781." The gun also featured detailed engravings of memorable locations special to the couple. The left side of the gun featured an etching of Broadlands which was where the couple took their honeymoon, while the right side featured the royal couple leaving their wedding from St. Paul's Cathedral.
In total, the custom shotgun took over nine months to make and 1,200 working hours which involved Frank Malin and four other craftsmen. The gun was completed in January 1982 and was shortly put on public display in an exhibit in Atlanta, GA. In April 1982, Malin went to England to personally hand deliver the wedding gift to King Charles and Princess Diana. At the time, the gun was valued at $50,000 but would go for about $150,000 today.
A handcrafted canoe
Former Prime Minister of Canada, Pierre Trudeau, chose to commission a canoe handcrafted by Bear Mountain Boats as a special wedding gift for King Charles III and Princess Diana. Trudeau and Charles had previously gone on a canoe expedition together, so Trudeau figured it would make for the perfect wedding gift.
When it came time to write out the brass inscription plate, Canada was unsure of how to properly address Diana since she was not yet a princess, so they contacted the U.K. office for clarification, who got back to them just in the knick of time — the night before the canoe was set to ship out. The company chose to engrave the plate with: "HRH the Prince of Wales and Lady Diana Spencer on the Occasion of Their Wedding."
Just a few years prior to 2015, the Canadian Canoe Museum repatriated the canoe to display in their "The Royal Canoes" exhibit (via YouTube) alongside other royal canoes including one made for Queen Elizabeth II's coronation and another for Prince Andrew from the village of Lakefield where he attended college.
Antique Canadian furniture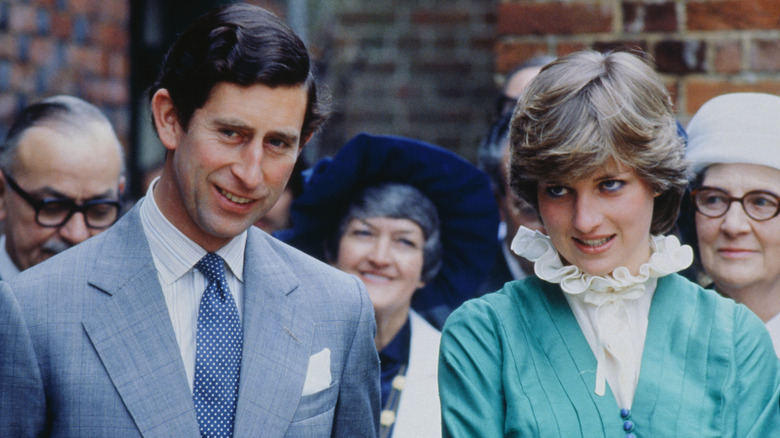 Bettmann/Getty Images
Canada presented King Charles III and Princess Diana with some of the most practical yet extravagant wedding gifts to help the couple start their first home — an antique bedroom set from Nova Scotia, Quebec, and Ontario made in the 1700s and 1800s.
Most of the furniture pieces were crafted from curly maple and flame birch which are both considered unique cuts of wood. Curly maple is a rare occurrence in all maple woods and gives the grain a curly, three-dimensional appearance. Flame birch, also known as curly birch, is closely related to curly maple with its similar curly patterns in the grains of wood — its only difference being that its grains resemble flames — so it makes sense that these two wood families would be part of a set.
The royal bedroom set included a four-post bed in curly maple, a flame birch chest of drawers, a candle stand in curly maple and one in mahogany, and a mahogany toilet mirror. The set also included a maple drop-front desk which is a space-efficient piece with a hinged center, also known as the leaf, which folds down as a desk. When not in use, the leaf can be folded up to save space. But these pieces were not just chosen at random. In fact, the Canadian government even consulted with Charles and Diana on the pieces beforehand, making for an incredibly thoughtful gift.
Matching his and her robes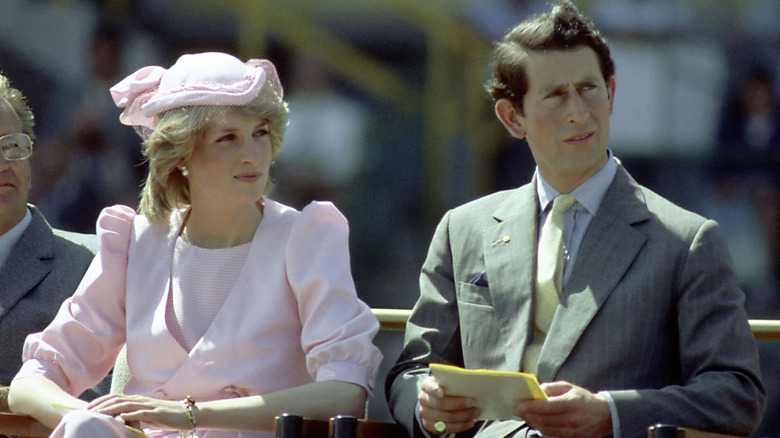 Patrick Riviere/Getty Images
One of the most sentimental, yet personal gifts received by King Charles III and Princess Diana was from one of Diana's kindergarten students, Clementine Hambro, who also happened to be the youngest bridesmaid in the royal wedding. The 5-year-old gifted the royal couple with a pair of matching his and her bathrobes with the names "Charles" and "Diana" stitched on the back. His and her gifts are such a fun and practical idea for couples that they are still popular to this day, so this was quite a smart choice by Hambro (and her parents). 
But little Clementine Hambro, who also happened to be Winston Churchill's great-granddaughter, really stole the show at the wedding after having a very memorable royal mishap that day. As Hambro was walking toward the balcony in Buckingham Palace, she tripped and fell in the long hall which sent her into tears. But sweet Diana quickly came to her rescue and picked her up to make sure she was okay. Diana asked the little girl, "Did you bump your bottom?" (via Today). To which Hambro clarified, "No, I bumped my head."
A diamond-encrusted miniature boat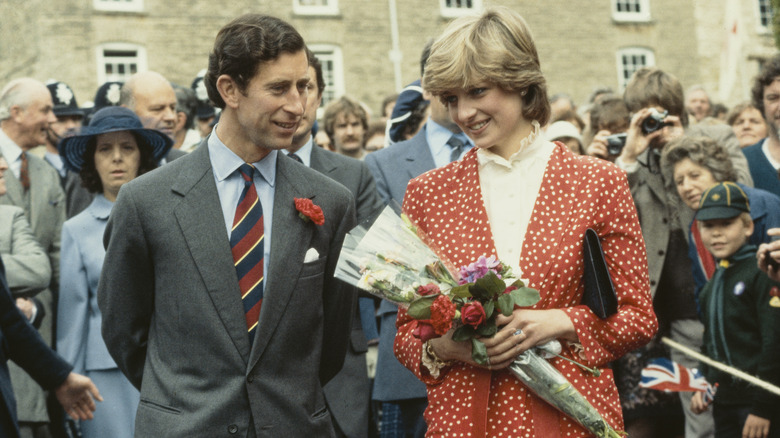 Tim Graham/Getty Images
The Emir of Bahrain gifted the royal couple with quite a one-of-a-kind gift — a two-foot-long diamond-encrusted Arabian boat. The piece was apparently quite ostentatious, given its estimated value of $720,000. Surprisingly, the piece wasn't in the best shape when it was gifted. The Guardian even went as far as to describe it as "scuffed" and "battered." Supposedly, Princess Diana didn't even know what to do with the oddity. Unfortunately, there aren't any photos of the exquisitely lavish ship, so it can only be guessed as to what it looked like.
After Diana's death, the item was stolen by Harold Brown, one of the royal family's former butlers, who had worked for the royal family for 30 years. In 2001, just four years after Diana's tragic death, Brown was charged with theft of the miniature boat along with many other valuables including some of Diana's jewelry and $1,740 in cash.
Brown even attempted to sell the item to former jeweler Jan Havlik of Spink and Sons, who was also charged with handling stolen property. "Our whole business is built on trust and discretion," Havlik explained (via The Guardian). "Very wealthy people bring very expensive items to me ... When Harold Brown said he was selling this item I didn't ask him too much about it ... I did not know whether someone in the royal household wanted to get rid of it. It was not something one asked."