How Real Life Imitated Reel Life When Kelly Ripa And Mark Consuelos Met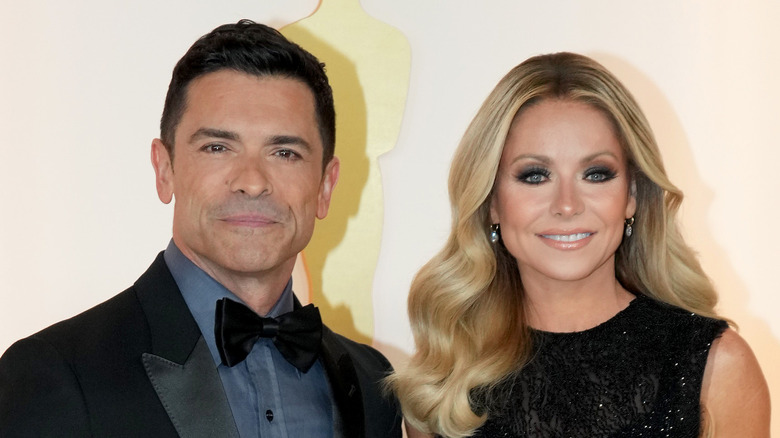 Jeff Kravitz/Getty Images
Kelly Ripa and Mark Consuelos are one of Hollywood's longest-lasting couples. The duo first crossed paths in 1995 when "All My Children" was looking for a love interest for Ripa's character Hayley Vaughan, and Consuelos seemed to fit the bill to play the role of Mateo Santos after a long search. 
"I had auditioned every Latino actor in the city and around the city and then California," Ripa recalled on SiriusXM in 2018 (via Us Weekly). "Then all of a sudden, Judy Blye Wilson, who was the casting director in 'All My Children,' said, 'I found him' ... when I saw him, the photograph of him, I saw my entire future with him flash before [my eyes]. Like, I saw it. I [didn't] believe in any of that and now I do because of that moment," Ripa admitted.
Much like their soap opera characters, Ripa and Consuelos were quick to fall in love. Now, nearly 30 years later, the pair are still going strong and tackling their careers together side by side yet again, all because life imitated art for the actors.
They continued to work together after All My Children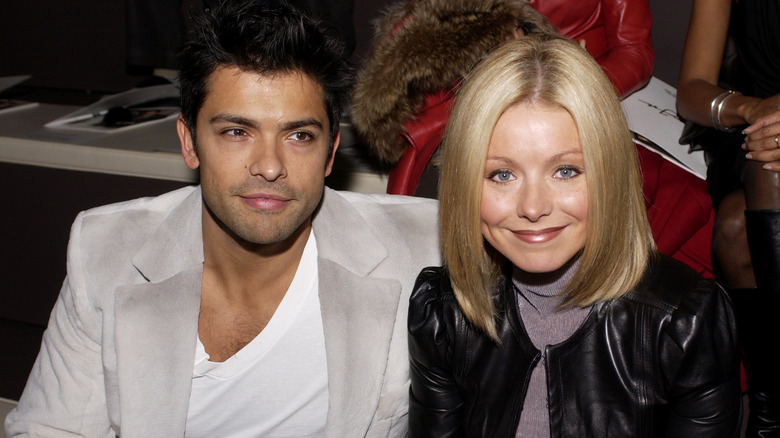 J. Vespa/Getty Images
After Mark Consuelos was cast on "All My Children," he and Kelly Ripa started up a real-life romance of their own. While their characters Hayley and Mateo were a fan-favorite couple, the actors also had a whirlwind relationship that led them to elope in Las Vegas in 1996. The following year, the couple welcomed their first child together, Michael. Finally, in 2000, their onscreen characters also took the plunge and walked down the aisle. In 2001, the pair added to their family when their daughter Lola was born. Ripa also began co-hosting "Live" with Regis Philbin during that time.
In 2002, Ripa and Consuelos left "All My Children," but they continued to be a power couple in real life. After welcoming their third child, a son named Joaquin, in 2003, the pair continued to work side-by-side on their career endeavors. They started their own production company called Milojo — a combination of all their children's names. They also reprised their soap opera roles to celebrate the sudser's 40th anniversary in 2010.
The pair both continued to work on their individual careers as well, with Ripa hosting "Live" and Consuelos taking other acting jobs in projects like "Third Watch," "Husband For Hire," "Ugly Betty," and more. In 2005, the couple also starred together in Ripa's TV series "Hope and Faith," proving they could still make magic together on the small screen.
Kelly and Mark now host Live together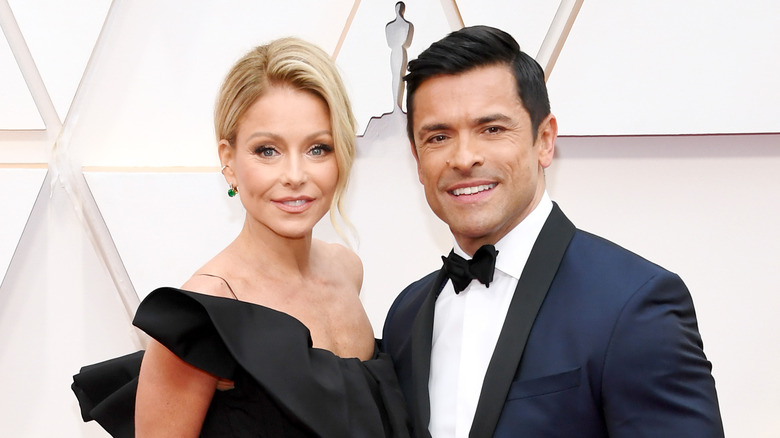 Kevin Mazur/Getty Images
While Kelly Ripa became one of the most recognizable faces on morning television, Mark Consuelos played to a new generation of fans when he took the role of Hiram Lodge on the teen drama "Riverdale." As the show's main villain, Consuelos got to show off his devious side, and in 2019, Ripa joined him on screen to play his mistress. In 2020, Consuelos and Ripa worked together again as producers when they decided to reboot "All My Children" into a new series called "Pine Valley." However, production was delayed due to COVID-19, and the series has yet to come to life.
In 2023, Ripa and Consuelos took their partnership a step further when it was announced that Ryan Seacrest was leaving "Live" and that Consuelos would step in as his wife's brand-new co-host. The two now host the show together, blending their personal life with their careers yet again. However, the iconic pair don't seem to mind doing so, as it's all they've ever known as a couple.
Ripa says she absolutely credits "All My Children" for the life she has today. "It changed my entire life — not just my acting life, but changed the whole trajectory of my life," she told Entertainment Weekly. Meanwhile, fans of the couple can't wait to see what they'll do next as they continue their trend of creating new paths together.