All Of Kelly Ripa's Live Co-Stars Over The Last Two Decades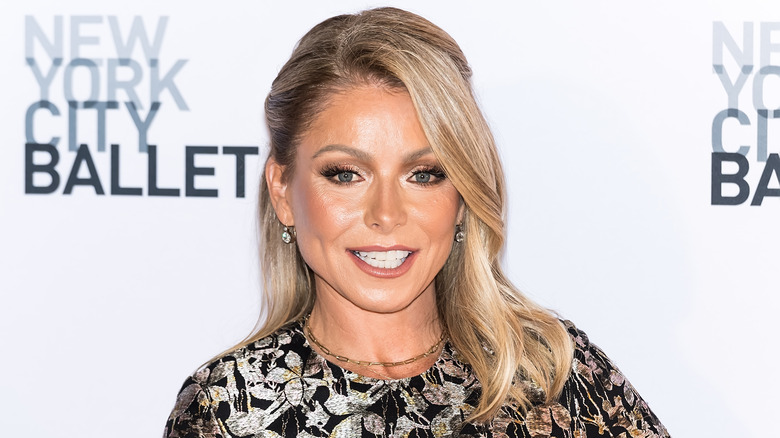 Gilbert Carrasquillo/Getty Images
It may be hard to wrap our heads around, but as of 2023, "Live" has been on our screens for over 40 years. For many of us, tuning into the talk show every weekday morning has been a sense of comfort to start our days, but it hasn't always been the show we see today. Before Kelly Ripa became the star, it was Regis Philbin, who started the show back in 1983 alongside Cydney Garvey. Back then, the talk show was called "The Morning Show" and Philbin had his fair share of hosts before he found Kathie Lee Gifford and production finally felt like they found their match.
When Gifford left for personal family reasons, the show, now changed to "Live with Regis," struggled to find a permanent host, alternating instead between different guest hosts. But in 2001, a young soap star named Kelly Ripa auditioned for the role of guest host and the rest is, well, history. Since then, Ripa has been at the helm of the show, keeping it going even after Philbin left. But he wouldn't be the only host to leave her side -– here are all the co-stars Ripa has had during her tenure on "Live."
Regis Philbin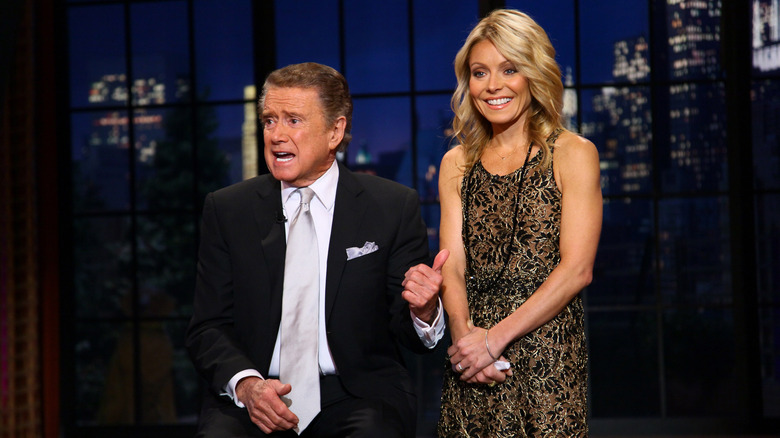 Neilson Barnard/Getty Images
Regis Philbin is the man who started it all, and he is also likely who Kelly Ripa can thank for her now successful talk show career. Philbin, who died in 2020, hosted the show from 1983 until 2011, leaving it to Ripa when he left. And while reports have shown that the pair did not always get along – Ripa told People in 2022 that it was hard for her to earn her place with Philbin and Philbin said that Ripa was salty about his departure and that they never spoke again after he left the show; it was Philbin who gave Ripa her big break.
In his memoir, he recalls seeing Ripa's audition for guest host and instantly knowing she was the one for the job, saying she had a "fun-loving kind of sparkle," via The Washington Post. And Ripa agrees — after his death, she also spoke to People, crediting Philbin for her career and calling him the "world's best storyteller." Philbin and Ripa hosted "Live with Regis and Kelly" together from 2001-2011.
Michael Strahan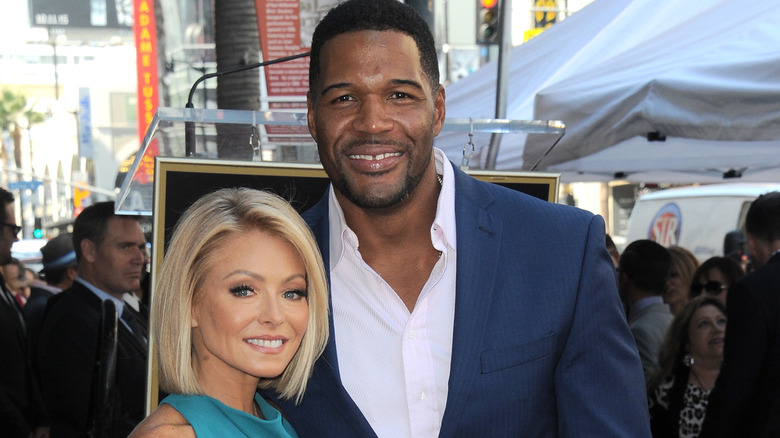 Albert L. Ortega/Getty Images
After Regis Philbin left the show, Michael Strahan took his place beside Ripa. Strahan, whose career before talk shows was in the NFL, guest hosted the show a ton of times over a two-year span before producers realized he was a great permanent fit, via The Hollywood Reporter. At the time, Strahan was also working as a football analyst for "Fox NFL Sunday," so he was no stranger to TV and the chemistry between the two was dynamic.
Strahan hosted with Ripa from 2012-2016, and while the pair worked great on-screen, Strahan's departure from "Live" caused a rift between them. According to Hello!, Strahan chose to leave the show to join "Good Morning America," making the choice without informing Ripa. In fact, Ripa claims that she only learned of his departure from the media, something that was unforgivable to her. While Strahan agreed that his actions weren't great, he also expressed that he always felt like Ripa's sidekick rather than her partner.
An array of guest hosts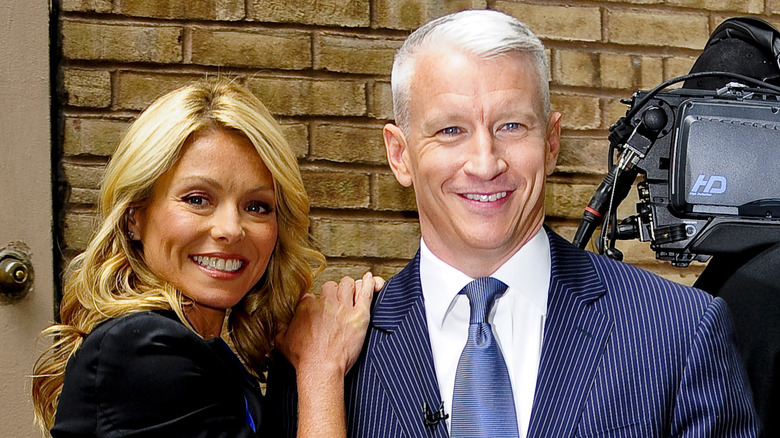 Ray Tamarra/Getty Images
Finding the right host for a talk show that has been around for decades is not an easy feat. In between exits from both Philbin and Strahan, the network struggled to find a new match for Ripa. For two separate years, one after Philbin left from 2011-2012 and the other after Strahan's departure from 2016-2017, Ripa hosted the show with an array of guest hosts while the network searched for the right permanent host.
Using guest hosts as a sort of placeholder was not new to "Live." Philbin also worked beside a ton of guest hosts during his time on the show. The first go-around, Ripa hosted with big names like Alec Baldwin and Josh Groban. She also kept the show modern and timely, adding hosts like Kim Kardashian to the mix. After Strahan left, more guest hosts filled the spot, this time with talk show legends like Jimmy Kimmel and Anderson Cooper.
Ryan Seacrest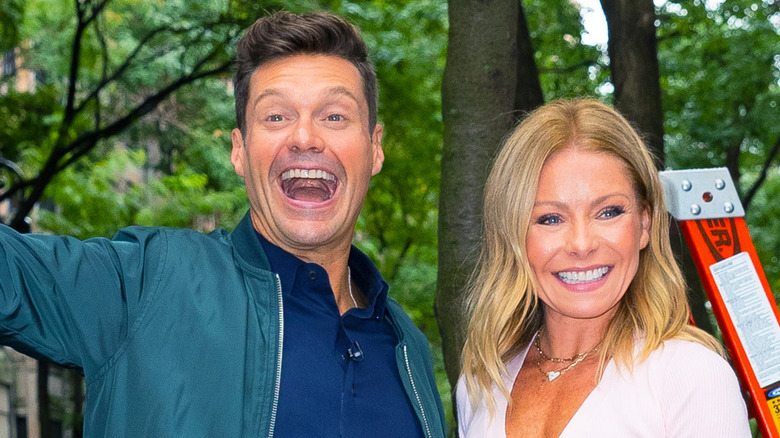 Jackson Lee/Getty Images
After guest hosts came and went, it was finally time for producers to find Ripa's next match. Ryan Seacrest was no stranger to the show — he also guest-hosted many times alongside Ripa. Plus, he was good friends with Ripa off-camera as well, creating a magical chemistry that is hard to find on morning television. In 2017, Seacrest officially joined the show as a permanent host and the title was changed to "Live with Kelly and Ryan."
Seacrest was a great choice for the show and the two would continue to host together until 2023 when he announced that he would be leaving. Seacrest expressed that he was leaving to go back to hosting "American Idol," which is shot on the West Coast. He also has other endeavors, like opening creative studios in pediatric hospitals across the country, that he wanted to put his energy towards, per Hello!. But fans of Kelly and Ryan don't need to fret too much — the host says he will return as a guest host and the pair seem to be leaving things on great terms.
Mark Consuelos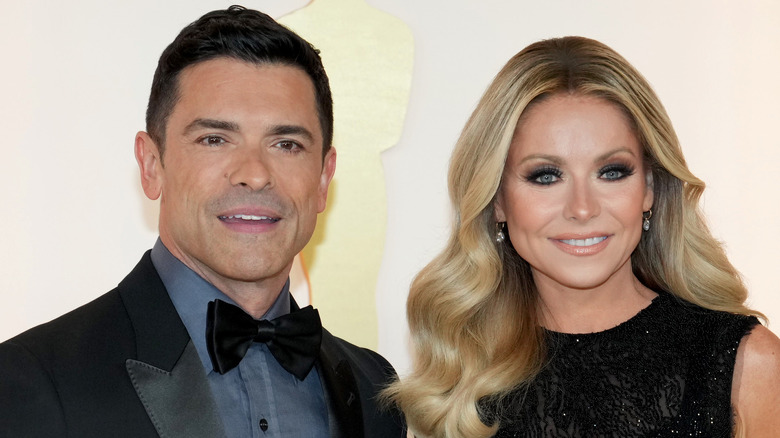 Jeff Kravitz/Getty Images
After Ryan Seacrest announced his departure on-air, he also revealed that his replacement would be: none other than Mark Consuelos. Consuelos, who is known for his roles in "All My Children," and "Riverdale" also happens to be Kelly Ripa's husband. The pair have been married for almost three decades and while the choice to feature her husband as co-host may seem odd to many, it is actually paying homage to the original show.
Executive producer Michael Gelman told The Hollywood Reporter that the original idea for the show was to feel like a husband and wife chatting over their morning coffee. Choosing Consuelos as co-host is putting a spin on that idea and goes back to the early days of morning television and radio talk shows. And of course, Ripa is thrilled to have her longtime husband by her side every day, although she has joked that this is "the nation's weirdest social experiment."