Princess Anne Is Lower In The Line Of Succession Than You'd Think - Here's Why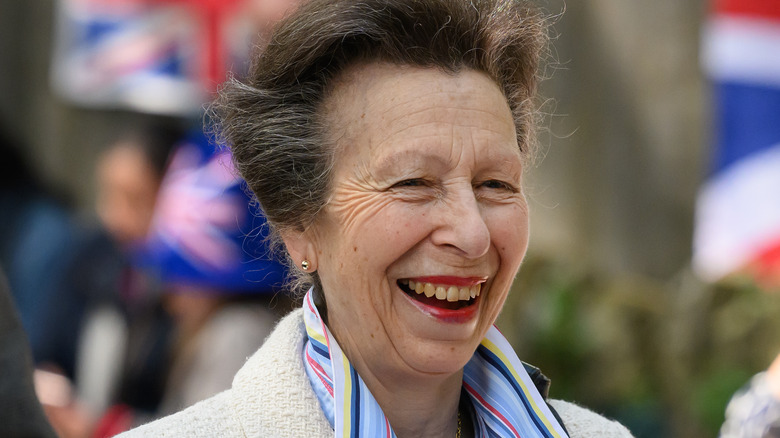 Leon Neal/Getty Images
Princess Anne is consistently the hardest-working royal, topping the list for many years. Like her mother, Queen Elizabeth, Anne's committed to a life of public service. As the patron of 300+ charities, the Princess Royal notches up hundreds of appearances every year. Anne's been a working member of the "Firm" since 1969, and she takes a broad view of her work. "The monarchy provides, with the constitution, a degree of long-term stability that is actually quite hard to come by any other way," Anne informed CBC News. "I think it has good long-term benefits, and that commitment to long term is what the monarchy stands for."
Over the decades, the Princess Royal's signature approach has been to focus on the job rather than the spotlight. One of the secrets behind her high number of royal outings is a highly organized schedule that enables her to make multiple appearances on a given day. "If I'm going to be in London, I don't want to be hanging about," Anne told Vanity Fair in 2020. "I'm fortunate that the program that I make up is a direct result of being asked to do these things. It would be a pity if you didn't try and do them."
Given Anne's diligence, some royal fans might question the disconnect between her high work ethic and her low location in the line of succession. Here's a look at the reasons behind her position.
Princess Anne is 16th in line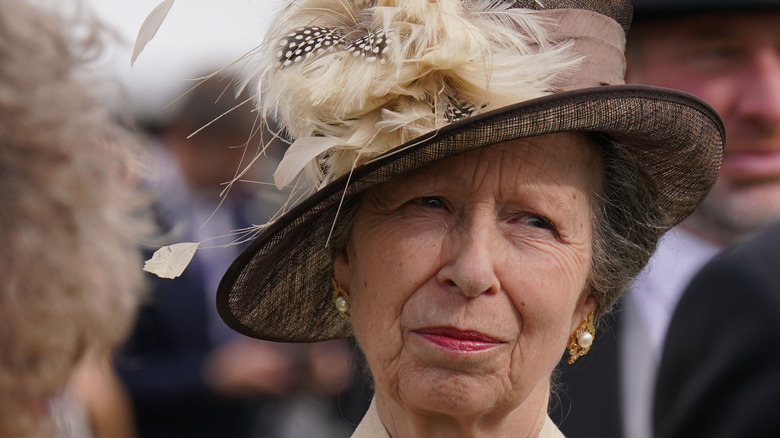 Wpa Pool/Getty Images
When she was born in 1950, Princess Anne was close to the top of the royal succession list: number three. George VI, Anne's grandfather, was still on the throne, so Queen Elizabeth was first, followed by Prince Charles. However, once Anne's brothers, Prince Andrew and Prince Edward, were born, she lost her place in line, thanks to the then-tradition of sons being preferred heirs to the throne, called male primogeniture. As the queen became a grandmother and great-grandmother, Anne moved even farther back in line, and by 2023 was number 16. 
Now that Charles is king, William the Prince of Wales is first in line, followed by his children, then Prince Harry and his children. Next, it moves to Andrew and his descendants, then Edward and his children, before it lands on Anne's family. In 2013, the succession rules were changed when the U.K. Parliament passed a law eliminating male primogeniture for anyone born after October 28, 2011. "The idea that a younger son should become monarch instead of an elder daughter simply because he is a man," declared then-Prime Minister David Cameron, per Woman & Home, "is at odds with the modern countries that we have become." While the update doesn't change Anne's place in line,this legislation will make a major difference for the Wales' middle child, Princess Charlotte. Besides keeping her place ahead of her younger brother, if Charlotte has children, they will also be ahead of Prince Louis. 
Numbers aside, Anne is indispensable to King Charles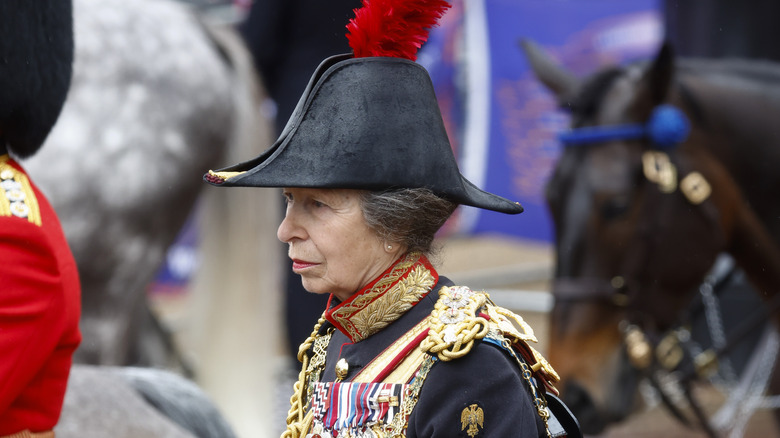 John Phillips/Getty Images
Regardless of her place in the line of succession, Princess Anne is an experienced senior royal with a significant role in supporting the monarchy. "There has to be someone cutting the ribbons, planting the trees and unveiling the plaques," a palace insider explained to The Telegraph. "She's invaluable to the King." In addition, despite previous conversations about a slimmed-down monarchy, Anne's contribution is even more integral, given the Queen's death and the departure of Prince Harry and Meghan Markle as working royals. "I think the 'slimmed down' was said in a day when there were a few more people around," the Princess Royal told CBC News. "It doesn't sound like a good idea from where I'm standing, I'd say."
In late 2022, to recognize Anne's importance to the monarchy, King Charles and the British Parliament elevated her to the role of Counsellor of State. Should the need arise, she can perform constitutional responsibilities if the king is unavailable.  As further proof of their close relationship, Charles asked Anne to be "Gold-Stick-in-Waiting" at his coronation. Wearing her Blues and Royals military uniform, Anne informed CBC News that "Gold Stick was the original close protection officer." Besides this important honorary role, the king sent one additional indicator of his respect for his sister: In the official coronation photos, the Princess Royal is next to Charles on his right side, illustrating that Anne is her brother's right-hand woman.