That Time Kelly Ripa Accidentally Revealed Her Pregnancy On Live TV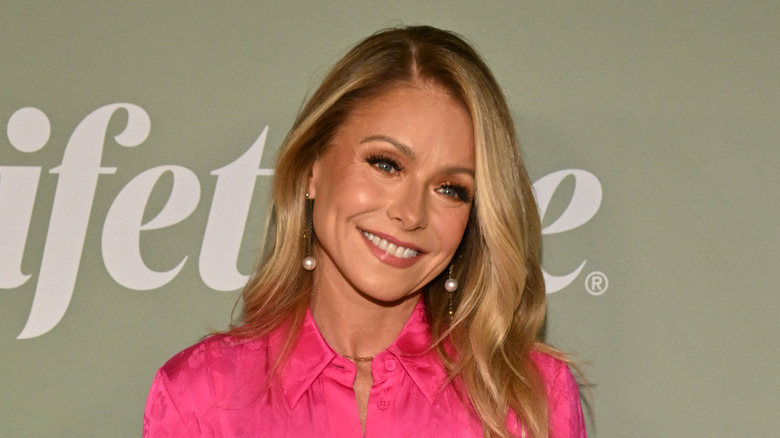 Slaven Vlasic/Getty Images
Kelly Ripa is perhaps known for co-hosting "Live With Kelly and Ryan," later renamed "Live With Kelly and Mark" with Ryan Seacrest exiting and her husband, Mark Consuelos, taking his place as co-host. Yet Ripa had been in the entertainment business for decades before becoming a talk show host.
Ripa has undergone a stunning transformation over the years. As a young actress, she joined the cast of the popular soap opera, "All My Children" when she was just 20 years old. Portraying the wild child Hayley Vaughan, Ripa played opposite her on-screen boyfriend Mateo Santos, played by Mark Consuelos. Their on-screen romance quickly ventured off screen and the couple eloped in Las Vegas in 1996.
The following year, the couple welcomed their oldest Michael and by 2000, Ripa was trying to win the coveted co-host spot on "Live with Regis." That's when she let it slip that she was pregnant again.
The big reveal came when trying out for Live! with Regis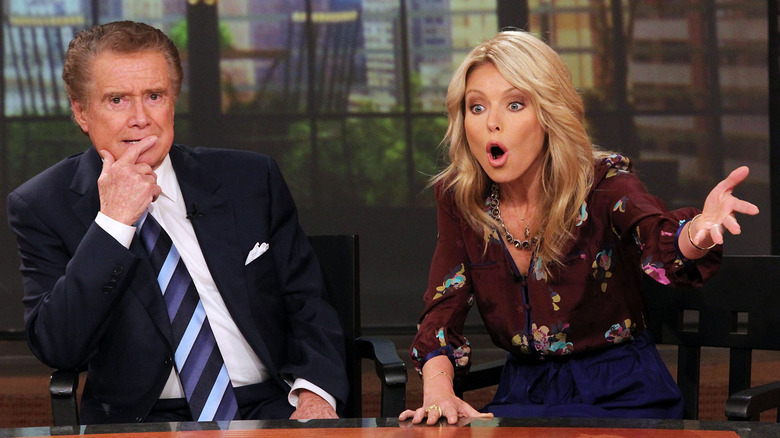 Rob Kim/Getty Images
Many of us can relate to not wanting to share pregnancy news when it's still early in the pregnancy. Ripa was no different, so when she became pregnant with her daughter, Lola, and was trying out for "Live with Regis," she told no one. Only she and her husband Mark knew.
Ripa was asked to fill in on the show at the last minute and had no hope she would actually get the job so felt free to just go and have fun with the experience. "I actually think that the fact that I, I did not have any anticipation about getting that job at all, actually worked greatly to my advantage because I wasn't going after it," Ripa shared with Jimmy Fallon on "The Tonight Show" (via E! News). "I was asked to fill in for a fill-in host at the last minute so it took any stakes or any nervousness that I probably would've had away."
Little did Ripa know that a psychic would be scheduled to appear on the show.
Psychic Char Margolis put Ripa on the spot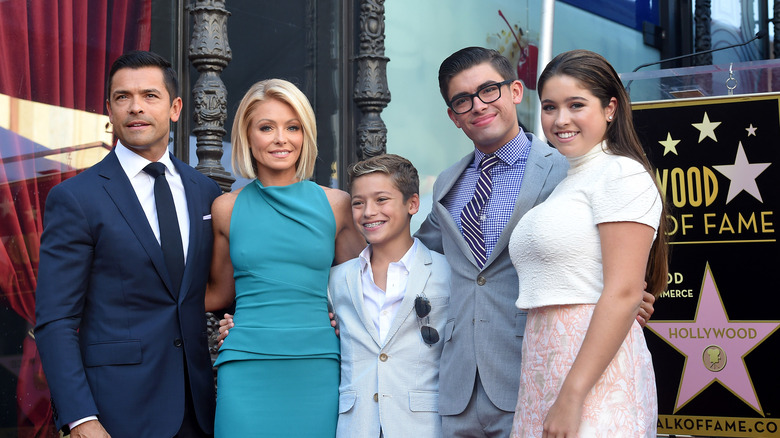 Axelle/bauer-griffin/Getty Images
Yet when Kelly Ripa found out that psychic Char Margolis was set to appear on the show on November 1, 2000, she told her husband, Mark that she couldn't do it because the psychic might reveal that she was in very early pregnancy with her second child (via Variety). Mark wasn't convinced and Ripa did the show, as she recounted in an episode of "Live with Kelly and Ryan."
Within a few minutes of speaking, Margolis said that Ripa's grandmother was watching over her and her son and that a new baby was on the way. Ripa immediately teared up and laughed uncomfortably. Margolis pressed her and said the baby was coming on and then asked if she was pregnant. Ripa awkwardly laughed and wiped away her tears and said, "I haven't told my boss yet."
Ripa went on to give birth to a daughter, Lola, the following June. The couple completed their family in 2003 when their last baby, Joaquin was born. That time, she happily announced her third pregnancy herself on the show, having already landed the co-host job.