The Real World Reason Kelly Ripa And Mark Consuelos Gave Their Son A Post-Grad 'Grace Period'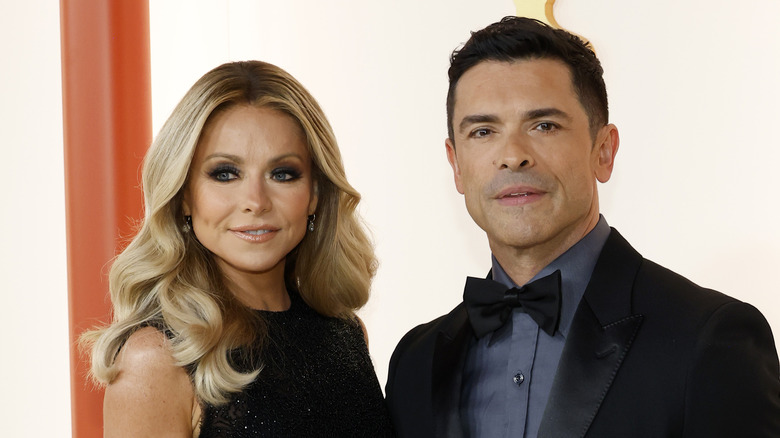 Mike Coppola/Getty Images
Kelly Ripa and Mark Consuelos may have a rather traditional marriage setup, but that doesn't take away from the spark that still exists from the moment the two met on the set of "All My Children." After marrying in 1996, the couple had their first son Michael a year later. Then in 2001, along came Lola, and in 2003 they had their second son, Joaquin. Ripa even told She Knows that she considers the dynamic between her and Consuelos "very traditional" and "almost old-fashioned," as she often spent time at home with the kids while her husband was off working: Consuelos added that "She makes the home a home." 
The three children of Ripa and Consuelos have been in the spotlight since a young age, as the couple has brought them to different events as they have grown up. People may know Michael for a plethora of reasons, one of which is the fact that he has grown up to be gorgeous. And you may remember him for his role alongside his father in the hit show "Riverdale." Michael played the younger version of Mark's role as Hiram Lodge, a role he played well considering his extreme resemblance to his dad. 
Michael attended New York University and studied Film and TV Production. He also ran for the men's cross-country team. Although his life has been full of shining moments, he had to go through one struggle that a lot of college students of recent years can relate to: the COVID-19 pandemic.
A post-pandemic grace period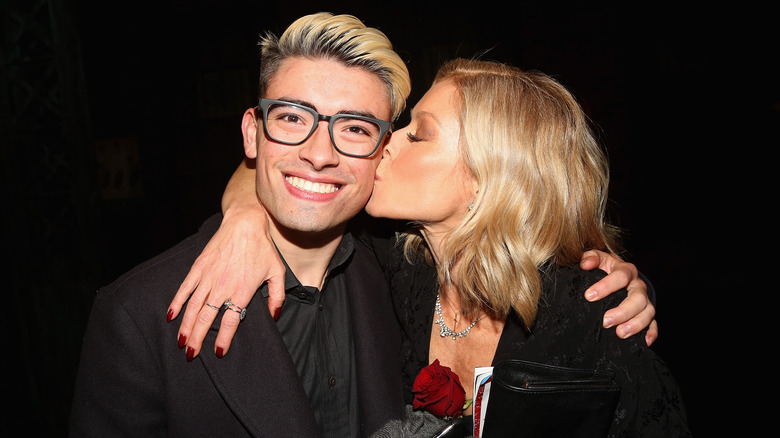 Bruce Glikas/Getty Images
A gap year isn't a new concept, and as the BBC noted, the pandemic encouraged people to take some time off of school or work. Michael Consuelos, Mark Consuelos' and Kelly Ripa's eldest, graduated from New York University in 2020. Unfortunately, he was one of the many students who had to endure the college experience during the COVID-19 pandemic, a time that changed education as we know it. 
The COVID-19 pandemic has made inflation go up and has made graduating college students struggle to find jobs and feel financially secure, so Kelly and her husband have been financially supporting their children while the economy is unsteady. According to Insider, in an episode of "Live with Kelly and Ryan," Ripa discussed Michael's struggle with finding work after graduation. She said, "I know that Michael graduated college in May of 2020 and he had a writing job lined up which evaporated because the pandemic shut down the production and it just never came back." 
Because of the financial and career uncertainty of post-graduate students, Kelly and Mark granted Michael a year-long grace period to spend some time figuring out what he truly loves and wants to do, but he has certain expectations from his parents. "I said to them, these are years that you won't get back and this is a time where we won't mind supporting you financially as long as you work — as long as you maintain a job for your add-ons, as I call them," Ripa commented (per Insider).
The Ripa/Consuelos family
The three Ripa-Consuelos children are not children anymore. Now, Michael is 25 years old, Lola is 21, and Joaquin is 20 (via People). With all the time that has gone by, Mark and Kelly have done their duties as parents and prepared them for the sometimes scary, real world. 
The couple have sent their youngest son Joaquin off to college at the University of Michigan where he is a member of the wrestling team. This final send-off of their youngest child officially makes the couple empty nesters. According to People, Ripa said that the experience was "brutally painful" and "one of those things where you can never be ready." Their daughter Lola enrolled in New York University in 2019 to study music.
On April 17, Mark officially became the new co-host with Ripa on her show "Live." The show now is titled "Live with Kelly and Mark" and you can watch it on weekdays at 9 a.m. EST.