Natural Ingredients That Can Help Minimize The Appearance Of Scars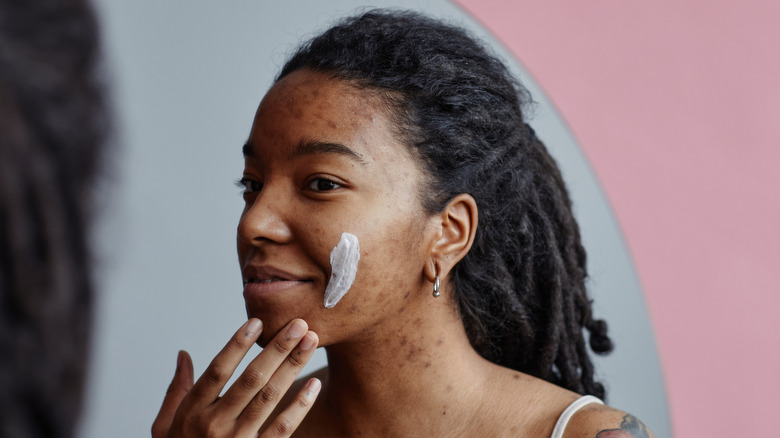 Seventyfour/Getty Images
Scarring is a skincare nightmare. By some miracle, your acne has cleared up, but now the evidence lingers in the form of dark spots. Or maybe, there's a childhood accident your skin won't let you forget. While there is a clever way to hide scars with makeup, you want these marks gone even on a fresh-face day.
Scars are a natural part of the body's healing process. Sometimes the new skin just doesn't match up with the existing surface, or there is damaged skin tissue, like in the case of stretch marks. Of course, preventing scars is the best way to minimize their primetime appearance, but that is easier said than done. Natural DIYs can be the answer to fading scars with ingredients you might already have on hand. However, the longer you've had a scar, the harder it will be to minimize its appearance. Most marks won't go away completely, but you can still significantly reduce their presence.
Spot treatments with natural ingredients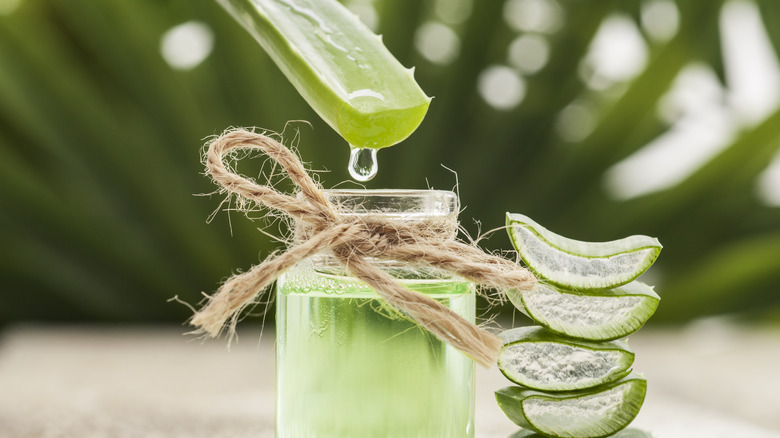 Kameliq/Getty Images
Spot treatments are a quick and easy way to fight persistent scarring. Aloe vera is an amazing succulent all around. It is healthy to consume and it's a plant that can help fade dark spots. A 2016 study published in the Annals of Plastic Surgery found aloe vera reduces inflammation and scar tissue plus speeds up wound healing. To use this natural remedy, cut a small piece of your aloe vera stem and remove the green peel. The gel is what you want to treat your scars. Directly apply the gel to your spots in a circular motion and let it sit for 30 minutes. After your half-hour sitcom is over, rinse with cool water. Try this remedy twice a day.
Another option that's also a sweet treat to help fade scars is Manuka honey. This ingredient is made from the nectar of the Manuka tree. Not any ole honey will do. In a 2018 research paper published in Bioengineering, it was concluded Manuka honey prompted faster wound healing, improved tissue regeneration, and had antibacterial properties. You can apply it daily to the marks or mix the thick sap with water to create a mask. Leave it on for a few minutes before washing it off.
A natural overnight remedy to lighten scars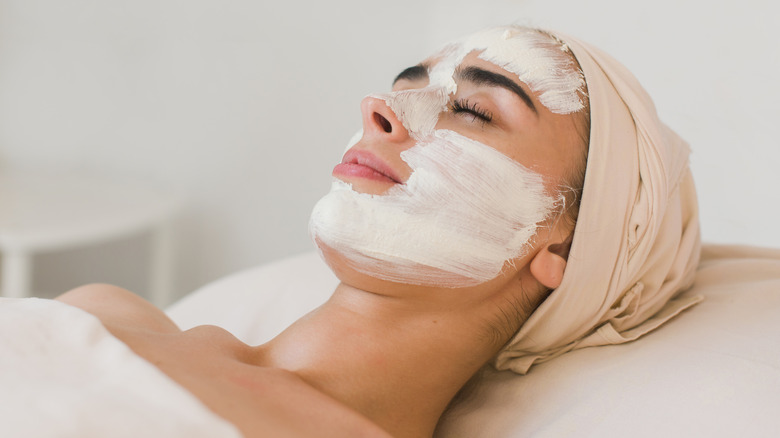 O_Lypa/Shutterstock
While spot treatments help, it's not always convenient to have plant juice on your face. This is where overnight remedies come in. One of the best ways to use apple cider vinegar is to improve scars. Dermatologist Raechele Cochran Gathers told Real Simple, "It contains citric acid, an alpha hydroxy acid (or AHA) used to exfoliate, brighten, and smooth [your complexion], as well as polyphenolic antioxidants, which might help improve the skin's appearance."
Use apple cider vinegar as a PM treatment. Since this vinegar is potent, it has to be diluted with water first. Mix two parts apple cider vinegar with one part distilled water. You can use a cotton swab or ball to apply the mixture to your scar and let it dry. Leave the ingredients to work their magic overnight and rinse it off in the morning. If you have sensitive skin, it is always best to patch test treatments or consult with your dermatologist before diving in.