The Forgotten Hallmark Movie That Featured Happy Days Star Henry Winkler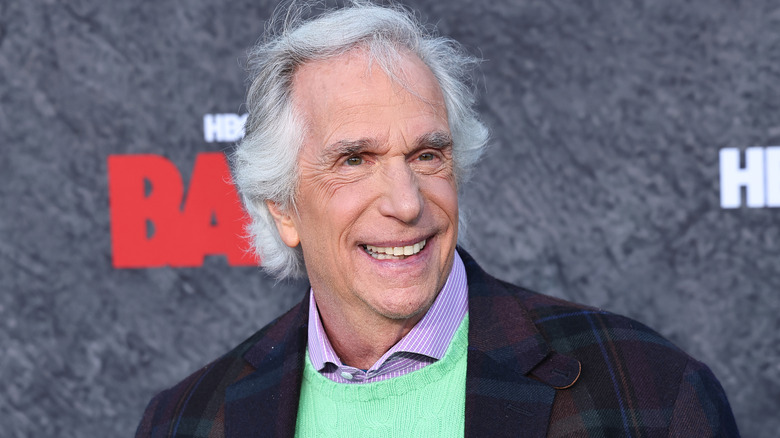 Leon Bennett/Getty Images
With his memorable catchphrase and leather jacket, Arthur Fonzarelli aka Fonzie was the character that put actor Henry Winkler on America's radar. It was on October 30, 1973 — Winkler's birthday coincidentally — that he was cast to play Fonzie, and it must have been a good luck sign of the success that would come from playing this character. Not only did Winkler win two Golden Globe Awards for his performance, but he made The Fonz a household name. So much so that the character's iconic jacket was displayed in the Smithsonian Museum.
While The Fonz may still be the role he is best known for, it is sometimes easy to forget the rest of Winkler's impressive portfolio. As well as continuing to act in shows such as "Barry" and "Arrested Development," he is also an author, director, and producer. Winkler is also one of the many greats to star on the Hallmark Channel, and his appearance in "The Most Wonderful Time of the Year" results in a Hallmark movie that is totally worth your time.
Henry Winkler shines in this holiday film
The holiday season is filled with happy days in the film, "The Most Wonderful Time of the Year." Henry Winkler stars as Uncle Ralph, who spends the festive season with his by-the-book niece, Jennifer (Brooke Burns). However, her carefully laid plans are turned on their head when her uncle comes home with a handsome plus one — chef Morgan (Warren Christie) who he met at the airport. Uncle Ralph is a matchmaker of sorts, spicing up the Christmas season by trying to get his niece and Morgan together. However, Jennifer already has a boyfriend — he just happens to be one that her discerning uncle doesn't like.
While Winkler's presence was a treat for fans, he too felt the same starring in the Hallmark movie. He told Deseret News it was "a holiday gift for me to participate in it." The actor grew up celebrating Hanukkah, but in making this Christmas film, he said, "I had a thoroughly, unbelievably entertaining and wonderful time making this movie and, hopefully, it shows."
With Winkler's success on camera in this charming film, it's hard to believe that at one point he struggled to get roles that weren't like his "Happy Days" character.
Henry Winkler was typecasted after Happy Days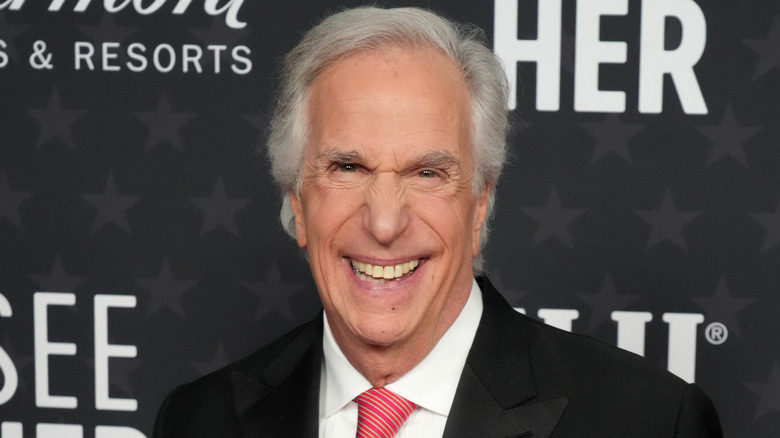 Jeff Kravitz/Getty Images
After "Happy Days" brought him major fame, Henry Winkler had high expectations to exceed, but Hollywood didn't give him the chance to do so. In an interview with TODAY, Winkler revealed, "There were eight or nine years at a time when I couldn't get hired because I was 'The Fonz,' because I was typecast." The obstacle led to mental struggles, which Winkler described as, "debilitating because I didn't know what to do."
However, that drawback sparked a new direction that brought much success for the Hollywood star. Not being able to land a role prompted him to start his own production company, and Winkler went on to produce the notable series "MacGyver."
His role in the Hallmark movie "The Most Wonderful Time of the Year" helped him prove he could play more than Fonzie-esque characters in one of the channel's best holiday movies. His portrayal of Uncle Ralph was definitely far from the leather-wearing Fonzie, and Winkler has further demonstrated his range playing the self-centered acting coach Gene Cousineau in "Barry," dysfunctional yet warmhearted Bobby in the comedy "Family Squares," and in countless other productions.