Why You Won't See Angie Harrington On Real Housewives Anymore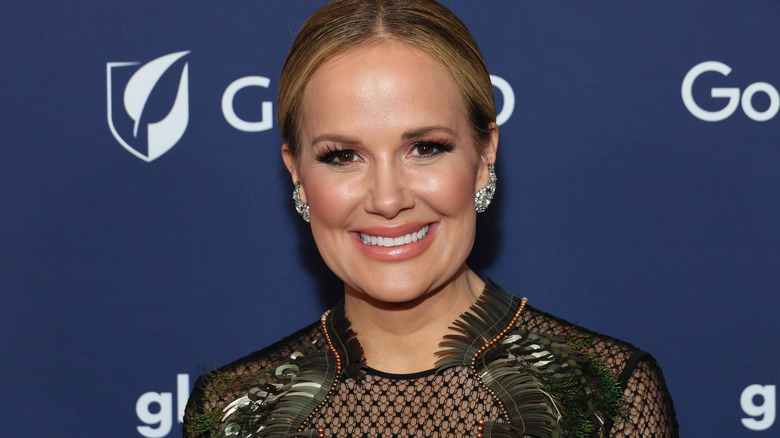 Dia Dipasupil/Getty Images
From Lisa Barlow and Meredith Marks' friendship reaching a boiling point during Season 2 to Whitney Rose and Heather Gay's feud taking a volatile turn for the worst at BravoCon, there's more than enough drama to go around on "The Real Housewives of Salt Lake City." There's also no denying that Angie Harrington has been a controversial figure since she first appeared as a friend of Barlow's in the hit show's sophomore season. 
A press release described Harrington as, "No stranger to the RHOSLC social scene," elaborating, "Angie Harrington has lived in Salt Lake for years with her husband and three sons," (via Bravo). It also set the stage for Harrington's role in Season 3, teasing, "After a fallout last year with Lisa, Angie grows closer to Whitney and Heather." However, Harrington's friendship with Rose was seriously tested throughout the season too. 
And as far as her interactions with the rest of the cast go, Harrington told Bravo before the reunion, "I try to live as honestly and as authentically as I can. So that means I don't have to backtrack or be paranoid about what could come out, because I am what I am, and that's it. Good, bad, ugly, all of it." However, in May 2023, Harrington announced her departure from the franchise before she'd even debuted as a full-time Housewife. 
She learned a lot from being on the show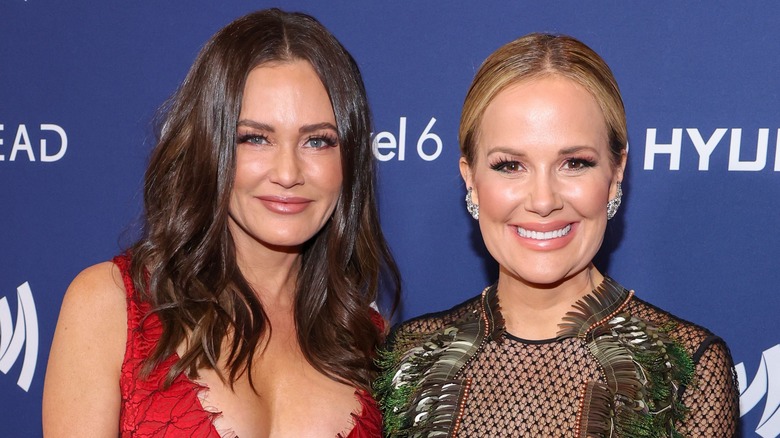 Cindy Ord/Getty Images
Angie Harrington attended her first "RHOSLC" reunion in Season 3, alongside other friend-of cast-members Angie Katsanevas and Danna Bui-Negrete. Harrington asserted to Bravo ahead of the taping, "I'm ready to clear the air. I've been accused of a lot of things that I am not, so this will be a good opportunity for me to show who I really am." She added, "I'm going to have to fight a lot of battles, but I can do that." Harrington also expressed a desire to find common ground with Lisa Barlow. 
As she reasoned, "I would like to be heard and understood, and I'm willing to hear and understand them as well." Of course, a reality show isn't the best place to gain clarity on friendships or speak up for yourself. Harrington acknowledged to People, "It's hard to get the full story on what's going on." She continued, "I think nobody's naive to the fact that things get edited in a certain way to create a television show, but I think it's important that people know it's not for the faint of heart."
Though it's clear Harrington is no stranger to fighting back — in 2022, she posted on Instagram with the caption, "When people work tirelessly to keep you down come back stronger" — she ultimately announced her departure from the show in that same interview. However, the reason behind her exit isn't what fans might expect.
It's about focusing on family right now
Angie Harrington shared with People that she chose not to come back to "RHOSLC" simply because, "This is just a time when my family really needs me, and I wasn't able to commit to it." The reality star went on to discuss her young son, Hart's, autism diagnosis, telling the outlet, "I think it's so important to hear other people's stories and understand so many neurodivergent people are so defined by their diagnosis by others." 
Harrington went on to note that, for her family, "It's our new normal and you just have to come up with the plan that works for your family so that everyone's getting their needs met." Though she will no longer have a reality show as a platform, a rep for the former Real Housewife informed Today that, "She hopes that sharing this news and bringing awareness to autism might just help another family." 
Harrington herself also wrote a thank you post to Bravo and their legions of fans on Instagram, noting: "I am forever grateful for the lessons I learned and the friendships I made." But, as she reiterated, "My babies need me right now. We've got a long and hopeful journey ahead." Still, Harrington expressed excitement for the next stage of her family's journey, enthusing, "These kids have superpowers!"