Why Retiring From Live Is Always At The Forefront Of Kelly Ripa's Mind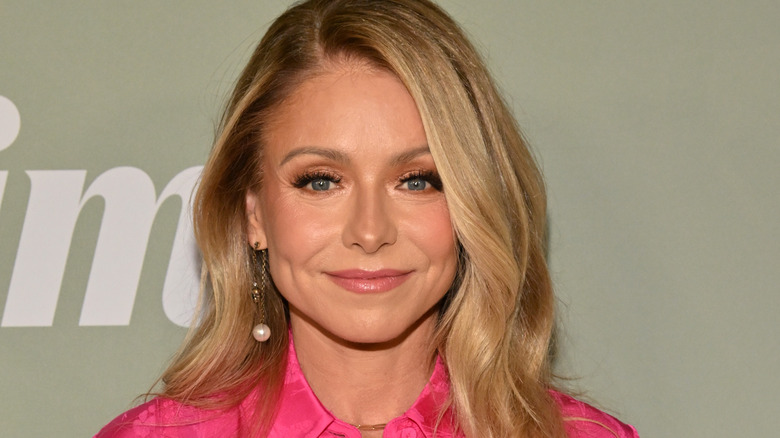 Slaven Vlasic/Getty Images
Kelly Ripa is a seasoned producer and actor, and her stunning transformation from soap opera darling to talk show royalty has been paved with memorable roles. Ripa went from a 12-year run on the hit soap opera "All My Children" to dozens of TV roles, alongside playing herself on shows like "30 Rock" and "Ugly Betty." After meeting her husband, Mark Consuelos, on the set of "All My Children," the actors' on and off-screen romance became the blueprint for a Hollywood power couple who is able to both work and play together. 
Ripa even told People in 2022, "A lot of couples in this business are egomaniacs. But with Mark, we're constantly building each other up." Though she's had a slew of talented co-hosts on her popular morning show, "Live," Ripa is a legend all on her own. With all of Ripa's co-stars over the last two decades, including Regis Philbin, Michael Strahan, Ryan Seacrest, the show has had many monikers; "Live with Regis and Kelly," "Live With Kelly and Michael," "Live with Kelly and Ryan," and now "Live with Kelly and Mark." 
Though "Riverdale" star Consuelos was a guest host on the show before, their marriage got a professional upgrade when the couple signed up to co-host "Live" together. Still, working with her other half doesn't guarantee that Ripa will stay on the show longer than what works best for her, as well as "Live" itself. 
Her new co-host is the ideal partner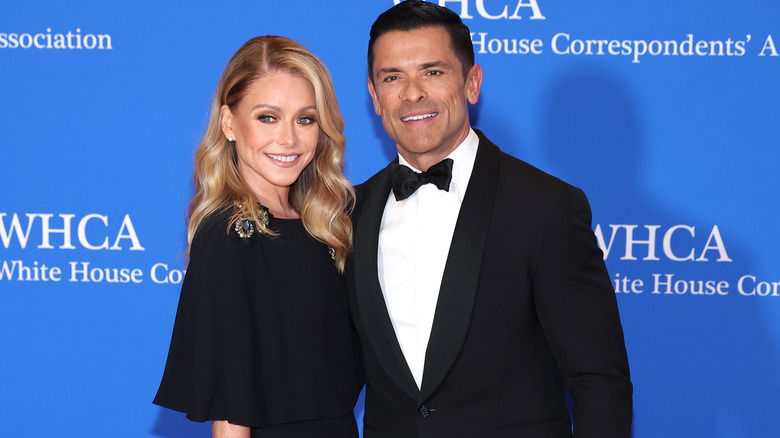 Paul Morigi/Getty Images
Kelly Ripa has plenty to say about her new co-host, and she appreciates Mark Consuelos for his equally strong presence and opinions. She told EW, "Mark and I are capable of feeding off each other's energy." However, Ripa noted that part of this dynamic plays off their natural tension, too, explaining, "We don't see eye to eye on a lot, which makes our marriage interesting." 
But their differences don't stand in the way when it comes to co-hosting "Live with Kelly and Mark." Ripa shared, "We have vastly different opinions about a lot of stuff, and Mark is not afraid to disagree with me or mix it up with me." She concluded, "I think that's compelling television." Beyond the couple's natural chemistry on-screen, the set also feels like a family environment. 
Executive producer Michael Gelman even said in a statement, "The real concept of the show, in a symbolic sense, is that they are husband and wife." He added, "They have their coffee mugs and they're chit-chatting about what's going on," per The Hollywood Reporter. Though Ripa and Consuelos are realizing the show's original goal, her concern for its wellbeing goes beyond her own role.
Kelly Ripa always wants the show at its best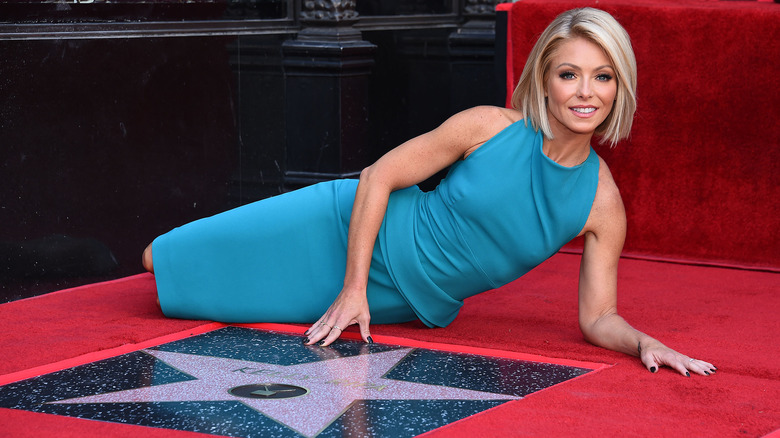 DFree/Shutterstock
Kelly Ripa was candid about her "Live" role during her chat with EW, admitting, "Every time you get a new cohost, it's like a little jolt of energy." At the same time, she doesn't plan on sticking around forever. "To be clear, I am always thinking about retiring. It is my favorite topic of discussion," Ripa revealed. In fact, despite loving the energy of live TV, she was fully prepared to pass the gauntlet to former co-host Ryan Seacrest.
With his departure, however, the TV star welcomed her fourth permanent co-host: Her husband, Mark Consuelos. As it turned out, he was the perfect choice to replace Seacrest due to Consuelos' natural chemistry with his wife. "It's as seamless as a transition can possibly get for a television show," Ripa said. "So if anybody could make me stay, it is definitely Mark."
Still, the long-time "Live" host clarified that nothing is set in stone when it comes to the hosting gig. "I do see a vision of the show without me ... I don't believe the show begins and ends with any one host — I think it's collaborative," Ripa explained, ultimately confirming only that she looks forward to other hosts and guests contributing to its bright future.