What Life Is Like For Queen Camilla's Ex-Husband Today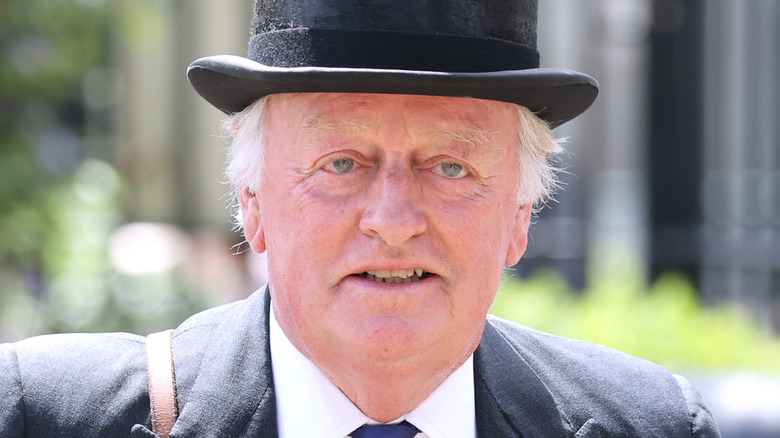 Chris Jackson/Getty Images
You probably know Andrew Parker Bowles as the ex-husband of Camilla, Queen Consort. However, he has also lived quite a remarkable life outside of his previous marriage. He is a father of two, a former polo enthusiast, and a retired British Army officer. Still, Andrew's past relationship with Camilla is arguably one of the most fascinating aspects of his life, especially when you consider the fact that he (allegedly) knew about her affair with King Charles.
It's assumed that Camilla began seeing Charles while she and Andrew were still married. However, her then-husband shockingly didn't have a problem with it, according to "The Duchess: The Untold Story" by author Penny Junor (via People). "Andrew was in no position to complain; and when he discovered what was going on, he wisely didn't make a fuss," the author penned in the book. "Some would say that a part of him actually quite enjoyed the fact that his wife was sleeping with the future King; he might have felt differently had Charles been a traveling salesman." 
Though the scandalous relationships of Andrew, Camilla, Charles, and the late Princess Diana have entertained fans of the royal family for decades, it appears that Andrew has moved on. This is what life is like for Queen Camilla's ex-husband today.
Andrew Parker Bowles found love with Rosemary Pitman after the divorce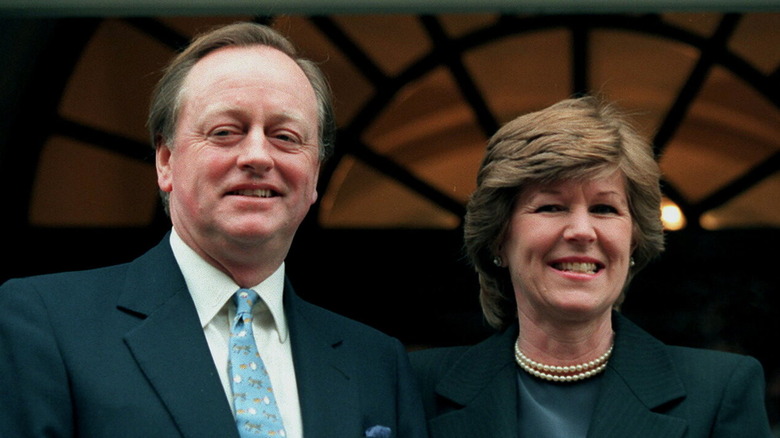 Patrick Durand/Getty Images
Andrew Parker Bowles and Camilla, Queen Consort's controversial marriage came to an end after they got divorced in 1995. As previously mentioned, Camilla had reportedly been having an affair with her now-husband King Charles. It has been speculated that Andrew was also seeing someone else throughout the marriage. Outlets claim his mistress was Rosemary Parker Bowles, who he married just a year after divorcing Camilla.
Rosemary and Andrew's relationship was a bit less publicized than a royal marriage, so there is a lot about the couple that remains a mystery. The world received a rare yet tragic update on the pair when it was revealed that Rosemary died of cancer in January 2010. She was 69 years old at the time and had been diagnosed years prior. The mother was survived by her three kids. "She has had a long battle with cancer and has been fighting it extremely hard," said Henry Pitman, Rosemary's son from a previous marriage, per The Telegraph. "She was very pleased to have made Christmas and then Andrew's birthday, his 70th, just after Christmas, and subsequently the birth of his grandchildren."
Members of the royal family grieved Rosemary's death alongside her children and husband. Princess Anne was reportedly among those in attendance at her funeral. She allegedly even comforted Andrew. Outlets claimed that Camilla also shared her condolences. According to The Telegraph, she was "deeply saddened" by Rosemary's death.
Andrew Parker Bowles often represents the royals at ceremonies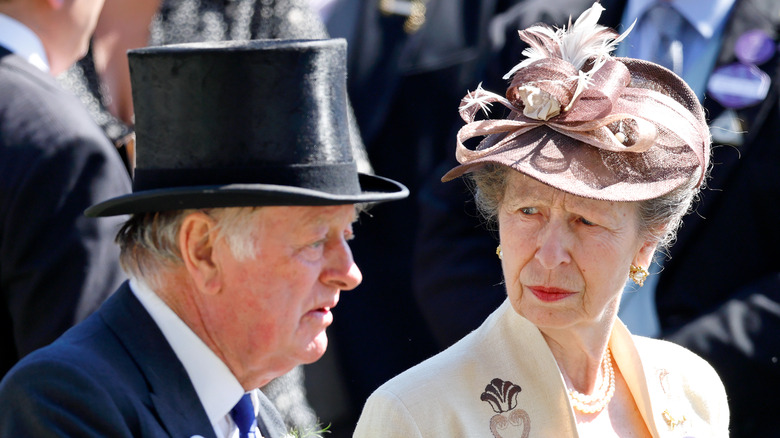 Max Mumby/indigo/Getty Images
Although Andrew Parker Bowles and Camilla, Queen Consort are no longer together, Bowles isn't on bad terms with the royal family. In fact, he has represented a few family members at ceremonies on more than one occasion. In October 2022, Andrew took Camilla's place at John Bowes-Lyon's funeral. If you're curious about John's connection to the royal family, he was an extended family member. His father, Major General Sir Frances Bowes-Lyon, was Queen Elizabeth The Queen Mother's first cousin. It wasn't revealed why Camilla didn't attend John's funeral; however, she and King Charles were in the news just days before the event after they visited Project Zero, an afterschool program for British youth.
According to the Daily Mail, one of Andrew's friends predicted he'd go on to attend many more engagements for the royal family. "Andrew is happy to do anything he is asked," they told the outlet. "He still enjoys a warm relationship with Camilla." This assumption proved to be accurate because the retired British Army officer represented Princess Anne at five separate events. Andrew was even one of the many familiar faces in attendance at King Charles' coronation. You might think it's strange that Camilla, her ex-husband, and her current husband likely crossed paths at the event, but Camilla doesn't mind. "She is fiercely loyal to friends and that will be reflected in who goes to the big day," a friend of the royal told The Sunday Times.
The Crown explored his relationship with Princess Anne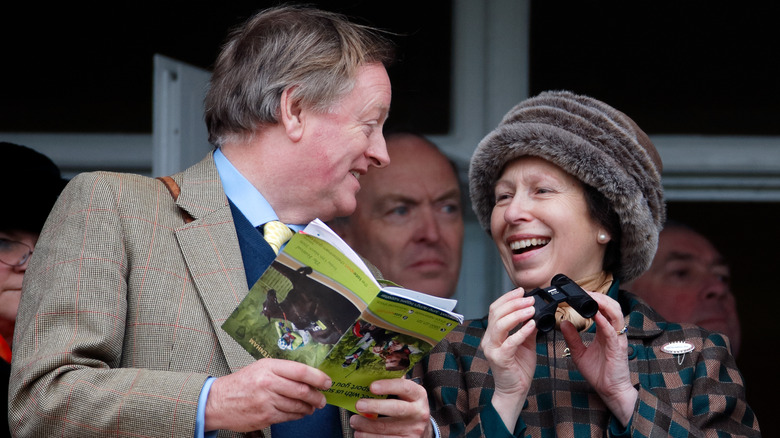 Max Mumby/indigo/Getty Images
"The Crown" is full of irresistible drama inspired by the royal family and their many controversies throughout history. If you're a fan of the show, you might recall the episodes that depict a romantic relationship involving Princess Anne and Andrew Parker Bowles. It turns out that there is some truth to this semi-fictional depiction, but things didn't exactly play out the way they were portrayed on "The Crown."
Prince Charles' biographer, Sally Bedell Smith, wrote about the alleged relationship in her book, "Prince Charles: The Passions and Paradoxes of an Improbable Life." She claimed that the pair dated, but wouldn't have been able to marry because Andrew is Catholic. Thus, the relationship likely came to an end before things could get serious. Bedell Smith claimed the romance ended on good terms. "Even when their romance eventually wound down, they remained lifelong friends," the author penned.
You might recall that "The Crown" alleges Andrew was involved with Anne while Camilla was seeing King Charles. Vanity Fair reported that Bedell Smith thinks this detail was fabricated for the show. "The Crown is a fictional portrayal of the royal family," the author said. "And it's beautifully done, beautifully written, beautifully acted. . .but, because of that, audiences tend to take it at face value. A lot of it is made up."
Andrew Parker Bowles is close with King Charles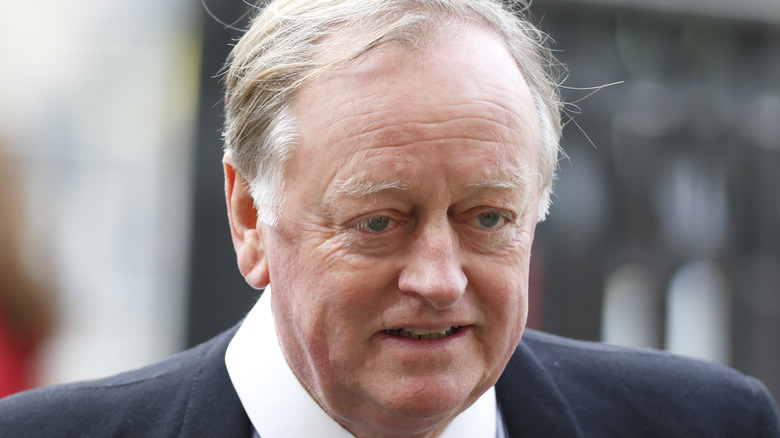 Max Mumby/indigo/Getty Images
Camilla, Queen Consort allegedly began seeing King Charles while she and Andrew Parker Bowles were still married. While it's reasonable to assume that the two men aren't too fond of each other, they actually have quite a longstanding friendship. 
In "Prince Charles: The Passions and Paradoxes of an Improbable Life," author Sally Bedell Smith also wrote about Charles and Andrew's relationship. She shared that the friends played polo together. They also appear to be more like family rather than just friends, because Andrew is the godfather of Zara, Charles' niece. Meanwhile, Charles' godson is Andrew's son, Tom.
It's no surprise that the royal family likes to keep Andrew around when you hear just how fond they are of him. Friend of the royals, Marchioness of Lansdowne, spoke to The Sunday Times about the father of two as well as his friendship with Camilla. "Everybody loves Andrew," she said. "He's a real charmer but he's always terribly misbehaving. Andrew will ring her up and tell her when she's got something wrong, and she'll ring him up and say when he's misbehaving. Through adversity, they've kept a really good family ethic. It helps with their children and grandchildren."
He is a retired Army officer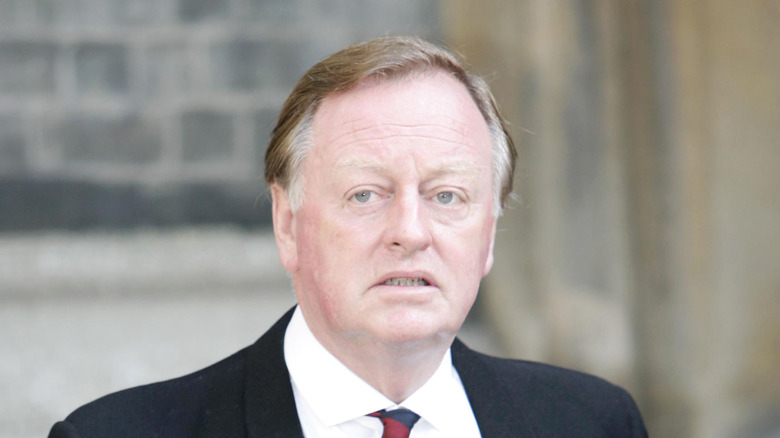 Anwar Hussein Collection/rota/Getty Images
These days, Andrew Parker Bowles seems to spend much of his time standing in for members of the royal family at events and enjoying his life as a retiree, but the father of two was once an accomplished member of the British Army. He began his career at the Royal Military Academy Sandhurst. Andrew eventually became a Brigadier and served in various units throughout his time in the army including the Royal Horse Guards, Blues and Royals, and Household Cavalry Mounted Regiment.
He was also reportedly one of the first to arrive at the scene of the UK's Hyde Park Bombing in 1982. The tragic terrorist attack targeted the Queen's Life Guard. Four people were killed, as well as seven horses. Andrew's courageousness eventually earned him The Queen's Commendation for Bravery in Rhodesia in 1980. He also served as the Director of the Royal Army Veterinary Corps. 
Army accolades aside, it seems that Andrew has a strong passion for working with animals, because he later became an Honorary Fellow of the Royal Veterinary College, an Honorary Associate of the Royal College of Veterinary Surgeons, and an Honorary Member of the British Veterinary Association.
Andrew Parker Bowles is a father of two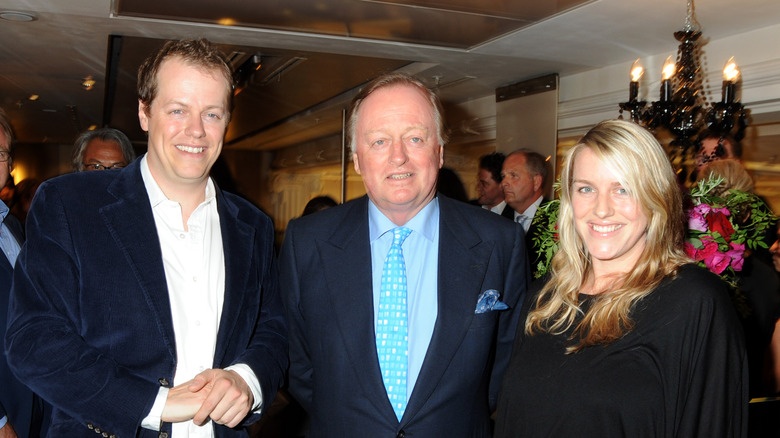 Dave M. Benett/Getty Images
Andrew Parker Bowles and Camilla, Queen Consort welcomed two kids during their marriage. Their kids, Tom Parker Bowles and Laura Lopes, have taken two different approaches to navigating life with high-profile parents. 
Tom isn't afraid of the spotlight. In fact, he's a rather notable food writer. Tom has authored cookbooks and snagged awards over the course of his career. The food critic's not-so-reserved nature apparently reached extremes in his younger years. "I was naughty, partied a bit hard," he told Stellar in 2017. "When I was younger I got sacked all the time. But I loved eating and could just about string a sentence together, so I thought I could write about food."
In addition to speaking out about his controversial past, Tom has also shared his thoughts on his parents' own controversies. He spoke about his mother's decision to move on with King Charles during an interview on "The News Agents" podcast in April 2023. "She's our mother," the food critic said. "Change happens but I don't care what anyone says, this wasn't any sort of endgame. She married the person she loved, and this is what happened." As for Lopes, she lives a bit of a more private life. She is an art curator who helped found a fine art gallery in 2005. In 2006, she tied the knot with former model Harry Lopes; the couple are now parents to three children.
He has been involved with the royal family since childhood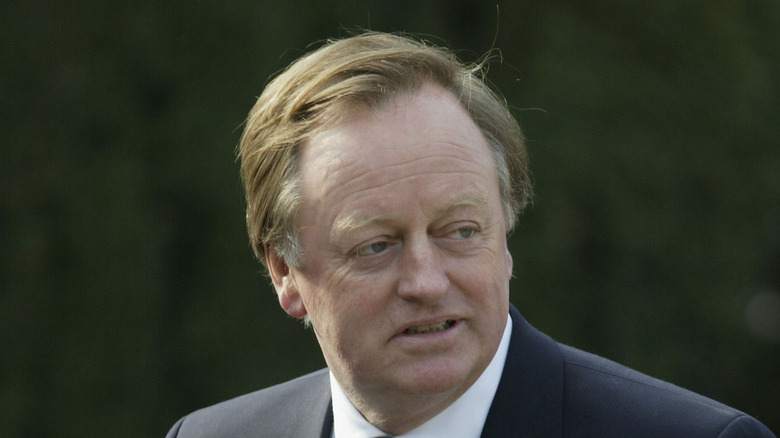 Julian Herbert/Getty Images
Did you know that Andrew Parker Bowles has been connected with the royal family since childhood? His father, Derek Parker Bowles, was friends with the Queen Mother. This might explain how Andrew landed a role as a page in Queen Elizabeth II's coronation. "Prince Charles: The Passions and Paradoxes of an Improbable Life" author Sally Bedell Smith shared the details of the then-teen's involvement in the wedding. "When he was thirteen, Andrew was a page boy at the Queen's coronation—a mark of royal esteem," she penned. "As an army officer, he became a favorite of the Queen Mother's. He was beguilingly charming, especially to women."
As previously mentioned, Andrew has also been connected to the royal family through King Charles for years, given the two played polo together. The former British Army officer was even in attendance when Charles married the late Princess Diana in 1981. He was the commanding officer of the Household Cavalry Mounted Regiment at the time. Thus, one of his duties was to guard Charles and Diana's carriage. Andrew might not have royal blood, but he's been there for many of the family's milestones.
His controversial appearance at King Charles and Princess Diana's wedding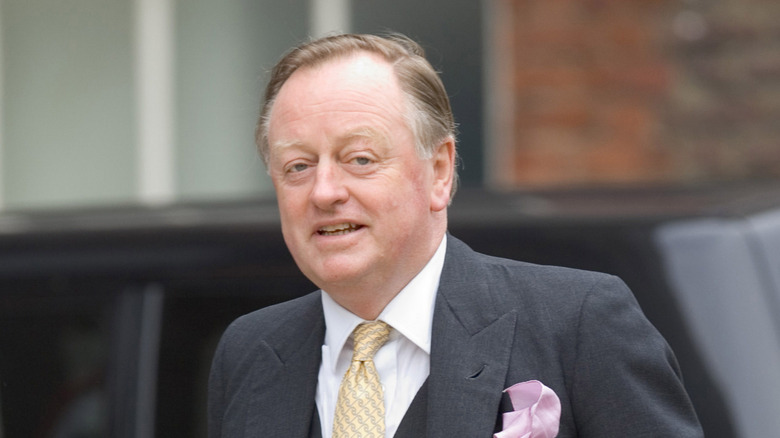 Antony Jones/Getty Images
Andrew Parker Bowles' aforementioned appearance at King Charles and Princess Diana's wedding sparked controversy. Fans of the royal family are probably all too familiar with the details of Charles' affair with Camilla, Queen Consort, who was married to Andrew at the time. As you might imagine, there was a bit of buzz around Andrew's role in the wedding involving Camilla's secret lover, Charles.
The queen consort also attended the ceremony. "I knew she was in there, of course," Diana said of Camilla in "Diana: Her True Story — In Her Own Words." "I looked for her. So walking down the aisle, I spotted Camilla, pale gray, veiled pillbox hat, saw it all, her son Tom standing on a chair. To this day, you know—vivid memory." Though Camilla's attendance may have been unsettling for Diana, she was actually there accompanying Andrew. His role as the Commanding Officer of the Household Cavalry Mounted Regiment meant he had to lead the ceremonial escort assigned to Diana and Charles' wedding carriage.