Princess Margaret's Grandchildren Have Grown Up Fast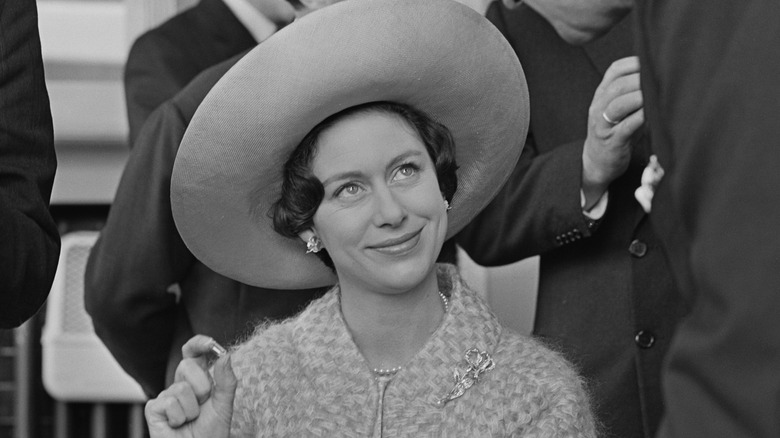 Les Lee/Getty Images
The latest crop of royals — from Prince William and Prince Harry to Princess Catherine and Duchess Meghan — might be in the spotlight on a regular basis, but they weren't always the stars of the show. Back in the day, it was Queen Elizabeth II's younger sister, Princess Margaret, who captured the world's attention and had everyone wrapped around her little finger. Arguably the more opulent of the two sisters, Margaret quickly became synonymous with high society life. She was a common presence on the party scene, a surprising drinker who was often seen holding a glass and a cigarette, and her early dalliance with a divorcee quickly grabbed the scandal-ridden headlines. Margaret was, by many accounts, a maverick in her own right — when she finally did marry and have children of her own, such an era of her life wouldn't last for long.
Margaret married Antony Armstrong-Jones in 1960 and had two children — Lady Sarah Chatto and David Armstrong-Jones. Though she was a keen mother and a working royal, Margaret shockingly got divorced from Antony in 1978 and spent the rest of her life romantically involved, but never married. By the time of her passing in 2002, Margaret had become — by many accounts — a recluse who seldom was seen outside the palace walls. Despite the downturn her life took by the end, Margaret's legacy has been secured by her children and grandchildren, some of whom were with her right until the very end.
Who is Samuel Chatto?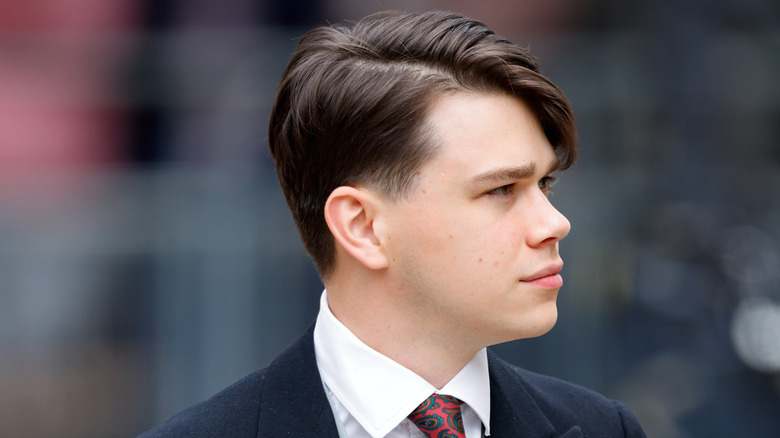 Max Mumby/indigo/Getty Images
Topping off the list of Princess Margaret's grandchildren is Samuel Chatto, who is 26 as of publication. The dashing eldest son of Lady Sarah Chatto and her husband, actor Daniel Satto, Samuel — who is known as Sam by most — can call Margaret's only daughter his mom. Given that Sam's own connection to the royal family is more removed than say Prince William or Prince Harry's, he's currently 28th in line to the British throne. His mother, Sarah, is 27th, way down the line alongside Princess Anne and her two children. Given that the Succession to the Crown Act wasn't passed until 2013, female members of the royal family were automatically circumvented in the line of succession by their brothers and their respective families, regardless of age (this is why Prince Andrew and Prince Edward are ahead of Anne in the line, despite her being older than them both).
Despite being such a ways away from the throne, Sam has certainly captured the attention of royal watchers. Attending the funeral of the late Queen Elizabeth II alongside his parents, Sam instantly became one to watch. Like many male members of the royal family, Sam studied at Eton College — which is the equivalent of the high school years in the United States — before enrolling at the University of Edinburgh. He studied art history while in his undergraduate years, and has pursued a creative line of work ever since.
Samuel has an intriguing line of work outside of being a royal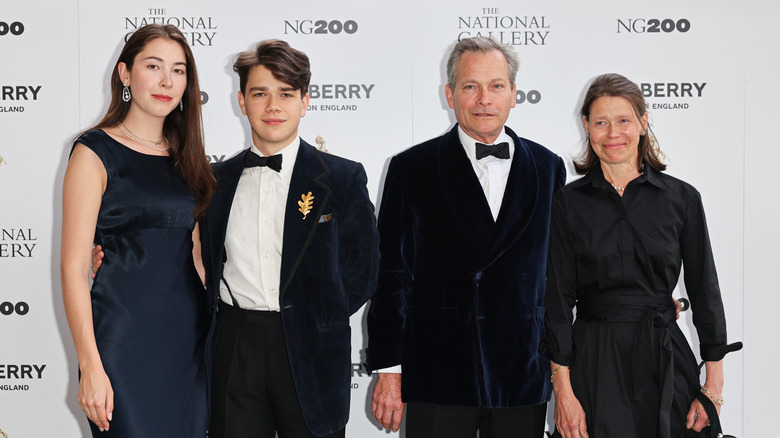 David M. Benett/Getty Images
Samuel Chatto might be a royal and the grandson of Princess Margaret, but his life is far more on the normal side of things than his counterparts, no doubt thanks to his lack of title and distance from the throne. Unlike other royals who have worked under the guise of the firm, Sam found his own professional and creative path. After finishing his studies at the University of Edinburgh, Sam pursued a career as a potter.
Luckily for royal fans, Sam is not restricted by the no social media rule that many royals have to live with. As such, he's shared his professional journey on Instagram and has detailed his line of work on multiple occasions. For instance, in 2018, Sam revealed that he took part in a six-week apprenticeship at Scotland's North Shore Pottery. Taking to Instagram about the experience, he wrote, "I spent six weeks in the very north of Scotland immersed in pottery and ceramics, being taught by the most patient and passionate potter. Clay consumed my every waking hour and I am so excited to see what I can achieve this year!"
By the following year, Margaret's grandson was showing his pottery at At The Chapel, a Somerset-located restaurant, and detailing what was coming next in his career. He even launched a website which detailed his creative process and showed his work in an online gallery.
Samuel stole hearts during King Charles III's coronation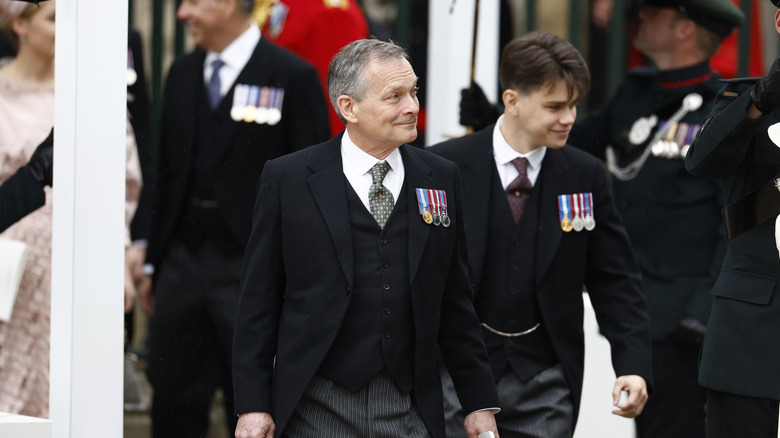 Jeff J Mitchell/Getty Images
It's always exciting when a new batch of royals come onto the scene (sorry Prince William and Prince Harry, but there are other dashing young men in your extended family for us to pay attention to). When it was time for King Charles III to finally be crowned on May 6, 2023, Samuel Chatto and his family came onto the scene for the big day, and royal watchers definitely took notice. It was only a matter of time before Sam was dubbed the new royal hottie on social media, being labeled by some as a hunky heartthrob who almost stole the show.
The estimation is not far off. Sam looked particularly suave while attending the Westminster Abbey event, wearing a formal morning suit accompanied with a maroon tie and military medals. He was seated in what appears to be the fifth row according to photos on the day in question, and while he was farther back than some crushing royal watchers may have liked, that didn't stop him from bringing a certain amount of swag to the coronation.
This might have you wondering if Sam is single. By all accounts, he is. He was once connected to longtime girlfriend Sophie Pine, with their social media profiles alluding to a four-year long relationship. However, neither of them follow each other anymore or are pictured together on their feeds.
Who is Arthur Chatto?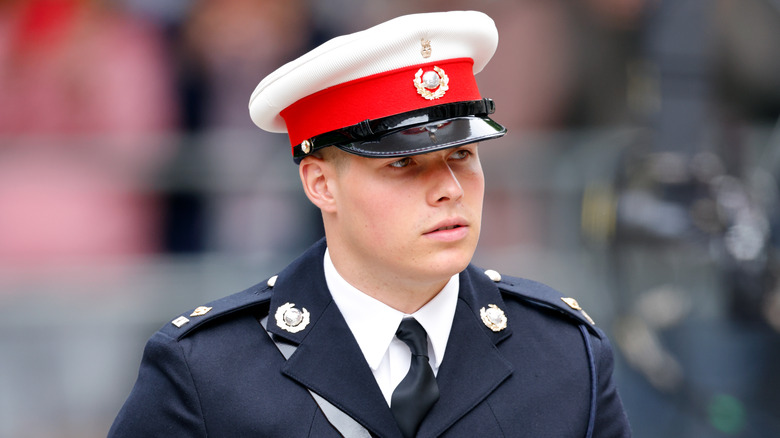 Max Mumby/indigo/Getty Images
So we've covered Samuel Chatto, who is easily one of Britain's most eligible bachelors — but his younger brother isn't too far behind him. Arthur Chatto is the second son of Lady Sarah Chatto and her husband, David Chatto, and is 24 years old as of publication. He is 29th in line to the British throne, after his mother and older brother, and is just as dashing — if not a little more so — than Sam.
Arthur's suave and obvious good looks have received him quite a bit of attention. We'll get into his athletic career in a bit and just how prominent he is in that world, but the young royal has been on the scene and spotted at such events like Prince Harry and Meghan Markle's wedding, as well as Queen Elizabeth II's memorial service. But, before you get ahead of yourselves, Arthur is seemingly taken. He struck up a relationship with fellow athlete Lizzie Friend, and a source told the Daily Mail of the couple, "They hit it off straight away. She's really sweet, and they make a very nice couple." The two even attended the Royal Ascot together. Talk about a sweet date.
Arthur's good looks have even landed him some professional gigs. He became an official brand ambassador for Elliot Brown — a British watch company — and even worked for outdoor clothing company Jöttnar. Clearly, behind a handsome royal has its perks.
Arthur deleted his social media after getting some serious public attention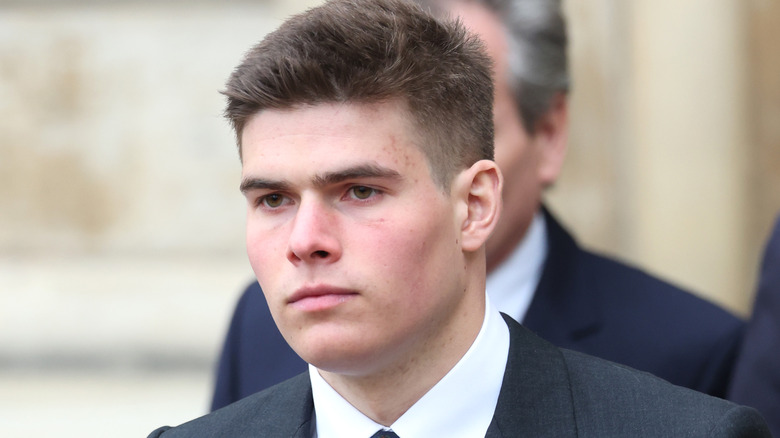 Chris Jackson/Getty Images
Like his older brother Samuel Chatto, Arthur Chatto is not discouraged from using social media like other royal counterparts. Back in the day, the dashing grandson of Princess Margaret was active on Instagram and often shared hunky photos that made him the subject of even more online crushes. However, one event in the public eye seemed to be just a little too much for Arthur, and he subsequently deleted his social media presence.
Attending the Service of Thanksgiving at St. Paul's Cathedral amid Queen Elizabeth II's Platinum Jubilee celebration in 2022, Arthur was spotted alongside Sam, attending the event and looking particularly handsome while doing so. Naturally, social media erupted over the dishy royal, and the comment section of his Instagram was popping off with crushes, comments, and even some marriage proposals. It may have all been a little too much for Arthur, who quickly deleted his Instagram page — apart from a number of fan pages dedicated to the royal, Arthur's Instagram is still deactivated as of publication.
The jubilee wasn't the first time that Arthur had received so much attention. In 2019, Vanity Fair (via Express) called him the "new royal bachelor." While many would seek out such publicity, Arthur appears to be content without it.
Arthur is an accomplished athlete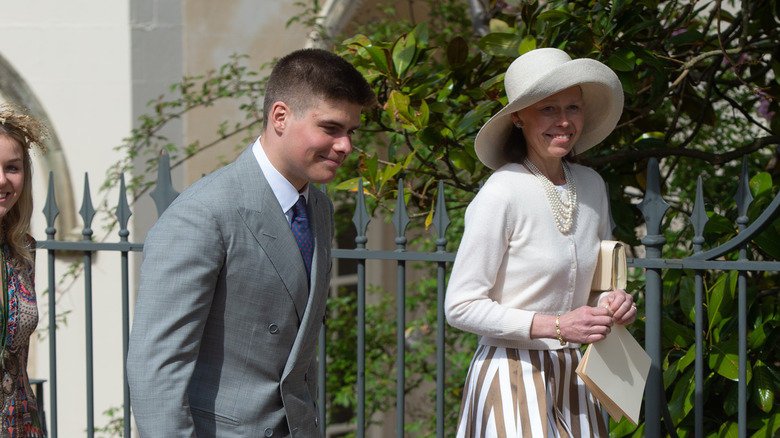 Antony Jones/Getty Images
While Samuel Chatto pursued a career in the arts, Arthur Chatto turned his attention to athleticism and extreme sports. Back in 2020, he took part in the Great Britain Row Challenge, and the entire undertaking was extremely impressive. The row challenge consisted of one goal — race the entirety of Great Britain's coastline, in a row boat, without stopping. And we really mean without stopping — 24 hours a day, seven days a week, for as long as it takes.
Arthur chatted with The Telegraph ahead of the race, detailing that he and his teammates were about to kick off the event from London's Tower Bridge and would keep rowing until the event was complete. In the history of the event at the time Arthur took part, only four teams had ever finished the challenge, and it took one group almost an entire month.
"I'd probably say I was worried about capsizing," Arthur said cheekily about the challenge when speaking to the publication. "But we should be harnessed in, and it is a self-righting boat, so in theory if we do capsize, we should flip back around." Turning his attention to his family and any worries they had about him, Arthur retorted, "With my mum, I think it's always best not to tell her the full details and then she can't get too worried. Then, when you're back — touch wood — she won't worry as much."
Arthur left his royal life behind for the marines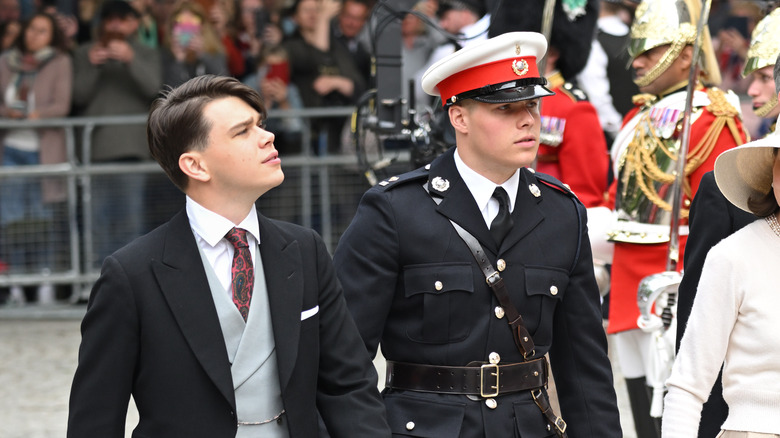 Karwai Tang/Getty Images
Though Arthur Chatto has less of a royal profile as other members of the family, he decided to leave the high life behind and join the Royal Marines. He was the first royal to enlist in the Royal Marines since Prince Edward, and his decision to do so was lauded by the queen and her son. Speaking to The Sun, a royal insider commented on the matter, telling the publication that the queen was delighted at Arthur's decision and that Edward specifically would be helping him gear up for the undertaking.
"[Arthur] told the queen all about it and she's pleased and proud. Prince Edward has been very supportive. Arthur has even been going off into the wilds at Balmoral with all his kit and camping out as he prepares for the commando training," the inside source said at the time, adding that Arthur would be hitting the ground running when it came to his time in the Royal Marines.
"He has gone straight into the officer training in this year's intake and is very keen and up for it. It's a dead cert he'll get a lot further than Prince Edward ever did," the source cooly detailed, adding that Edward only served three years while in university before dropping out. And, unsurprisingly, Arthur has gotten quite a lot of attention when appearing in uniform.
Who is Charles Patrick Armstrong-Jones?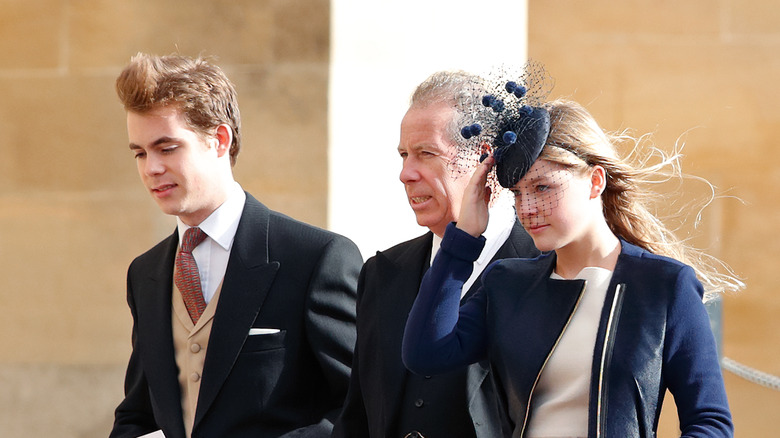 Max Mumby/indigo/Getty Images
In case you're new here or need a little guidance, royal titles are not only a big deal, but they are often passed from father to son at the time of death. Princess Margaret's ex-husband, Antony Armstrong-Jones, was made the Earl of Snowdon upon their marriage. As such, when he passed, his title was passed to the couple's son, David Armstrong-Jones. His wife, Serena, is the Countess of Snowdon – their son, Charles Armstrong-Jones, is a viscount. Are you still with us?
Charles Armstrong-Jones, Viscount Linley, is 23 years old as of publication and is Margaret's third grandchild. He was born in July 1999 at the Portland Hospital in Marylebone, and unlike his cousins Samuel Chatto and Arthur Chatto, Charles lived with his grandmother at Kensington Palace in the years leading up to her death in 2002. Like many other royals, Charles attended Eton College, but he was more prominent on the royal scene than his cousins. Queen Elizabeth II, made him a Page of Honor in 2012, which meant he was to carry her robes at some occasions. Given that pages are typically young teens, Charles left his post in 2015.
After Antony died in 2017, Charles' father adopted the title of Earl of Snowdon, allowing Margaret's grandson to become the Viscount Linley — his father's secondary title.
Charles pursued a private life full of academics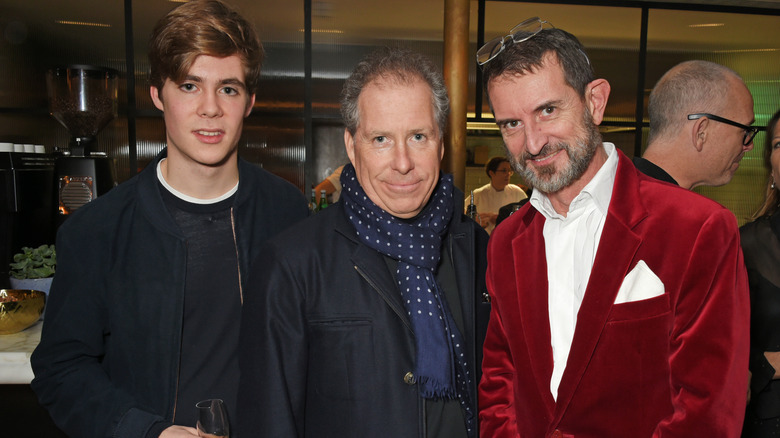 David M. Benett/Getty Images
When Charles Armstrong-Jones, Viscount Linley, was a child, his life was certainly a lot different than most. Not only did he live in Kensington Palace with Princess Margaret in his early years, but Antony Armstrong-Jones, Earl of Snowdon, was often by his side and shared his love of photography with his grandchildren — casual, right? As aforementioned, Charles became a Page of Honor and was certainly more in the royal spotlight than his cousins, and though he is titled and has the connection to the crown, he has since retreated from public life.
Charles is 25th in line to the British throne as of publication, following his father who is in the 24th slot. Given that he is so far away from the crown, Charles left his royal life behind as a young adult and focused his life instead on academics. After attending Eton College, Charles enrolled at Loughborough University where he studied product design engineering. Teasing royal watchers with an appearance alongside the queen in 2019 while attending a church service in Balmoral, Scotland, Charles has kept his life relatively private since. Like Samuel and Arthur Chatto, Charles is not hindered by the no social media rule and does have an Instagram. However, his account is private and he has just over 300 followers as of publication — clearly, he is happy living the quiet life.
Who is Lady Margarita Armstrong-Jones?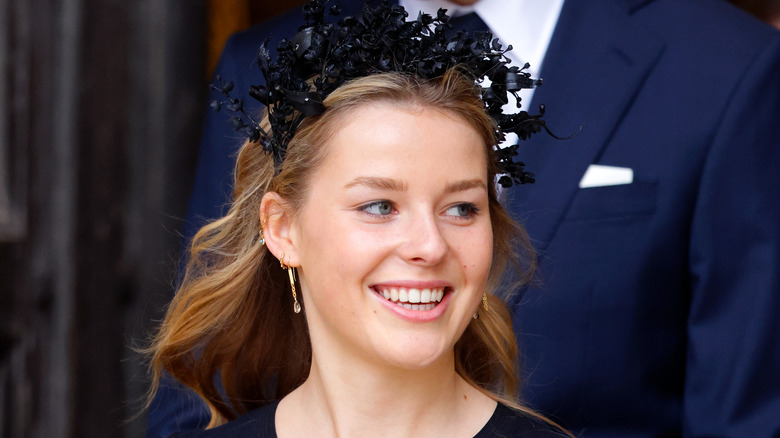 Max Mumby/indigo/Getty Images
Last but certainly not least of Princess Margaret's grandchildren is Lady Margarita Armstrong-Jones, David Armstrong-Jones and Serena, Countess of Snowdon's daughter and youngest child. At 20 years old as of publication, Margarita walks the line between royal and commoner quite well, and is currently 26th in line for the throne. As a labeled socialite who has been on the royal scene for years, Margarita is much like her grandmother — always here for the high life and ready to embrace the difficulties that come along the way.
Margarita first came onto the royal scene back in 2011. She was one of the little bridesmaids at Prince William and Princess Catherine's wedding, and she has grown up in the public eye ever since. Spending much of her childhood between England and France, Margarita spoke about her early years in an interview with Tatler, revealing that Paris is by far her home away from home. "I just loved the idea of being in Paris," she said. "It's one of my favorite places and having spent a lot of my childhood in France ... That was a very heavenly thing."
Despite being in the royal ether, Margarita's family life hasn't always been seamless. Her parents got divorced in 2020, and she's remained close with her mother's family — i.e. her non-royal relatives — throughout her life.
Margarita has commented on her shared traits with Margaret in the past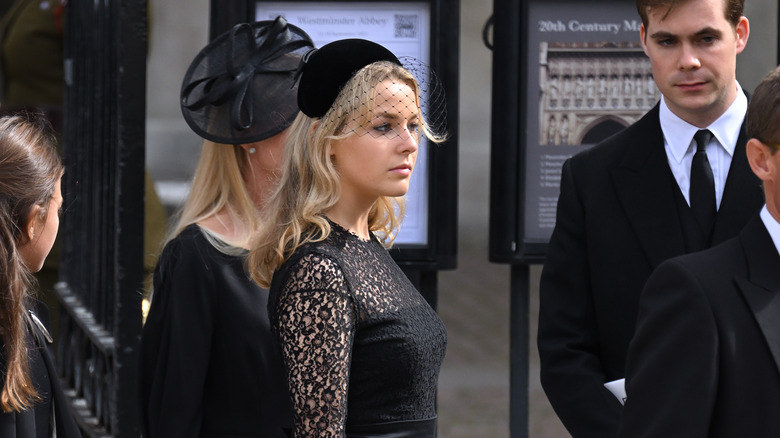 Karwai Tang/Getty Images
Lady Margarita Armstrong-Jones may not have gotten to share her passions with her grandmother, the late Princess Margaret, but that hasn't stopped her from embracing the princess' areas of interest. Appearing on the front cover of Tatler, she opened up to the publication about her divorced grandparents and what she sourced from each of them. As a student at Paris' Haute École de Joaillerie, Margarita embraced her creative side and spoke about the familial traits she shared with the late royals.
"I probably get the photography from my grandfather and the jewelry from my grandmother," Margarita said, of course nodding to Margaret's well-documented love of all things opulent and Antony Armstrong-Jones' career as a photographer. She then drew her attention to a family heirloom: the ruby engagement ring Antony presented Margaret back in the day.
"[It was] very simple and very small, and I think that's probably what he wanted, nothing crazy and overstated. It's timeless," she said, noting that her grandfather designed the ring for her grandmother himself. "I like nothing too factory-made or straight. I like a little character," she said, noting that Margaret had the exact same taste in jewelry. Like grandmother, like granddaughter — right?
Margarita had a standout moment during King Charles III's coronation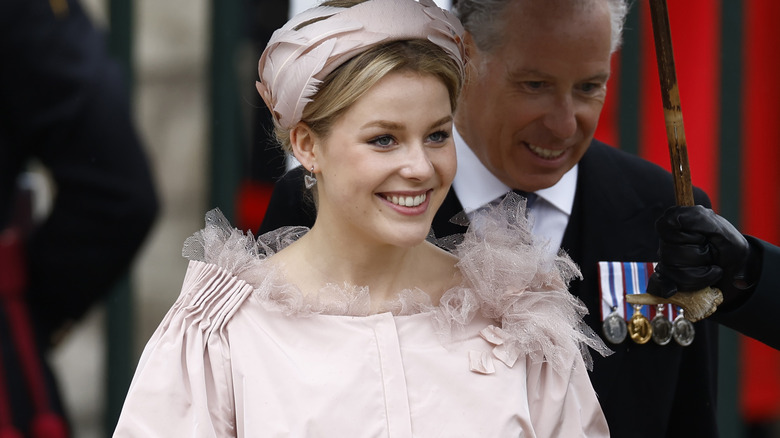 Jeff J Mitchell/Getty Images
She may be on the more normal side of royalty, but Lady Margarita Armstrong-Jones certainly wouldn't take advantage of an opportunity to dress up. The coronation of King Charles III was the perfect excuse to go all out, and the dazzling socialite lit up Westminster Abbey with her outfit of choice on May 6, 2023. Joined by her family members, Margarita chose a stunning pale pink ensemble for the day, adding a bit of color to an otherwise gray day. The look was a custom piece from Beatrice Ferrant, a Paris-based designer — which, given Margarita's love of the city, makes total sense — and was the perfect balance of sophistication and youth.
The dress's accompanying cropped jacket featured a boat-style neckline, adorned with delicate pleating and ruffle details. Fitted underneath the bust, the jacket blended perfectly into the dress' skirt, which was an intricate collection of individual taffeta cut-outs. Topping off the look, Margarita chose a Stephen Jones headband that was composed of silk tulle and feather detailing. The wide headpiece also featured delicate embroidery throughout. The royal kept things simple with a pair of dropdown earrings and natural makeup, perfectly matching her dress with light pink nail polish.
It might have been Charles and Queen Camilla's big day, but Margarita looked the picture of sophistication.