Lip Reader Breaks Down Ben Affleck And Jennifer Lopez's Red Carpet Conflict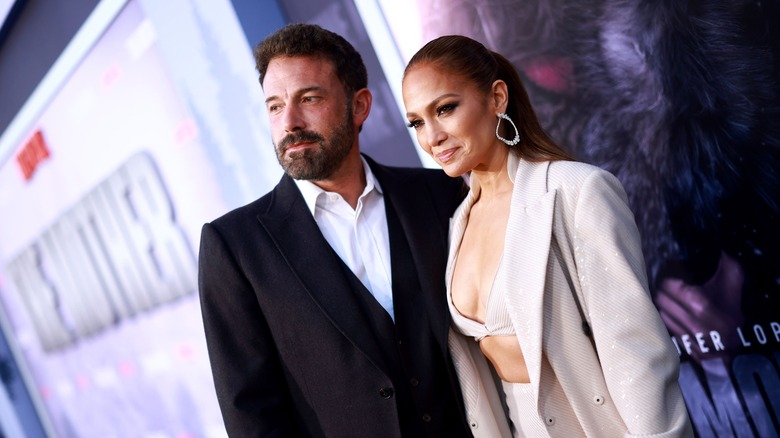 Matt Winkelmeyer/Getty Images
As if it's the early 2000s all over again, Ben Affleck and Jennifer Lopez are back to captivating media outlets everywhere. The celebrity couple known as Bennifer has been the topic of both praise and scrutiny since getting back together in April 2021. The following year, they announced their second engagement before marrying in July 2022. Since then, the paparazzi have been having a field day with the stars' love affair, capturing them at every angle, much to Affleck's dismay. Recently, they made headlines when people began to speculate that there might be trouble in paradise due to less-than-flattering footage and photos that appeared online, particularly after the premiere of Lopez's new Netflix film, "Mother."
Still images and videos show the couple during what appears to be a heated discussion of some sort. Affleck appears visibly upset while Lopez seems to try and talk him through whatever is going on in that moment. Fans jumped to the couple's defense online, claiming they were merely having a conversation. However, a lip-reading expert has revealed their own theories on what was actually being said in the seemingly tense moment.
As many people suspected, the couple wasn't actually arguing
📝🇺🇸📽️Jennifer Lopez and Ben Affleck - premiere of 'The Mother' in Westwood

Ben Affleck and Jennifer Lopez attend Netflix's premiere of The Mother in Los Angeles: Ben Affleck is being supported following claims he argued with Jennifer Lopez at a red carpet event.

New photos,… pic.twitter.com/lkFWJ99wxx

— 🌐World News 24 🌍🌎🌏 (@DailyWorld24) May 12, 2023
Though photos of Lopez and Affleck told the story of an unhappy couple, a lip reader contracted by the Daily Mail confirmed that the couple was not arguing during the premiere of "Mother." In fact, the expert confirmed that the conversation was more so about Lopez's appearance and whether or not she looked okay as the photographers snapped away at the tabloid-attracting duo. 
According to the expert, J.Lo asked her husband if the sequin-covered taupe bralette she wore was "showing too much." Affleck then reassured the "Love Don't Cost a Thing" singer that she looked amazing as always, telling her, "Don't worry, babe." Further dispelling rumors of an argument, the lip reader confirmed that Lopez actually was telling the "Gone Girl" star to move closer to her on the carpet. At one point, the conversation turns to how the two needed to position themselves for the never-ending photographs. Lopez seems to tell Affleck to "step over there" in an effort to capture even more special moments from her big night.
Another recent red carpet incident also seemed to be about photos, not fighting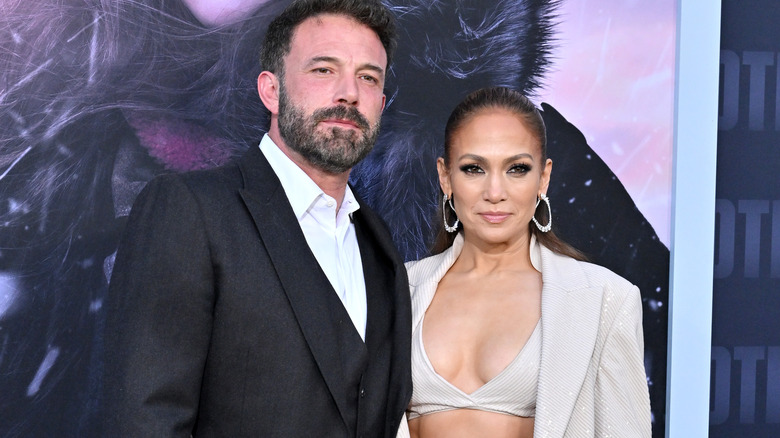 Axelle/bauer-griffin/Getty Images
Jennifer Lopez's "Mother" premiere is not the first time the couple seemingly bickered on the red carpet. However, the Daily Mail's designated lip reader says this was all another mishap, once again stemming from photos taken out of context. During the 65th Grammy Awards in February, the couple again appeared unhappy with one another on the red carpet. However, the lip reader confirmed that the 53-year-old was simply coaching her spouse on how to look more welcoming in photos.
"Look more friendly. Look motivated," Lopez stated, to which Affleck responded, "I might."
Affleck actually addressed this moment with The Hollywood Reporter, sharing that he wasn't exactly sure that the cameras were rolling. Once he realized this, he informed his wife that he'd be stepping out of the shot, giving her an opportunity to shine. In true married couple fashion, she replied, "You better f*****g not leave."
It appears that all is well, but this likely will not be the last time the couple's body language and relationship as a whole are dissected by the masses. In fact, just days ago, another video went viral of a seemingly annoyed Affleck walking his wife to the car before slamming the door after she climbed in on the passenger side. He then stares up at the person recording, making a face that clearly shows he was not thrilled about being filmed. Neither star has responded to this meme-worthy clip, but it may be better that way.