Why Matthew Perry Had A Hard Time Working With Jennifer Aniston In The Early Days Of Friends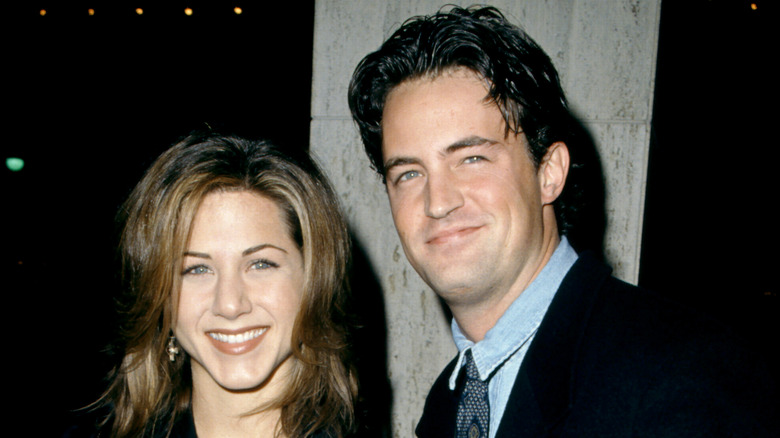 Ron Davis/Getty Images
Over the years, Matthew Perry has become known for his role as the hilarious Chandler Bing on "Friends." However, while the actor was making audiences laugh as the sarcastic and goofy character on our TV screens every week, he was struggling with many issues off-camera. Perry has since admitted that he was in the throes of addiction throughout all 10 years "Friends" was on the air, and he also had to deal with unrequited feelings for his co-star, Jennifer Aniston, who played Rachel Green on the sitcom. In his book, "Friends, Lovers, and the Big Terrible Thing," Perry opened up about his first meeting with Aniston, which came a few years before they were both cast on "Friends."
"I was immediately taken by her (how could I not be?) and liked her, and I got the sense she was intrigued, too — maybe it was going to be something," Perry wrote of his feelings for Aniston. He added that he once excitedly called her to tell her about booking some new gigs but realized it was a "bad idea" to do so. "Looking back, it was clear that this made her think I liked her too much or in the wrong kind of way ... and I only compounded the error by then asking her out. She declined (which made it very difficult to actually go out with her), but said that she'd love to be friends with me," he added (via Yahoo).
Unfortunately, the duo's early interactions caused a bit of awkwardness when they both landed roles on "Friends."
Perry found it difficult to work with Aniston at first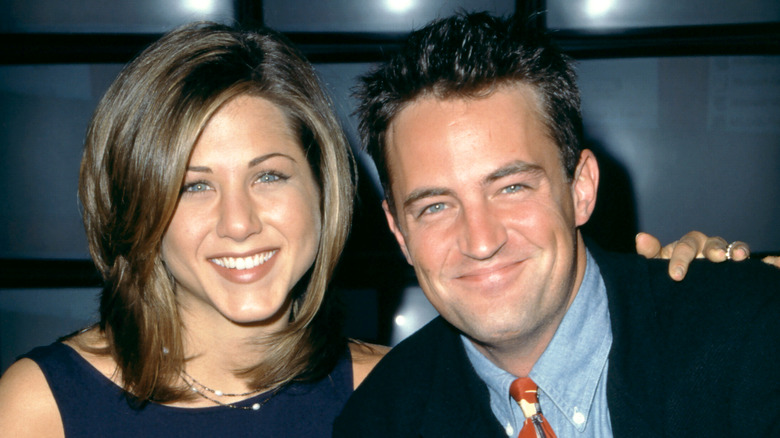 Ron Davis/Getty Images
After Perry and Aniston were both cast in "Friends," Perry realized that his romantic feelings towards his co-star hadn't gone away, which made it difficult for him to work with her. "Fairly early in the making of Friends, I realized that I was still crushing badly on Jennifer Aniston," he wrote in his book. "Our hellos and goodbyes became awkward. And then I'd ask myself, 'How long can I look at her? Is three seconds too long?'"
During an interview with Diane Sawyer, Perry elaborated on his feelings for Aniston, revealing that anyone could easily develop a crush on her or his other two female co-stars, Courteney Cox and Lisa Kudrow (via Entertainment Weekly). However, his feelings for Aniston made it difficult for him to go to work at times in the early years of the show because he had to pretend he wasn't into her romantically, a task that felt almost impossible.
In 2022, Perry revealed that he also knew that Aniston and their co-star David Schwimmer were harboring crushes on each other while filming as well. Perry told SiriusXM's The Jess Cagle Show that seeing his colleagues' dynamic ultimately made him realize there was no potential between himself and Aniston. Once he forced himself to get over his feelings for Aniston, the two became good friends.
Aniston supported Perry during his struggle with addiction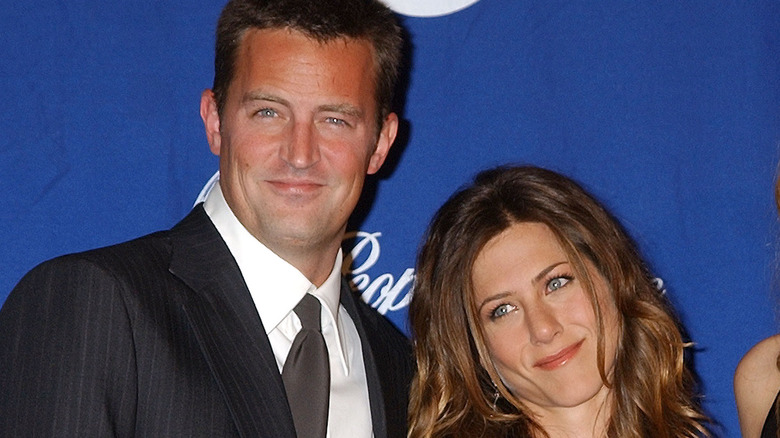 Gregg Deguire/Getty Images
While Matthew Perry and Jennifer Aniston did become close friends, their relationship faced another hurdle soon after: Perry's addiction. In his book, Perry revealed that it was Aniston who confronted him about his drinking, which was a low moment for him. "I had long since gotten over her — ever since she started dating Brad Pitt, I was fine — and had worked out exactly how long to look at her without it being awkward, but still, to be confronted by Jennifer Aniston was devastating," Perry wrote (via Entertainment Weekly).
During an interview with Diane Sawyer, the actor also admitted that it was Aniston who supported him the most through his battle with addiction. "She was the one that reached out the most. You know, I'm really grateful to her for that," he said. Perry added that the rest of the "Friends" cast was also supportive as he worked towards recovery. "They were understanding, and they were patient," he stated, per People Magazine.
Of course, Perry has moved on from his early days of crushing on Aniston and the two now have the bond of being part of pop culture history and the memories that will likely last them a lifetime.