Things Friends Fans Never Noticed About Chandler Bing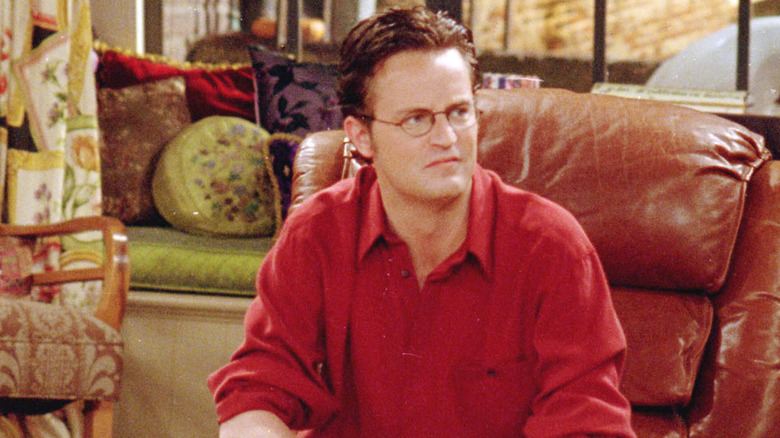 Getty Images/Getty Images
Chandler Bing, one of the six main leads on "Friends," was brought to life by Matthew Perry. While many noticed his failed and found attempts at romance, sarcastic humor, good looks, and awkward friendships — there are some facts that even diehard fans may never have known about Chandler Muriel Bing. Yes, Chandler's middle name was Muriel (via Screen Rant). This fact was accidentally revealed by Bing himself in Season 8, episode 5, "The One with Rachel's Date."
And if the writing and production team had their way originally, Mr. Bing would never have even made it to Season 8. Did you know Monica was originally supposed to end up with Joey while Chandler and Phoebe got written off into the sunset (via Screen Rant).
And while TV characters vary in personality from the actors who portray them, Chandler and Mathew Perry would appear to have similar taste in women. Chandler Bing was known for his crush on Baywatch star Yasmine Bleeth, and Perry actually dated her in real life (via Pinkvilla). Also on Perry's list were Julia Roberts and a rumored romance with Neve Campbell — two gorgeous women of whom Chandler would likely have approved. 
Further, while Perry may be a catch for many beautiful and famous women, he's often mentioned feeling shy and awkward around these beauties, a trait which was modeled in the creation of the character Chandler in the show (via The Things).
Chandler's family life is complicated
Chandler Bing's family life on "Friends" is complicated. Both Matthew Perry and Chandler are children of divorce, with Perry mentioning being raised in Canada after his parents split. Far more showy than Perry's real-life family, however, are Chandler's parents with dad "Helena Handbasket" aka Charles Bing played by the great Kathleen Turner and mom Nora Tyler Bing played by Morgan Fairchild (via IMDb). While much of that is known, you may not have realized how limited the rest of the biological Bing clan is as the fandom wiki only mentions cousins Albert and Glen, and maybe Aunt Iris (via Fandom). As a counterweight, the Gellar clan is huge with 21 in-laws listed, not counting the adopted Gellar-Bing twins.
Mega fans will be sure to enjoy the fact that Perry has his own favorite Chandler joke, (although how he chooses among the one-liners we don't know). Perry is partial to a scene where Joey is getting sidetracked telling a story while cleaning his ear with a Q-tip (via Refinery 29). As Joey continues to stumble over simple details, like his age, he continues to twist the cotton swap and Chandler shouts, "OK, You have to stop the Q-tip when there's RESISTANCE!" in a nod to Joey's not-so-smart persona.
As fans are watching this fan-favorite series over and over again in preparation for a long-awaited friends reunion, new things are noticed about the characters regularly. It's so surprising to see what we missed the first (or 10) time(s) around!