The Little-Known 1980s Sitcom That Gave Juliette Lewis Her Big Showbiz Break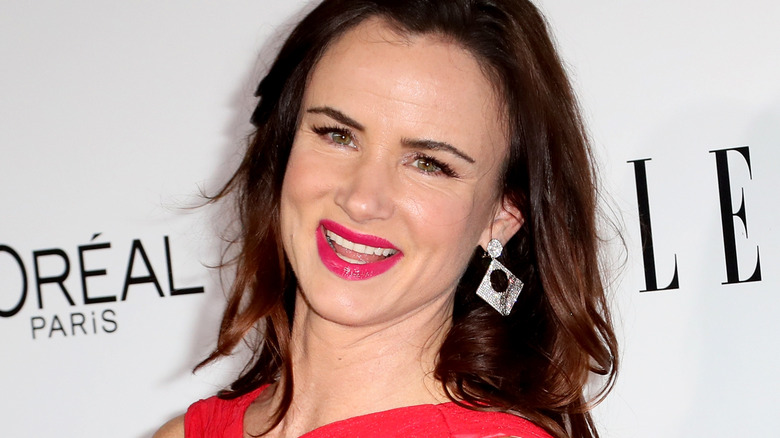 David Livingston/Getty Images
You've most likely seen actor Juliette Lewis in one or ten different projects due to her long, diverse career in Hollywood. Currently causing a ruckus as Natalie on the Showtime series "Yellowjackets," you may have also recently seen her as Denise in the Hulu miniseries "Welcome to Chippendales" or playing Judy on the latest iteration of "Queer as Folk" on Peacock. 
If you travel further back in her career, you'll remember her big-screen adventures as Karen in "August: Osage County" or the wicked Iron Maven in "Whip It," grabbing laughs as Heidi in "Old School," and kicking up chaos as Mallory in "Natural Born Killers" and Adele in "Kalifornia" (co-starring her boyfriend at the time, Brad Pitt). 
And before all that, when she was just 18 years old, Lewis was nominated for an Academy Award for her supporting role as Danielle in Martin Scorsese's "Cape Fear." But even Oscar contenders have to get their start somewhere, and for Lewis, it came in the form of a late '80s sitcom called "I Married Dora."
Lewis starred in I Married Dora at age 14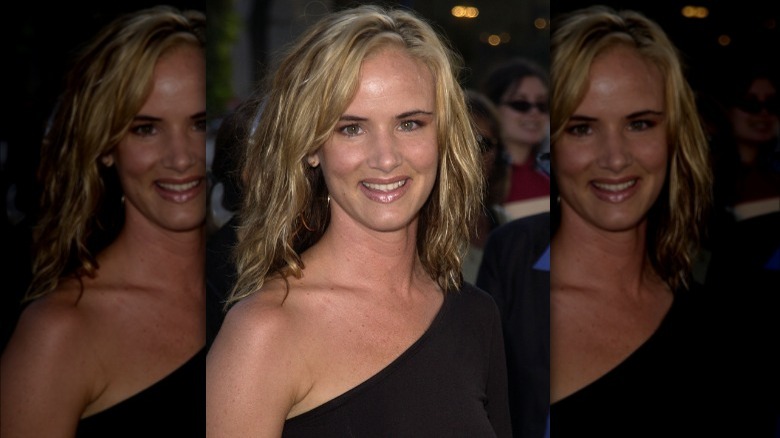 Steve Granitz/Getty Images
Kicking off her television career as a teenager, Juliette Lewis was cast as Kate in the ABC series "I Married Dora." The show had only one season, premiering in the fall of 1987 and concluding after 13 episodes. Blonde and fresh-faced, she played the daughter of series lead Daniel Hugh Kelly and stepdaughter of actor Elizabeth Peña — their two characters had married to prevent Peña's character from being deported. While the series was canceled (famously announced in the final episode as the cast waved goodbye), Lewis was nominated for a Young Artist Award.
When she remembered that time, Lewis revealed in an interview with Bustle that she would "go away and do bad '80s sitcoms, one being 'A Family for Joe,' and the other 'I Married Dora,'" which she notes would not pass the political correctness test in modern times. "Then I would try to go back to high school in the Valley," she added.
It was around this time, too, that she became emancipated from her parents, causing a flurry of rumors to circulate about her home life. "That still bothers me," she revealed to Stella magazine (via Express). "The truth is that it's something very common that you did when you were acting very young. ... My parents are just the best."
A firecracker on the screen and behind the mic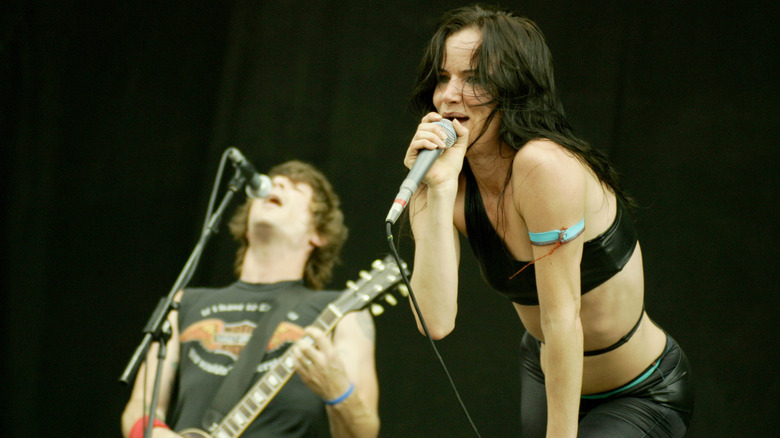 Nigel Crane/Getty Images
With her newfound emancipation allowing her to work more freely, Juliette Lewis made the jump from television to movies. Her first major blockbuster came in the form of "National Lampoon's Christmas Vacation" when she got the part of Audrey Griswold. She followed this up with hits like "Cape Fear" and the Woody Allen movie "Husbands and Wives." You'll also recall she starred with Leonardo DiCaprio in both "What's Eating Gilbert Grape" and "The Basketball Diaries," and played Kate Fuller in Quentin Tarantino's "From Dusk Till Dawn." 
Her acting career is only one side of her creative talent, however. In 2003, Lewis started a band called Juliette and the Licks, and she has performed all over the world. When The Guardian asked about her greatest achievement, it wasn't her Oscar nom she mentioned. Instead, she declared it would be "putting together a rock-'n'-roll band and writing songs with five people who all have different tastes."
Lewis also revealed how she most wanted to be remembered: "For all that I am: a little firecracker, a seeker of joy, and something of strength and defiance."