How Many Times Has Marlena Evans Been Married On Days Of Our Lives?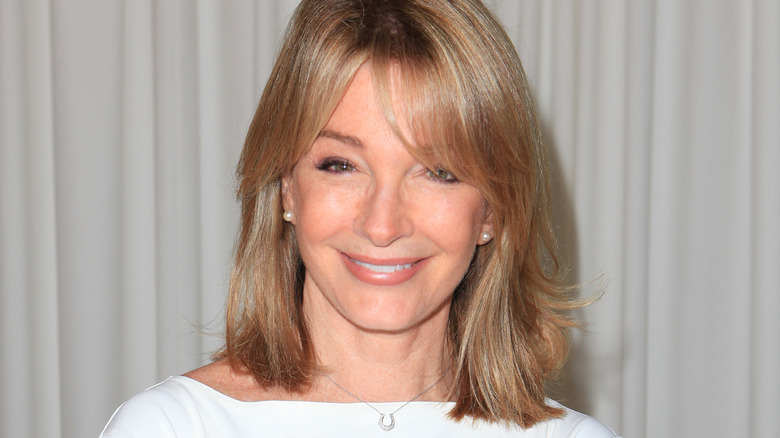 Chelsea Lauren/Getty Images
The character of Dr. Marlena Evans is one of the most iconic in the soap opera world. Portrayed by beloved actor Deidre Hall, the "Days of Our Lives" character has been a staple in Salem for decades. During that time, Marlena has been involved in some of the show's most epic storylines, including instances of demonic possession, murder, and brainwashing. Of course, Marlena's love life has always been at the forefront of the character's plots, and fans who have watched the sudser for years know that Marlena's romances have been dramatic, to say the least.
Through the years, Marlena has been in and out of relationships with several men, and she's been married nearly too many times to count. Longtime viewers of the show may remember Marlena's arrival in Salem in 1976. One of the character's first major love interests was Don Craig. The two hit it off and, despite some drama with Marlena's twin sister Samantha Evans, they eventually tied the knot. Marlena and Don went on to welcome a child named Don Jr., but the little boy tragically died from Sudden Infant Death Syndrome shortly after his birth. The death of their son was too much for the couple to endure, and they eventually split, but they remained friends following their divorce.
After her marriage to Don ended, Marlena moved on to fan-favorite Salemite Roman Brady.
Marlena married Roman, Eugene, and John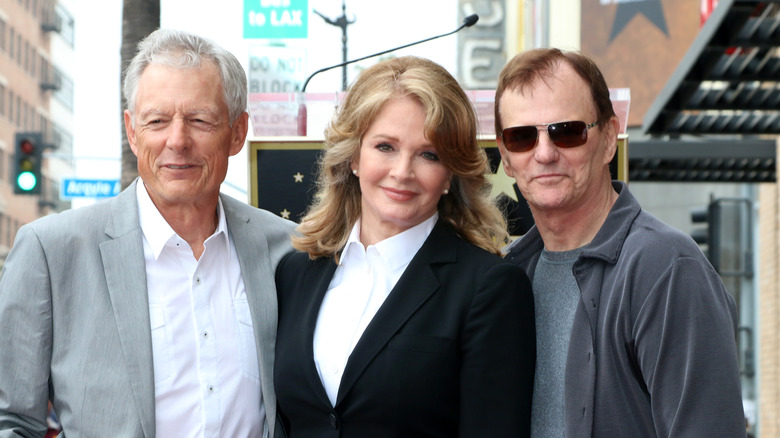 Kathy Hutchins/Shutterstock
In the 1980s "Days of Our Lives" fans watched Roman Brady and Marlena Evans grow close as the police officer protected her from a serial killer strangling women in Salem. The two eventually fell in love and got married, and they went on to welcome twins Sami and Eric together. At one point, the duo agreed that Marlena should marry their close friend Eugene Bradford in order to bust villain Stefano DiMera. Of course, that marriage was fake and Marlena's heart was with Roman.
Sadly, they didn't have a happy ending as Roman was presumed dead, leaving Marlena to be a single mother. Years later when a mysterious man named John Black came to Salem with injuries, he and Marlena shared an instant connection. It was later believed that John was actually Roman, who was suffering from amnesia. During this time, John lived as Roman and he and Marlena shared their lives together, even getting married. However, their lives were flipped upside down when the real Roman returned to Salem alive and well. Marlena was forced to choose between the two men but eventually decided to return to Roman and try to make their marriage work.
Meanwhile, Marlena couldn't deny her feelings for John and the two ended up having an affair that resulted in the birth of their daughter, Belle. Marlena and Roman called it quits, and Marlena was finally free to be with John.
John and Marlena got married six times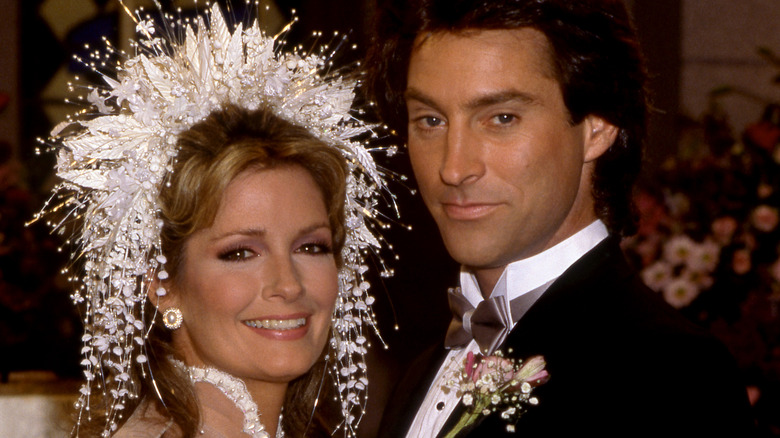 Donaldson Collection/Getty Images
"Days of Our Lives" fans know that John Black is the love of Marlena Evans' life. The two have been together for decades and still have an intense love for one another. However, they've been through many ups and downs. The pair have split up and gotten back together on several occasions and for many different reasons. They were married when John believed he was Roman, after Marlena and Roman divorced, and many times after that.
One wedding took place after it was revealed that Marlena had married a man named Alex North (who was presumed dead in Vietnam) before coming to Salem, making him her only valid marriage at the time. This meant that all of her other marriages to Don, Roman, Eugene, and John were invalid. After Alex's death, John and Marlena decided to get married again to make their union official.
After several rocky moments and many wedding ceremonies, John and Marlena married for the sixth time in 2018. Marlena was walked down the aisle by her son Eric Brady and John's son Brady Black before tying the knot with John yet again. Although each of Marlena's 10 weddings have been memorable and full of drama, many fans are now hoping that she and John are endgame, and they'll live out the rest of their days as husband and wife.