The Famous Co-Star Jane Fonda Couldn't Wait To Kiss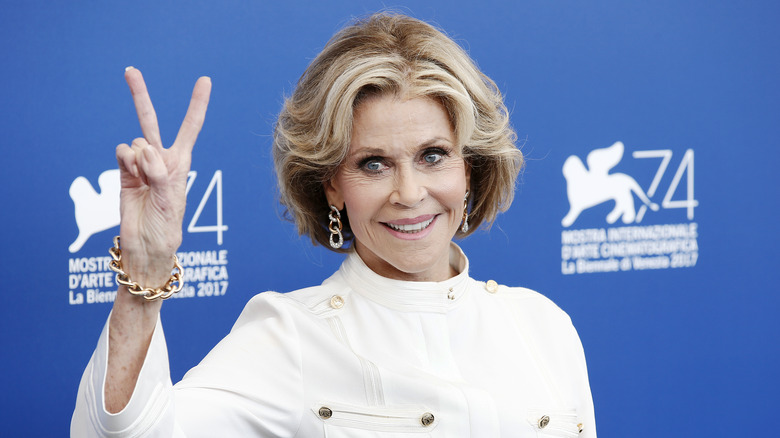 Andrea Raffin/Shutterstock
Actress Jane Fonda has had more than her fair share of romantic relationships, both on-screen and off. Her marriage with her first husband Roger Vadim lasted from 1965 to 1973. Then she wed Tom Hayden in 1973 and stayed married until 1990. She married her third and final husband, media mogul Ted Turner in 1991; they divorced in 2001.
Fonda initially thought Turner was her final destination. "He was sexy. He was brilliant. He had two million acres by the time I left. It would have been easy to stay," Fonda told People. "But there was this angel on my shoulder . . . it was hard to even hear her voice, [saying], 'If you stay, you will die without ever becoming who you can be. You will not really be authentic.'"
In addition to her real-life romances, she played opposite many of Hollywood's leading men, including Robert DeNiro, Jon Voight, and Robert Redford. Out of all of them, Redford had a lifelong lasting impression.
Jane Fonda lived for love scenes with Robert Redford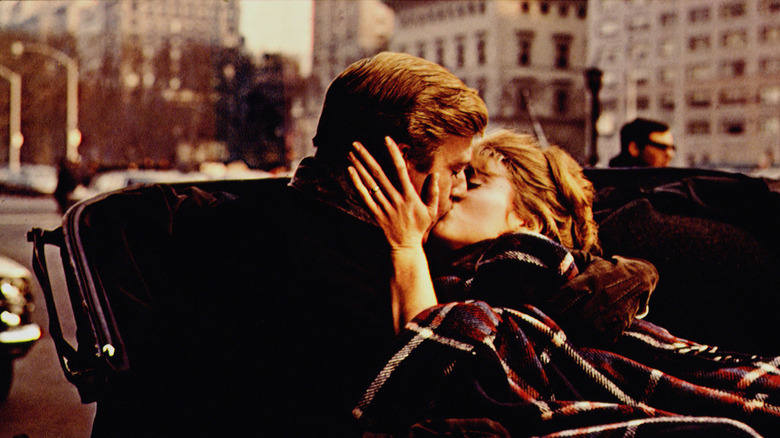 Sunset Boulevard/Getty Images
Though Jane Fonda has some untold truths, the fact that she left acting for 15 years when she married Ted Turner is something lots of fans probably know. She returned to the big screen after the divorce and that return resulted in some of her most memorable roles. Her first movie role after leaving Turner starred opposite Jennifer Lopez in the romantic comedy "Monster-in-Law." Later, she starred with her friend Lily Tomlin in the hit Netflix series "Grace and Frankie."
Before this second act, Fonda played many romantic leads but the one actor she had the most chemistry with was Robert Redford. At the Venice Film Festival, Fonda recalled that Redford doesn't like sex scenes but blurted out, "I live for sex scenes with him." The pair was there promoting their 2017 movie, "Our Souls At Night." Fonda gushed, "He's a great kisser, so it was fun to kiss him in my 20s and to kiss him again in my almost 80s."
Redford returned the admiration and explained why he has enjoyed working with Jane throughout their careers. "From my point of view, things with Jane have always been easy. Things just sort of fall into place. There's a love there, there's a connection there."
Jane Fonda and Robert Redford have a deep friendship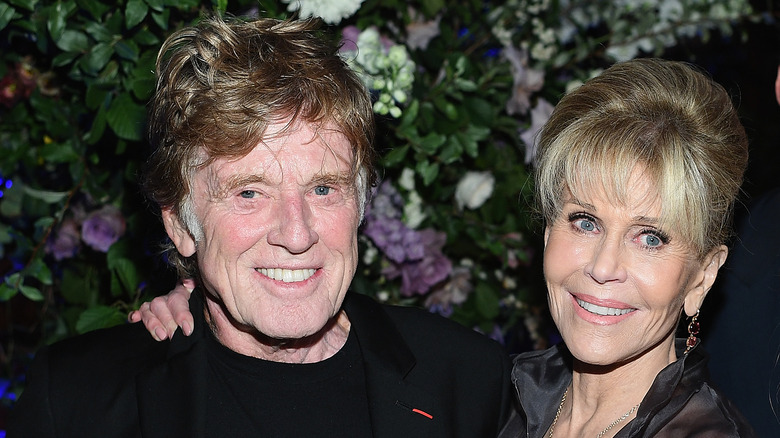 Dimitrios Kambouris/Getty Images
Jane Fonda has undergone a stunning transformation since she first starred opposite Robert Redford, both physically and emotionally. While co-starring with Redford in "Our Souls At Night" she noticed something was different. "I realize that I've grown up because in the three previous movies, I was always in love with him," Fonda said on The Ellen DeGeneres Show. "I fell in love with him every time."
Still, Fonda finds difficulty working with Redford for one good reason. "The only problem with working with Bob is I kind of look into his eyes and I kind of fall into his eyes and forget my dialogue," the actor told DeGeneres.
In the Netflix clip promoting the movie, Fonda reminisces on how they've known each other since they were in their 20s. Though they haven't been a couple, they have a strong connection. "There's the relationship in the films, and then there's the personal one behind that," says Redford. "It just turns out that we've been friends all these years but we've also been film partners . . . we've had a film relationship and a friendship that has gone almost 50 years."