How Many Children Does Sophia Loren Have?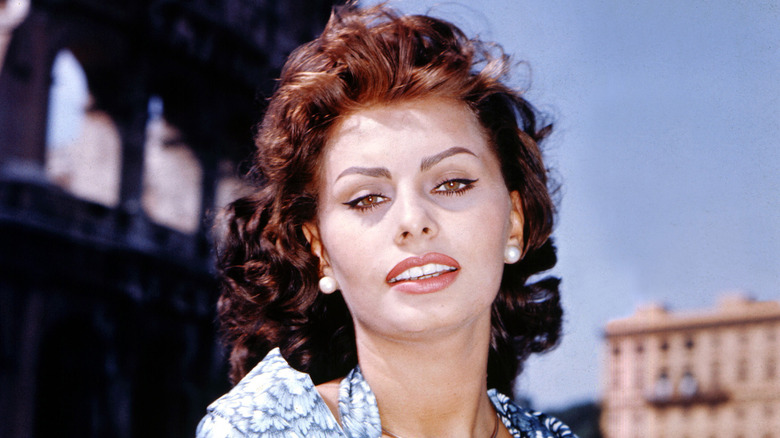 Donaldson Collection/Getty Images
From a teenage beauty escaping post-war poverty to one of Italy's most beloved and iconic actresses, Sophia Loren's rise to fame was swift and substantial. The critically acclaimed actress' captivating looks and demanding presence on screen quickly forged a path to stardom few actors have been fortunate enough to walk — a path which Loren still treads today as the last surviving member of the American Film Institute's 50 Greatest American Screen Legends. 
Although Loren's first forays with film involved lesser-known Italian comedies of the mid-1950s, it wouldn't take long for her to cement her place in the canon of great dramatic actors. After earning an Academy Award for Best Actress in Vittorio De Sica's "Two Women" in 1960, Loren was unstoppable, going on to star in and earn awards for other Hollywood classics like "El Cid" (1961), "Yesterday, Today, and Tomorrow" (1963), and "Marriage Italian Style" (1964).
Loren underwent a stunning transformation over the years but, despite her international success, Loren's top priority — and largest point of pride — is her family. A devout mother, her children have said she has always placed her role as the family matriarch above all else (via Hollywood Life).
The fruits of a potentially criminal marriage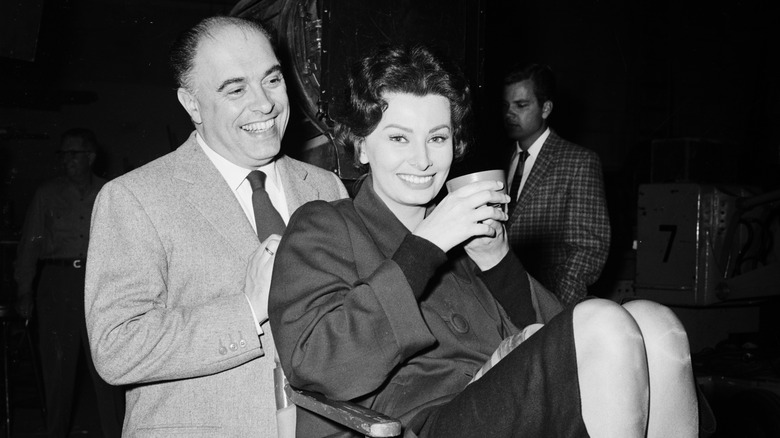 University Of Southern California/Getty Images
Sophia Loren laid the groundwork for what she called her most considerable achievements as a teen beauty pageant contestant in the early 1950s. After wooing pageant judge and film producer Carlo Ponti, Loren was taken under his wing, offered several small film roles, and advised to change her birth name, Sofia Villani Scicolone, to her now globally recognizable moniker. 
Ponti would later become Loren's first and only husband in a Mexican ceremony in 1957, though the groom's on-paper marriage with his former wife, Giuliana, complicated matters for the couple. Facing Italian charges of bigamy and concubinage, Ponti and Loren divorced in 1962 and continued to live together until officially remarrying in France in 1966.
Two years after their second wedding, Loren gave birth to the first of two sons, Carlo Ponti Jr., in December 1968. The couple's second son, Edoardo Ponti, was born in January 1973. In her memoir, "Women and Beauty," Loren would later write, "Nothing, not even winning an Oscar, can compete with the pleasure and sense of accomplishment [motherhood] has given me. ... For me, nothing could substitute motherhood," per Closer Weekly.
From internationally famous to beloved grandmother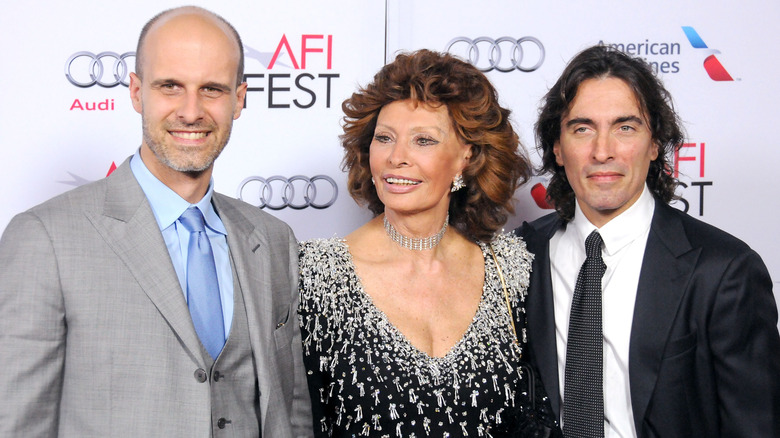 Barry King/Getty Images
Sophia Loren's two sons each pursued careers in the arts, albeit on different paths. The elder, Carlo Ponti Jr., is now a globally renowned conductor and music educator. The younger, Edoardo Ponti, took after his father, pursuing a career as a film and stage director, actor, writer, and producer. Both sons have two children, making Loren a beloved grandmother as well. 
Edoardo was the first to make Loren a grandmother, welcoming his first child, Lucia Sofia Ponti, in May 2006. Carlo's firstborn, Vittorio Leone Ponti, arrived in April 2007. Edoardo's second child, Leonardo Fortunato Ponti, was born in December 2010, and Carlo's second child, Beatrice Lara Ponti, was born in March 2012.
Decades after skyrocketing to international stardom, it appears Loren is more than content to settle into her role as grandmother, telling IndyStar, "I prefer now to see my grandchildren. My family is united. I am rich from the birth of these four grandchildren. My dream was to have a good family, to have a good husband that loved me for all my life, which I did. And my two sons, they are magic children for me. I am a very happy woman."