What We Know About The New Hallmark Wedding Flick, Make Me A Match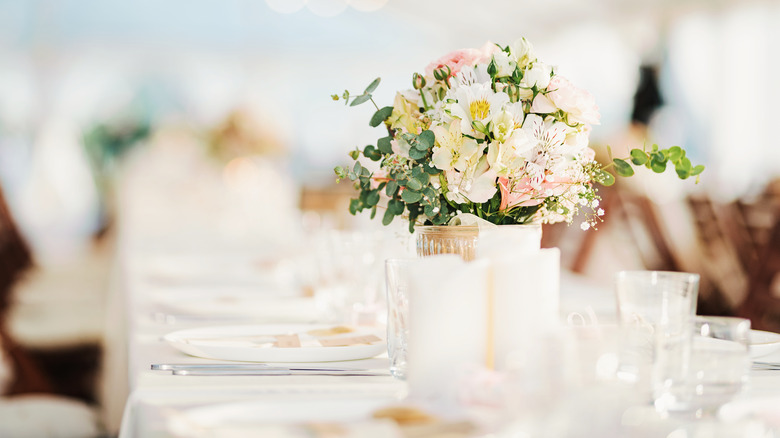 Vasil Dimitrov/Getty Images
When you think about it, chemistry is an odd way to describe a transcendent connection between two people. High school certainly demonstrated that chemistry encompasses a whole range of not-particularly wonderful things, including chalk-marked charts of essential elements, complicated genetic calculations, stinky smells, and laboratory explosions. Yet the metaphor is an enduring one with each of us at some point justifying our dating lives by saying, "But we have such good chemistry!"
And so it is with great trepidation Hallmark Channel fans await the forthcoming "June Weddings" extravaganza. The network synonymous with "romance" will be releasing not one but four new original movies celebrating matrimony in the sixth month of 2023. Romance genre buffs understand that one of the four films, "Make Me a Match," will likely be extra dependent on the chemistry between its two leads, Eva Bourne and Rushi Kota, since the story centers on the workplace. Yet the place of business is not your average office. It's the intricate enterprise of matchmaking, modernized in the form of an app. 
Plotting to match hearts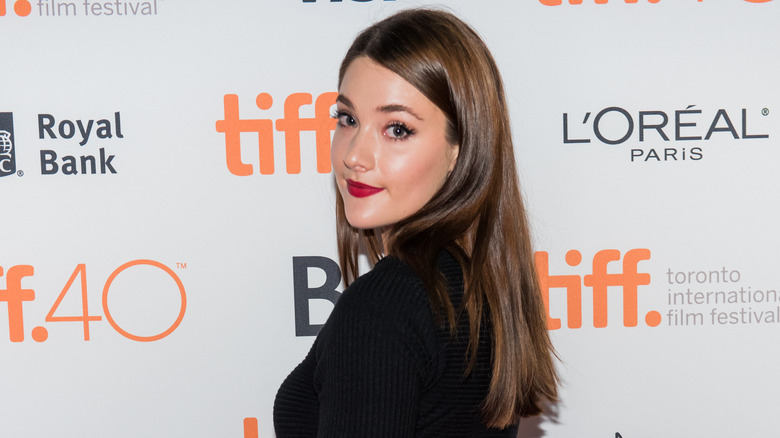 Dominik Magdziak Photography/Getty Images
As summarized by Hallmark, the story has Bourne playing the role of Vivi, a woman who remains upbeat despite past romantic disappointments. It's peculiar, then, that Vivi earns a living via the second oldest profession in the world: as a high-tech marriage broker. Examining her app's data, she recognizes the success rate is subpar. Knowing her job is under threat (since clients can still hire a matchmaker in 2023), she knows changes must be made. And so then she does what any smart corporate operator does when financial expectations have not been met — she hires a consultant named Raina, played by Rekha Sharma, an Indian broker with mad skills.
As Raina offers advice on improving the quality of online connections, Vivi gets to know and respect this mentor and eventually meets the older woman's son. Bhumesh, played by Rushi Kota, is a bundle of spontaneous energy — everything Vivi is not — leading the young woman to question her own fundamental assumptions about love. Can it be found using an app or is it something more ephemeral, more magical ... more a matter of fate?
Chemical reaction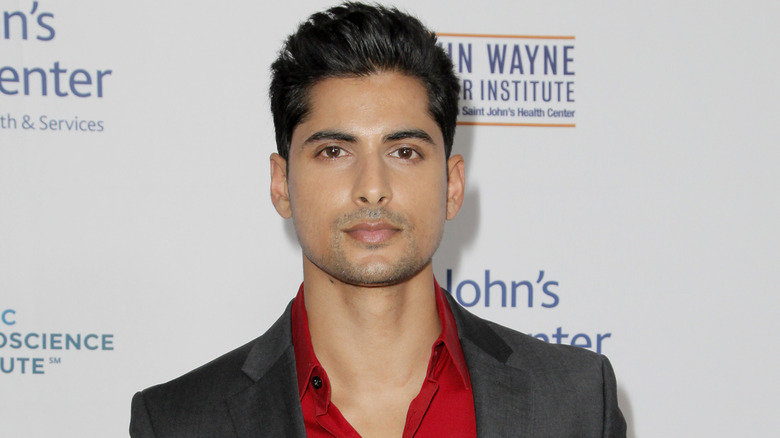 Tibrina Hobson/Getty Images
On paper, Eva Bourne and Rushi Kota both have enough acting experience to bring this story to life. Eva has appeared in past Hallmark productions, including "When Calls the Heart." IMDb credits her with feature film work, guest spot TV roles on The CW, USA, CTV, and TNT, plus recurring roles on SyFy's "Caprica," Discovery's "R.L. Stine's The Haunting Hour," and ABC's fantasy hit, "Once Upon a Time." Hailing from British Columbia, Eva dropped out of a dental assistant program to pursue the acting bug in Vancouver, where she first began to land TV roles.
"Kota grew up in the residential streets of Queens NY, but was born in India to a single mother who brought him to America to achieve the American Dream," IMDb's description of Rushi's early life reads. After graduating from SUNY Farmingdale with degrees in automotive engineering and business, he took an alternative route and pounded the pavement in New York City looking for acting jobs. He completed Harvard's MFA acting program followed by a residency at Stanislavski's Moscow Art Theater School in Russia. Rushi next appeared in a variety of stage and TV productions, taking a heartthrob role in Netflix's "Never Have I Ever," following his recurring role in later seasons of ABC's "Grey's Anatomy."