The Classic Soaps That Gave Hayden Panettiere Her Showbiz Start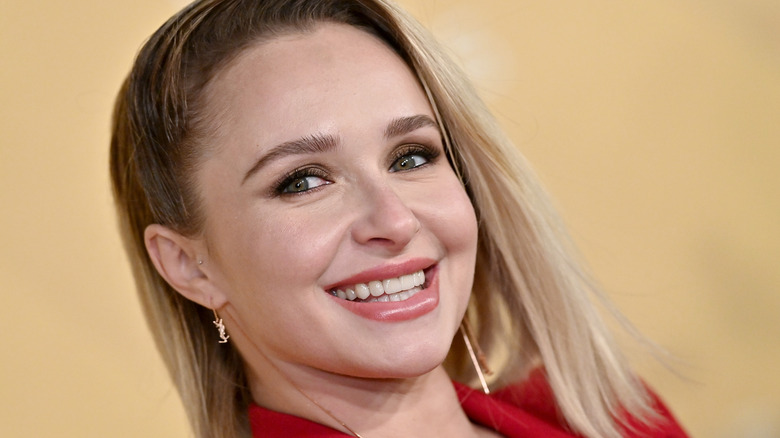 Axelle/bauer-griffin/Getty Images
If you grew up in the 2000s, then you're likely familiar with the smattering of teen movies that actor Hayden Panettiere appeared in during this period. Her first big-name feature film role was as a voice actor for Pixar's animated film "A Bug's Life," and she went on to appear in teen favorites like "Ice Princess," "Bring It On: All or Nothing," and "I Love You, Beth Cooper," in addition to a few Lifetime movies over the years. Panettiere really made a name for herself in the 2006 NBC drama series "Heroes," winning acting awards, and in 2012, began a longtime role on the TV series "Nashville."
However, if you first discovered Panettiere during the aughts, then you might be surprised to learn that she actually got her show business start in soap operas. From 1994 to 2000, the New York native appeared in not just one, but two soaps while she was working as a child actor. Although she first acted in a TV commercial as an infant, daytime television was her true entry into acting.
Hayden Panettiere was on Guiding Light and One Life to Live
Hayden Panettiere appeared on two soap operas as a child actor. From 1994 to 1997, she first played Sarah Roberts, the daughter of Tina Lord and Cord Roberts (portrayed by actors Andrea Evans and John Loprieno) in "One Life to Live." From 1997 to 2000, Panettiere played Lizzie Spaulding on "Guiding Light," appearing in a total of 44 episodes. For this role, she received a nomination for a YoungStar award in the Best Young Actress/Performance in a Daytime TV Program category. Her on-screen representation of a child with leukemia won her a Special Recognition Award from the Leukemia & Lymphoma Society.
In 2017, the "Nashville" star talked about her time as a young soap opera actress during an appearance on "The Late Show with Stephen Colbert." When asked about her craziest storylines on a show, she said, "I think 'Guiding Light' takes the cake." She recalls that during her run, her character shot her mom's boyfriend, was trapped down a well, and someone kidnapped her. While these are all pretty wild, we've heard crazier — but they definitely add up to an interesting experience for the actor.
The actor appeared in Wendy's commercials
Fans of Hayden Panettiere will also be interested to learn that during her time as a child actress, she also appeared in two Wendy's commercials. In an interview with ET, the star reacts to one of these ads where she steals her brother's chicken nuggets. She noted that Dave Thomas, the founder of Wendy's, was also in the television commercial. "There he is, yes! There he is! Oh, Dave!" she says to ET, getting excited when he appears onscreen after her character pushes the blame onto Thomas for the missing nuggets.
She also recalled how she wanted to eat the chicken nuggets advertised in the commercial despite the crew having her spit the bites out. "I wanted to eat the nuggets every take. I wanted to stuff my face," she recalled. Luckily, they let her pig out after they finished filming.
With such an early start in show business, it's no wonder that Panettiere was able to make such a name for herself in both TV and film, and it's understandable she wanted to take a break. With such fame under her belt, we love looking back on her early roles.