The Hack To Pain-Free Heavy Earrings Is In Your First Aid Kit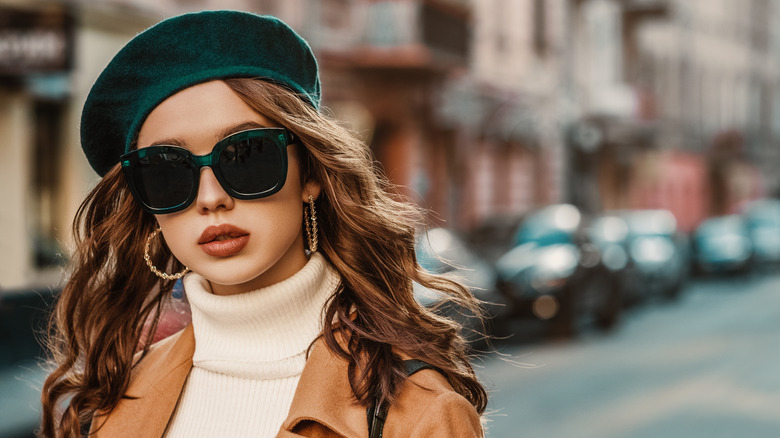 Victoria Chudinova/Shutterstock
Bold, shoulder-grazing earrings are the perfect accessory to elevate any outfit and add a touch of fun and playfulness. We've seen so many inspiring statement earrings — the kind that makes heads turn and provoke a question of where to get them. And while everyone can easily be a fan of these stylish, trendy items, it can take a toll on your ears — specifically, your lobes. 
After all, they can put a strain on the earlobes, despite making you stand out from the rest of the crowd with standard studded earrings. In fact, consistently wearing them can drag your lobes down, eventually making them appear a tend saggy, and sometimes can result in painful and long-term damage. But don't fret since the key to pain-free heavy earrings can simply be found once you pull out your first aid kit. Here's what you can do to prevent your ear lobes from discomfort.
Band-aids can do more than just cover your cut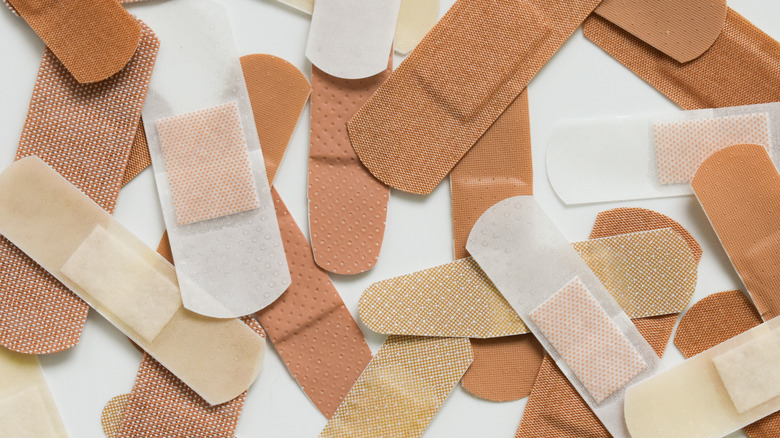 DHurley/Shutterstock
It might be surprising to know that the Band-aids found in your kit are the ultimate solution to your damaged ears due to wearing heavy earrings. However, bandages are a real ear saver for the fashion savvy since they can help your earring stay intact (via Sweetandspark). Aside from helping with the pain, it also makes torn and stretched earlobes invisible. While there are available surgeries to repair the earlobes, as per Healthline, not everyone has that kind of budget. Therefore, with the use of bandages, there's no need for expensive plastic surgeries.
To begin, remove the outer packaging of the band-aid, and wrap it around both sides of the earlobes. After placing it on, you can now put on your earrings. The bandage cover will act as a second layer to the skin, which wouldn't really get noticed. In turn, this trick will help reduce the pressure and allow you to rock those earrings with ease.
As they say, prevention is better than cure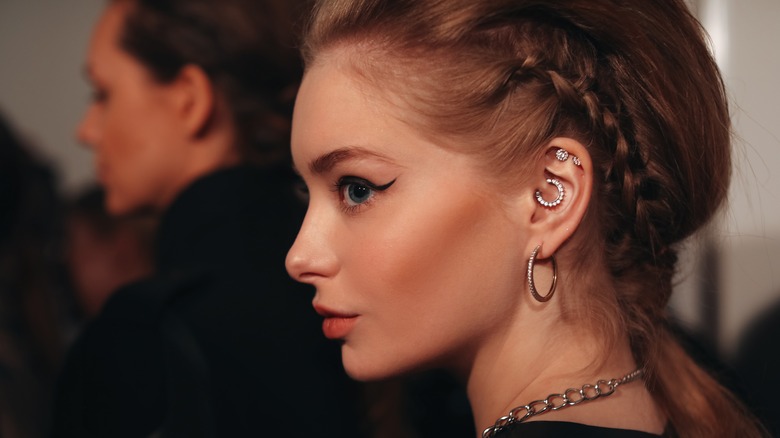 Xeniia X/Shutterstock
For the most part, earlobe pain is sourced back to stretched or torn earlobes. However, on rare occasions, torn holes may be due accidentally in cases where a loose earring can be snagged or pulled too hard from being caught on something. In this case, nothing can be done to repair the lobe (via Healthline). The last resort, again, would be surgery to bring it back to its original form.
Nobody wants a stretched earlobe. Therefore, following these tips would greatly help you keep your earlobes intact. And, when given the option, it's better to use lightweight earrings. On the other hand, in case you really have to wear heavy earrings, try to wear them briefly and limit the weight of the earrings to avoid damage. Additionally, do not wear earrings that can be easily snagged. It's better to stay away from the possibility of ear hole damage. And lastly, never go to bed with your earrings because disasters may also happen while you're asleep, not to mention there are hidden dangers of sleeping with earrings.