Robin Wright And Sean Penn's Director Daughter Is Absolutely Gorgeous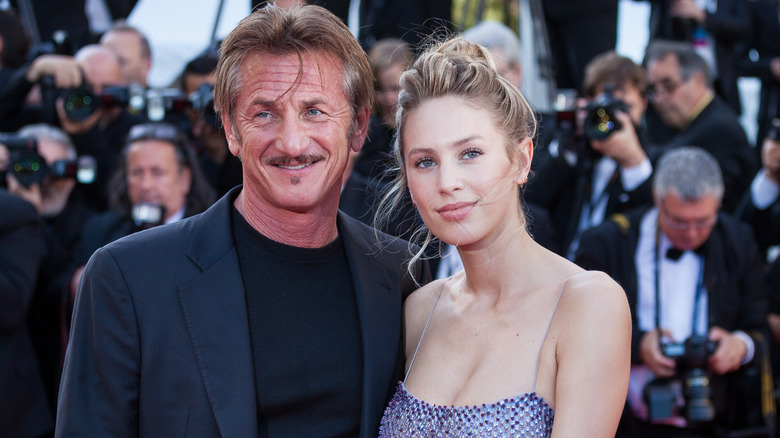 taniavolobueva/Shutterstock
Dylan Penn is the daughter of Sean Penn and Robin Wright, and there is no denying that she is genetically blessed. She is a stunning woman who has caught many people's attention, but there is so much more to Dylan than her appearance. She is also a fascinating individual who has accomplished many great things — but at the same time, she's no stranger to rejection.
Have you ever wondered what her life was like growing up and how her father handled her boyfriends? Or perhaps you have been curious about who she is when she's away from the limelight? Is she passionate about acting, or is there another career path she would rather choose? Dylan has been a regular on the red carpet, sometimes alongside her parents, and she's also willing to give interviews to the media. This is good news for fans because it gives us a glimpse into her life.
Dylan Penn is not afraid of hard work (or rejection)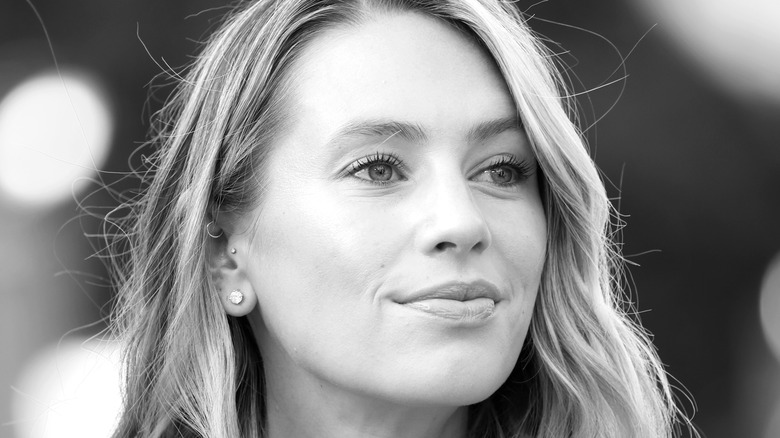 Vittorio Zunino Celotto/Getty Images
It's no secret that children of celebrities are often given an advantage if they intend to work in the entertainment industry. The term "nepo baby" has been trending for this exact reason. But how far do these connections really go? Is it just a foot in the door, or does it secure roles? Dylan Penn addressed this in an interview with W.
"'I've been auditioning forever. I've been rejected forever," she said in the interview. "This is the business. It is about who you know. Always. Whether you're the son of Sean Penn or not [she was specifically referring to her brother, Hopper]." Some may find her comments refreshingly honest as she admits that there is an aspect of nepotism involved in Hollywood, but she has also got to where she is from talent and sheer determination. If not, why would she be so familiar with rejection — although she does not specifically state which jobs overlooked her in favor of someone else? 
She has a cute, fruity nickname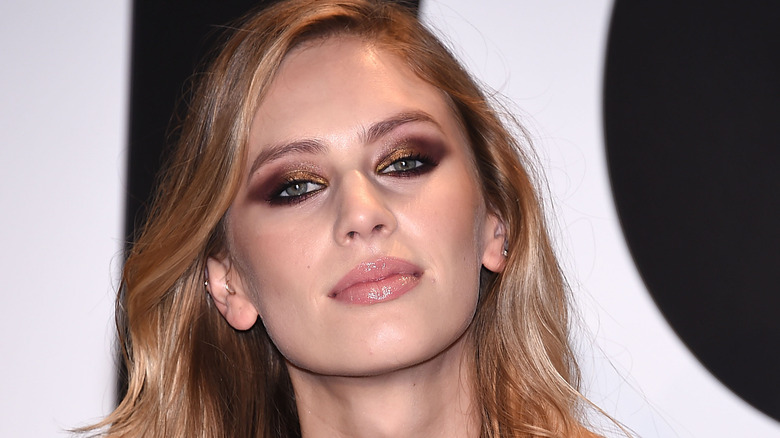 DFree/Shutterstock
Celebrities have been known to have a penchant for unusual names (think of Apple and Blue Ivy), but Dylan is not one of those far-out choices. She was, however, named after someone else, legendary musician Bob Dylan.
Being named after someone famous can become a conversation starter for others curious about your thoughts on the name. In this case, people wanted to know if Dylan Penn liked the musician who inspired her name. And did she? "It took me a long time because it was always brought up," she told Rolling Stone. "But he's a poet. I definitely respect his music."
Those who are close to her may choose to refer to her by her nickname instead. That moniker is Peaches. As for how it came about? ​​"My dad got me a piece of jewelry that's engraved. It says my nickname, which is 'Peaches,' because I guess I devoured a peach when I was really little and loved peaches," she told People.
Dylan Penn has embraced her body with confidence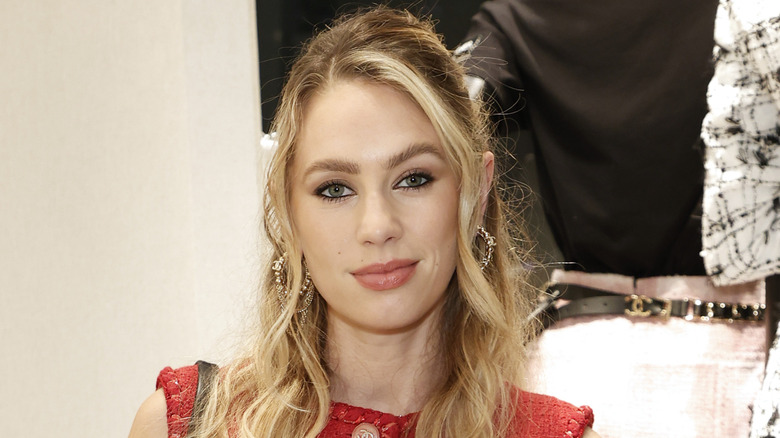 Arturo Holmes/Getty Images
In Hollywood, public perception of you is incredibly important, and some celebrities spend much time carving out their image. Some are certainly more cautious about what they do than others, but Dylan Penn is a woman who is not afraid to embrace her body. She has also shown the world that she is comfortable in her own skin after taking part in a photoshoot for Treats magazine.
Penn was photographed by Tony Duran, who is known for his "provocative" celebrity photographs. What drew her to work with this artist? "I knew his photography from before I was asked to shoot and really admired him as an artist," she told Treats (via HuffPost). "I have always loved his black and white nudes, they were always so tastefully done and, more specifically, showed that certain elegant yet strong beauty that I think all women embody."
Dylan's got some famous friends (but don't believe the dating rumors)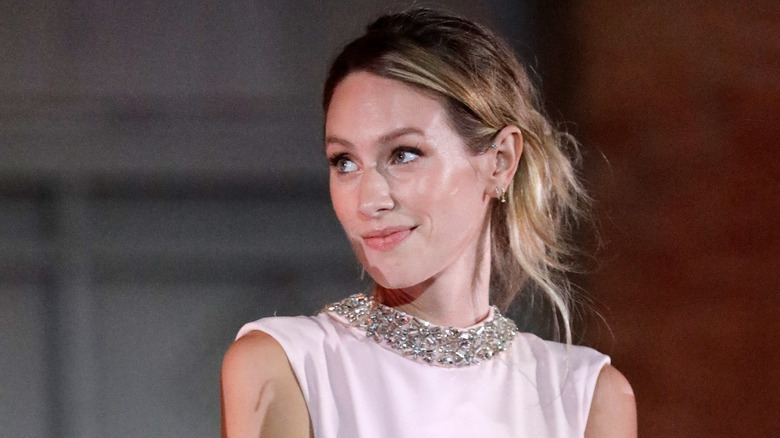 Claudio Lavenia/amfar/Getty Images
Some may argue that Dylan Penn was always destined for a life in the limelight, given that she is the daughter of two famous stars, Sean Penn and Robin Wright. There is no denying that there has been an interest in her life, and this includes who she spends her time with. Or should we say, who she has been rumored to have dated?
One of the most persistent rumors involved her dating Robert Pattinson. In 2013, it was reported that Penn and Pattinson were together after they were photographed at Chateau Marmont. At the time, a source told E! News, while it was not official, "It is a romance." However, her answer reveals precisely why we cannot believe everything we read.
"It is such a bulls*** lie," she told Elle. "Rob is cute but just a friend. I can't imagine dating someone famous. I try to stay away from that as much as I can."
Her dad, Sean Penn, is an intense guy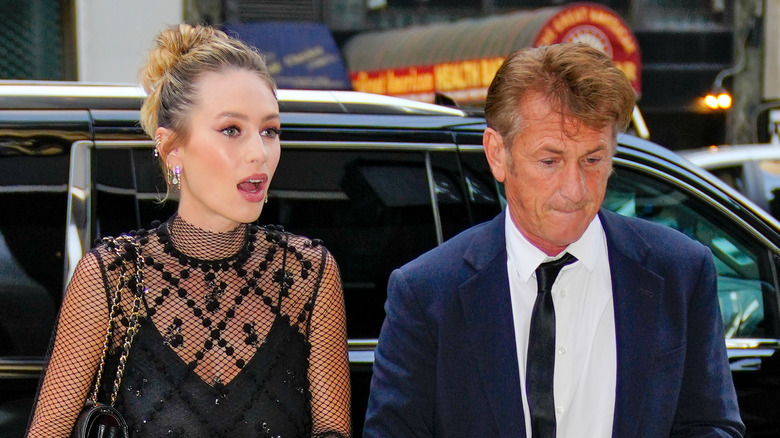 Gotham/Getty Images
Sean Penn has had a long and fascinating career from actor to novelist and activist, including narrating a documentary. He's also known for being an incredibly intense artist. But at home, is he a super-chilled dude who wants to hang out with his children and their partners? Or is he serious and intimidating?
Dylan Penn's comments on his interaction with one of her dates when she was a teen, indicate what he was like. In an interview with Vanity Fair, she recalled a story from when she was 16. She said: "The guy introduced himself to my dad, and my dad was like, 'Have a good night ... I just want you to know, anything you do to [Dylan] I'm going to do to you later.' I guess that's intimidating. But I don't think he really would intimidate them as much as he would just freak them out."
Dylan Penn has tried to do things her way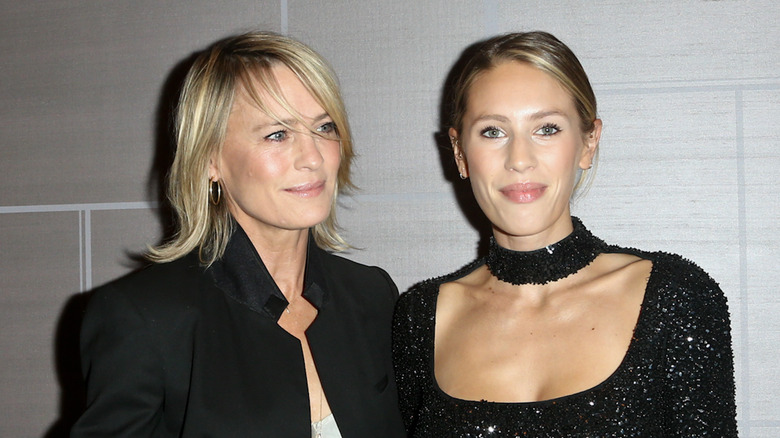 Debby Wong/Shutterstock
Dylan Penn will always be associated with her famous father because they share the same last name. But she has tried to carve her own path and do things her way instead of following in her parent's footsteps.
While it's true that she has also pursued a career in the entertainment industry, including acting, with her most famous roles including "Flag Day" and "Signs of Love," she has tried to do all of this without asking Sean Penn and Robin Wright's advice. "I don't really ask them for advice. I think they like the idea of me having my own discovery into this world of things," she told Vanity Fair.
Still, there are some words of wisdom her parents shared with her that have stuck with Dylan. "The one thing they said to me was, 'Don't do anything that feels false to you. Even though you're playing another person, anything you do — like movements, or even a word — just don't say it, because it's gonna come off false to the audience,'" she told New York Post.
Living well and without regrets could be Dylan Penn's life motto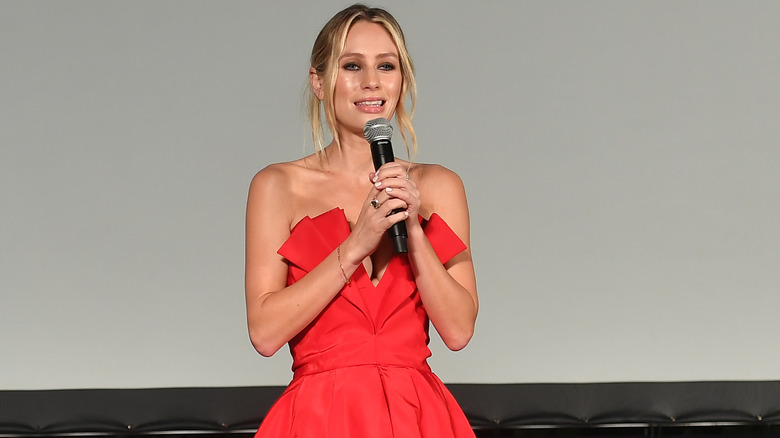 Paras Griffin/Getty Images
Few people can say that they have not made mistakes or have regrets about certain aspects of their life. The key is remembering what you have learned from them and how they can help you grow. Did you pursue an unrewarding career that left you feeling burnt out? Or perhaps you took a role that didn't make you feel fulfilled? Like so many of us, Dylan Penn wants to make the right decisions regarding her career. For this reason, she must pursue projects she believes in.
"It came easily to me, and I learned so much about the writing process of a film," she told Teen Vogue about her experience in script editing, "I always want to stay true to myself. As long as I'm doing something I believe in, there should be no regrets."
Dylan Penn's childhood dream was to become a director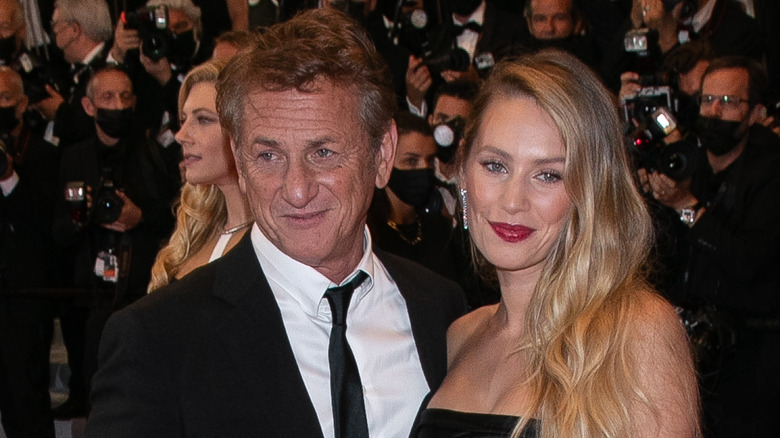 Marc Piasecki/Getty Images
Sean Penn is best known for his acting work and has also directed several films. His daughter, Dylan Penn, shares this passion with him. In fact, she has had dreams of becoming a director since she was a child. Instead of diving head first into directing, she understood the importance of also acting first, letting herself get a better idea of what being a director entails by understanding the actor's point of view.
"When I was young, I told my parents I wanted to direct," she told Vogue. "On separate occasions, both of them advised that I should know what it's like to act before I direct, so I'd know what it's like to be in the actor's shoes. So I did a lot of assisting on movie sets for a while [as a production assistant]. I did a lot of music videos and a couple of TV shows and some print shoots. I felt more in it than when I was visiting my parents on set."
She got to work with her father, Sean Penn (on a project she's been familiar with since her teens)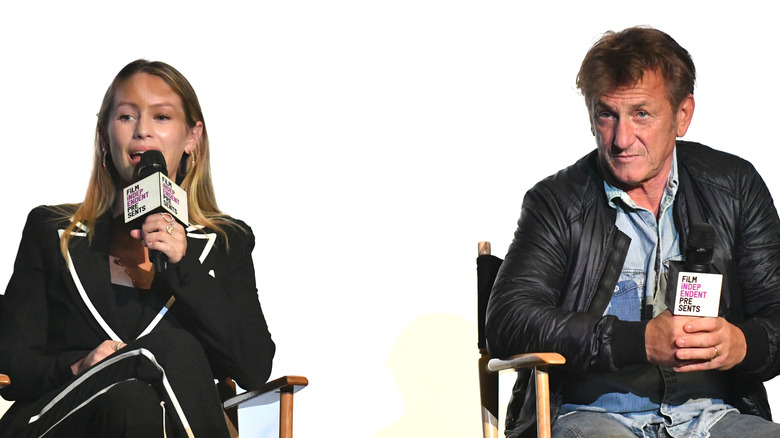 Rodin Eckenroth/Getty Images
Sean Penn and Dylan Penn's fans probably already know they collaborated on "Flag Day." The 2021 film has a stellar cast, including Sean, his daughter Dylan, and his son, Hopper. Other actors include Miles Teller and Katheryn Winnick. What you may not have realized, though, is not only does Sean Penn act in the film, but he also directs it. So, what was it like working with her father on this project, and did Dylan jump at the opportunity?
Well, not quite. Interestingly, Dylan was first introduced to "Flag Day" as a teenager. Her father gave her a copy of the book "Flim-Flam Man: A True Family History," which the script would later be based on. In an interview with Vogue, she shared how their collaboration came about. 
"When I was 16, my dad came to me with the part of [a young version of Jennifer] because he had an option on the script, and I said no," Dylan said. "I was 27 when the script came back around, and I felt like I had more to offer because I could reference my own life experience to develop the character of Jennifer. My mom was the one who told me that working with my dad as the director was the best experience she's ever had, which was what propelled me into this project."
Dylan has done modeling, but she's not eager to make it her career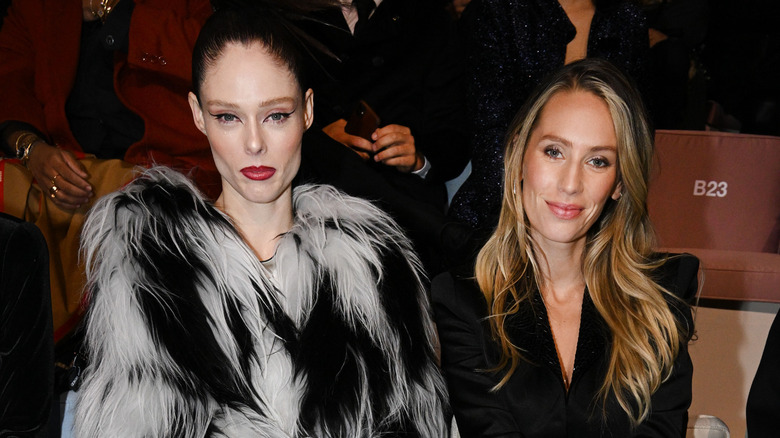 Stephane Cardinale - Corbis/Getty Images
Despite Dylan Penn's passion to become a director, she is also someone who is no stranger to being photographed. She is comfortable with having her photo taken and has even worked as a model. This includes being photographed for GQ, a campaign for footwear company Frye, and the Gap Factory Denim Summer project. While she could have the potential to be successful in this career because of her looks, confidence, and connections, she never intended to make a long-term career out of it.
"Modeling is not a passion of mine," she told Elle in 2014. "I have been having fun with it, but it's just to pay the bills. Writing, directing ... anything behind the camera is what I want to do." She echoed these statements in a 2015 interview with Vanity Fair. She told the publication that she had plans to stop modeling and was doing it simply because it was a job.
Dylan Penn and Sean Penn share many similarities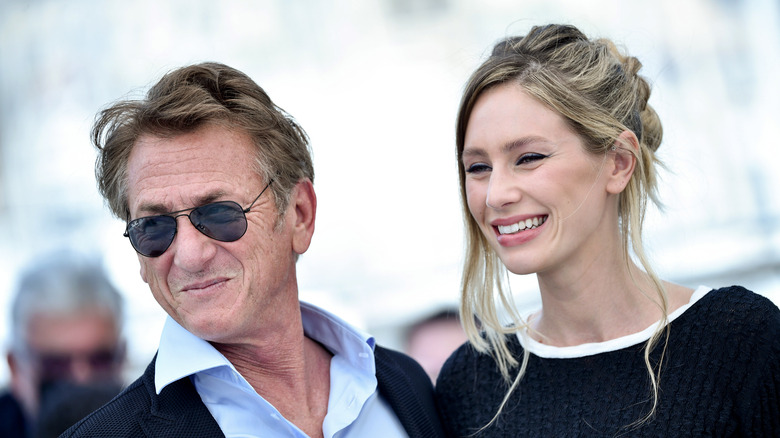 Lionel Hahn/Getty Images
Dylan Penn looks a lot like her famous mother, Robin Wright, and the similarities in their appearance have been commented on often. Wright is a stunning woman; even her daughter recalls a moment from her childhood when her peers commented on her mother after watching "The Princess Bride" — a movie that has become a classic).
"All the boys in my class started talking about how pretty my mom was!" Dylan told People. But if you have ever wondered who she's most like in personality, that would be her father, Sean Penn.
"I've always said I'm more like my dad," she told New York Post. "We both have an ego. We're both like very opinionated and, I don't know, sometimes confident in a way that could be annoying." She also commented on qualities of their personality that could be perceived as unfavorable. "Both of us have realized recently we need to kind of chill out," she said. "He's taken a little bit longer than me," but "in his old age, he's come to realize it's just not very attractive anymore."
It was her mom, Robin Wright, that convinced Dylan to work with Sean Penn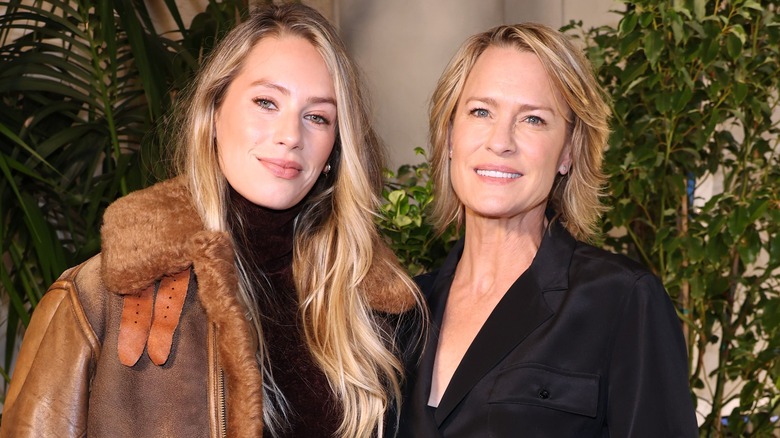 Amy Sussman/Getty Images
You may think Dylan Penn would jump at the possibility of working with her father. There is no denying Sean Penn has had a long and successful acting career, and young and aspiring stars would likely be able to learn something from him. But what happens when the actor or director you're working with is not just a professional but he's also your dad?
Dylan was reluctant to star in "Flag Day" with her father, which he acted in and also directed. It was her mother, Robin Wright, who convinced her to do the project because of her experience working with Sean. ​​"She very simply said, 'I've never worked with a better director than your dad. It was the most amazing experience I've ever had as an actor,'" Dylan told People. "So I trusted that."
Dylan expanded on these comments in an interview with Vogue. "She [Robin Wright] said he was a really great collaborator and she felt like he created a really safe environment to be vulnerable on set, and that he was a hands-off director," Dylan said.
Dylan Penn has had many odd jobs, including pizza delivery girl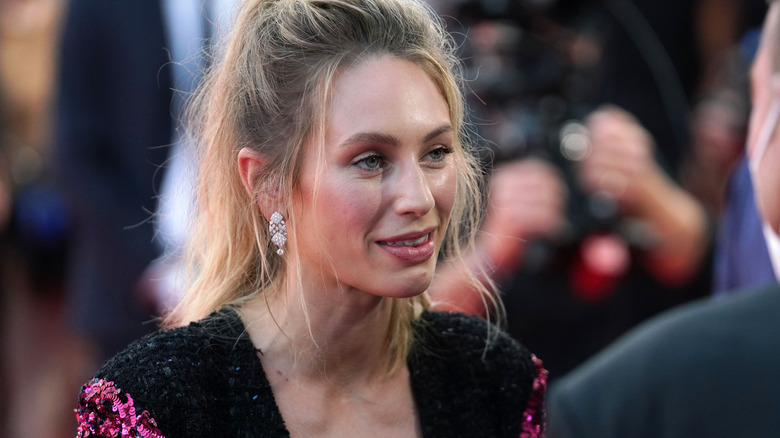 Sylvain Lefevre/Getty Images
If you've ever wondered whether children of celebrities get handed everything on a silver platter and never have to work a day in their lives, Dylan Penn is here to prove that this rule does not apply to all. She has had several jobs, but one that stands out is working as a pizza delivery girl.
She delivered pizzas to college students in California but made little money and had to deal with offensive questions. Speaking of the experience to New York Post, she told the publication why she quit. She said, "After I was asked if I was a stripper, like, three times, 'I was like, 'I'm done.'" She had this position for five months but has spoken about it often.
"My parents were basically like, 'You're cut off if you're not going to school,'" she told Rolling Stone. "So I would model by day, deliver pizza by night. I would come in full hair and makeup to deliver to like, frat houses, so I got misconstrued as a stripper countless times."
Her character in Flag Day has parallels with her own life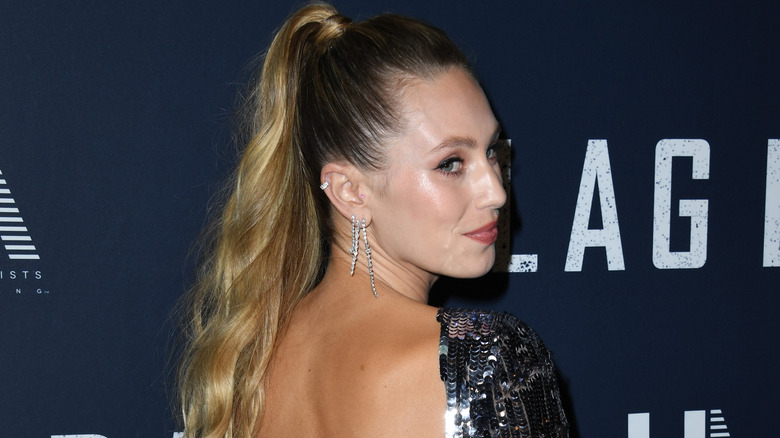 Jon Kopaloff/Getty Images
We have mentioned Dylan Penn's role in the 2021 film "Flag Day," but why is this such an important role? This partly concerns how Dylan found similarities between her character, Jennifer Vogel, and her own life — specifically wanting to break free from being known as just her parent's daughter.
Although she did not go into detail in her Rolling Stone interview about her life and the potential struggles she may have of being the daughter of two famous stars, she did speak about her character. "I had a lot of parallels to her life," she said. "The biggest thing for me was this need to detach from her past and her parents and forge her own way into being a real truth seeker as a journalist. I identify with that because I never really felt like I was my own independent self. I wanted to be in this industry, and I didn't want to just be 'the daughter of"