All Of The Men Kaley Cuoco Has Dated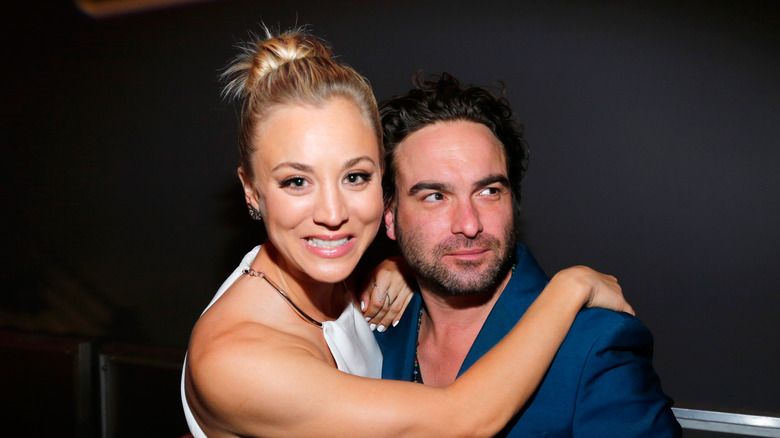 Rich Polk/Getty Images
After a whopping 12 seasons of playing Penny on "The Big Bang Theory" and receiving several nominations for her lead role in the HBO series "The Flight Attendant," Kaley Cuoco's face seems to be on television constantly. It's about time too, because she's been acting and modeling since the early '90s when she was just 6 years old. Now, following a major transformation from small-time actress to full-blown Hollywood celebrity, Cuoco's time playing Penny has ended and she's on to bigger and better things. The same goes for her love life, as she may have finally found her Mr. Right, having a baby in March 2023 with Tom Pelphrey.
Cuoco seems to be truly happy today, and it's well deserved. But in terms of her list of exes, there might be more than a few men out there who have to flip channels quickly when her face appears. Cuoco has been fairly open about who she has dated from the time she's been in the spotlight, and of course, the media has kept tabs on her latest fling, relationship, or marriage over the last two decades. Because of this, we did some digging to learn everything there is to know about all of the men Cuoco has dated.
She dated soap opera actor Thad Luckinbill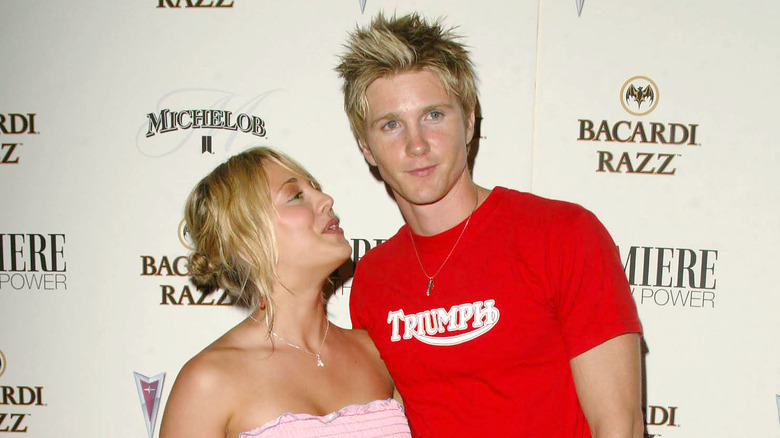 Vinnie Zuffante/Getty Images
The soap opera actor best known for portraying J.T. Hellstrom on "The Young and the Restless," Thad Luckinbill, dated Kaley Cuoco in 2002. She had just landed a role in "8 Simple Rules" and was slowly climbing the stardom ladder. It would seem the couple was pictured together only once on the red carpet before they split up less than a year later for reasons unknown to the public. However, some have speculated that their age gap may have played a part, with Luckinbill aged 28 and Cuoco only 17 at the time.
Since their split, Luckinbill continued to work on the soap opera until 2010, and he was confirmed to reprise his role in 2023. He has also made several television and movie appearances and has moved into producing films. In terms of his love life, he married his "The Young and the Restless" co-star, Amelia Heinle in 2007 and they had two children, Thaddeus and Georgia. Unfortunately, after 10 years of marriage, Luckinbill filed for divorce in 2017. Although it's unclear if that has been finalized, the couple appears to be on good terms, as Heinle posted a photo of Luckinbill to Instagram in 2020, captioning it, "Happy Birthday to a really wonderful man, may all of your days be blessed!"
Kaley Cuoco went out with Kevin Zegers in 2003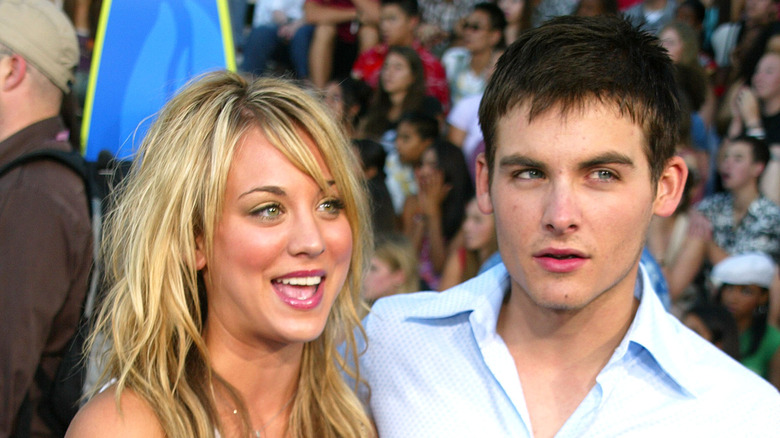 Jeffrey Mayer/Getty Images
Kaley Cuoco has never shied away from dating co-stars, and when she met Kevin Zegers while working on the TV movie "The Hollow," they hit it off. The couple dated for a year, between 2003 and 2004, and kept things fairly quiet. It wasn't until 2022 that Cuoco and Zegers reunited when they took a photo together at the John Ritter Foundation From the Heart LA Gala. Zegers posted the photo on his Instagram, captioning it, "It's been 20 years since we first met. John Ritter was our surrogate Dad. So happy to spend the night together remembering our friend and raising some money for the [John Ritter Foundation]." Cuoco and Zegers had both worked with Ritter, the former on "8 Simple Rules" and the latter in a TV movie called "It Came from the Sky."
Although neither had commented about their previous relationship, Cuoco told Vogue a story for their "Sad Hot Girls" series in 2018 about a guy she dated. Many believe it was about Zegers, as she says she was 19, just starting out, and met a "hot" actor. Cuoco refers to him as "John" to protect his identity and because, "If I told you his name, you'd know who he is." She was head over heels until a dinner date where she learned that he was stingy and tipped only 8%, which Cuoco says led to the end of the couple.
She dated Jaron Lowenstein for a year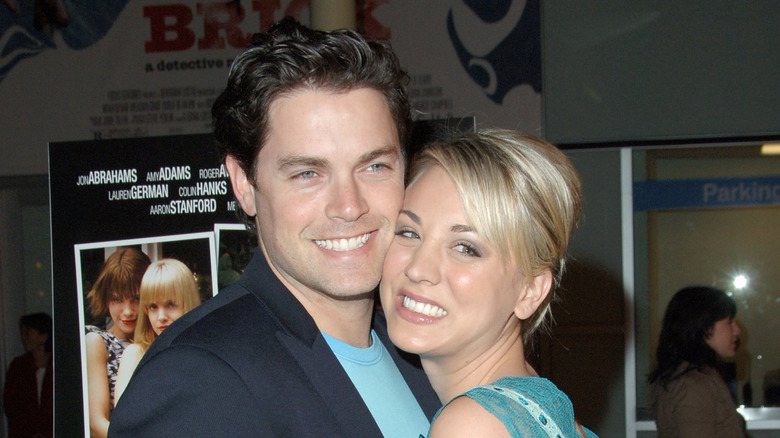 Jon Kopaloff/Getty Images
You don't hear much from Jaron Lowenstein anymore, but back in the day, he was snuggling up to the likes of Lara Flynn Boyle in 2004 and, between 2005 and 2006, our beloved blond actress Kaley Cuoco. It seemed Cuoco had taken a break from actors and set her sights on the musician, who got his start in music with his twin brother. The duo went by Evan and Jaron, and their hit "Crazy for this Girl" peaked at number 15 on the Billboard Hot 100. They parted ways musically when Evan decided to settle down and have a family.
Lowenstein continued to make music, releasing a country song that reached No. 1 on iTunes in 2009. In 2020, Lowenstein posted a video on Instagram of his two children, Poppy and Beckley, with the caption, "I love my kids so much. I'm not saying they're the cutest kids ever, but they're definitely not the ugliest. Hashtag blessed." It hasn't been confirmed who the mother of his children is, but he did tag another account in the post by the name of Lisa Lowenstein. After a little sleuthing, it would seem that Lowenstein and this mystery woman are married, as they were pictured together in a Facebook post back in 2017 before she changed her name to Lowenstein. But all in all, he's kept his personal life largely under wraps since his heyday.
Kaley Cuoco secretly dated Big Bang Theory co-star Johnny Galecki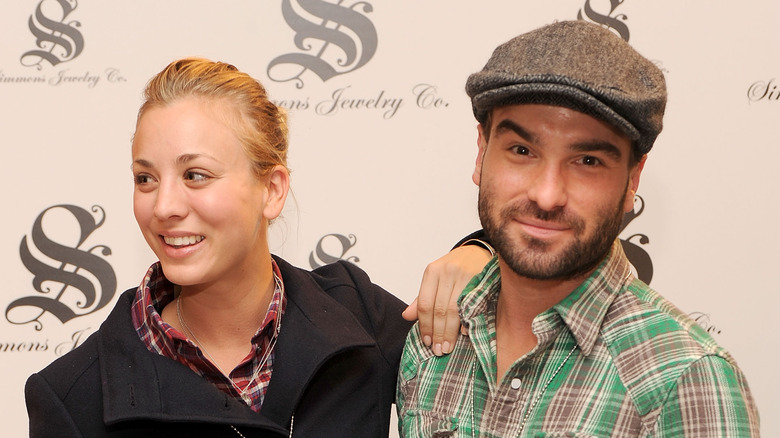 Ray Mickshaw/Getty Images
Out of all of the celebrity couples who broke up but still worked together, Kaley Cuoco and Johnny Galecki have to be among the most notorious. After meeting on the set of "The Big Bang Theory" in 2007 (while they were dating other people), the actors commenced an on-again, off-again dynamic on-screen, in which their characters, Penny and Leonard, took their sweet time before getting together. But behind the scenes, Cuoco and Galecki's real-life romance heated up in 2008 after breaking up with their respective partners. They kept their relationship quiet; Cuoco said in Jessica Radloff's book "The Big Bang Theory: The Definitive, Inside Story of the Epic Hit Series" (via Vanity Fair), "[Galecki] was very protective of what the fans would think, because we wanted them to want Leonard and Penny together so badly, that if they saw us together in real life, it could ruin the fantasy."
The couple broke up in late 2009, but it wasn't until 2010 that they went public with the news of their relationship. In Radloff's book, Cuoco said about the breakup, "We really adored each other, and we were lucky because as our breakup was happening, there was no foul play, there was nothing bad about our relationship ... it just ended." Cuoco and Galecki remained friends and somehow managed to keep things professional as their on-screen characters continued their romance.
She was with Christopher French before he married Ashley Tisdale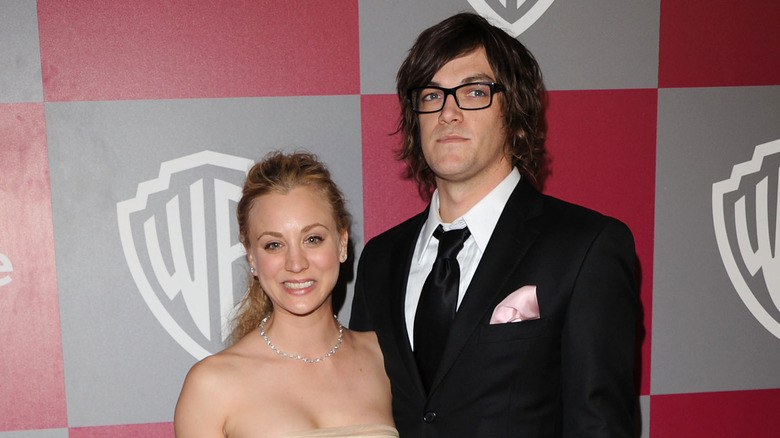 Jon Kopaloff/Getty Images
Between 2011 and 2012, after Kaley Cuoco and Johnny Galecki broke up, a romance blossomed between musician Christopher French and the actress. Because little is known about their relationship, in classic Cuoco fashion, this was kept pretty quiet. However, it is known that following a fall from a horse that resulted in a fractured leg and a long recovery in the hospital, Cuoco was comforted by French, who would bring his guitar to the hospital and sing to her. As they were both animal lovers and with Cuoco realizing how one particular song made her feel better while she recovered, the couple recorded a cover of "Somewhere Over the Rainbow" from "The Wizard of Oz" in order to raise awareness around adoption. They also put the song up on iTunes to raise money for the Humane Society of the United States.
They didn't last, but French is still dueting with a beautiful woman: his wife of eight years, Ashley Tisdale. The two got together in December 2012, shortly after Cuoco and French split, and got engaged after less than a year together. As Tisdale told Us Weekly, "I think from the moment that [he] and I met, I just knew it. I was like, 'Okay, this is the guy,' and he knew the same thing. It doesn't get any better. I just can't explain it." The couple shares a daughter, Jupiter, and looks happier than ever.
Her first engagement was to Josh Resnik
The first of Kaley Cuoco's three engagements was in October 2011 with Josh "Lazie" Resnik, an addiction specialist. Seeming to take a step back from the Hollywood types, the 25-year-old actress appeared to find solace in her new beau. Although they had yet to set a date, a representative told People at the time, "The surprise proposal took place during a quiet date night at home. The couple are very happy and excited to begin planning their wedding."
As excited as they might have been, they pulled the plug on their engagement after just five months. In March 2012, Cuoco was at an event to honor "The Big Bang Theory" creator Chuck Lorre, where she spoke with Entertainment Tonight. When asked if her co-star Kunal Nayyar's wedding had given her any ideas for her own, she said, "I'm not engaged anymore, so no." After a beat, she added, "But in general, yes. For my future wedding, yes!" With this relationship terminated after revealing very little to the public, Cuoco brushed herself off and got back out there. She still had many more frogs to kiss before she would eventually find the one.
Kaley Cuoco then went out with musician Bret Bollinger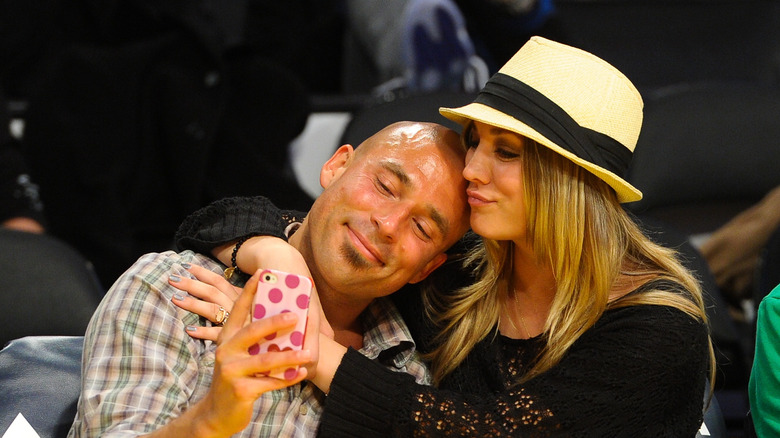 Noel Vasquez/Getty Images
The same month that Kaley Cuoco announced the dissolution of her engagement to Josh Resnik, she was spotted courtside with a new man at a Los Angeles Lakers game. Cameras captured the actress locking lips, wrapping her arms around, and taking selfies with Brett Bollinger, the frontman of the reggae rock band Pepper. Reportedly, their relationship lasted for around just 10 months, ending in January 2013. The only public photos of them are from the basketball game they attended at the start of their romance.
Since then, Bollinger has been working on his solo career, having released his album "LO-FI" in 2018. He has been the bassist and singer for Pepper since 1997, and they still tour today. In terms of his love life, he has yet to publicly date anybody since Cuoco — and hopefully, this is down to his preferences or busy lifestyle, rather than any qualms after breaking up with the famous actress.
She dated Henry Cavill for about a week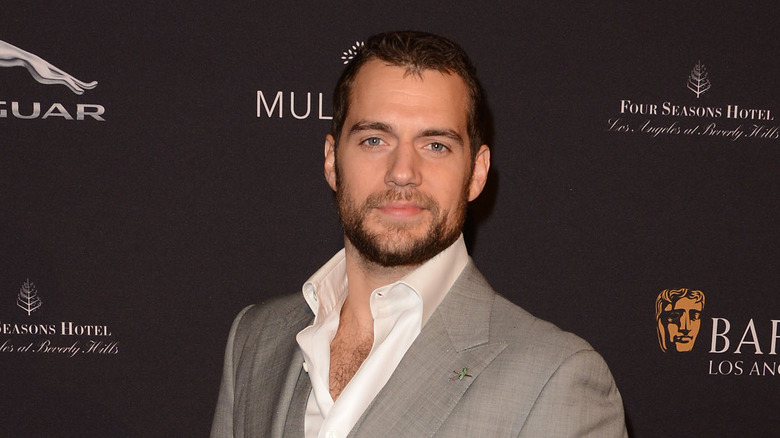 C Flanigan/Getty Images
Probably one of her most high-profile boyfriends, Kaley Cuoco dated Henry Cavill, the "Man of Steel" himself. They were first announced as a couple in early July 2013 by People and were later pictured holding hands, hiking, and buying groceries. It was clear they were an item, however, according to a source for Us Weekly, "Things fizzled as quickly as they heated up." After less than two weeks of dating, Cuoco and Cavill were reported to have called it quits by mid-July, but as the source revealed, "They are still friends."
As for the reason behind the sudden split, in a since-deleted article, a source for OK! Magazine said, "[Cuoco] just got overwhelmed with the very public Superman relationship. She's not used to that much attention and chaos in her life." This is obviously understandable, as Cavill was at the height of his career at the time with the recent release of "Man of Steel," but there were others who didn't accept the reasoning. Some accused them of faking the entire thing for publicity, as Cuoco and Cavill are with the same publicist, WME. For whatever reason they were together, it ultimately didn't result in more than a couple of weeks of fun for the two, and they have each moved on in their love lives.
She was married to Ryan Sweeting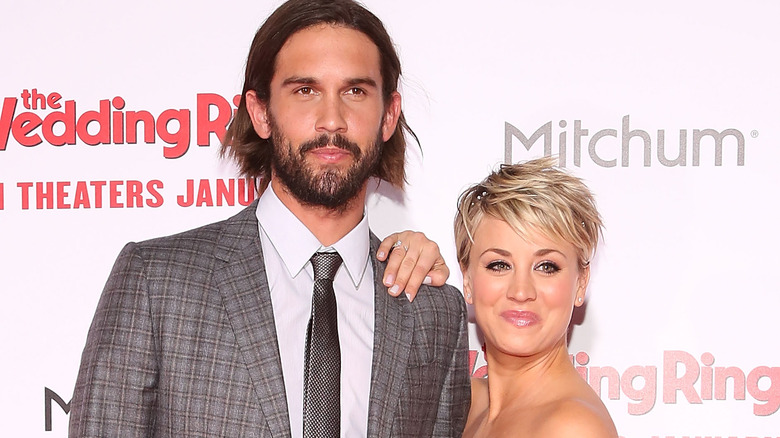 Taylor Hill/Getty Images
A month after her brief fling with Superman, Kaley Cuoco was set up with former tennis player Ryan Sweeting on a blind date. While on "The Ellen Degeneres Show," the actress admitted that she initially wasn't in the place to meet anyone, but, "By day two I was like, 'Oh my god.' It was so unbelievable. I said, 'This is it, this is it.'" Cuoco acknowledged that their relationship moved quickly, with Sweeting moving in the day after their first date, and they were married just six months later. The couple had a lot of support though, with Cuoco's co-star and ex-boyfriend Johnny Galecki telling E! News, "She's very happy, which makes me terribly happy."
Sadly, the marriage didn't last, with Cuoco filing for divorce in September 2015, citing "irreconcilable differences." Speaking with Cosmopolitan in 2018, Cuoco revealed that everything was not as it seemed. "I married someone the first time who completely changed. The person I ended up with was not the person I originally met. And that wasn't my fault — that was his," she said. Thankfully, this experience didn't keep her from putting herself back out there and, after getting the tattoo of her wedding date covered, she was single and ready to mingle again.
Kaley Cuoco privately dated Paul Blackthorne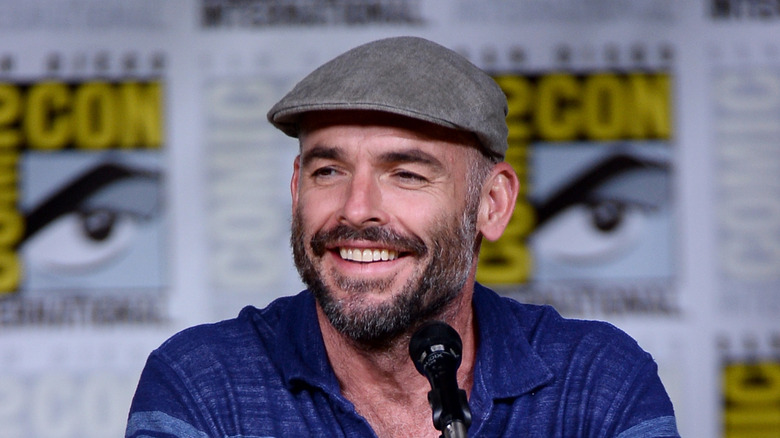 Matt Winkelmeyer/Getty Images
Kaley Cuoco's public divorce had been difficult on her, but things were looking up when, in December 2015, she started seeing Paul Blackthorne, who played Detective Quentin Lance in "Arrow." It had only been a few months since her divorce, but according to a source for Us Weekly, Cuoco was feeling optimistic. "It's new, but she's really excited about it," they said.
Apparently, Cuoco and Blackthorne had known each other for some time, as another insider told Us Weekly, "She's been friends with Paul for years, but it's recently turned romantic ... she seems smitten. I think she's a little cautious, but she seems really happy." The pair weren't pictured together in public, but, given the whirlwind of paparazzi tracking Cuoco's every move following her divorce, who could blame them? It's unclear when the couple split, though it would have been before March 2016, which is when Cuoco went public with her next beau — the man who would be her future husband.
She married Karl Cook in 2018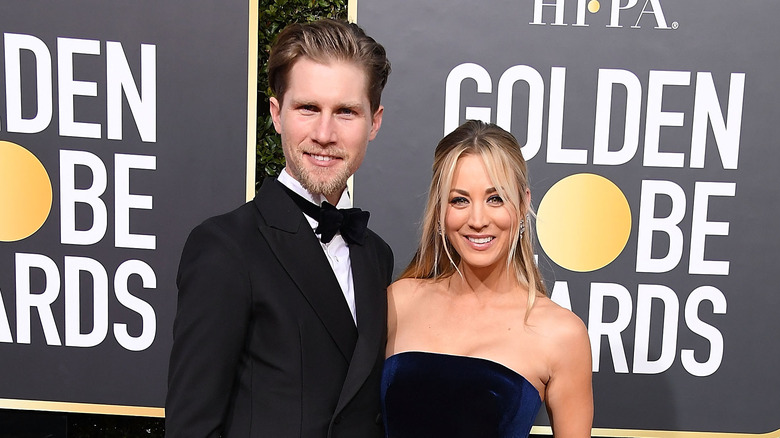 Steve Granitz/Getty Images
As an animal lover and horse rider, it's no surprise that Kaley Cuoco would eventually find herself with an equestrian. She and Karl Cook met at a horse show in 2016 and, as Cuoco told People that because of Cook's love of animals, "It was totally meant to be. We were pretty much a good match from the beginning." Cuoco and Cook were married within two years, tying the knot at a horse stable in June 2018. But, it would seem like Cuoco couldn't catch a break because just three years later, the horse-loving husband and wife were no more.
In September 2021, Cuoco and Cook released a joint statement to People that read, "Despite a deep love and respect for one another, we have realized that our current paths have taken us in opposite directions. We have both shared so much of our journey publicly so while we would prefer to keep this aspect of our personal life private, we wanted to be forthcoming in our truth together. There is no anger or animosity, quite the contrary." The actress filed for divorce the same day and they amicably split their belongings, as per their prenuptial agreement.
While we all probably thought "The Big Bang Theory" actress had truly found the one this time, it would seem like things had been heading in this direction for some time. A source told People that the couple "haven't spent that much time together recently."
Kaley Cuoco had a baby with Ozark actor Tom Pelphrey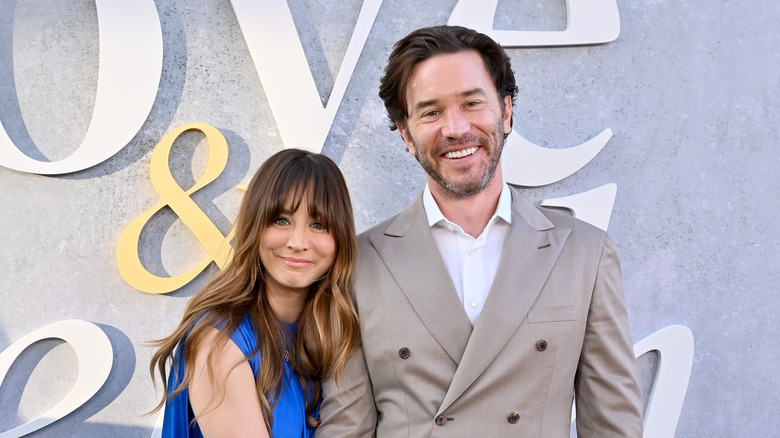 Axelle/bauer-griffin/Getty Images
Don't lose hope for Kaley Cuoco yet. In a chance encounter in April 2022 at the premiere of "Ozark," Cuoco met Tom Pelphrey, who played Wendy's brother Ben in the show, and it was "love at first sight," she told USA Today. The couple became Instagram official in May the same year, and have since filled each other's social media pages looking incredibly happy in their cute snaps.
After dating for five months, Cuoco announced that they were expecting a child together. Matilda Carmine Richie Pelphrey was born in March 2023, and the actress made sure to document the moment on Instagram and introduce their daughter to fans. With the arrival of their newborn, many wondered if the next step for Cuoco and Pelphrey was marriage, but in an April 2022 interview with Glamour, the actress seemed to nip the question in the bud early on. "I will never get married again. I would love to have a long-lasting relationship or a partnership. But I will never get married again. Absolutely not. You can literally put that on the cover," she said. Obviously, her life has changed significantly since the interview, so maybe wedding bells will eventually be on the horizon for the happy couple. But for now, it's just great to see Cuoco so happy, and we'll keep our fingers crossed that she has finally found her soulmate in Pelphrey.