Royals Who Have Gorgeous Husbands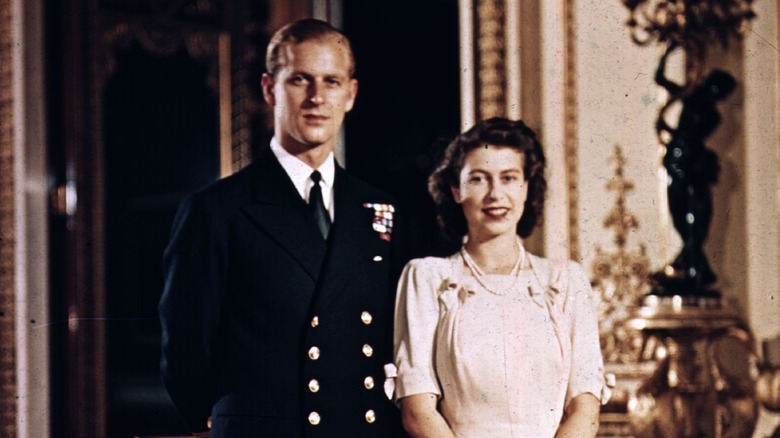 Hulton Archive/Getty Images
Beautiful women who have married into royal families often go on to become style icons, envied the world over for their beauty and seemingly charmed lives. Ladies like Princess Diana, Kate Middleton, Meghan Markle, and Grace Kelly are household names, but there are also quite a few handsome men who have married into royal families across the globe. While they may not be as famous as their female counterparts — probably because the idea of a handsome prince sweeping a woman off her feet is a more common fairy tale trope than a beautiful princess wooing her beau — these good-looking men have turned heads in many a throne room. 
And their royal relationships are no less headline-making than those between royal men and their stunning wives. Of course, looks aren't everything, and there's more to these royal romances than handsome faces. From Princess Anne's decades-long romance with Vice Admiral Timothy Laurence to a love so intense that it made Japanese princess Mako Komuro relinquish her title to be with her beloved, these royals with gorgeous husbands will have you believing in happily ever after.
Princess Anne's romance with her gorgeous husband has lasted decades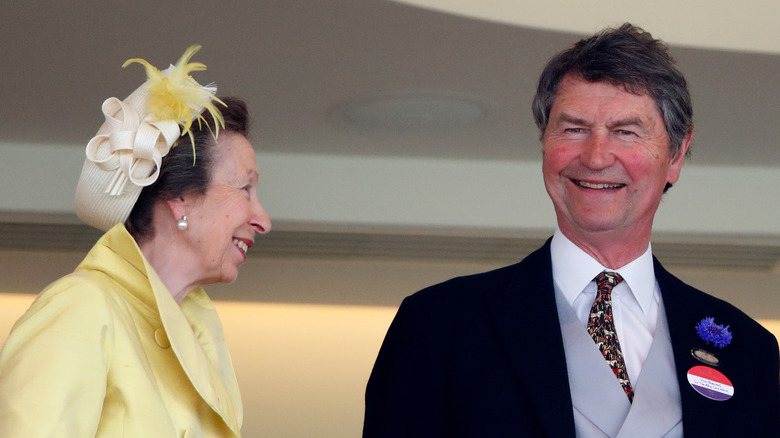 Max Mumby/indigo/Getty Images
Anne, Princess Royal, had quite a tumultuous love life before marrying her current husband, Vice Admiral Timothy Laurence, a veteran of the Royal Navy. Between a failed romance with Andrew Parker Bowles — who would go on to become Queen Camilla's first husband — and her divorce from her own first husband, Mark Phillips, tabloids milked Anne's love life for headlines for years. She seems to have found her happily ever after with Laurence, though, eloping with him in 1992.
Laurence keeps a comparatively low profile, but he's often seen alongside his wife and still cuts a striking figure decades after sweeping the princess off her feet. Details of their private life are kept under wraps, but the couple do seem quite happy together. Body language expert Judi James told Express that, even when spotted together in public, the two aren't seen engaging in affectionate gestures, but added that this might be why their marriage has outlasted Anne's first. "By avoiding any telling body language 'moments' and by creating what might be a deliberate aura of discretion and 'bland', Anne and Timothy might have managed to live a life free from the soap opera of royal life," she said. "It might be how they create their own privacy, and it might also be a formula that some of the other royals should, in retrospect, have taken a lesson from."
Zara Tindall married a dashing rugby player
The British royal family is no stranger to marrying handsome men. Aside from Princess Anne, Queen Elizabeth II married a gorgeous husband herself; the young Prince Philip was considered a handsome and sought-after bachelor before he gave up his title of Prince of Greece and Denmark to marry the heir to the British throne. Elizabeth's descendants have followed in her footsteps, committing themselves to partners who are just as handsome.
Zara is Elizabeth's granddaughter, the daughter of Anne, Princess Royal, and her first husband, Mark Phillips. While she doesn't have a title — Anne is believed to have wanted her kids to live as normal of a life as possible — she's still a member of the royal family and is 20th in line to the throne. She married her husband, rugby player Mike Tindall, in 2011. They have three children together: Mia, Lena, and Lucas. 
More than a decade after they tied the knot, the couple are still in love, with Zara referring to the day she met her husband as the "best day of my life" in an episode of Mike's show, "Mike Drop."
Princess Beatrice's handsome hubby comes from Italian nobility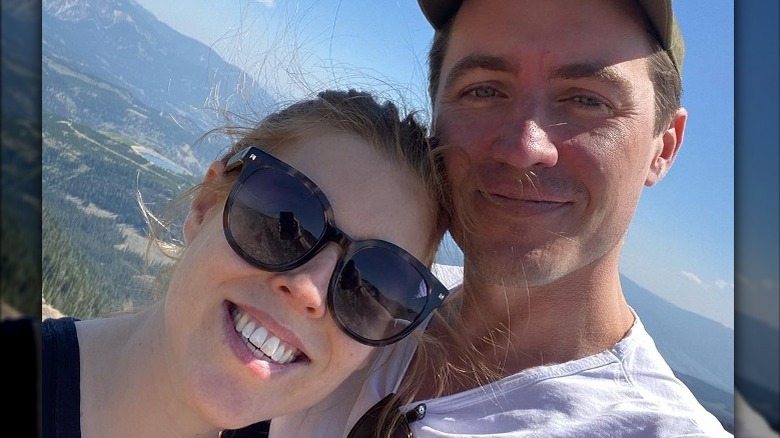 Another of Queen Elizabeth's granddaughters, Princess Beatrice, married her handsome hubby in 2020. While he's not from a royal family himself, Edoardo Mapelli Mozzi does have a noble pedigree — he's a count by blood, although the title is merely a formality since Italy doesn't legally recognize noble titles as it became a republic decades before Mozzi was even born. While the title might not hold any legal power, it still adds the impressive title of Countess and Nobile Donna to Beatrice's list of titles.
Like Beatrice, who works for the software company Afiniti, Mozzi also works for a living, as the CEO of property development firm Banda. Beatrice is stepmother to Mozzi's son, Wolfie. Together, the couple have a daughter named Sienna. 
Mozzi isn't afraid of expressing his feelings for his beloved wife. In an Instagram tribute to Princess Beatrice on her birthday in 2022, he posted a picture of the royal. "You are the world's best wife," he wrote in the sweet caption. "Along with this, you are the best mother in the world. We love you so very much. Happy birthday my darling."
Princess Eugenie was just 20 years old when she met her husband
Like her sister Beatrice, Princess Eugenie has a gorgeous husband who also comes with a noble pedigree. Eugenie's husband, Jack Brooksbank, can claim descent from baronets. Eugenie and Brooksbank, who works in the hospitality industry, have been together since 2010, tying the knot in 2018. "We met when I was 20 and Jack was 24 and fell in love," Eugenie said in an interview with the BBC. "We have the same passions and drive for life."
They welcomed a son, August Philip Hawke Brooksbank, in 2021, and announced in January 2023 that another baby was on the way. While they don't disclose many details of their private life — royal expert Marlene Koenig told Express that Eugenie wants a "private life" as she brings up her family — from what we can see, the two are happy together. "Happy Birthday to you my love," Eugenie wrote to her husband in the caption of a rare Instagram post that shows off the couple. "Here's to another 100 birthdays together."
Princess Mako relinquished her title to marry her gorgeous husband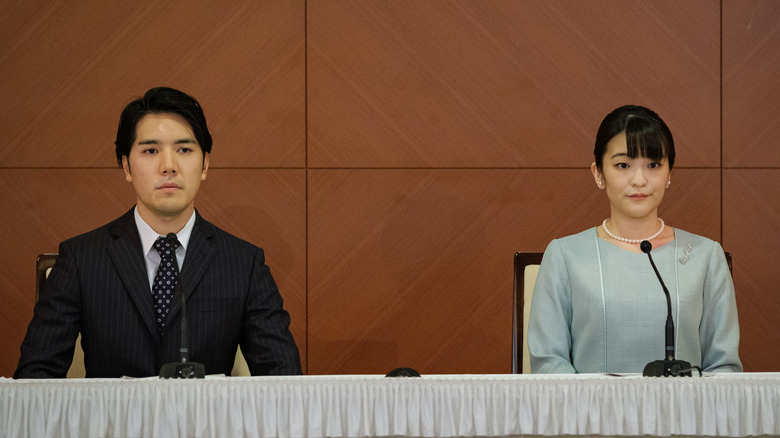 Pool/Getty Images
Mako Komuro of Japan gave up her title to marry her college sweetheart, Kei Komuro, a man whose good looks once landed him the role of "Prince of the Sea" in a tourism campaign. The couple announced their engagement in 2017, although it is believed that Kei had proposed to the royal in 2013, a year after they met at the International Christian University in Tokyo. While initially set to marry in 2018, the wedding was postponed twice with the couple saying they didn't want to rush into such a life-changing event. "It is because of our immaturity and we just regret it," they said in a statement in 2018 (via CNN). 
The postponement may have had more to do with Kei's mother, though, who was embroiled in a financial dispute that led to a scandal concerning Kei's suitability to marry into the imperial family. The ensuing press coverage and public debate took a toll on Mako's mental health, leading to a diagnosis of C-PTSD.
The Komuros finally tied the knot in 2021; Mako, the niece of Emperor Naruhito and daughter of Crown Prince Fumihito and Crown Princess Kiko, also refused to accept her dowry from the Japanese government, worth approximately $1.2 million. Today, the Komorus have made a fresh start in the U.S. and are staying out of the spotlight. "What I would like is just to lead a peaceful life in my new environment," Mako told the press after her wedding (via People).
Charlotte Casiraghi, Grace Kelly's granddaughter, married the son of an actress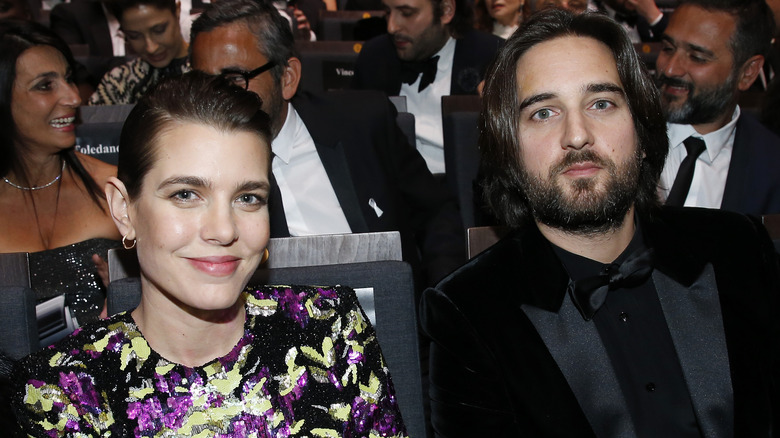 Rindoff/charriau/Getty Images
The granddaughter of Hollywood icon Grace Kelly and Prince Rainier III, Charlotte Casiraghi is a beauty in her own right. She has worked as a model, gracing magazine covers as well as appearing in campaigns for major luxury brands such as Chanel and Yves Saint Laurent. She's also a writer and an editor, and the co-founder of the think tank Les Rencontres Philosophiques de Monaco. While a member of Monaco's royal family, Charlotte isn't technically a princess — her mother holds that title, while her uncle rules the small European principality, which gives her plenty of time to explore her passions. "With this status, I have some representational duties, nothing very constraining or very exceptional," the Sorbonne-educated royal told French Vogue (via Vanity Fair).
Her love life was often sprawled across tabloids, until Casiraghi married Dimitri Rassam, a film producer and the son of actress and model Carole Bouquet, in 2019. The couple have a son together named Balthazar, and Casiraghi is stepmother to Rassam's son from a previous relationship, Raphael.
While, as a private citizen, Casiraghi isn't as in the public eye as some other royals, her thoughts on love give us a glimpse into her romance with her husband. "Love is the most difficult test we each will face," she once told Vogue Mexico (via Hello!). "It's the highest testimony of ourselves; everything else in our lives is all preparation for this supreme challenge."
Princess Victoria married her personal trainer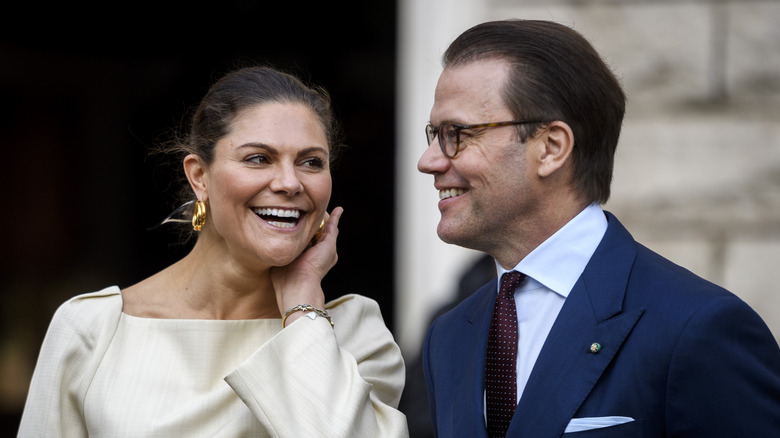 Antonio Masiello/Getty Images
Crown Princess Victoria of Sweden is the future queen of Sweden, so her choice of husband was the cause of some controversy. She married Daniel Westling in 2010, but not everyone approved of the fact that he was a commoner and her personal trainer to boot. Even her father, King Carl XVI Gustaf, expected Victoria to marry a royal and had hoped for a match between his daughter and a Danish prince. "Their relationship came as a big surprise," journalist Johan T Lindwall told The Sydney Morning Herald. "Daniel came from a totally different background to Victoria. Everyone said it would never work."
People eventually came around, although it didn't happen overnight. Princess Victoria's husband-to-be had to undergo etiquette training, language lessons, and more in order to prepare him for marriage to a future monarch. Now styled as Daniel, Prince of Sweden, Duke of Västergötland, Daniel is a hardworking member of the Swedish royal family and committed to his wife. They have two children, Estelle and Oscar.
In 2022, the royal couple denied rumors that their marriage was on the rocks. "It has come to our attention that there are widespread negative rumors about our private relationship," the couple said in a statement (via People). "Allegations are being spread about betrayal in the relationship and an impending divorce. Normally, we do not comment on rumors and speculation. But in order to protect our family, we wish to make it clear, once and for all, that the rumors that are now spreading are completely unfounded."
Princess Madeleine of Sweden married a commoner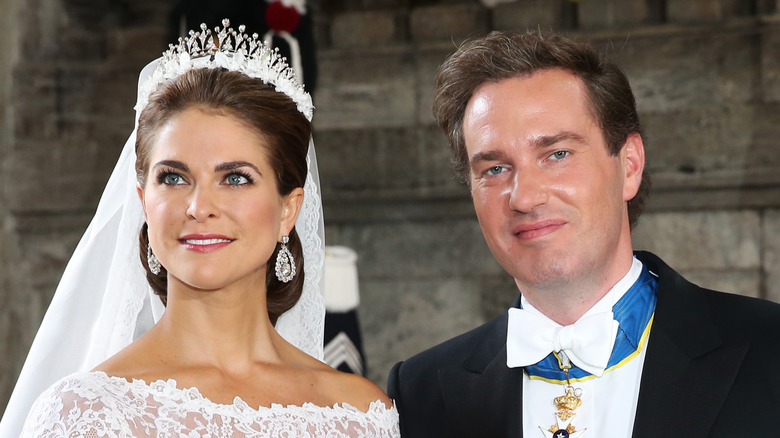 Chris Jackson/Getty Images
Princess Madeleine of Sweden followed in the footsteps of her older sister, Victoria, and married a commoner. "He is my soulmate," she said in an interview after her engagement to British-American financier Christopher O'Neill (via People). "We are both extremely happy and delighted. It is a very special day for us. I appreciate Chris for his warmth and his humor. He has a very big heart and he manages to make everyone in his presence feel good. Christopher is a very thoughtful and generous person."
Unlike his brother-in-law, Prince Daniel, O'Neill decided not to accept a royal title upon his 2013 nuptials. This has allowed him and Madeleine some flexibility over their lives and their careers. The couple has lived in New York City and Florida. Their three children, Leonore, Nicolas, and Adrienne were born in the U.S. and are dual American and Swedish citizens. 
Princess Madeleine and Chris value their relatively normal life and are dedicated to raising their family. "It's pretty much like a normal mom ...  My husband Chris really likes the evenings, when it's bath time and that whole routine of putting them to bed," the royal once told People of her life, explaining that her parents weren't always able to spend much time with her growing up because of their royal duties. "But when they were home, they were very present and I feel that I want to give my children as much as I can," she said.
Chimi Yangzom Wangchuck of Bhutan attended the same Ivy League school as her attractive husband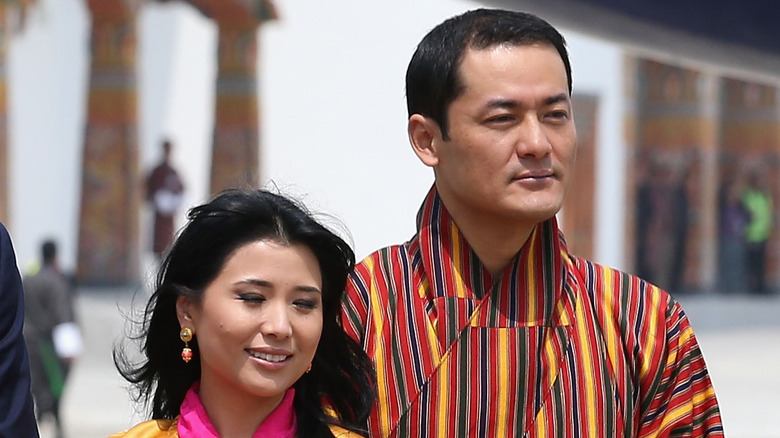 Chris Jackson/Getty Images
The South Asian country of Bhutan is a small one with less than one million residents. The country does not make headlines very often, which affords some privacy to its monarchy, which is headed by King Jigme Khesar Namgyal Wangchuk. While we don't know much about the private lives of the royal family, we do know that at least one member of the clan, Her Royal Highness Ashi Chimi Yangzom Wangchuck, has a gorgeous husband.
Chimi, the sister of the king, was educated in the U.S., where she earned a master's degree in public relations from Columbia University. The Ivy League grad tied the knot with Dasho Sangay Wangchuck in 2005. Sangay, who also attended graduate school at Columbia, is an entrepreneur who is breathing life into Bhutan's tourism industry through strategically located hotels that showcase the country's natural beauty. "In Bhutan, we have such beautiful scenery," he told Momentum Life. "It's like nowhere else in the world. ... The landscape is so dramatic, with each twist and turn in the road revealing new flora or fauna.
Princess Tatjana of Liechtenstein has a big family with her gorgeous husband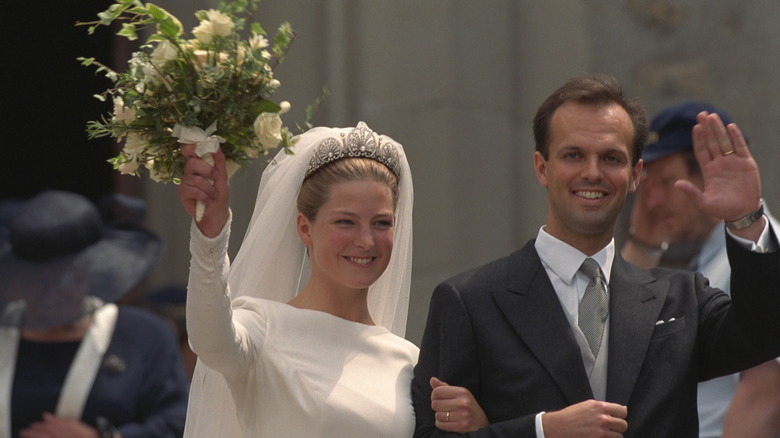 Stephane Cardinale - Corbis/Getty Images
Liechtenstein is another country that doesn't get much international attention. The tiny European principality, located between Austria and Switzerland, is one of the smallest nations in the world. It also has a royal family with no shortage of stunning faces, such as Princess Tatjana and her husband, Philipp von Lattorff. The princess married von Lattorff, a businessman, in 1999 and they have been together ever since. They have seven children together: Lukas, Elisabeth, Marie Theresa, Camilla, Anna, Sophia, and Maximilian.
Tatjana and her handsome husband keep a fairly low profile, especially compared to other royals around the globe — something that is no doubt aided by the fact that Liechtenstein has less than 40,000 residents. Since the country's laws prohibit women from inheriting the throne, Tatjana is not in the line of succession, which is likely part of the reason she is able to keep such a low profile.
Princess Iman is married to a handsome financier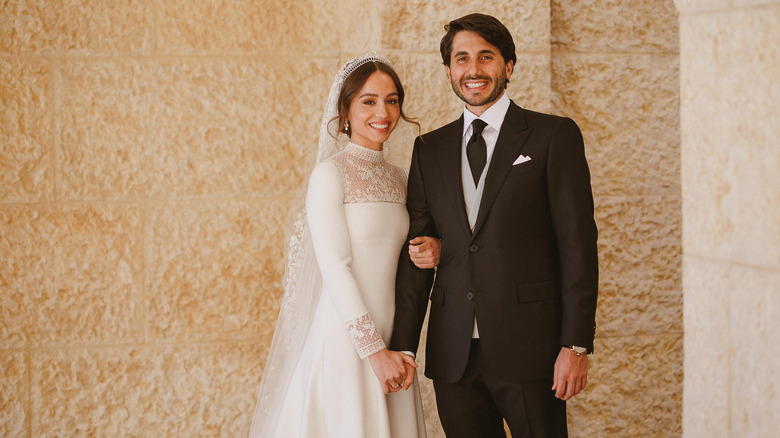 Handout/Getty Images
Princess Iman Bint Abdullah II of Jordan, the daughter of Queen Rania and King Abdullah II, is as beautiful as she is intelligent. She went to college in the U.S., briefly attending Georgetown University before transferring to and graduating from the Parsons School of Design. Her engagement to Jameel Alexander Thermiotis was announced in 2022, and they tied the knot in March 2023. 
Queen Rania posted a touching tribute to the striking couple in an Instagram post. "Iman, I pray this next chapter in your life brings you as much joy, love, and laughter as you have brought us over the years," she captioned the wedding photos. "Congratulations to the bride and groom!"
Thermiotis is a financier based in New York, but we don't know much about the couple beyond that. Iman is not in the line of succession as Jordan does not allow women to inherit the crown, so it's likely they will be able to continue to stay out of the limelight.
Princess Caroline married a fellow royal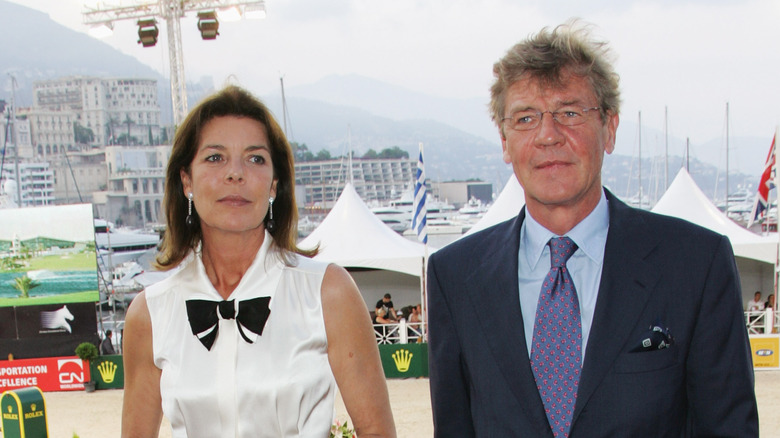 Toni Anne Barson Archive/Getty Images
Princess Caroline is the daughter of Grace Kelly and Prince Rainier III, Her husband, Stefano Casiraghi, tragically died in a boat race in 1990. They had three children together: Andrea, Charlotte, and Pierre. Nine years after Casiraghi's death, Princess Caroline married Prince Ernst of Hanover, giving birth to their daughter, Princess Alexandra, a few months later.
Sadly, the couple's romance was short-lived. Caroline and her handsome prince separated in 2009, but are still legally married in spite of living their lives apart. Caroline seems to be just fine on her own, though, and her royal duties keep her quite busy. In addition to her royal responsibilities, she's a UNESCO Goodwill Ambassador. 
And then, of course, there's parenting her four children. Her daughter, Charlotte, told Town & Country that she raids her stylish mother's closet, but remained close-lipped on the details of their relationship, saying, "I try not to speak about my very private relationship with my mother, and I don't necessarily want to reveal everything that's going on between us, but it's always ambivalent."