Devon Aoki: 14 Facts About The Model And Why You Recognize Her Name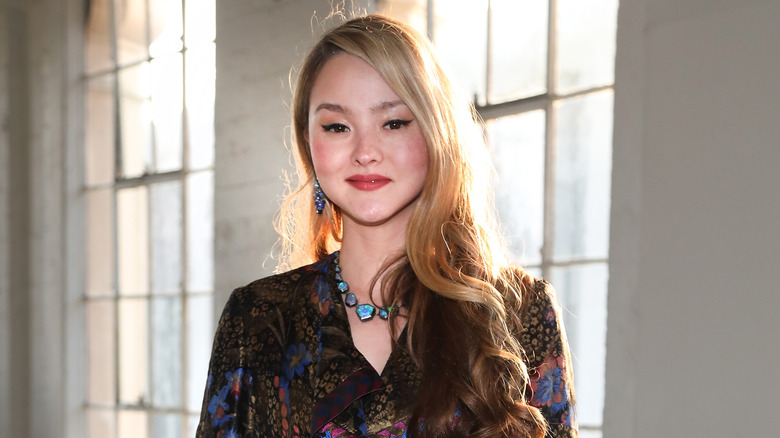 Jerritt Clark/Getty Images
Devon Aoki is undeniably beautiful and has enjoyed a successful career in the modeling industry because she is genetically blessed and dedicated to her work. She was one of the top models in the late 90s and early 2000s, and she started modeling at a young age. Despite this, her interviews often showed she was wise beyond her years, humble, and intelligent. But her career was not without its challenges, and if it were not for Karl Lagerfeld, she might have been overlooked entirely (she credits the late designer with giving her a shot). Decades later, she remains relevant, most recently attending her first-ever Met Gala.
You may also recognize her last name because she is the daughter of a famous restauranteur and half-sister to a talented DJ. It seems dedication and success run in their genes. Let's discuss who Devon Aoki is and what you should know about her...
Devok Aoki is considered one of the world's top Y2K models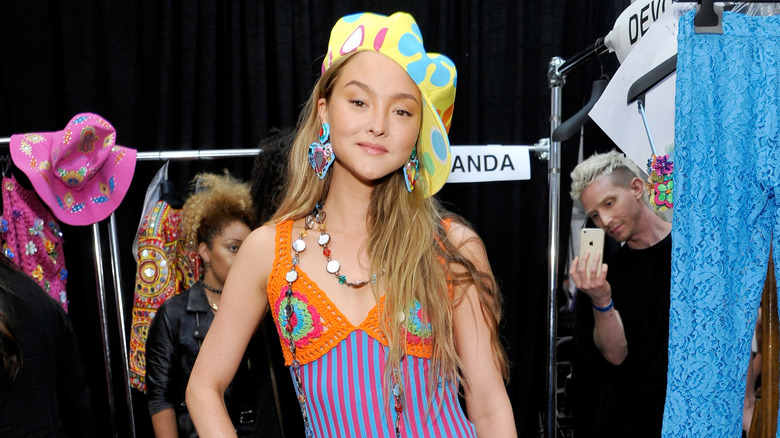 John Sciulli/Getty Images
There are many top models, and Devon Aoki can be counted among them. She has enjoyed a long and successful career, with some of her runway highlights including shows for Chanel, Marc Jacobs, Celine, and Versace. Her career took off in the 90s and early 2000s, and she was in demand, continuing to work steadily in the modeling industry.
But how did it all start? Aoki's success began with a Chanel show in 1998, and she has praised Karl Lagerfeld for making it happen. He was the creative director for the brand at that time. "They were about to send me away (I'd shown up with my school backpack), but he saw something in me that others didn't. I am forever grateful to him," she told Vogue Australia.
Aoki has also discussed how she differed from other models in appearance and height, but this ultimately worked in her favor. "I always thought models had to fit a certain mold. I never thought I had what it takes. I'm too small, and my look's pretty weird," she told The Independent. "I don't fit the status quo. I suppose that's a good thing. Not everyone's 5ft 10in and stick thin. There's more diversity now. It's OK to be shorter and look sort of different."
She was discovered at a rock concert as a teen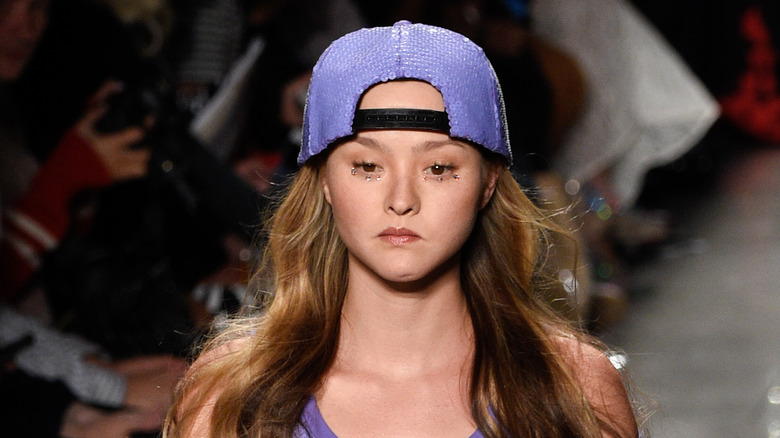 Peter White/Getty Images
Some models audition for modeling agencies and enter competitions, while others get their introduction by chance. There have been many famous stories of how models were discovered, including Kate Moss in a New York airport after a holiday and Anna Selezneva in a Mcdonald's in Moscow. Devon Aoki's story is also interesting, and she was first spotted at a rock concert.
"I'd blagged my way backstage at this Rancid concert because I heard The Ramones were there, and I was desperate to meet The Ramones. I was 13," she said in an interview with i-D. "And someone came over and asked if they could shoot me for a story in Interview. And I said I'd do it if they introduced me to The Ramones. And they did." She got to meet a band she loved and landed an opportunity that would ultimately affect the rest of her life and result in a successful career.
Other celebs may leave home young but Devon Aoki did not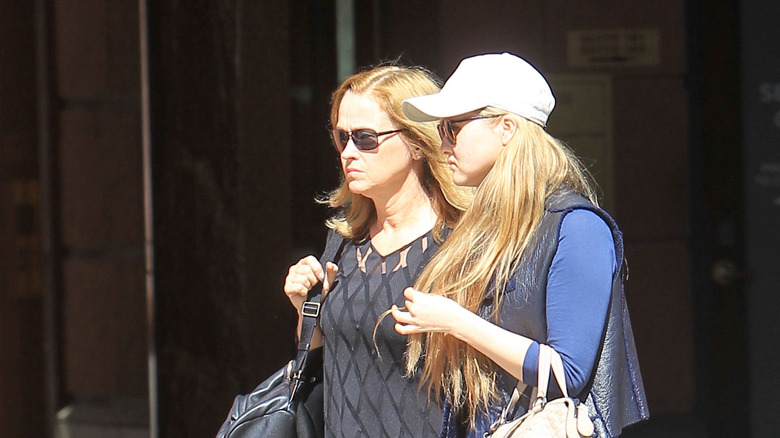 Gotpap/bauer-griffin/Getty Images
Devon Aoki started modeling in her early teens after getting her first taste of the industry when she was 13 and discovered at a rock concert. She became one of the most impressive and in-demand models of the late 90s and early 2000s, securing multiple jobs with prestigious photographers and for runway shows. She was likely earning enough money to move out long before she did, but Aoki was in no rush.
"I think you might call me a late blossomer when it comes to leaving home," she told i-D. But when she found a home with the same number as her birth year, she had to have it. "Its house number was the year I was born and I thought it was fate. I was immediately attracted to it — fell in love with it..." she said. The house was sold, but as luck would have it, she purchased it after the initial sale failed.
Despite being an in-demand model, she had a relatively normal upbringing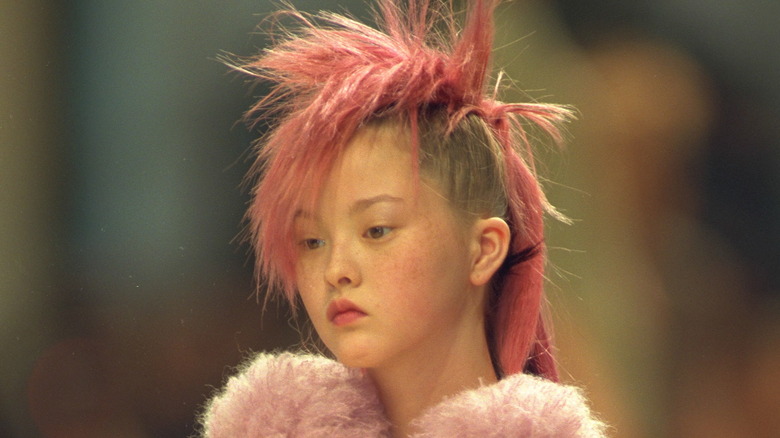 Thierry Orban/Getty Images
Having a teenage daughter pursuing modeling was likely an extra challenge for Devon Aoki's mother to navigate. But then again, her daughter was not your average teenager. Pamela Hilburger sat in on an interview her daughter gave to The Independent in 1999, and she spoke about Devon, referring to her as a "homebody."
"At the weekends she's a homebody: she's not one of those kids who wants to go to clubs. She's not interested in that in the least," she said of her daughter. She also commented on how Devon was always independent.
"Devon's shown an incredible degree of individuality, independence and self-confidence from a very early age," Hilburger said. "I might worry about some of my other children but I think that Devon — because of the way we moved around and the fact that her dad, you know, is really easy-going — she's had to be able to look after herself."
She's incredibly close to her mom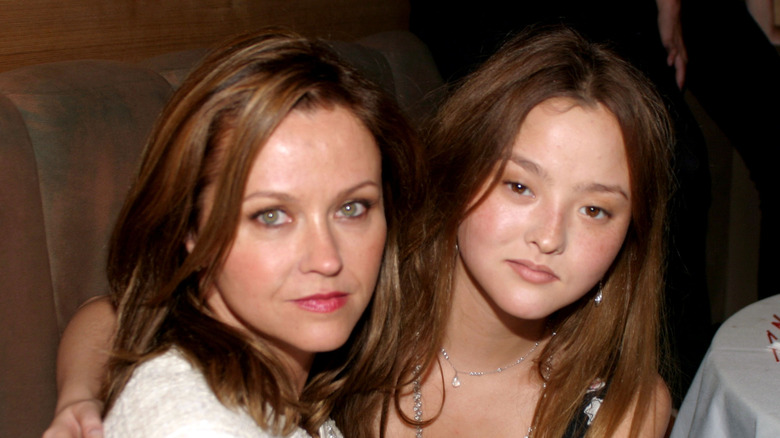 Johnny Nunez/Getty Images
Devon Aoki was discovered as a model at a young age, but she could pursue her passions because she had support. She is the daughter of Pamela Hilburger and Rocky Aoki. The former couple was married from 1981 to 1991 (and Hilburger was Aoki's second wife). Devon and her mom share a close bond, and she has praised her for being a remarkable woman.
"She has this wealth of incredible characteristics. Her self-reliance. Her passion. She's an incredibly fascinating woman," she told i-D. "People fall in love with her strength straight away. She's the reason behind my positive thinking, like, way more than LA. She's my mom, you know. I'm bound to have a really romantic vision of her and to think she's the best woman in the world, but a lot of people agree." She also told the publication that her mom was an artist and referred to her as her "idea of perfection."
Devon Aoki is set to inherit a massive fortune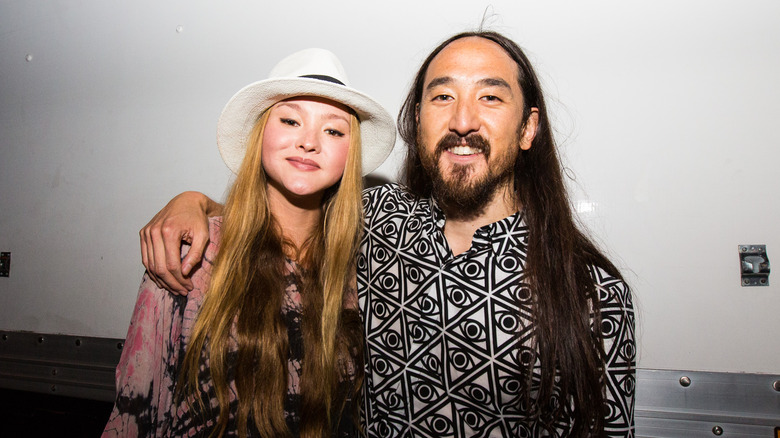 Chelsea Lauren/Getty Images
Rocky Aoki was the founder of the Benihana restaurant chain, and its success earned him an impressive net worth, which his children are set to benefit from. According to New York Post, Steve and Devon Aoki will inherit $50 million when they turn 45. Steve Aoki was born on Nov. 30, 1977, and his younger sibling, Devon, was born on Aug. 10, 1982.
However, there have been reports about some issues regarding their inheritance and how Keiko Ono (who was married to Rocky from 2002 until 2008) has been spending the money. The money troubles relate specifically to a Hawaii Benihana restaurant. "Ultimately, Keiko's tenure as trustee has been marked by undivided loyalty and fealty to one thing: herself," legal documents filed by Steve and Devon state.
Inheritance aside, Devon Aoki has done exceptionally well for herself, and her net worth is estimated to be $30 million (via Celebrity Net Worth).
She has eight siblings (although not all from the same parents)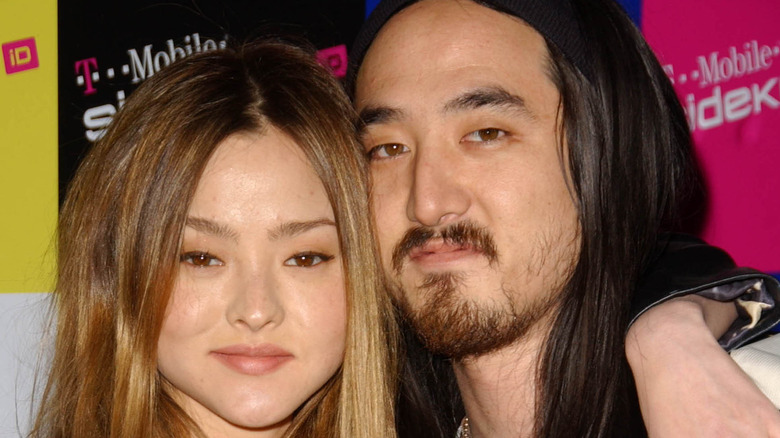 s_bukley/Shutterstock
You may recognize Devon Aoki's last name, and that is because she is not the only famous Aoki sibling. Her half-brother, Steve Aoki, is a well-known DJ celebrated for his contributions to electronic dance music. But he is also not her only sibling because she has eight!
"We're not all from the same parents, but that doesn't make a difference," she told The Independent in 1999. She and Steve have the same father, Rocky Aoki (the restauranter is known because he founded Benihana). They have different mothers who they share a strong bond with.
"My mom was the constant and the rock that really raised me, through all the thick and thin, ups and downs. She was my parent," Steve Aoki told Yahoo Music. "My dad was my parent, too, but she raised me. And she's kind of like the uncredited, and not necessarily someone looking for the credit, that really brought me up to who I am today..."
Being a mixed race child has had it's challenges for Devon Aoki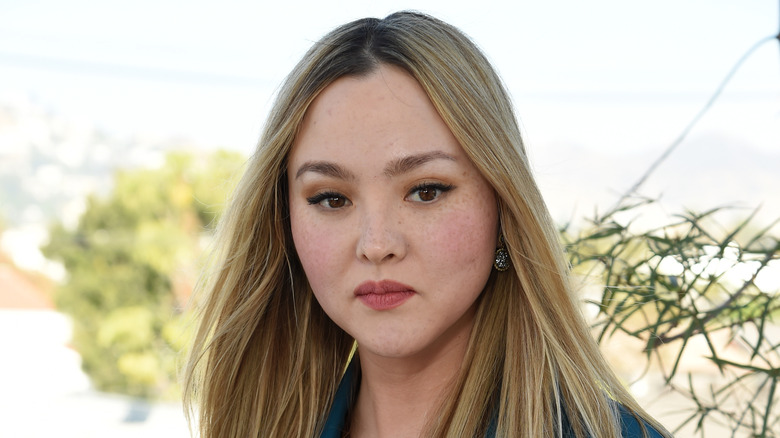 Michael Kovac/Getty Images
Devon Aoki's father is Japanese, and her mother is Caucasian. She was always told she was different but couldn't recognize this as a positive thing at the time. She shared her thoughts on what it was like growing up as mixed race, and navigating the modeling industry.
"When I was an early teen, particularly, not being one definite thing could be really confusing. Where do I fit in? Who am I? But I went through that experience with her," she told i-D of her discussions with her mother. "We talked. All the time. Being a mixed race kid — she's half German and English my Dad's Japanese — I was told over and over again that I was 'different.' And all you want to be at that age, of course, is the same. You feel kind of betrayed by yourself."
Her appearance has also affected her work. "I've had so many things done to me," she told The Independent. "People always want to make me look like a freak. I'm really not that weird. I'm a combination of a lot of different things. Maybe it's just easier to make me look weird than another model who is specifically Caucasian."
Devon Aoki greatly respected Karl Lagerfeld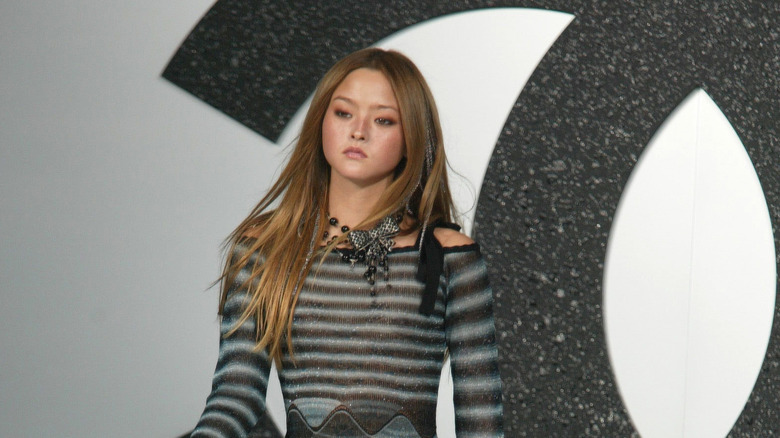 Stephane Cardinale - Corbis/Getty Images
We mentioned that Devon Aoki credits Karl Lagerfeld for taking a chance on her, which gave her a start in the modeling world. Her comments on the designer make it clear he had a tremendous impact on her life.
"He's so cool. One of the most incredible people I've ever met in my life. He's so intelligent, so creative. He's really brave in every sense of the word because he's always willing to try out new things," she told The Independent. When the designer passed in 2019, Aoki was among the individuals who paid tribute to him and his impact on the fashion industry. Taking to Instagram, she shared a photo of herself and Lagerfeld holding hands and accompanied the image with a moving caption.
"He was gentle, not at all like people assume. He would hold your hand, ask your opinion, was always curious about what you were wearing, he was generous and would shower you with gifts and laugh at your jokes," she wrote. "Not one bland statement could ever be uttered from his lips. He was lightning quick. Once we became friends, he showed me poetry like works by Alan Seegar and I sent him my own poems by fax..." She concluded with a message about how he will be remembered and missed and that Lagerfeld had always treated her well.
Her first Met Gala in 2023 was met with excitement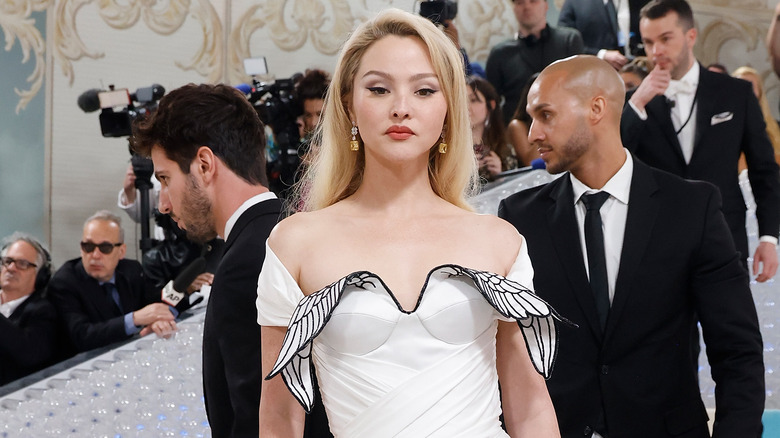 Taylor Hill/Getty Images
In 2023, she attended the Met Gala for the first time in honor of her longtime friend, Karl Lagerfeld. The theme for the Met Gala in 2023 was Karl Lagerfeld: A Line of Beauty — the theme proved to be controversial. Aoki appeared alongside her good friend, designer Jeremy Scott, who has worked with several famous models during his career, including Heidi Klum and Winnie Harlow, wearing a stunning black and white dress. Scott created the outfit, and Aoki has known him for years and worked with him regularly.
"I was thinking about Karl's use of black and white throughout his career and decided to base our looks solely in black and white," Scott told Vogue of the inspiration for the outfit. "I then thought about one iconic Chloé dress he did with black jet beaded trompe-l'oeil folds and mixed this idea with the memory of the last time Karl, Devon and I were together, right after my Fall 2001 show in Paris. Devon wore a white-winged leather minidress, so I took my iconic wing and came back to it, fusing it with these nods from Karl for both Devon's gown and my tuxedo jacket."
Devon Aoki later took to social media to post several photos from the night and called it an "incredible evening."
Devon Aoki embraced motherhood over ten years ago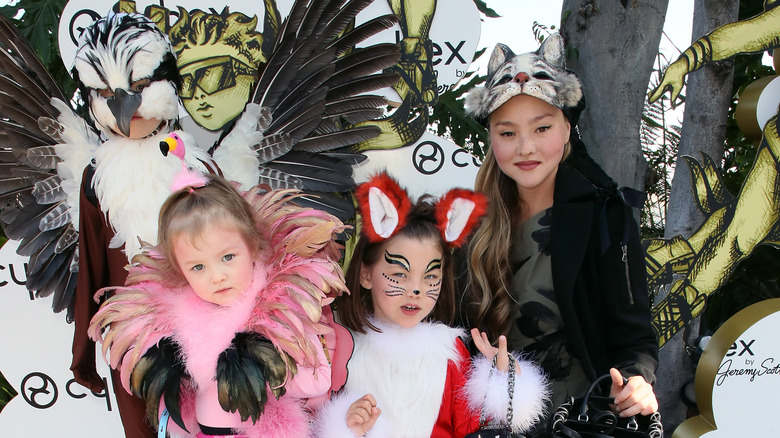 David Livingston/Getty Images
Devon Aoki has a beautiful relationship with her mother and has spoken about her love for her on several occasions (both in interviews and on her social media). Her comments about her suggest that she was a strong female role model. But in 2011, Aoki also discovered motherhood for herself when she and James Bailey welcomed their first child, a son they would name Hunter.
In 2013, she made headlines again for the birth of their second child, a daughter named Alessandra Linville Bailey. Now, she is a mom to four and regularly posts photos of her family on social media. She has also posed for the Swarovski Mother's Day Campaign 2018 alongside three of her children. Taking to Instagram, Aoki commented on the campaign, writing, "Proud to be a part of a campaign celebrating the best job in the world. Here with my kids Hunter, Alessandra and Eleanor. Thank you to the mothers that inspire me everyday, especially my own incredible mama..."
She's also an actress and her work includes the Fast & Furious franchise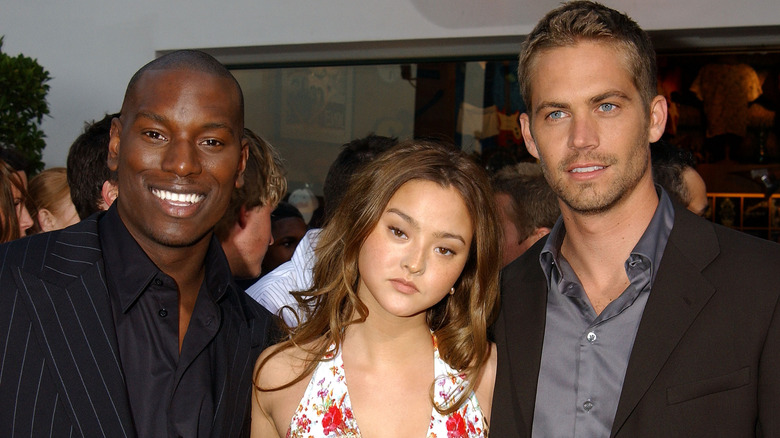 Gregg Deguire/Getty Images
Is there anything that Devon Aoki can't do? We cannot give a definitive answer to that question, but we do know that she is a multi-talented person who has enjoyed success not just as a model but also as an actress. One of her standout performances was with the Fast & Furious franchise. She played the role of Suki in 2 Fast 2 Furious, released in 2003 and directed by John Singleton.
The experience of working with Singleton was memorable, and Aoki honored him on social media after he passed in 2019. "What an incredible honor it was to know you! Thank you for being a supporter of countless young artists, actors, musicians, and models that were just starting out in their careers, myself included!!" she wrote. "Thank you always for that passion and laughter you gave to the world and all who knew you. May your legacy continue to burn bright, and may you find your way to that golden place of light and love...resting peacefully in the palm of His hand."
She's not the only model in the family (and her commitment to her work has inspired her niece)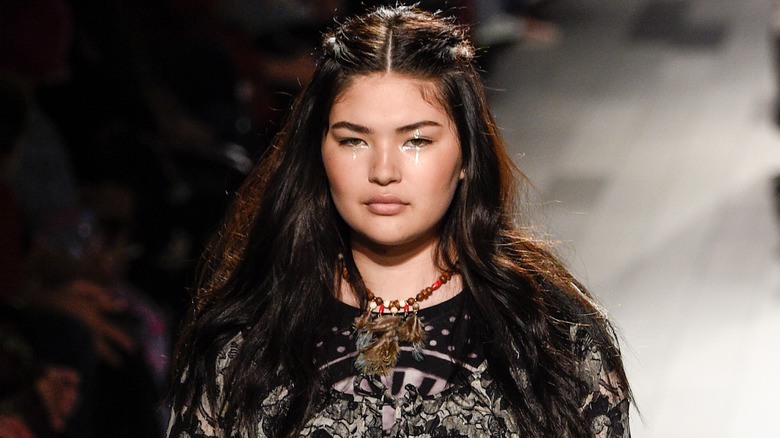 Peter White/Getty Images
Devon Aoki's career is well-documented, but she is not the only model in the family. Her niece, Natalie Nootenboom, is also making waves in the industry. As for her connection to Devon? Natalie's mother is Kana Grace Nootenboom, daughter of Rocky Aoki and his first wife, Chizuru Kobayashi, making Kana a full sibling to Steve Aoki and a half-sibling to Devon.
Back to Natalie: she is a plus-size model who is having a positive effect on the industry. But has she learned anything from Devon? "I have a lot of respect for her work ethic. It's always been in the Aoki blood to never stop chasing your dreams. I love that about my family," she told Billboard. She did not comment further on her aunt but did say that her sister, Yumi, was also a plus-size model.
"And my sister Yumi was also a plus model when I was growing up, so I always looked up to her, because she markets herself as a classy woman as well as a creative one," Natalie said. "She is very hardworking and has a lot of ambition for someone her age. She stays true to herself and her beliefs."
Devon Aoki has worked with Kate Moss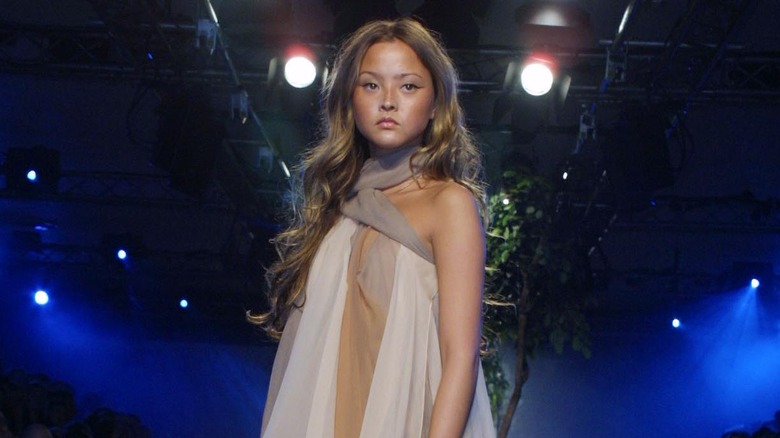 Fred Duval/Getty Images
Kate Moss is one of the most recognizable and respected figures in the modeling world. She is considered an inspiration to many up-and-coming models, even today. Working with her is often considered to be a privilege, as Devon Aoki's comments confirm.
"In those early London days, Kate Moss and I made a music video for Primal Scream's track, Kowalski, playing a car-heist duo. You could say it was a warm-up for my role as Suki in 2 Fast 2 Furious," she told Vogue Australia of working with Moss. Despite her incredible success, Aoki appeared humble in her interviews. When asked by i-D what the word "supermodel" meant to her, she replied: "I guess someone like Kate! I don't know what I think. I don't think of myself, that's for sure. Supermodel is a cool thing but it's a funny thing, too. Putting super before anything makes it a little weird."