Jeremy Scott Dishes On Working With Heidi Klum And Winnie Harlow - Exclusive
John Shearer/Getty Images
We've seen some of the biggest names in fashion appear on "Making the Cut," and the newest season certainly doesn't disappoint. Alongside Heidi Klum, the top two judges include two industry icons — supermodel Winnie Harlow and fashion designer Jeremy Scott.
While this may seem like the ultimate dream team, there were actually a lot of disagreements behind the scenes when it came to choosing the winning designer. All three obviously know a thing or two about the fashion business, but the art form in itself is completely subjective — and this is what caused a lot of conflict between the trio. "I often felt we were on the same page," Jeremy Scott said in an exclusive interview with The List. "And sometimes I was taken for a twist because we weren't."
Over the course of Season 2, Scott spent a lot of time working with his supermodel co-stars. From their lengthy conversations on which looks were the best, to how his opinion stood apart from theirs, he told us all about what it was like judging with Harlow and Klum.
Jeremy Scott says they each had different perspectives when it came to declaring a winning designer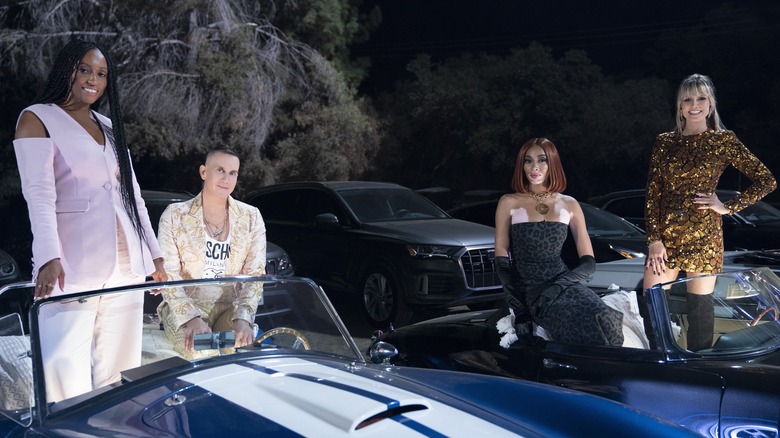 Ali Goldstein / Amazon Studios
There will obviously only be one designer crowned the winner of "Making the Cut," but it wasn't easy for the judges to choose exactly who it should be — and there's an important reason why. "There's three different personalities, and there's three different viewpoints," Jeremy Scott told us. Though it was tough to agree on who should be eliminated, their opposing outlooks actually helped them out in the end.
When the judges were deciding on which designer had the winning look, Heidi Klum and Winnie Harlow's supermodel minds were more focused on what it would be like to wear the ensembles on the runway. Scott, on the other hand, had a completely different mindset when chatting with the two. "I am the sole designer, so I am really speaking from a viewpoint of a fashion designer who does this for a living and has made a career of it," he explained to us. After taking into consideration the input of the two supermodels by his side and speaking from his own experiences in the industry, Scott said, "I felt like I could also speak in a different way to the designers about each elimination."
As the many twists and turns of the competition continue to keep fans tuning in, we'll be excited to see what these models and designers have to say. "That's what's really exciting and keeps you on your toes about a reality competition like 'Making The Cut,'" Scott told us. "You just really don't know."
New episodes of "Making the Cut" are available to stream each week on Amazon Prime Video.