Hallmark Star Danica McKellar's Son Looks Just Like Her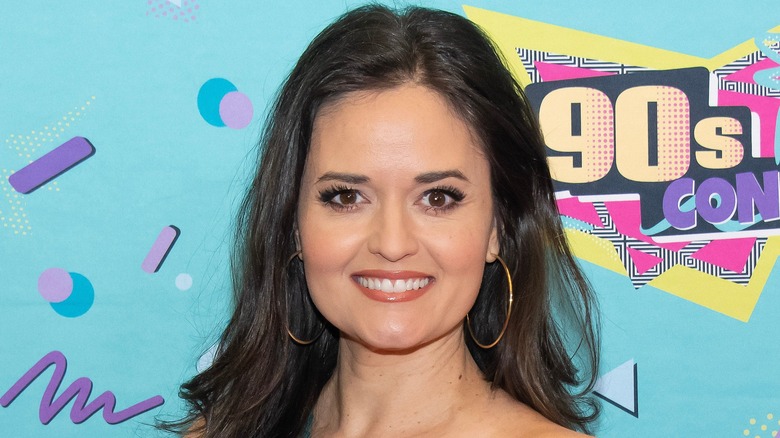 Astrida Valigorsky/Getty Images
When turning on the Hallmark Channel during the holiday season in years past, you could count on a few things: fake snow, feel-good romance, Christmas lights, and, for many years, Danica McKellar. Since 2015, the actress and author had appeared in a number of Hallmark movies, including "Crown for Christmas," "Coming Home for Christmas," and "Christmas at Dollywood" (which co-starred none other than Dolly Parton). 
Long before her Hallmark days, Danica McKellar was known for another family-friendly classic: "The Wonder Years." Appearing in almost every episode, she played Winnie Cooper, who was the love interest to Fred Savage's Kevin Arnold. McKellar also spent time as a guest star on NBC's "The West Wing." More recently, as McKellar told The List in an exclusive interview, she is excited to join forces with a new channel: Great American Family. "I'm executive producing and acting in these movies, and I have a little bit more creative say," she explained, adding that while filming 2022's "The Winter Palace," she was able to help lead the charge behind the scenes.
These days, when she's not falling in love on camera, you can probably find the actress writing books about math and spending time with her son, with whom she shares a striking resemblance.
Family time is important to the Hallmark star
In 2010, Danica McKellar welcomed her son, Draco, into the world with then-husband Mike Verta. "There was so much joy in the room and so much relief!" she recalled of the birth in a conversation with People. "It was instant love. It was an amazing, amazing evening," she added. According to McKellar, her son was named after the constellation, not the "Harry Potter" character Draco Malfoy.
In a recent Instagram post, the GAC star shared a picture with her mini-me son and father, captioning it, "Grateful to be with lots of family ... here with my 12-year-old son, who is starting to look like a teenager, and my 73-year-old dad...who still looks a little like a teenager.)."  McKellar's family expanded in 2014 when she tied the knot with her husband, attorney Scott Sveslosky, whose son Hunter is six years older than Draco. According to the former "Dancing With the Stars" contestant, the boys have developed quite a bond over the years. "They just play and have so much fun," she told Closer Weekly a few years after the wedding.
Draco McKellar Verta is also proving to be just as talented as his mom. He has appeared in small roles in several of McKellar's movies, including "Christmas at Dollywood," "Love and Sunshine," and "Wedding Bells."
Danica McKellar and her son Draco couldn't be closer
Not only is Danica McKellar known for her acting, but she showed off her athletic prowess during Season 18 of "Dancing With the Stars," making it all the way to week 8, which is no small feat. Most recently, it was announced that Great American Family's upcoming Christmas film, "Royal Christmas Ball," will be based on a short story co-written by McKellar herself, per Deadline. The actor and her son also showed off their dancing abilities on Instagram while advertising GAC's T-shirt collection.
What's more, McKellar's also written more than 10 books about her other passion: math. Her work includes titles like "Math Doesn't Suck," "Kiss My Math," and "Hot X," all of which were geared toward teens and preteens. And although it's evident she keeps busy, the writer still makes plenty of time for her family.
"I love inspiring people with my math books, I love providing quality entertainment ... I love all that," she told Closer Weekly. "But spending time with my little guy is just so precious. There's no contest, and I'm really grateful." For Draco, his multi-talented mother is quite the role model.