Headscarves Are One Of The Trendiest Accessories Of Summer — Here's How To Style One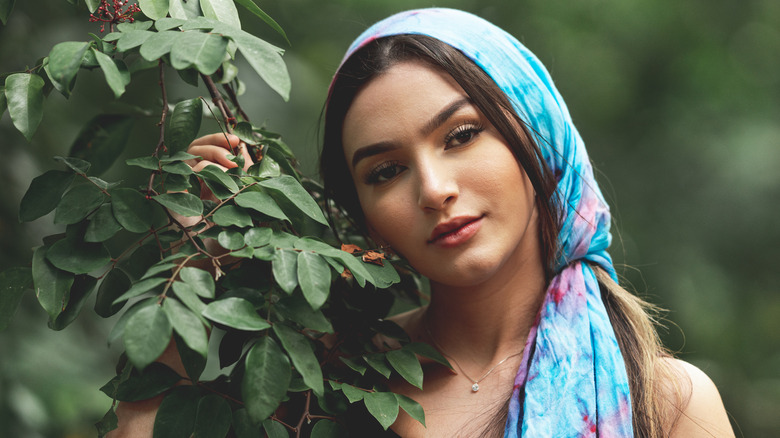 Pollyana Ventura/Getty Images
The summer is quickly approaching, which means it's time to finally bust out your warm-weather wardrobe and show off your chic style. There's a new stylish piece quickly becoming the latest staple accessory to add to your cute outfits and elevate your look — the headscarf.
A headscarf is an elegant accessory that embodies the sophisticated-chic aesthetic, with stylish celebrities like Kendall Jenner, Dua Lipa, and Adut Akech Bior sporting the trendy accessory. The beloved hair accessory is nothing new, having a long history in the world of fashion, and is bringing old trends back to life. "Hair scarves are definitely a '70s vibe. But this trend coincides with the increase of people experimenting with accessories, especially those that circle back to different eras and inspirations." Laura Polko, Aquage brand ambassador and celebrity stylist, tells The Zoe Report.
 Whether you're jetting off to a Caribbean vacation or are embracing the sunny weather, this versatile piece is a must-have summer staple for your wardrobe.
Wear it as a bandana
Style your headscarf as a bandana with this classic look that's bringing back a '90s trend with a modern twist. Dua Lipa effortlessly styled her small lavish Louis Vuitton headscarf as a bandana, leaving her front curtain bangs exposed in a sweeping fashion. When you need a quick way to elevate your outfit, pop on your silkiest headscarf as a bandana to complete your fit. If you're having a bad hair day, this is the go-to look that will keep you looking fashionable, regardless of your hair.
Sport the sophisticated wrap
Looking to embrace the quiet-luxury fashion trend? Sport the ultra-sophisticated look without breaking the bank by wrapping your headscarf over your head and around your neck. We love Kendall Jenner's subtle nod to Aubrey Hepburn's iconic style and how effortlessly she ties in her all-black fit with the matching headscarf. We recommend styling a monochrome headscarf that matches your outfit to achieve this sleek, elegant look. 
Make it part of your outfit
For the ultimate elevated and modern way to style the headscarf, make it part of your outfit. Bella Hadid styled a glistening gold couture dress with a long, sleek headscarf that intertwines with the top, creating a gorgeous DIY neckline. This is the go-to way to elegantly transform an outfit and give it a dose of modern chic style. Combine a monochrome headscarf with a sleeveless dress to recreate this iconic fit for a glammed-up look.
Rock a long scarf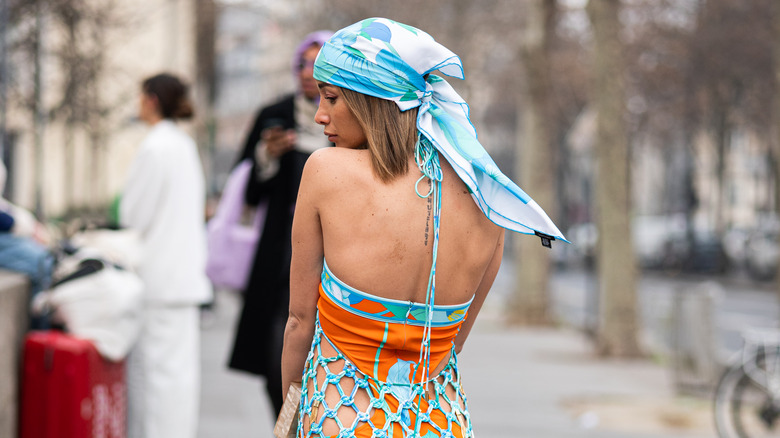 Claudio Lavenia/Getty Images
For a fuller, more voluminous style, let the end flow freely for a cute fit. To achieve this look, use a larger headscarf and style it like a bandana. Tie the top half of the headscarf around your head and create a knot at the back to hold it in place. Let the loose ends of the headscarf fall freely for this breezy look that's perfect for the summer. To complete the fit, match your headscarf with the rest of your outfit for a polished style.
Effortless wraparound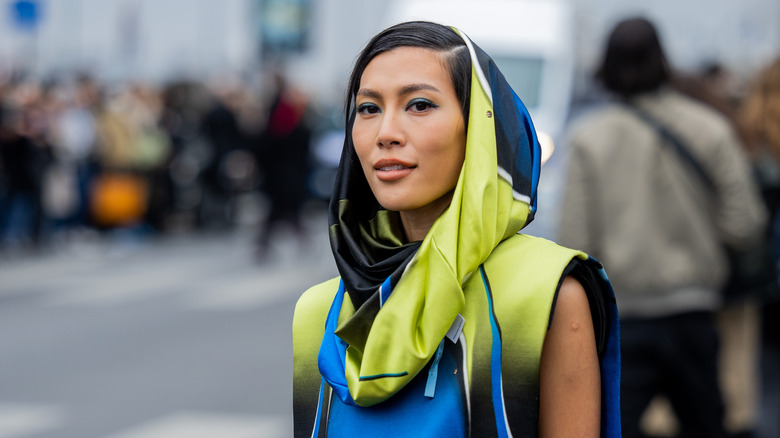 Christian Vierig/Getty Images
Wear an oversized headscarf in this modern wrap-around style for a fashion-forward fit. Loosely place the headscarf over your head and tuck the ends into the inside of the scarf or your outfit. You can also tie the two loose ends together, and hide them within the scarf to achieve this stunning wrapped-up look. Play around with different patterns, designs, and colors for a fun and funky look that will effortlessly take your outfit up a notch.
Wear it as an oversized scrunchie
Use your headscarf as a scrunchie to create a tousled, loose ponytail. Wrap the headscarf around your hair and secure it with bobby pins underneath to keep it in place. You can also tie your hair into a ponytail with an elastic band first, and then wrap the headscarf around the elastic to create this voluminous style. Pull out a few strands of hair in the front to complete the beachy-wave look that's the perfect blend of casual and chic. 
Style it with long locks
This headscarf style is perfect for all of the long-haired girls out there who want to show off their lush locks while still sporting this trendy hair accessory. To achieve this look, fold the bandana into a diamond shape and place it onto your head, with the pointed end facing the back. To secure it in place, tie the scarf underneath your locks. Pull out a few front pieces of hair to create a polished bedhead look.
Tied knot look
We're obsessed with how sleek and chic the headscarf looks as a headband with a tied knot. To create this knot, take a square scarf and fold it in half to create a triangle. Then, fold the top and bottom inwards to create a long, thinner headband. Start by placing the headscarf underneath your hair at the back of your head and bring the two loose ends to the front top and tie them together — tucking them into the band for a polished style.
Tuck it in
Whether you're having a bad hair day or simply want a slicked-back aesthetic, this is the headscarf style for you. To recreate this look, start by putting your headscarf on top of your head and pulling it back underneath your hair. Wrap it around your tresses, and twist the ends to create a thick knot that holds your locks in place. Then, tuck the loose ends back into the headscarf or tie them together and tuck the ends in. 
Wear it as a headband
It's no secret that headbands are a trending hair staple that everyone will be wearing this summer. To rock this simple hairstyle, start by folding your headscarf in half, and then folding the bottom and top half inward toward each other. Once you have a band and are happy with the thickness, place it on top of your head and tie it underneath your head. Make sure to leave a few pieces at the front to recreate this beach-ready look. 
Half-up, half-down style
We love how effortlessly chic and sophisticated the half-up, half-down hairstyle looks with a headscarf tied into it. To style this look, add a few large, bouncy curls to your locks. Then, pull back a section of your hair, leaving a few front pieces out. Then, secure the section with your headscarf by wrapping it around and tying it together for a loose fit, or tie your hair with an elastic band first, and then wrap the headscarf over it.
Style it in a bow
For an ultra-feminine style, embrace the half-up, half-down trend by styling your headscarf as a bow on top of your hair. To recreate this sleek hairstyle, pull back the front half of your hair into a high ponytail and secure it with a hair tie. Then, wrap your headscarf over the hair tie and tie it into a bow. If you want to sport a luxurious fit, opt for a Chanel or Louis Vuitton headscarf for a glamorous style.
Weave it into a braid
There are countless ways you can weave your headscarf into a braided hairstyle, and this look is one of our favorites. We love how subtle and tasteful this hairstyle is and if you can DIY braids at home, you can nail this look in just a few minutes. To weave the scarf into your braided hairstyle, first, fold it in half, and fold the bottom and top half inwards until you have a thin band. Then, take the band and add it to each section of the hair as you braid. 
Curly updo
Emphasize your bouncy, voluminous curls with this cute curly updo. We love the sleek look of the headscarf combined with the big gorgeous hair for a balanced style. Start by putting your curly locks into a high updo. Then, grab your headscarf, and starting from the back of your head, wrap it along your hairline and tie it once at the front. Take the loose ends and tie them around the updo to tuck them away for a clean hairstyle.
The babushka
Inspired by the iconic look commonly worn by grandmothers, the babushka style is easy to wear and can be worn at any age. Simply fold your headscarf in half to create a triangle shape and then tie it around your head with the point facing outward. This style is typically worn in a loose fit and can start at the front of your hairline to cover most of your locks, or slightly back to show off your hairstyle.