What Colors Pair With Bold And Trendy Teal?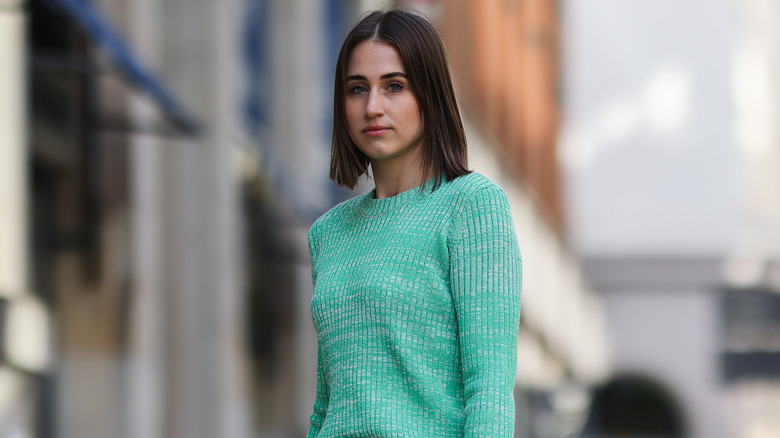 Jeremy Moeller/Getty Images
It's always a good time for a wardrobe shake-up, but have you ever considered adding more blue to your closet? Blue is set to be one of 2023's trendiest colors, and one particular shade you should be looking to incorporate into your clothing is teal.
As teal is a brighter shade of blue and leans toward being green, it can feel more intimidating to style than a shade like baby blue or even navy. We all have clothing colors that work best for our skin tones, but teal's greenish-blue hue is flattering on warm, cool, and neutral tones (though it has to be true teal instead of one that leans more toward green or blue). 
Those in the fashion world have been hyping up teal recently, too. Speaking to InStyle, designer and stylist Kiya Tomlin shared: "We have been loving teal blue for spring — and so have our customers! It's bold and energetic, not traditional or overly feminine. And it looks good on all complexions. It's a playful color for daytime but definitely makes a statement amongst all the evening little black dresses."
Teal pairs well with a variety of colors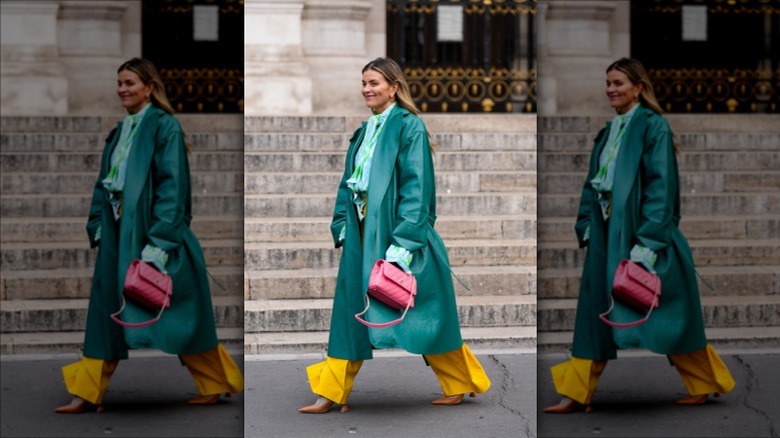 Edward Berthelot/Getty Images
Starting off with neutrals, you'll never go wrong wearing an all-black outfit that has a pop of teal included. Black is a great foil for any bright color and will make you feel more comfortable if you're just starting to wear bolder hues. The same goes for white. Refreshing and visually appealing, white and teal is one color combination that practically screams warm weather. Pair a white sundress with teal sandals, or teal pants with a white blazer for a chic contrast. Gray and teal is also a nice in-between pairing if you're bored of white and black but still want a neutral color.
Another slightly less neutral but still muted pairing is teal and pale pink, specifically dustier shades like rose. A match made in heaven, teal and dusty pink shouldn't work together in theory but somehow do. Though pink isn't a neutral in the same way white, black, and beige are, it can have the same neutralizing effect on a brighter outfit. For example, if you have a dusty pink blouse, a teal jacket would look incredible over the top. Plus, teal and pink complement each other on the color wheel, so it's really only fair to put them together.
Step out of your comfort zone with these color pairings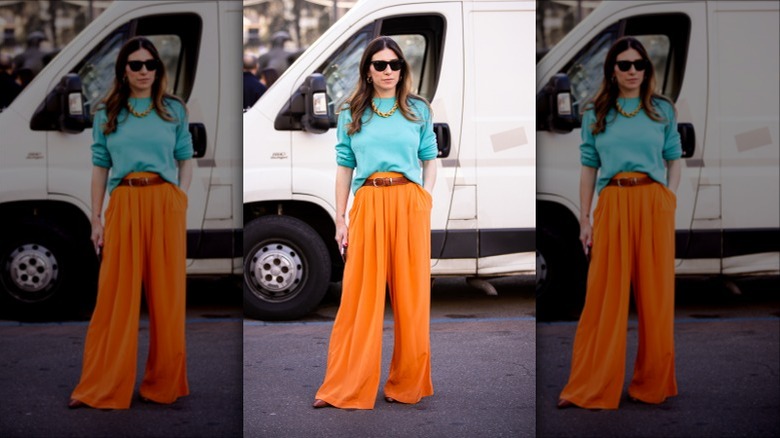 Claudio Lavenia/Getty Images
Though you may not think it, teal looks incredible with orange. These colors balance each other out and are often paired together for interior design purposes because of this, but there's no rule to say you can't contrast teal and orange with your clothes too. Orange has a vivacious look to it, whereas teal is bold but still has a calming vibe — try wearing a teal sweater with an orange coat thrown over it or vice versa.
Teal also pairs very well with neon green. As you may have guessed, neon green picks out the green undertones in teal and will make you glow — though note that it will work best if you have warm undertones and could wash you out if you have cooler undertones. If you don't want to go neon, darker shades of green can work with teal, though these shades shouldn't be too soft, as otherwise, they will clash with the blue tones of teal.
Now you know what to pair teal with, you can start to plan your outfits so you're ready for any weather and/or occasion.