Grace Kelly's Granddaughter Camille Gottlieb Grew Up To Be Her Twin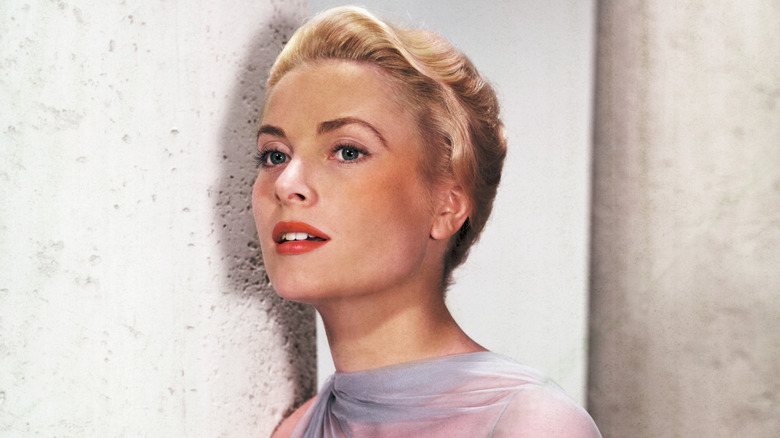 Bettmann/Getty Images
Grace Kelly is an icon in the United States and abroad. However, it's not just her acting career, starring in films such as "High Society" or "How To Catch a Thief," that have memorialized her in people's minds. The glamourous actress became even more of a celebrity when Kelly married Prince Rainier III, embarking on a fairytale that later included daughters Princess Stéphanie and Princess Caroline.
Both of Kelly's daughters have led interesting lives of their own. Princess Stéphanie once fell in love with an elephant trainer and ran away to join his circus troupe. She also committed another traditional royal faux pas, having all three of her children out of wedlock (including Camille Gottlieb). Alternatively, Princess Caroline has regularly made headlines for her impeccable style, although, even she wasn't immune to scandal centering around her and her husband, Prince Ernst August of Hanover.
These days, however, it's Grace Kelly's granddaughters taking over the spotlight. Hollywood's darling has 11 of them, who all lead beautiful, if not very busy, lives. Most people can see some of Kelly's good looks and Prince Rainier's charm in each of her descents. But one, in particular, could be Kelly's stand-in if they ever needed to recast the actor as she was in her prime. 
Doing a double-take
Camille Gottlieb, the child of Princess Stéphanie and once-upon-a-time palace guard Jean Raymond Gottlieb, was born in 1998, the third child of Stéphanie, who had two others by Daniel Ducruet. Gottlieb's half-siblings are eligible for the throne, but Camille's father was left unnamed on her birth certificate, leaving her out of the line of succession. Nevertheless, the young royal has shared much of the same luxuries as her titled family members. Raised away from the spotlight in Monaco, we are only now getting a glimpse into Gottlieb's privileged activities.  
And though it's hard to pry your eyes away from the stunning backdrops in her Instagram photos, like the French Alps or the glittering Mediterranean Sea surrounding Monaco, when you focus in on Gottlieb you'll notice that she is nearly a dead-ringer for her exquisite grandmother. In selfies, her style choices combined with her features make nearly everyone do a double-take. She has Kelly's enchanting eyes, enviable bone structure, and frequently coifs her blonde locks into very 1950-esque curls. Plus, how could you mistake her sultry pout for being a result of anything other than Grace Kelly's glamorous good genes? 
Social media royalty
While Grace Kelly may have left Hollywood celebritydom for royalty, Camille Gottlieb seems to be making her own way. She has recently stepped back into the spotlight, amassing followers with her social accounts and gaining a public profile in the media. Many find it impossible not to like the Grace-Kelly-look-alike's photogenic snaps due to her trendsetting outfits. Princess Grace was undeniably a style icon, and her granddaughter frequently sports some swoon-worthy looks herself. 
Gottlieb's life isn't all play and no work, though. She is an active campaigner for safe driving, establishing Be Safe Monaco and investing in other notable causes that have touched her life personally. Grace Kelly, Princess of Monaco, devastatingly died after a stroke-induced car crash (that Gottlieb's mother was a passenger in) on September 13, 1982, and one of Gottlieb's close friends perished in an accident after spending an evening at a local hotel. Greatly impacted by the losses of both family and friends, the committed public role model set out to make a difference. 
Gottlieb lives a relatively low-key (if not lavish, being a grandchild of the princess) life compared to her grandmother Grace Kelly. She once was dating supermodel Thomas Martini, but other than that hasn't made any headlines for love like her grandmother once did. Nevertheless, with her undeniably similar appearance to the late Princess Grace and her philanthropist heart, the locally dubbed "Monaco's darling" may not be able to hide from the spotlight too much longer.