Why Prince William And Princess Catherine's Titles Aren't Changing After King Charles' Coronation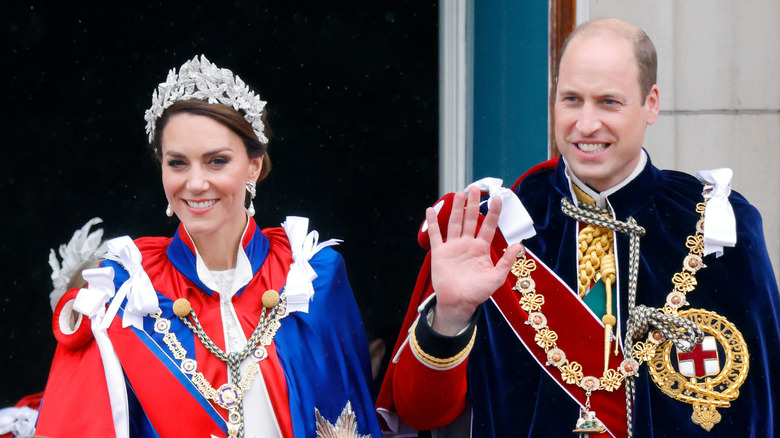 Max Mumby/indigo/Getty Images
Most often referred to as the Prince and Princess of Wales in formal settings, Prince William and Kate Middleton gained their latest titles in September 2022 following his father, King Charles III's, ascension to the throne. They were previously known as the Duke and Duchess of Cambridge. William was made Duke of Cambridge shortly prior to his wedding, whereas Kate gained the title of duchess upon her marriage to William in 2011. Despite gaining new titles, William and Kate still hold their previous titles of Duke and Duchess of Cambridge too. 
However, you may (understandably) be confused as to why William and Kate's titles did not change upon Charles' coronation. The answer is simple: They already had their titles and did not need to be given them in another official capacity. Though Charles was officially crowned during the ceremony, he had actually held the title of king since September — the coronation was more symbolic than a necessary step for him to become the ruling monarch. 
As well as William and Kate, other royals gained additional titles when Charles became king. A good example of this is Charles' brother Prince Edward, who was given the title of Duke of Edinburgh by Charles on his 59th birthday, a title previously held by their father, Prince Philip. When it comes to the Waleses, though, they're all set. 
The couple have more titles than you may have thought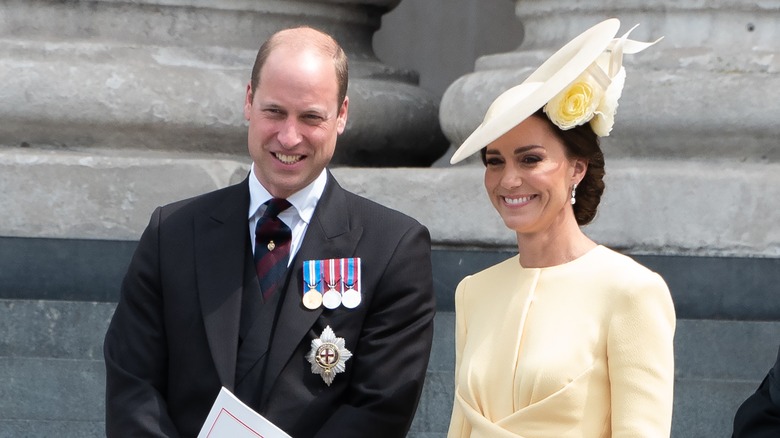 Featureflash Photo Agency/Shutterstock
Aside from those mentioned above, Prince William and Kate Middleton have quite a few titles under their belts. Speaking to Marie Claire, royal author Christopher Andersen shared, "William and Kate are now also Duke and Duchess of Cornwall, the Duke and Duchess of Rothesay, the Duke and Duchess of Cambridge, the Earl and Countess of Chester, the Earl and Countess of Strathearn, Baron and Baroness of Renfrew, and Baron and Baroness of Carrickfergus." 
Moreover, Andersen revealed that now William is first in line to the throne, he has gained the titles of Prince and Great Steward of Scotland as well as Lord of the Isles. That's definitely a lot of titles, especially considering the couple only recently gained the titles of Prince and Princess of Wales too. 
Unlike Queen Consort Camilla, who was crowned alongside Charles at the coronation and became Queen Camilla, William and Kate did not gain any new titles — which is probably a relief, considering how many they have already.
Each title brings with it more duties and responsibilities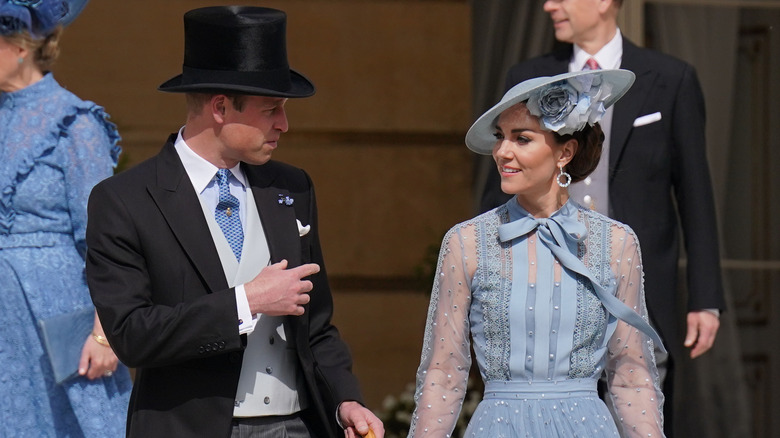 Wpa Pool/Getty Images
It's important to note that each of these titles brings a new role that the Prince and Princess of Wales have to carry out. Princess Catherine's life changed when she became Princess of Wales in a number of ways. For example, she is now expected to carry out more walkabouts and undertake more royal engagements than ever before. She also took on more seniority after being given the role, such as when she thanked volunteers and staff at Windsor for their hard work following Queen Elizabeth II's death. 
The same goes for Prince William, who visited Wales alongside Kate several times in the runup to the coronation, including a trip that took place just one week beforehand. Moreover, William played a notable role at King Charles' coronation when he made a speech pledging his loyalty to Charles, showing his seniority as first in line to the throne and the new Prince of Wales. 
Overall, you can expect to see even more of Kate and William in the upcoming years especially as the prince prepares for his inevitable ascension to the throne. Just like how King Charles and Queen Camilla were officially crowned with their new titles at the coronation, Kate and William will likewise become King William and Queen Catherine upon his ascension to the throne.