The Classic Soap That Gave Meg Ryan Her Show Business Start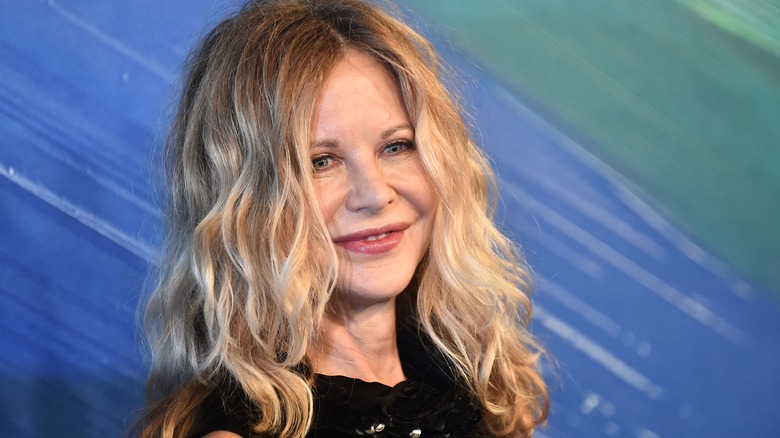 DFree/Shutterstock
Meg Ryan may be known for her iconic portrayals in romantic comedies like "Sleepless In Seattle" or "When Harry Met Sally," but like so many other actors, she actually got her start on a soap opera. In 1982, the actor — who changed her name from Margaret Mary Emily Anne Hyra when she pursued acting — stepped into the role of Betsy Stewart on the classic sudser "As The World Turns." She took over the role from Lisa Denton and appeared on the show for two years before leaving in 1984 to explore other career options.
Years later, during an interview on "Late Night with Conan O'Brien," Ryan opened up about her days on the sudser. "I started out on 'As The World Turns,'" she told the host, adding that her character was unlucky in love. "A lot of failed marriages," she stated. However, Ryan did reveal that Betsy was "the good girl of the town."
Despite going on to find major career success, Ryan seemed to learn a little something about dramatic acting during her days on "As The World Turns," and she even joked about some of the awkwardness that comes with appearing on the soap during the interview.
Meg Ryan's soap opera wedding drew big ratings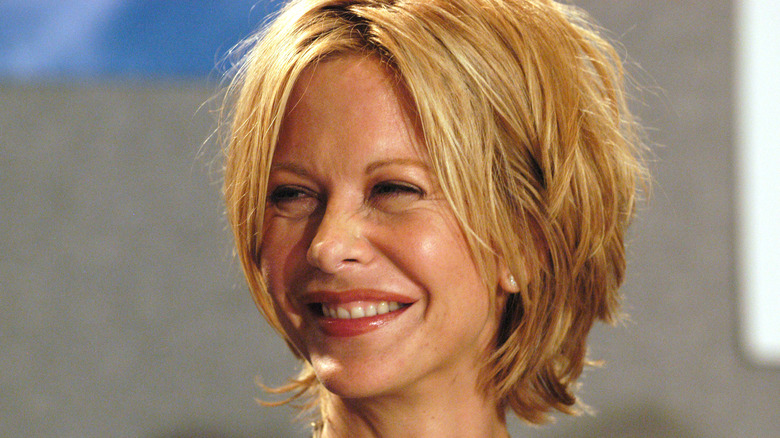 Jeff Kravitz/Getty Images
During Meg Ryan's interview with Conan O'Brien, she poked fun at some soap opera cliches, such as pausing for dramatic moments and trying hard not to block her partner's light in scenes. "It gets worse kind of throughout the week, so by Friday, even if it's a very mundane sort of very non-dramatic thing, you have to really, really have a lot of emotion about it," Ryan said of portraying drama on "As The World Turns" in the early days of her career. "So you could be very dramatic about the oven being at the wrong temperature or something like that," she quipped.
Despite the over-the-top drama, fans loved watching Ryan as Betsy on the sudser, especially when the character was paired with Steve Andropoulos (Frank Runyeon). The couple's relationship was a bit controversial as Steve's brother Nick was married to Besty's stepmom Kim, but the two couldn't fight their feelings for each other. The couple went on to have a rocky romance and eventually welcomed a daughter named Danielle together.
Finally, after many ups and downs, Betsy and Steve got married, and their TV wedding earned more than 20 million viewers, making it the second highest-rated soap opera episode in daytime history after the wedding of "General Hospital's" Luke and Laura. From there, Ryan went on to become one of the most popular leading ladies in Hollywood.
Meg Ryan found major movie success after leaving daytime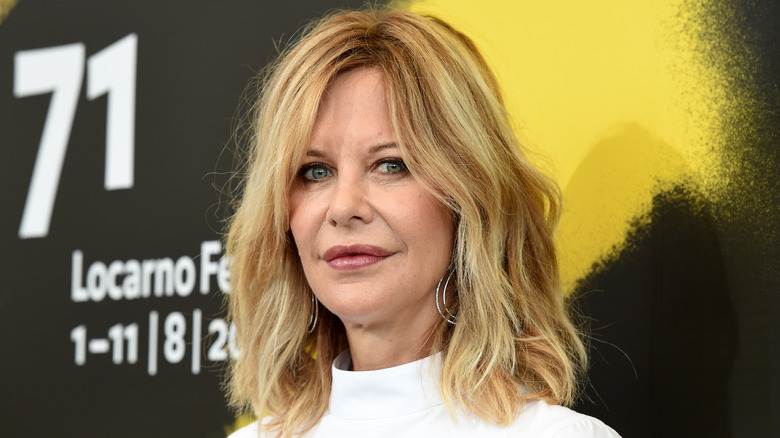 Pier Marco Tacca/Getty Images
In 1986, Meg Ryan was cast in the blockbuster Tom Cruise film "Top Gun." Although she had a small role, she went on to book other big films, such as the lead in the beloved romantic comedy "When Harry Met Sally" opposite Billy Crystal. Ryan's net worth increased with projects such as "Sleepless in Seattle," "When a Man Loves a Woman," "French Kiss," "Addicted to Love," City of Angels," "You've Got Mail," "Hanging Up," and more.
Meanwhile, her personal life was also thriving. Ryan met actor Dennis Quaid in 1988, and the couple went on to get married and become one of Hollywood's biggest couples. A few years later, they welcomed a son together, Jack Quaid, who has followed in his parents' acting footsteps. Ryan and Quaid divorced in 2000, but in 2006 Ryan became a mother again when she adopted her daughter, Daisy. She was later romantically linked to actor Russell Crowe and singer John Mellencamp.
After finding fame in the movies, Ryan moved behind the camera directing the 2015 film "Ithaca," as well as the upcoming movie "What Happens Later." Although Ryan's endured ups and downs in her career, she owes her early success to her role in "As The World Turns," and fans likely won't forget her portrayal of fan-favorite character Betsy anytime soon.