The Cast Of The Little Mermaid On Bringing The Story To A New Generation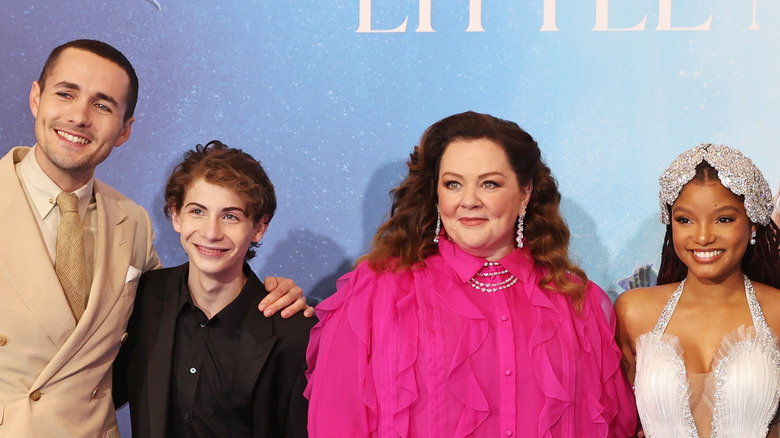 David M. Benett/Getty Images
Disney has created several live-action remakes of its animated classics, including "Beauty and the Beast," "Mulan," and "The Lion King." And it's adding one more to its roster with the 2023 remake of 1989's "The Little Mermaid." The cast and crew members were all excited at the opportunity to reimagine such a classic film for adults to revisit and for a whole new generation of children to fall in love with.
In this rendition, Halle Bailey is taking on the leading role of Ariel, with Javier Bardem as her father, King Tritan; Daveed Diggs as Sebastian; Jacob Tremblay as Flounder; Jonah Hauer-King as Prince Eric; and Melissa McCarthy as the film's villain, Ursula. While the live-action version stays quite true to the original, there are also some slight changes, including original songs. During the film's press conference, the cast and creatives discussed what it was like remaking a classic and why "The Little Mermaid" is the perfect story to bring to this generation.
Retelling a heartfelt classic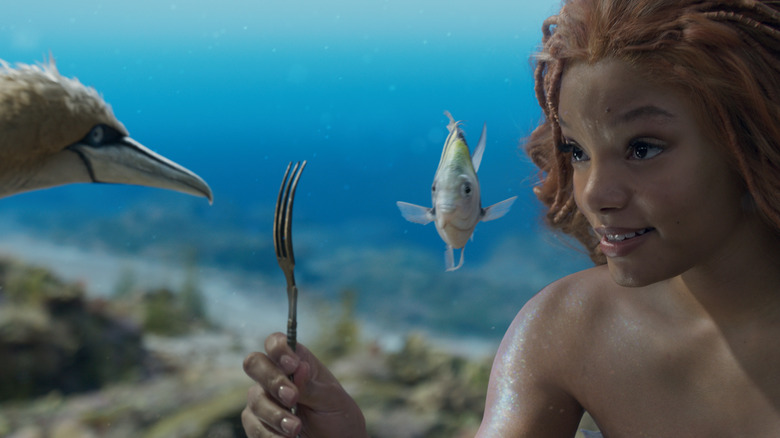 Disney
Recreating "The Little Mermaid" as a live-action film was a big production, with plenty of special effects and CGI to create the magical scenes. But at its core, it's a simple story that can be told again and again, which is what actor Javier Bardem hung on to while playing King Tritan. "It's about a man who is deeply in love as a father with his daughter, and he's confused and [he feels] fear and insecurity with that love. He's blocking her from her being free," Bardem said. "... One of the beautiful themes in the story is that the mother and the father, the adults, learn from their kids." 
The director of the film, Rob Marshall, agreed with this sentiment, saying that although the film is "massive," in other ways, "it's a small story." And it's that story that the cast and crew worked together to give new life to.
Daveed Diggs, who voices Sebastian in the film, said he has "a hard time wrapping [his] head around" the magnitude of this project and what the story means to people. 
Jonah Hauer-King agreed with Diggs and said it was hard to comprehend what becoming Price Eric would mean, but it started to hit him when he saw one of his costars' grandchildren watching the film. "Seeing how taken in by the story he was, how transported by it, was really, really special," Hauer-King said.
What makes this Little Mermaid different?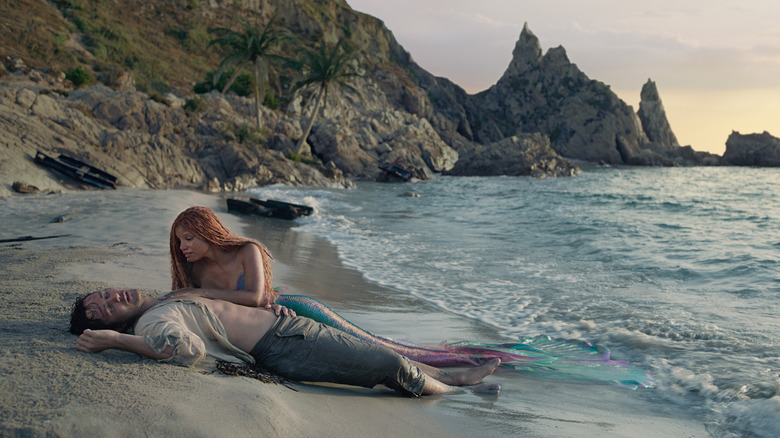 Disney
While most of the story of Disney's "The Little Mermaid" remains the same in the live-action remake, there are some changes made to bring the story to this generation. One beautiful difference is that the cast is far more diverse than we've seen in the past. Speaking about this, Akwafina, who voices Scuttle, said, "It reflects the world we live in. Everyone deserves to see themselves on screen."
The film also worked to make the characters more complex and authentic. During the press conference, Melissa McCarthy complimented Jonah Hauer-King's and Halle Bailey's portrayals of Eric and Ariel, saying, "Instead of it being these caricatures, you've given them humanity. You've tethered that these are real people ... That's the big difference."
One of the ways they brought that humanity to the film was by further developing the love story. The audience gets to know Prince Eric more in this version. He has an original song, and rather than just love at first sight, his romance with Ariel is more grounded in friendship. "Their relationship feels earnt. They both felt like they were teaching each other things. They were excited and fascinated by each other's worlds," Hauer-King said. "... It's a really good message [that] what it means to be in love and in a relationship is ultimately tied to friendship."
"The Little Mermaid" opens exclusively in theaters on May 26.