Who Said Metallic Outfits Can Only Come Out After Sunset? Here's How To Shine Bright During The Day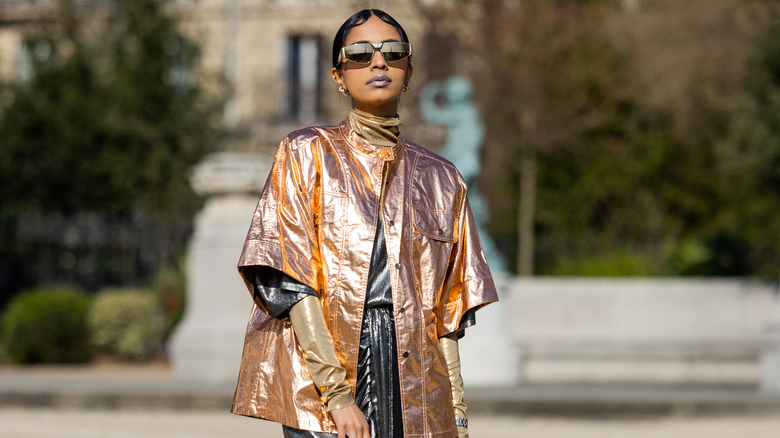 Christian Vierig/Getty Images
The iridescent sheen of metallic is a favorite in the world of beauty and fashion. Trendy metallic blush is a stellar makeup look, and chrome nails will always have a special place in our hearts. However, sparkling ensembles always dominate. It was a significant part of Fendi's Spring / Summer 2023 collection, Alexander McQueen's Autumn / Winter '23 runway, and Christian Dior's Fall '23 showcase. Looks inspired by the catwalks make it to the red carpet and the front page of magazines, then eventually in our closets.
Metallic clothing is daring fashion, whether you embrace tinsel, sequins, rhinestone, and glitter pieces, or simply the glimmering fabric. The moonlight hours are perfect for showing off your shimmering attire. Forget the stars in the sky, just look at the gleam on your silver heels! But pulling off that same metallic wear during the day can be tricky.
You want to shine bright, not blind your fellow commuters or look like you're wearing an astronaut suit. There is an effortless way to style this reflective look, so you can don your favorite metallic pieces on any occasion while the sun is still high in the sky.
Pair metallic pieces with casual wear and neutrals
To turn metallic high fashion into pieces you can sport on any given day, pair your shiny clothing with casual wear. This styling will leave the trendy article as your outfit's focal point or statement piece. Tone down a metallic maxi skirt with sneakers and a sweater, or pair an iridescent blouse with flats and jeans. You can still keep the look fashionable by layering jewelry and adding a matching purse. These looks are great for running errands, grabbing lunch, or just enjoying daylight in style.
For office wear or semi-formal ensembles, go with elevated pieces like a shimmer blazer or metallic dress. You don't have to throw on sweatpants or a hoodie to transform this garb into daywear, but simply contrast these precious metals with neutral colors. True neutrals like gray, black, and white will always work — especially gray, because it matches silver well and can create a monochrome outfit with your silver metallic clothing. You can also opt for earthy tones that act as neutrals, like browns, deep greens, and dark blues.
While metallic pieces are often in the spotlight of any glittering outfit, they also play well as the backup dancer.
Stick to metallic accessories
Metallic accessories are one of the best ways to sport reflective fashion before the sun sets. Beauty looks like mirror nails, diamond lips, and tinsel hairstyles are already letting fashionistas shine. And of course, there is the classic precious metal jewelry. Gold, silver, bronze, and rose gold are popular metallic choices for necklaces, bracelets, rings, and earrings. However, to let your sparkling jewels stand out, opt for unique pieces like arm cuffs, head chains, or brooches. These ornaments are a touch of metallic that weaves seamlessly into your outfit.
Shiny accessories like purses, shoes, belts, hats, and sunglasses offer a modern pop to any ensemble. These pieces are fabulous for spicing up your LBD, a monochrome outfit, or taking your already fashionable attire to the next level. You can embrace color too, as metallic fashion comes in any pick of the rainbow. Use these accessories to mesh with a hue in your outfit or bring in a bright and shimmery pop so you don't have to wait for nightfall to shine.