Diamond Lips Are The Shimmery Trend Bringing Bold Metallics To Your Everyday Look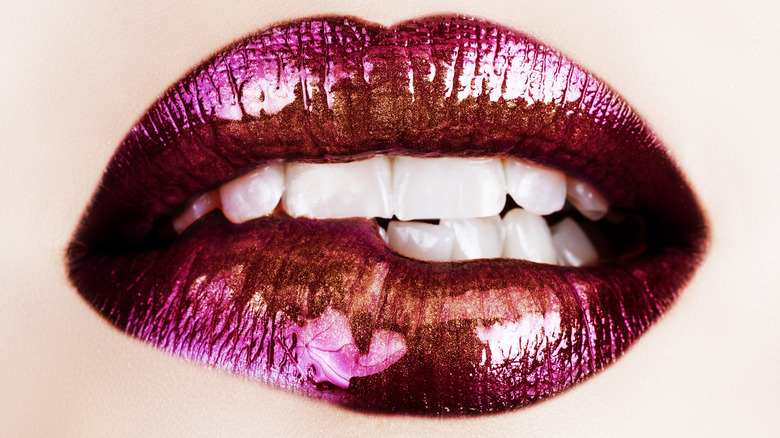 Lvnel/Getty Images
Glitter and glam are blasting back onto the scene with shiny, metallic looks that originally had their heyday back in the '90s. From icy eyeliner to green glitter, we've spotted celebrities rocking just about every shimmery tone out there. So, it should come as no surprise that diamond lips are making a big splash on TikTok.
Don't worry; this latest craze doesn't require gluing rhinestones to your lips or dusting them with glitter. You don't even have to buy a different shade of lipstick — unless you want to, of course. Rather, it's all about using eyeshadow, liner, and your favorite gloss to achieve a glittery pout that shines so bright all your friends are bound to do a double take.
Sparkle up your minimalist makeup routine by adding the diamond lip trend to your regular rotation. These are a few simple tips to help make your pout shine bright like a diamond all day (and night) long. 
How to create diamond lips at home
You're more than a little intrigued and have your makeup bag at the ready. But before you go in with your liner, make sure your lips are ready for action. Give them a quick exfoliation and moisturizer treatment. It can also be beneficial to use a primer to ensure this trend keeps your lips kissable all day long rather than drying them out. 
With your mouth at the ready, grab a glittery eyeliner, your favorite shade of lip liner, and a moisturizing lip gloss. If your gloss has a little sparkle to it that's even better. Smudge the eyeliner along your cupid's bow and the center of your bottom lip. You don't have to be precise at this step since you're going to give everything a good smudging.
Then, apply your liner to the corners of your lips and work toward the shimmer. Use a Q-tip or soft eyeshadow applicator to seamlessly blend everything together. You can add a slick of lipstick to the corners if you need a bit more color to make the centers really pop. Finish with gloss and you're all set. While it's a pretty simple application, there are a few things you can do to ensure your lips look especially luscious. 
How to make this trend look perfect
Happily, diamond lips don't require an occasion. They can look good for casual wear or a night on the town. However, you can switch up the color of the lip liner you use depending on the occasion. For example, if you're looking for a dramatic cherry diamond lip, add a bit of red lipstick in a circle on the cupid's bow and the middle of the lower lip before applying the silver liner. You can then use a darker red liner for the corners.
Further, you can also add more sparkle for those dramatic late-night looks by adding a bit of on-trend shimmery eyeshadow over the gloss. Not only will it give you another level of sparkle, but the eyeshadow will work to set the whole look in place. It's also not a bad idea to have concealer on hand in case you get a little overzealous with your lipstick application and need to correct a few mistakes. 
What is life if you don't add a little sparkle? Make your lips look 24 karats of goodness by trying out the diamond lip hack. Your smile has never glittered more.