Todd Chrisley Took Advice From Abby Lee Miller Before Going To Jail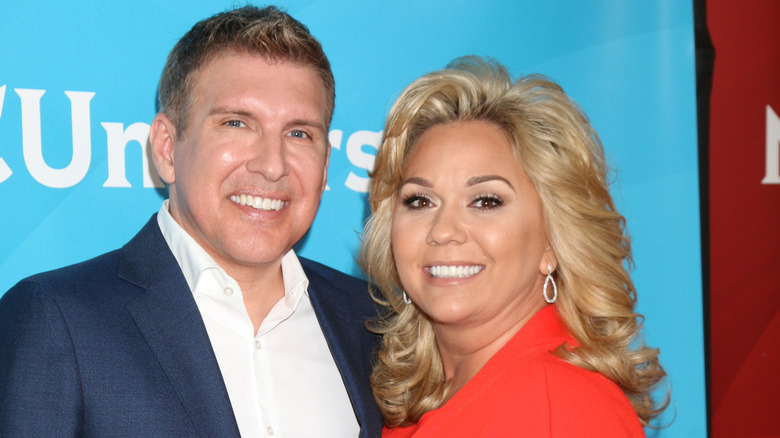 Kathy Hutchins/Shutterstock
The once glamorous life of reality stars Todd and Julie Chrisley has taken a much humbler turn as the couple serves their prison sentences for tax fraud. Julie is currently doing seven years, while her boisterous husband is serving a 12-year sentence. In January, the "Chrisley Knows Best" stars turned themselves in to federal authorities to begin their lengthy sentences. The beloved television personalities who showcased their wealth and businesses have not spoken to one another since starting their terms, one factor that may prove extremely difficult for the pair who appeared to have an extremely close relationship.
During their television reign, Todd emerged as the deep southern-accented comedic relief who always seemed to have a humorous remark on the show. Julie portrayed herself as the family's rock, holding everything together. In the series, their gorgeous homes were on display, and Todd appeared extremely proud to show off his lavish closet and high-end vehicles. Rumors even swirled about him undergoing cosmetic surgery, though he's denied this, only admitting to the occasional wrinkle-removing jab. For these reasons, Todd may be having a harder time adapting to lockup, says fellow reality star Abby Lee Miller, who had her own time behind bars years ago.
Todd Chrisley is used to opulence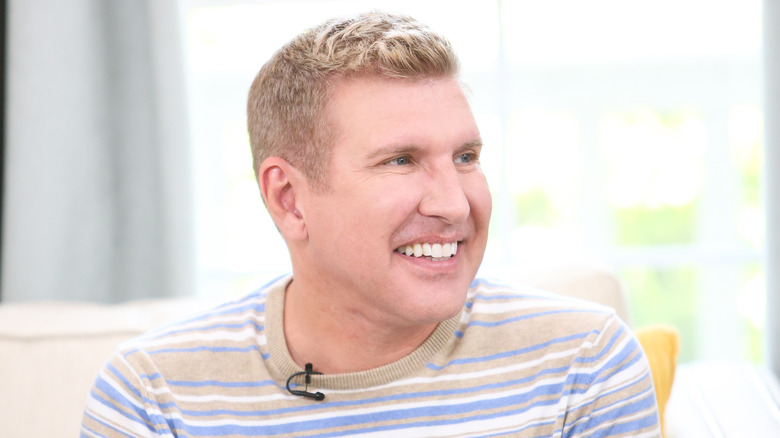 Paul Archuleta/Getty Images
In her chat with ET back in March, "Dance Moms" star Abby Lee Miller said embattled entrepreneur Todd Chrisley would have difficulty adapting due to his love of extravagance. Miller referred to the star as being "very bougie." She is specifically concerned about how he will handle the toiletries available to inmates. "He is not going to be able to handle, like, the soap and the towels," she told ET's Denny Directo.
Considering her legal troubles, Miller is the perfect person to give Chrisley advice, as she was found guilty of hiding more than $700,000 worth of income. The famous dance coach would ultimately spend eight months in federal prison in 2017. 
She has been vocal about her incarceration. After her 2018 release, she slammed the "Dance Mom" families for failing to visit her or send a letter while she was away. Miller had also voiced how prison staff treated her differently, frequently calling her the "TV star lady." This is why Miller advised Chrisley to "be careful" in an Instagram message she shared with him shortly before he began his imprisonment.
Abby Lee Miller says couple's kids may make prison time harder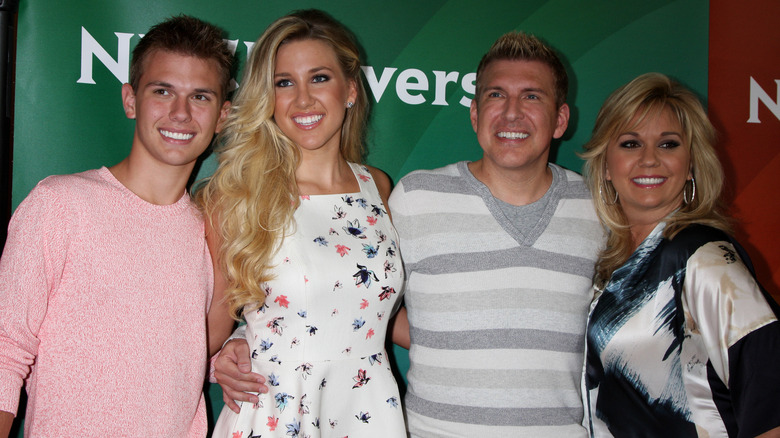 Kathy Hutchins/Shutterstock
Popular dance trainer Abby Lee Miller never married nor had children. Therefore, when she went to prison, she only had to worry about her own well-being. For the Chrisleys, there is likely much concern about their five children: Lindsie, Kyle, Chase, Savannah, and Grayson, as well as their adopted granddaughter Chloe. Before the couple reported to prison, daughter Savannah had taken custody of her brother Grayson and niece, Chloe, who is the biological daughter of Chase and ex-girlfriend Angela. Her grandparents adopted her as a baby, and she remained in their care until their legal troubles. Savannah admitted that she had a "breakdown" over the responsibilities and tried to be as good as her mother, Julie. Miller says the couple may have issues with situations such as these. "They're gonna share the same problems that other moms and dads had with their kids," Miller shared in her chat with ET.
As of now, the couple is sitting tight in separate prisons. Todd is being held at the Federal Prison Camp Pensacola, while Julie resides at FMC Lexington, Kentucky. Despite their current misfortunes, the truth about Todd and Julie Chrisley is that they love one another dearly, which they've put on full display for millions to witness. Hopefully, they will get to reunite with one another and their eager children in the near future. They are planning to appeal their convictions.