Mark Consuelos Thrilled Soap Fans With This Phrase During Live With Kelly And Mark Debut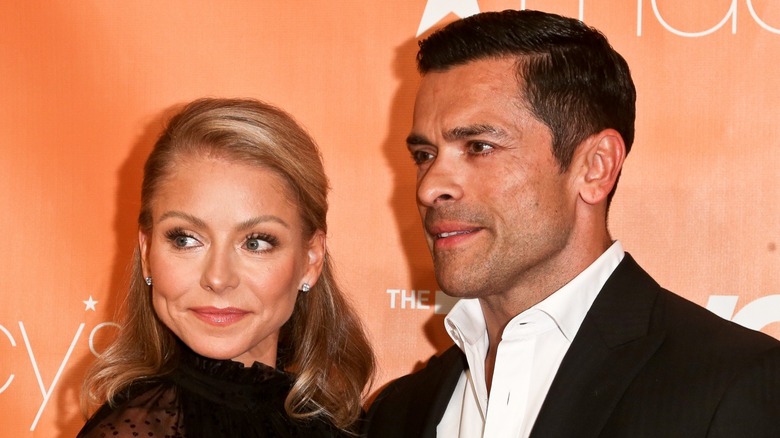 Debby Wong/Shutterstock
In February 2023, Ryan Seacrest announced that he was going to be leaving "Live with Kelly and Ryan" to focus on other projects, including "American Idol." His replacement was none other than Mark Consuelos, co-host Kelly Ripa's real-life husband. Consuelos officially became the new co-host of "Live with Kelly and Mark" on April 17, 2023, after having been both a guest and a guest host at various times in the past.
This is not the first time the celebrity couple has worked together. Real life imitated reel life when Ripa and Consuelos met on the set of the ABC soap opera "All My Children," with their romantic relationship beginning shortly after that. When they entered the "Live with Kelly and Mark" set on the day of Consuelos' first episode, the lovable duo was met with rousing applause. 
Consuelos shared his immense gratitude by holding Ripa's hand and thanking her for trusting him to, "be your copilot." The actor added, "Hayley and Mateo forever." Consuelos was referring to the roles that they played in "All My Children," which not only brought them together but also shaped their love story. Naturally, soap opera fans were dying over the reference. 
Ripa was immediately smitten when she first met Consuelos
Kelly Ripa started playing Hayley Vaughan in 1990. Just five years later, Mark Consuelos joined the cast as one of her love interests, Mateo Santos. In an interview on "Lunch with Bruce," Ripa described how she felt when the "All My Children" casting director showed her a photo of Consuelos for the first time: "When I saw him — the photograph of him — I saw my entire future with him flash before — like, I saw it." 
Consuelos told HuffPost Live in 2014 that he thought Ripa was attractive after meeting her for the first time, but the actor didn't think he'd have any chance with her. And yet, the couple began dating not long after meeting, and they eloped in Vegas in 1996. Their characters got married, too, but not until 2000. Both Hayley and Mateo left the soap in 2002 after Consuelos and Ripa had their second child together.
Ripa and Consuelos' careers have always been intertwined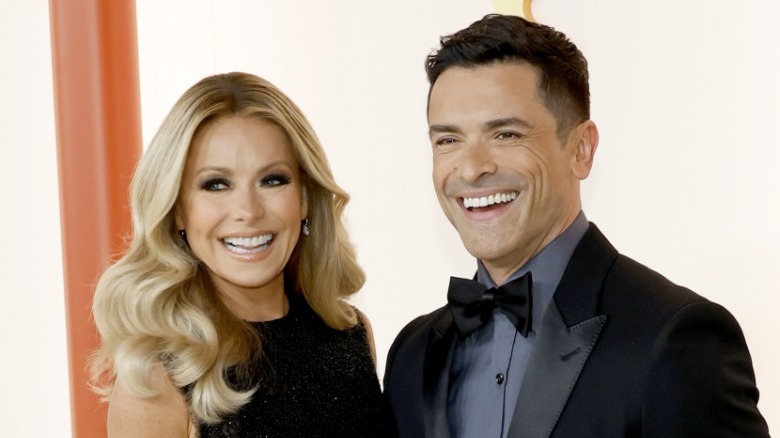 Mike Coppola/Getty
Since Kelly Ripa and Mark Consuelos started their relationship and their "All My Children" careers on ABC, and since he has guest-hosted "Live" before, the couple working together on the talk show is a logical next step. As Ripa told Us Weekly, "So many wonderful moments have happened while with ABC, so it only makes sense for us to come full circle and work together once again for the show that has given us so much joy and so many years of memories."
Likewise, the co-hosts also pointed out "We figured that since we started our careers together, we might as well finish them together" in another interview with Us. In addition to their new gig on "Live" and their run on "All My Children," Consuelos and Ripa also memorably collaborated on "Riverdale." On the teen soap opera, Consuelos played the dastardly Hiram Lodge. Ripa appeared in an episode as Hiram's mistress, Mrs. Mulwray, while Hiram was in a coma. 
Consuelos hilariously acknowledged to Vanity Fair that he acted like a bit of "a stage dad" behind the camera while watching Ripa shoot her "Riverdale" scenes. Alongside a behind-the-scenes shot on Instagram, the TV host described it as "a role I was born to play."