Florence Pugh Actually Cut Off Her Own Hair In A Movie Scene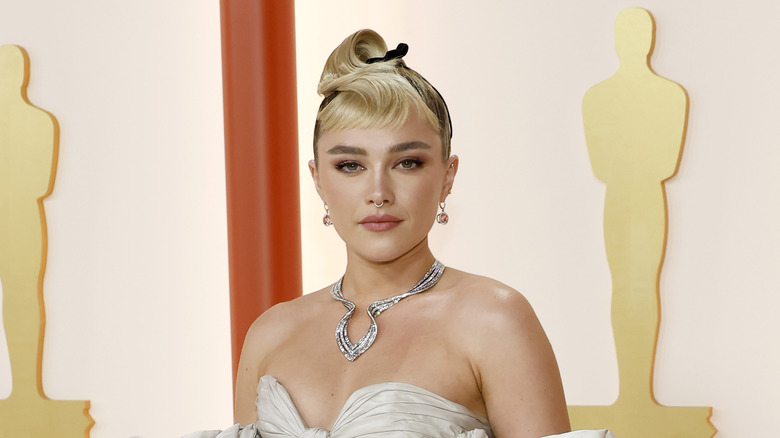 Mike Coppola/Getty Images
During the first few moments of the 2023 film "A Good Person," Florence Pugh's character Ally decides to chop off her hair in a moment of emotional distress. You may have thought that the scene was shot using a wig or extensions, but it turns out that Pugh was more than willing to cut her own hair.
Speaking to USA Today, she revealed, "Everyone was really anxious that it was the only take we'd have, but I found it really liberating. If anything, it was like the final key to unlocking this character. It took vanity out the window." Zach Braff, who formerly dated Pugh and is the director of the film, mentioned that "everyone was biting their nails" when it was time for Pugh to shoot. Luckily, everything went as it should.
Pugh also gave some insight into why her character Ally cuts her hair. "For me, whenever I was particularly low as a teenager, I would do lots of quick fixes. I would buy things like nail kits or scissors and go onto YouTube and find out how to do it. I was just looking in any direction but the thing that was making me sad," she shared.
Pugh was determined for the scene to be realistic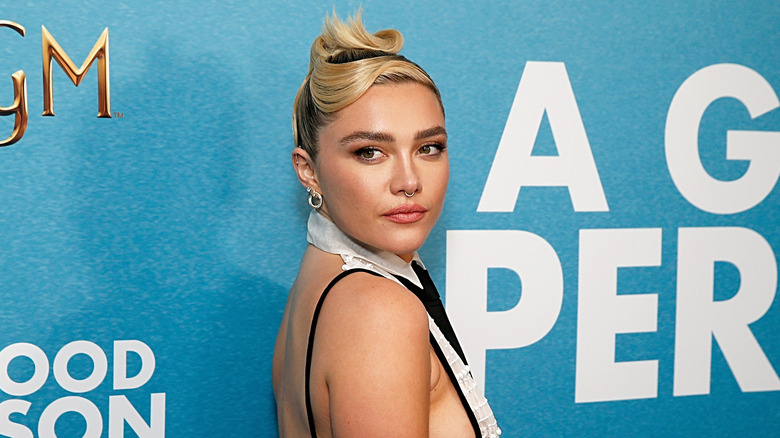 Dominik Bindl/Getty Images
Pugh also discussed the topic of cutting her own hair with Jimmy Fallon on The Tonight Show. "It was my idea," she shared with Fallon. "I was like, 'Zach (Braff), I think I should chop my hair off at the beginning of the movie. And he was like, 'Cool. That's not gonna work.' It was like, 'How do we do this shooting in order?' And I was like, 'You'll figure it out.'" Pugh then revealed that Braff "came and spoke to me, very tentatively and was like, 'Florence, we can't do this, we need to use a wig.' And I was like, 'You'll figure it out.'" Clearly, Pugh's determination worked in her favor. "And they figured it out! I did it!" she told Fallon, laughing along with the crowd.
As told by Pugh, the process was made more difficult by the fact they had to keep changing the setup when shooting the scene. "There was one portion for about half an hour where I had one really long strand of hair down to my hip, and then the rest of it was short, like a unicorn. It's like the ultimate mullet," Pugh joked while showing the audience a photo of her on set.
Pugh's look is ever-evolving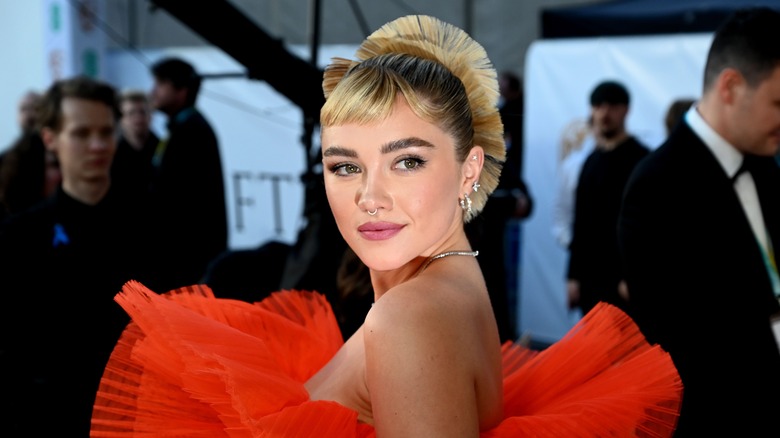 Dave J Hogan/Getty Images
Shooting the aforementioned scene for "A Good Person" definitely isn't the only time Pugh has changed her hair. The actress is something of a chameleon when it comes to switching up her look, despite the fact she has only been on the scene for a few years, so it makes sense that she would be willing to go all out for a movie role.
She debuted a shaved head at the 2023 Met Gala, joining the ranks of celebs who transformed their look with a haircut. Only three days prior to debuting her shaved hair, Pugh took inspiration from the glamour of old Hollywood with her lob and blunt bangs hairstyle at a Tiffany & Co event. She also made waves with her stunning look at the 2023 BAFTAs (pictured above), an updo that fanned out in the same style as her dress. Truly innovative. 
Never one to shy away from experimenting with her style, it's clear Pugh's commitment to her roles is also undeniable.