How To Take A Tube Dress From The '90s To 2023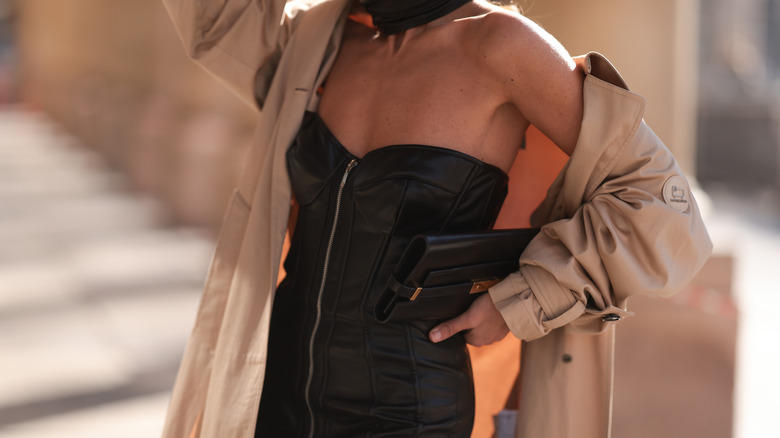 Jeremy Moeller/Getty Images
The '90s hold a lot of nostalgia for many people. From American Girl dolls to boy bands to its colorful slang, this decade added so much gold to pop culture. It also added a great deal to fashion with its jelly sandals, choker necklaces, ripped jeans, grungy flannels, and of course, butterfly clips. There are so many '90s fashion trends that are finally coming back into style in 2023. Along with the appearance of other '90s fashion must-haves, such as the '90s shoes that will never go out of style, the tube dress is making its way back onto the scene, but in a whole new way.
The tube dress used to be the epitome of an LBD. Short, sexy, and clinging to curves, the tube dress in 2023 can be styled in a variety of ways and comes in different lengths and cuts to suit everyone. No longer is the tube dress an actual tube shape. With the modern influence of fashion due to its growth throughout the years, the tube dress is more flattering than ever and can be as modest or revealing as you want. 
If you're at a loss about how to wear that old tube dress that's buried in your closet, don't worry! There is plenty of inspiration that will urge you to help bring back this '90s fad.
Draw eyes with a beneath bust cut-out
A plain black tube dress is an overdone look that can come off a bit boring and drab. However, adding a below-bust cut-out to this simple style creates a dynamic and sexy look that can take you from day to night and can be worn in multiple seasons because of its color, length, and versatility. Style it with some bold-colored jewelry that pops and some stylish wedges to finish the look and you'll be ready to go.  
Pop with metallic
Who doesn't love metallic? It's shiny, fun, and definitely draws eyes. A metallic tube dress is a signature item in itself, so there's no need to add an overcoat or earrings to make it pop; it pops on its own. But, if you're motto is "the more shine, the better," consider adding metallic accessories such as boots, jewelry, and a handbag in complementing colors to this stand-out style. Or if you want to dress it down and make it a more casual look, pop on some black sandals and you're ready to go.
Pick a dress with a slit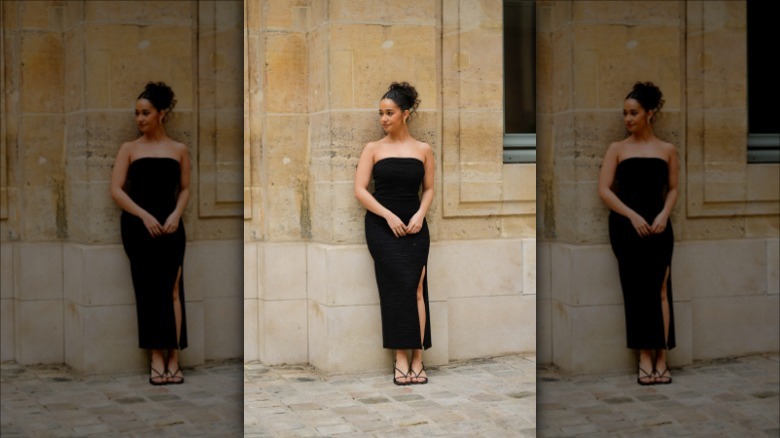 Edward Berthelot/Getty Images
Isn't it crazy how a slit can make a dress go from modest to totally sexy? This sexy, yet still modest, look is a wardrobe staple. Whether you opt for black, bright red, cobalt blue, or sunny yellow, this dress can be dressed up or down. For a more formal event or a date night, pair it with heels, a purse, and some draping earrings. And, for a more casual outing, it can easily be paired with a denim jacket, and sneakers or sandals. 
Add some edge with leather
If your style is a little edgy, then you'll love this modern take on the tube dress. Not only is the dress made of leather, but it has a small slit that adds even more sexy vibes. This brown leather dress is perfect for a night out with the girls. Feminize it with heels and jewelry or rock the edge and opt for a studded purse or knee high boots. No matter what you wear with this dress, it'll surely make you feel hot.
Choose tie-dye
Tie-dye is not only fun to make, it's also fun to wear. It's a casual pattern that screams summer. Tie-dye is great because it's totally customizable depending on what colors you want to wear. From pinks and yellows to blues and purples, tie-dye can be either warm or cool. A tie-dye tube dress with a pair of clean white sneakers is a look that can be used for running errands, going on a date, or strolling on the boardwalk. 
Be bold with leopard print
If you're daring, this leopard print dress is calling your name. Leopard print is not a nonchalant take-it-or-leave-it style, either you absolutely love it or you despise it. If your closet is full of leopard print in varying colors, the addition of the leopard tube dress is definitely appropriate. It doesn't need many additions to style, just throw on a pair of shoes with it (sneakers or sandals for a casual look and heels for a dinner date or event) and you're ready to go. 
Pretty in pink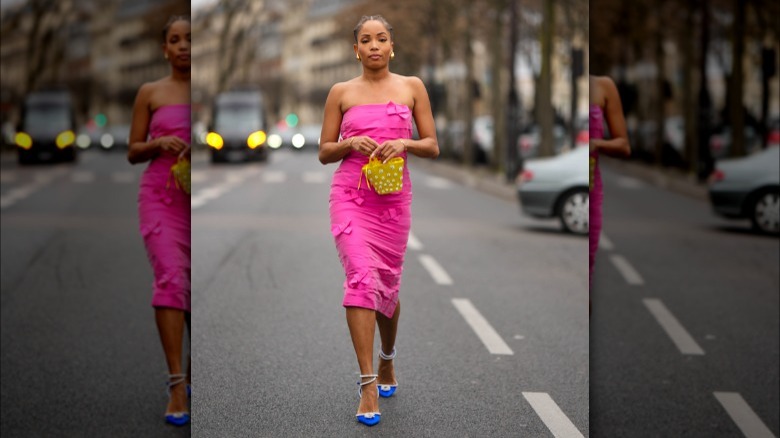 Edward Berthelot/Getty Images
Pink is the color of the summer, so get ready to rock this Barbie pink tube dress everywhere you go. Not only is this a feminine stand-out color, but it's also sexy and sassy. If you want to add a bit of modesty to this dress, a cardigan, and flats will take it down a notch. But, wearing it skin-tight to show off all of your curves and paired with heels is encouraged too, as this is such a fun style.
Opt for simple stripes
Ok, so there was this rule forever ago that said horizontal stripes are unflattering. Do you remember? Well, throw that rule right out of the window! The length of this midi tube dress elongates you, no matter which way the stripes are going. The white and black pattern is reminiscent of a summer in Paris. This style is classic and modest with straight line cuts, but sexy because of the skin-tight look that will show off your curves.
Pair it with a denim jacket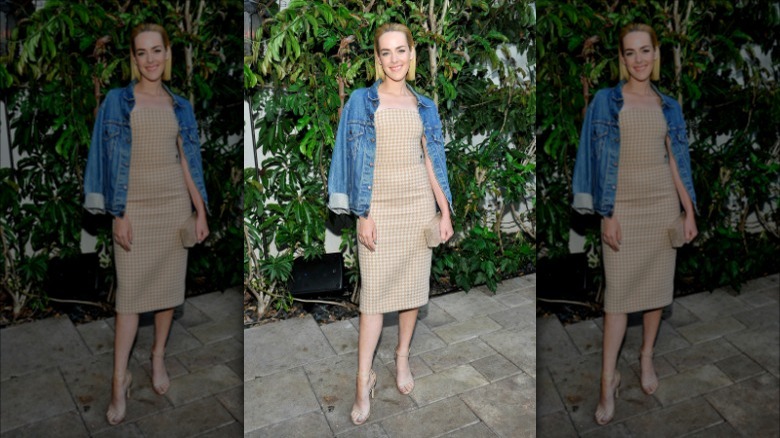 Donato Sardella/Getty Images
In this day and age, everyone has a jean jacket in their closet. Whether it's a classic blue, black, pearled, studded, or acid wash, pairing a jean jacket with a tube dress is a great everyday look. Without trying too hard, you'll look entirely put together and ready for the day. This is like the leggings and t-shirt of the tube dress world. Opt for sneakers for running errands or mini-block heels for lunch with a friend. 
Sleeves and fishnet
Fishnet is an edgy, sexy, and fun material that gives off total party vibes. This fishnet tube dress, complete with sleeves is a definite head-turner. Previously, only worn on the beach or near the pool, fishnet cover-ups in all colors are making their way into everyday style. Some choose to pair their undergarments to match the color of the fishnets, but others choose neons for a more eccentric and interesting look. If you're brave enough to try this trend, then you'll surely make a statement wherever you go. 
Be bold in neon
There is nothing bolder than choosing neon. This neon green tube dress screams summer, though it could be worn in other seasons with some sexy fishnet tights for a dynamic look that's perfect for hitting the nightclubs. It can be paired with neutral accessories such as silver jewelry, and shoes so that the neon can remain the center of attention. Or, pair it with flashy neon accessories in different colors to make this a sassy modern rave outfit. 
Show off your shoulders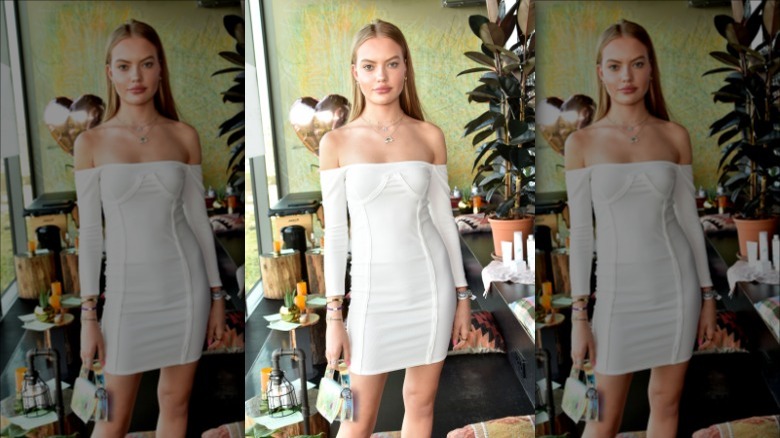 Tristar Media/Getty Images
Adding long sleeves and an off-the-shoulder look to a simple tube dress may be exactly what you need to welcome the tube dress trend into your 2023 wardrobe. This chic look is elegant enough to wear to a special event but can be toned down for an everyday look. Pair it with a delicate necklace to help accentuate the long-neck look that this dress offers and some mixed metal bangles that won't draw too much attention.
Make it denim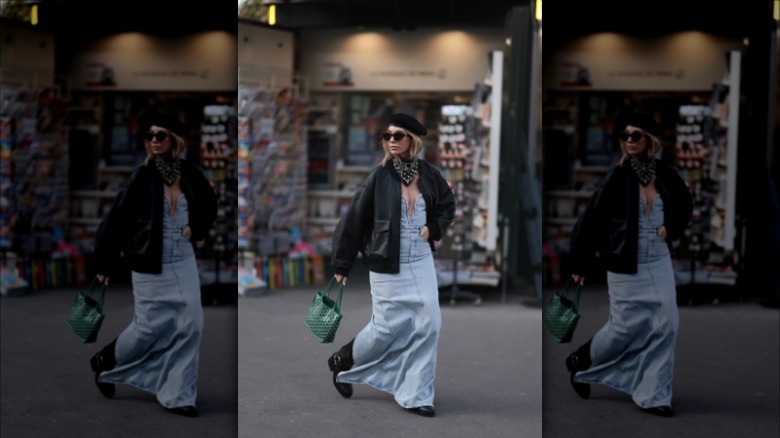 Jeremy Moeller/Getty Images
This long denim tube dress is a tribrid of the maxi dress, tube dress, and denim dress. Never meant to be dressed up, this casual frock is meant to be paired with various accessories to add some color and dimension to this blank canvas of a dress. A scarf and a bright purse can add some pattern and color, while a jacket and boots can complete the overall look. If maxi dresses aren't for you, consider a shorter denim tube dress paired with white sneakers. 
Make it two pieces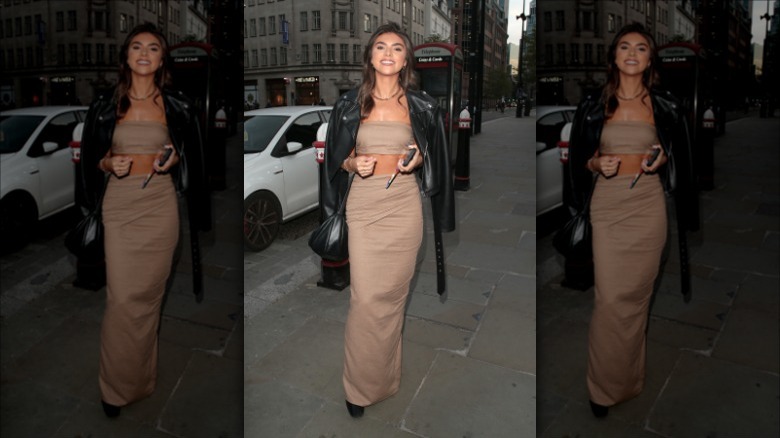 Ricky Vigil M / Justin E Palmer
If tube dresses aren't in your normal style handbook, then you may like this twist of cutting the dress into two. That's right, instead of a traditional tube dress, it's a matching skirt and top playset with the same tube dress angle. Dicing the cut into two adds a chance to show off your mid-drift. With the top of the playsuit, there is flexibility with the cut — sweetheart, strapless, V-necks, and squared necks are popular. 
Opt for some fun floral
There are so many kinds of floral patterns. From small ditzy flowers to giant sunflowers or daisies to big colorful ones, there's a style for everyone's tastes. And, every floral pattern looks good on a tube dress. Floral dresses are perfect for daytime events, whether it's a graduation party, a cookout, or a pool party. This is one dress you'll want to have in your closet this summer. Pair it with some pretty sandals and a cardigan to go from day to night easily. 
Play with different shades
This color-block dress is delightful and chic. Whether you choose shades of pink, blue, or green, you'll surely stand out wherever you go. It can easily be dressed up with a blazer for a fancier event or dressed down with sneakers or sandals for a day date. No need to add too many accessories to this outfit, as the dress already has enough going on. A purse and a cute pair of earrings are all it needs to be complete. 
Get groovy with your patterns
It's not just the '90s that are coming back into style, but the psychedelic '60s and '70s are moving into 2023 as well. This funky blue and green tube dress will light up any function. Easily make it a casual go-to with white sneakers or sandals and some bold chunky jewelry or dress it up with some neutral heels and a few subtle key pieces of jewelry such as thin hoop earrings and a couple of silver bangles.