CBD Could Be The Psoriasis-Soothing Ingredient Your Skincare Routine Needs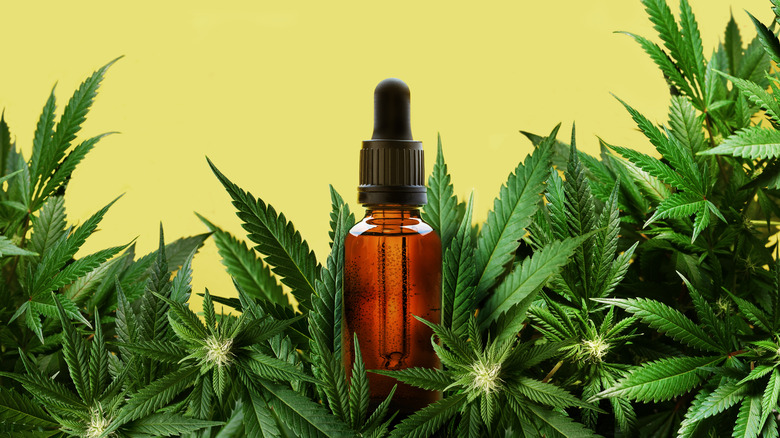 Claudiovaldes/Getty Images
Cannabidiol, or CBD, is widely used to help people with their anxiety, and is also advertised as a means to help relieve depression and post-traumatic stress disorder. As a result, the CBD industry is thriving and is anticipated to reach $16 billion in the United States by 2025 (per TD Cowen).
Forbes Health reported that CBD has a better reputation than its sibling from the cannabis sativa plant, tetrahydrocannabinol, or THC, not least because CBD possesses similar therapeutic qualities without being as intoxicating as THC. The outlet also reported that CBD can be used to treat sleep disorders.
Well, apparently, CBD is found to possess more benefits than just a means to help with anxiety. It might be an ideal ingredient to add to your skincare routine to soothe itchiness brought about by psoriasis. According to a 2020 study published in Clinical, Cosmetic and Investigational Dermatology, topical CBD can potentially treat skin conditions such as acne, itch, eczema, and psoriasis.
How CBD helps soothe psoriasis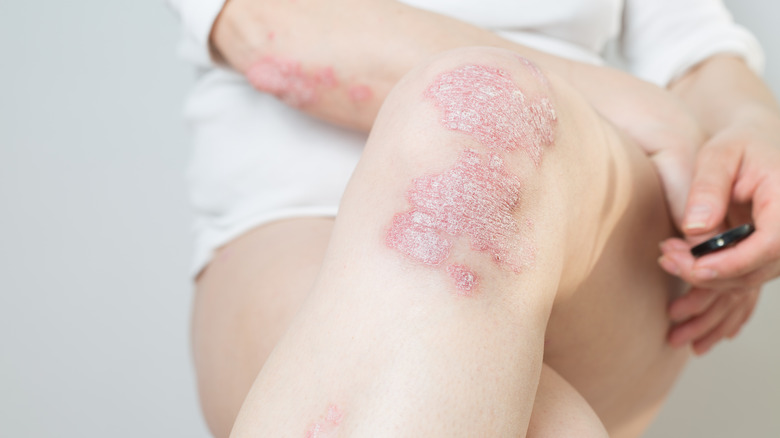 SNAB/Shutterstock
The National Psoriasis Foundation (NPF) reports that there has been an influx in demand for over-the-counter products containing CBD in the last few years, driven largely by consumers. Products containing CBD are becoming handy since they are now available in the market, including capsules, oils, and food supplements. (Per MDS Manuals)
Adam Friedman, a George Washington School of Medicine and Health Sciences professor in Washington, D.C., simplified how CBD works to soothe psoriasis (via the National Psoriasis Foundation). He explained, "It [CBD] can be involved in not just anti-inflammatory activity, but it can facilitate an array of activities that resolve inflammation. It can stimulate the secretion and recruitment of cells that are important for removing debris and allowing for proper skin maturation and healing."
NPF also added that a study in 2019 detailed how a topical CBD ointment helped improve the surface of the skin, bringing in moisture and elasticity to the skin after it was applied to an area twice daily for two months.
Be mindful of using CBD containing products to treat psoriasis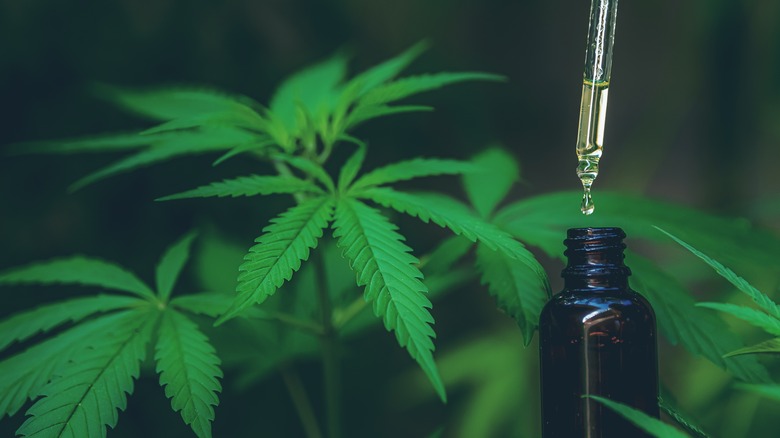 Perspective Jeta/Shutterstock
HealthLine published some feedback from users attesting to the effects of CBD-containing products. Some of the users claimed that a topical CBD product gave them relief from itching and discomfort. Although several were convinced that CBD may be the answer to treating psoriasis, the National Psoriasis Foundation states that the effectiveness of CBD in treating psoriasis is still unclear — researchers admit that there is still not enough evidence to support these claims.
There are still very limited studies, but the research published in Clinical, Cosmetic and Investigational Dermatology supported these claims, stating that the anti-inflammatory properties of CBD may help treat psoriasis. The researchers behind the study admit that there are very few studies regarding the topical applications of CBD, and most research focused on the effects of CBD when consumed, inhaled, or injected. While there are several CBD skincare brands that live up to the hype, still, the authors highly advised users to be more cautious in treating psoriasis with CBD, since there is still a need for further studies that topical CBD is effective.