Add Brown To Your Summer Wardrobe For The Ultimate Neutral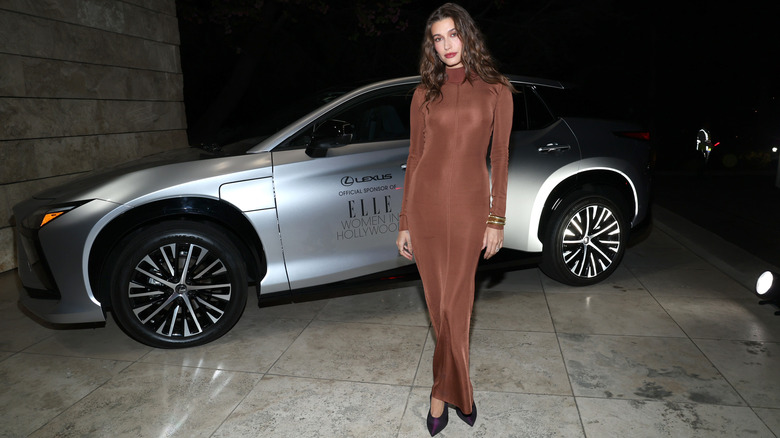 Phillip Faraone/Getty Images
Brown is officially the new neutral color you'll want to have ready in your wardrobe for the summer weather. It's no longer a color strictly reserved for the cooler autumn season and has officially made its way into beach-ready fashion.
Kendall Jenner is just one celebrity who's known to be a huge fan of brown outfits — showing us just how versatile the shade can be. Hailey Bieber also hopped on the trend when she stunned in a chestnut brown, long-sleeve Saint Laurent dress that hugged her curves at an Elle Women in Hollywood event. It's clear the color is making waves as a summer capsule wardrobe must-have. 
Tyrell Harriott, the founder of the brand TYRELL, told The Zoe Report: "[Brown is] becoming more popular because the fashion climate of minimalism, [and that] all-black type of dressing, is dying and being replaced with maximalism." If you're thinking about adding a color to your summer wardrobe that will give your outfits a pop of color while acting as a neutral shade, brown should be on your radar.
Go for a full monochrome look
To fully embrace the trend, go for an all-brown outfit for the ultimate maximalist look with a neutral edge to it. The monochrome fashion trend is in, and brown is such a versatile shade that you can wear for an effortlessly cool-girl fit. Not only will your outfit look good, but it'll make you feel good too. Color expert and Chief Color Maven at Sensational Color Consultancy, Kate Smith, expressed to Refinery29 that "Brown typically gives us warm, settled feelings, reminding us of connections to earth, home, and family," 
Opt for a solid-hued dress in a solid shade of brown for a sleek, uniform look. If you're going for a casual style, we recommend styling a light chestnut brown dress with a pair of sneakers or sandals. For a bolder look, opt for a dark chocolate brown dress that's form-fitting paired with heels. 
There are plenty of brown shades you can go for when creating your monochrome outfit — from smokey topaz to desert sand, you'll never be limited to just a few shades and have a wide selection to play around with.
Add in a brown accessory or staple piece
While black was once considered to be the go-to neutral color to complement any outfit, brown has taken over as the new it-girl shade that looks good on everyone. If you prefer a look with brown accents, mix and match a few brown pieces into your outfit for a style that embodies understated elegance. 
"Luscious brown worn head to toe is striking, or brown can function as a warm neutral, providing an earthy balance for more vibrant tones like green quartz, Ibiza blue, or fuchsia," Smith advised Refinery29. When you're going for a colorful fit, adding a hint of neutral with a brown handbag, blazer, or shoes to a bold color like blue or pink can be just what your outfit needs. 
If you prefer a clean-girl aesthetic, opt to keep your entire outfit neutral by adding in some small brown accents. Add a brown blazer, cardigan, or handbag to a black, white, or beige fit. Brown shoes or a small brown accessory will tie your outfit together for a balanced style.