How To Pull Off The Monochrome Fashion Trend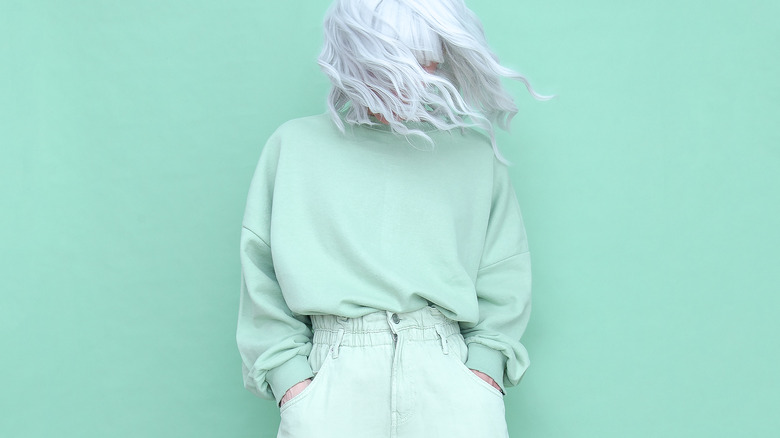 Eugenia Porechenskaya/Shutterstock
Monochrome looks are a fashion trend that has taken over 2022. However, the monochrome trend is a tricky one, because its boldness makes for a high-risk, high-reward fashion moment. Still, it's difficult not get inspired by monochromatic looks and want to create your own.
Monochrome fashion has been around for quite some time now (via Cosmopolitan). While there are certainly some people who want the monochrome outfit trend to be a thing of the past, we happen to think that it's here to stay. As summer 2022 comes to a close and autumn is in our sights, many of us are likely getting ready to revamp our wardrobes for the upcoming season. Based on the fall 2022 runway, bold, monochromatic looks aren't going anywhere (via Women's Wear Daily). So, whether you've been a monochrome skeptic or are ready to embrace a singularly focused color palette, there are plenty of ways you can rock this trend in the upcoming season.
Understated monochrome looks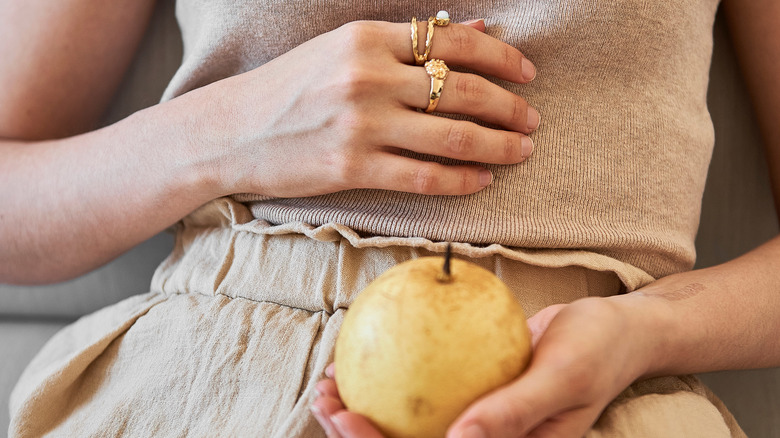 Monica Castello/Shutterstock
One obvious pro to monochrome dressing is that it makes building an outfit easier. When your outfit is all one color, you look more put together without having to put in more effort. Luckily, you can still reap these benefits and look on-trend if you are a bit on the shier side than those who opt for a fully bright purple ensemble.
One easy way to rock the monochrome trend in a subtle way is to opt for a neutral color. Choosing colors like tan, grey, or even the tried-and-true black will give you that coordinated look without being too bold. You may not be inclined to choose a beige piece to pair with another color in fear of it looking too blah, but when you sport a fully beige 'fit, you can make a real statement (via InStyle). 
Another easy and not-too-daunting way to rock this trend is to pair a jumpsuit or dress with same-color accessories. Pairing a red coat and red bag with your red dress instead of going for a neutral is fun and effortlessly chic without having to match multiple parts. It's even in to go fully monochrome with your loungewear (via Cosmopolitan). Grab a cardigan, T-shirt, and pair of sweatpants that are all the same hue, and you can easily go from a messy outfit to a cute ensemble for working from home or spending a cozy night in.
Monochrome fashion statements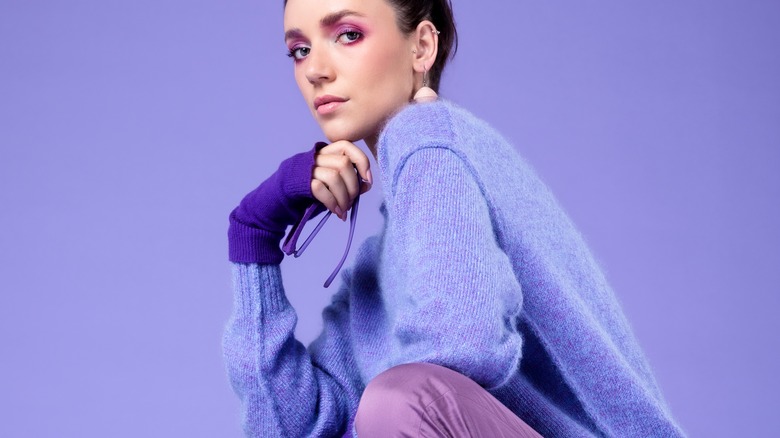 fradis_photo/Shutterstock
If you're a bold fashionista who's willing to play the getting dressed game a bit on the riskier side, you have some fun options when it comes to incorporating the monochrome trend into your OOTDs. Don't be afraid to pick a bright color and match your whole outfit and your makeup. If you have a bunch of bright green pieces and normally you'd never pair them together, give it a try (via InStyle). When they're all the same color, pieces that wouldn't normally go together often look interesting and edgy while still being congruous.
One great tip for making your monochrome moment truly pop is to make sure the main elements of your outfit are a pretty close match (via Cosmopolitan). For example, if you're going with a light blue skirt, make sure that your top is the same exact shade of light blue. Your accessories can be different shades of blue, but the core pieces matching exactly will make the outfit work. Another great tip? Don't be afraid to experiment with new colors, multiple textures, and even seemingly conflicting patterns. Outfits that are all one color but have lots going on may be more likely to make for a to-die-for fashion moment than you'd expect.