Why You Can't Just Rely On Makeup Wipes For Eye Makeup Removal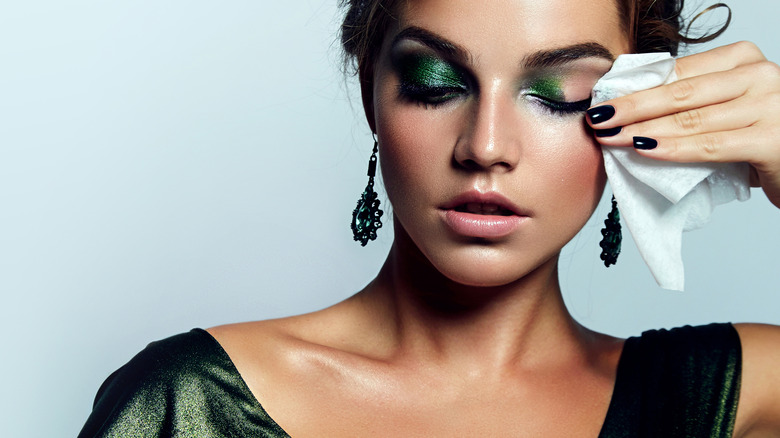 Ekaterina_jurkova/Getty Images
Whether you have your makeup professionally done or do it yourself, getting glammed up will make you feel great. However, the longer you wear it, the harder it may be to take off. Makeup wearers everywhere are guilty of scrubbing their faces profusely to get stubborn foundations and concealers off. Eyeshadows, mascara, liners, and other products used to decorate your eyes tend to take the most effort during removal.
This difficulty can be due to several reasons, but one major factor is the waterproof elements in many eye cosmetic products. Since our eyes tend to become watery for different reasons, such as increased pollen, smoky venues, or allergies, cosmetic brands have found great ways to keep eye makeup intact. While this is appreciated, you'll need a bit more than wipes to get your eyes clean. Just as brands have mastered holding your long-lasting mascara in place, they've also developed gentle products to get rid of it quickly.
For long-lasting products, you may have to soak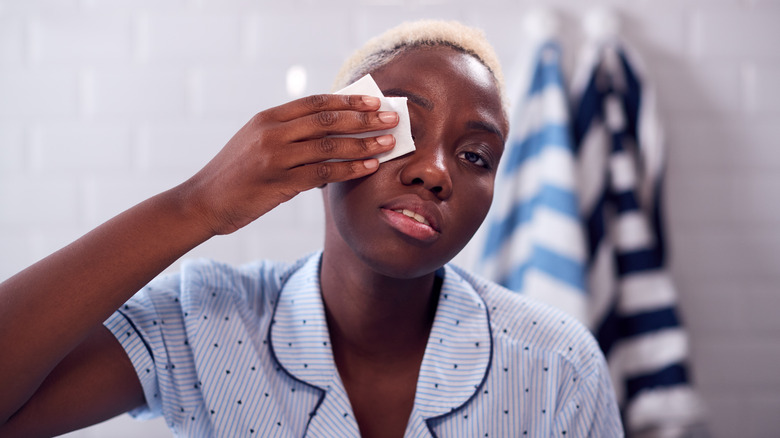 Monkeybusinessimages/Getty Images
When you use Thrive Causemetics Infinity Waterproof Eyeshadow Stick, you may be in for a task when it's time to extract it. What makes their formula perfect for that hours-long concert or day party is the use of semi-permanent micropigments. This element is typically seen in cosmetic tattooing meant to last for a while. This type of coloring cannot be wiped off in a single motion. Instead, it may be time to soak — though this requires patience.
The soak method is basically self-explanatory, as shared by celebrity makeup artist Anton Khachaturian. Speaking with PureWow, he explained that saturating a cotton ball with makeup remover and placing it over the eye will successfully break down even the toughest products. Typically, 15 seconds will do the trick, but if you're wearing glitter or Thrive's eyeshadow stick, you may have to soak for longer. Countless makeup removers are on the market. However,  Lancôme Bi-Facil Double-Action Eye Makeup Remover specifically targets makeup used around the eyes. This liquid is safe for all skin types and features lipid concentrate, which instantly breaks down these sturdy ingredients. After you've successfully cleaned your lids, be sure to wash the cleanser off, too.
While scrubbing is tempting, avoid it
Drazen Zigic/Getty Images
Another reason makeup remover wipes won't always do the trick is that they require you to scrub your eyelids if the eye product is too thick. You may also have to utilize multiple sheets and go over the same spot numerous times, as wipes tend to leave behind residue. New York City dermatologist Rachel Nazarian, MD, strongly advises against this, as it can hurt the area around the eyes. "Avoid using scrubbing or rough rubbing methods. Gentle dabbing and soft circular movements should be enough to lift the eye makeup off without traumatizing the skin," she told Byrdie.
If you must try wipes, do your best to go for ones that are fragrance and alcohol-free, such as Simple Eye Makeup Remover Pads. These pads don't include any harsh chemicals and are geared toward those who suffer from sensitive skin. Just because your reverse smoky eye look is a pain to take off at the end of the night doesn't mean you shouldn't rock it. Just ensure you have the gentle tools you need to return your skin to its purest form.