Jennifer Lawrence Didn't Like Kissing Chris Pratt For Passengers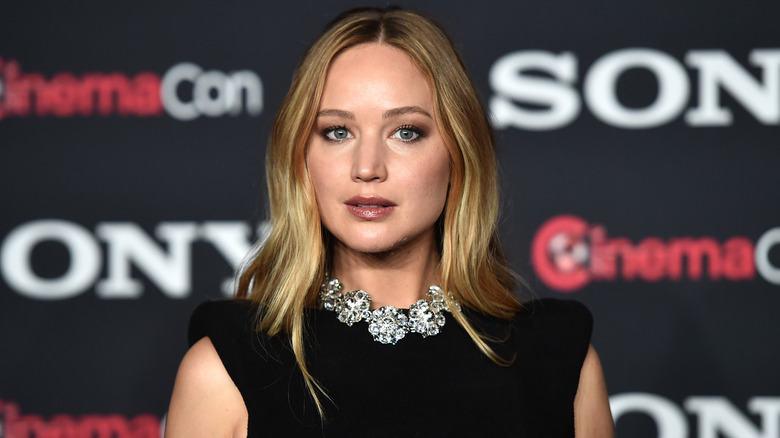 Alberto E. Rodriguez/Getty Images
When the rom-com or drama we're watching culminates in that seemingly perfect on-screen kiss, we as viewers don't often spare a thought for the behind-the-curtain magic that goes into creating such a scene. While these moments look completely romantic or steamy to audiences, the reality for the actors playing them out is typically much different. At the end of the day, they're just completing a job.
Jennifer Lawrence is one of many actors with experience in on-screen kissing, starring in films like "The Hunger Games," "Silver Linings Playbook," "Serena," and "Don't Look Up." While Lawrence's romantic performances are always convincing — her kiss with Bradley Cooper in "Silver Linings Playbook" even won "Best Kiss" at the MTV Movie Awards — that doesn't necessarily mean it's always smooth sailing for the celeb.
In fact, Lawrence has shared that she didn't feel totally chill about shooting intimate scenes with Chris Pratt for the 2016 sci-fi romance "Passengers" because he was very much married to his first wife at the time. 
Jennifer Lawrence felt vulnerable in Passengers sex scene
Back in 2015, Jennifer Lawrence opened up in a The Hollywood Reporter roundtable about her experience filming her first in-depth sex scene for the film "Passengers." The movie follows Lawrence and Chris Pratt as space travelers who awaken from suspended animation earlier than intended and ultimately fall in love in their solitude. "It was weird," she said. "And everything was done right; nobody did anything wrong. It's just a bizarre experience."
When asked how she prepared for the scene, Lawrence answered, "I got really, really drunk. But then that led to more anxiety when I got home because I was like, 'What have I done? I don't know.' And he was married. And it was going to be my first time kissing a married man, and guilt is the worst feeling in your stomach. And I knew it was my job, but I couldn't tell my stomach that."
The "Red Sparrow" star went on to explain that she talked to her mom for reassurance, ultimately balancing the scene's vulnerability with her desire for it to be realistic. She concluded that it was the most vulnerable she had ever been as an actor.
The star also faced allegations of an affair with Chris Pratt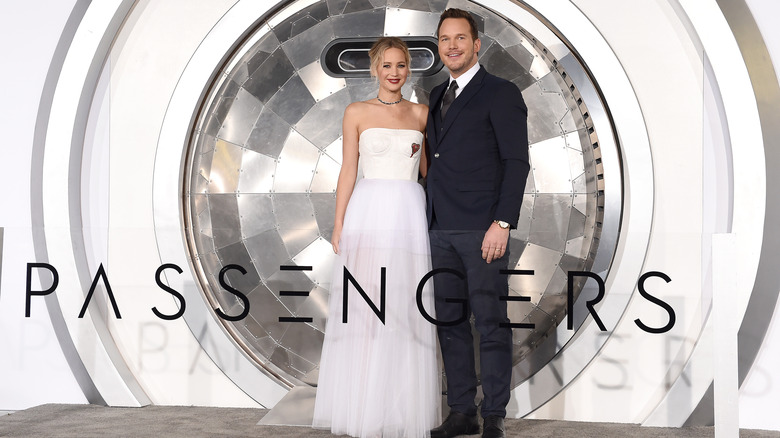 Axelle/bauer-griffin/Getty Images
On top of processing the complicated feelings that went into filming such an intimate scene with the married Chris Pratt, Jennifer Lawrence also faced rumors about an on-set affair with her co-star. Even after the gossip died down following the film's debut, the whispers kicked back up in 2017 after Chris Pratt and Anna Faris announced their divorce.
"I never had an affair with Chris Pratt on 'Passengers,'" Lawrence said on KISS FM. "That's a good one. ... They got a divorce like two years later and everybody was like, 'Jennifer Lawrence!' And I was like, 'What? I'm in Montreal.'"
Faris also commented on the rumors in her memoir "Unqualified," writing, "Jennifer and I really are friendly, and she was apologetic even though she didn't need to be, because she hadn't done anything wrong." The "Mom" star also noted that the gossip surrounding an alleged affair was embarrassing and hurtful, but ultimately something she had to learn to deal with.