How Did Beyonce's Daughter Blue Ivy Get Her Name?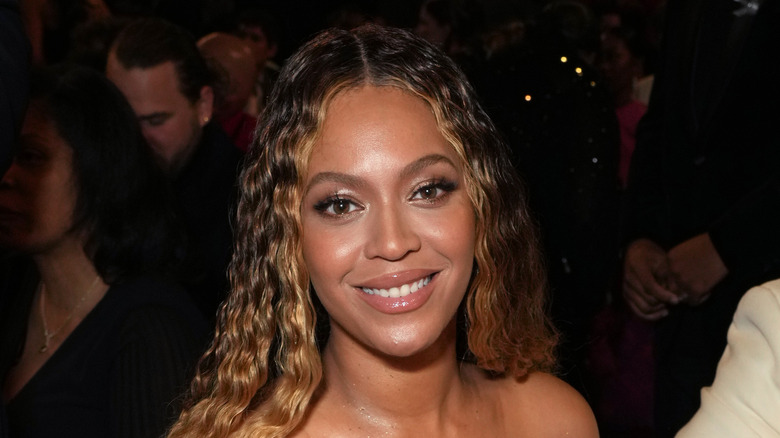 Kevin Mazur/Getty Images
If there's one thing we can count on from celebrities, it's giving their kids some pretty strange names. Maybe famous parents see the naming of their children as a creative outlet. Billionaire Elon Musk and his partner Grimes stunned the world when they named their son X Æ A-Xii, a seemingly unpronounceable string of letters that looks like something out of a "Star Wars" movie. Sometimes these names are meaningful to the parents and their experiences. Alicia Keys named her son Egypt as a testament to a memorable trip to the African country. When Beyoncé famously gave birth to her baby heir in 2012, everyone wanted to know why she decided to go with the name Blue Ivy.
Naturally, there was a lot of speculation as to what inspired such a unique name. Somewhere in the haze of Illuminati accusations and absurd acronyms, fans have managed to pull together some worthwhile theories as to what the second youngest Grammy award-winning child's name could mean.
Blue's name could be Jay-Z's favorite color, or could have come from a tree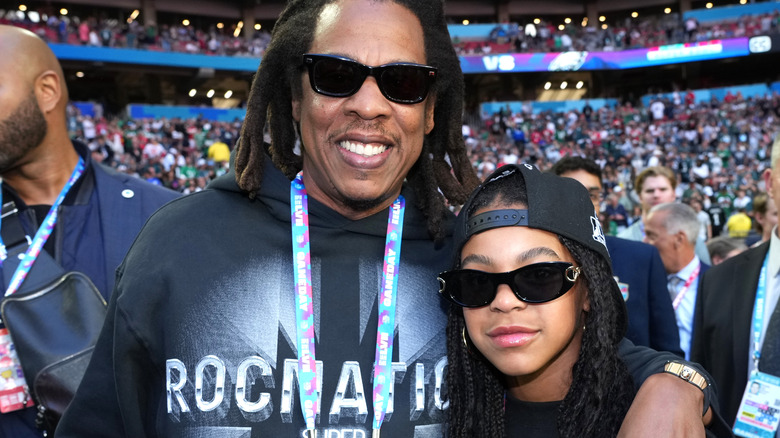 Kevin Mazur/Getty Images
Blue Ivy Carter has already started following in her superstar parents' footsteps, and she hasn't even lost all her baby teeth yet. When it comes to choosing your child's name, there's a lot of pressure to make sure it stands out with personality, and what better way to christen the infant than with a favorite color or a number one finds lucky? Blue Ivy Carter's name may just be a combination of the two.
Her father, rapper and business mogul Shawn "Jay-Z" Carter may have something to do with his eldest daughter's first name. He has rapped about the color blue being his favorite on his track "Go Crazy," stating" My favorite hue is Jay-Z blue," not to mention his string of albums titled "The Blueprint."
However, there are other theories that suggest Beyoncé Knowles-Carter is the mastermind behind "Blue." On her official Tumblr blog, the "Single Ladies" singer posted a clip of her and Jay-Z taking a stroll past a tree in Croatia. She wrote, "We woke up this morning and took a nice little walk and passed by this beautiful blue tree. I think it's Blue Ivy, which will be quite appropriate" via Billboard. We think the color blue must be a Carter family favorite and must have influenced Blue Ivy's name.
Ivy or IV represents an important number in Beyoncé and Jay-Z's lives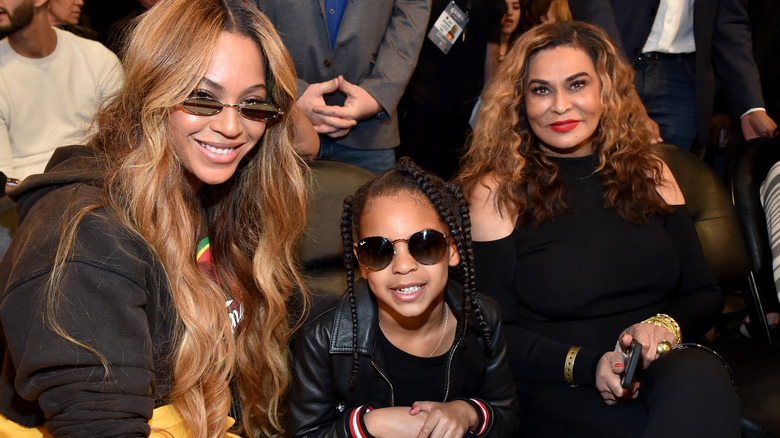 Kevin Mazur/Getty Images
While Blue Ivy Carter could've been wholly named after a Croatian tree, her second name is generally believed to have some deeper significance to her parents as a lucky number. Ivy is said to be a play on the number four whose Roman numeral is literally IV, and if you know Beyoncé, then you know that four is her favorite number. Not only did she name her fourth solo studio album "4," but she got matching "IV" finger tattoos with husband Shawn "Jay-Z" Carter instead of wedding rings. Not to mention, she and hubby were born on September 4 and December 4, respectively, and they got married on April 4. 
It's little wonder why the number four means so much to them and why they'd extend it to their firstborn. We can all agree that the significance of Blue Ivy's name answers the age-old question of what's in a name in the sweetest way possible.